The Caddis Rapid 2-Room Privacy Shelter is a freestanding and instant setup easy to use structure with a steel frame and multiple storage options.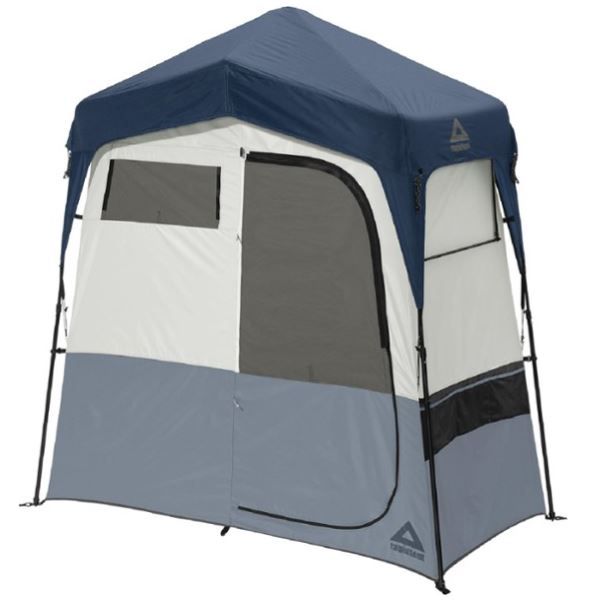 ---
Key features & benefits
Instant setup.
Easy to use.
2 Rooms.
Storage features.
Floored.
Freestanding.
---
What this is about
This Caddis Rapid 2-Room Privacy Shelter is an accessory shelter that you can use next to your family camping tent. It is very tall, the peak height is 84 inches (213 cm).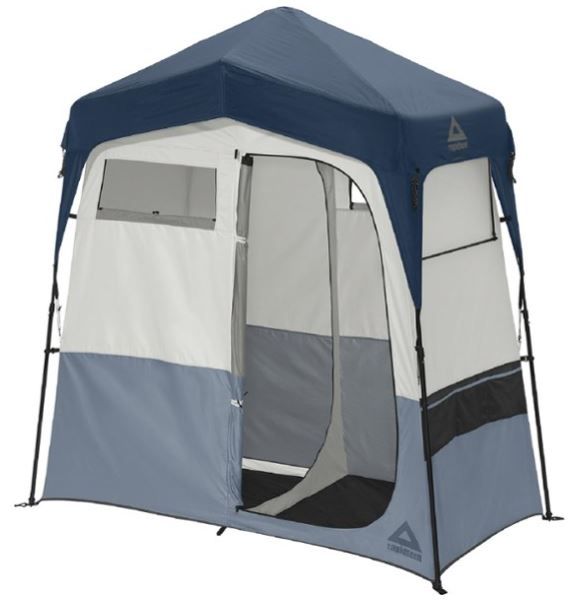 Both rooms are floored and the floor in the shower room has a mesh drain system on the sides. This is also an instant-setup structure, and this means that everything is pre-attached. You have only the fly that should be added when you raise the shelter.
It can also be described as freestanding. But do not miss staking it down properly, it is tall yet with a relatively small footprint, so it is best to play safe.
You have zip-up windows in both shower and changing area. The main door is with a privacy screen and mesh.
Other details
The front changing room is separate from the shower area.
Mesh roof for ventilation.
There are 6 interior and exterior storage pockets, some are visible in the picture below.
You also have a removable hanger that can be placed inside or outside for towels and clothes, see the picture.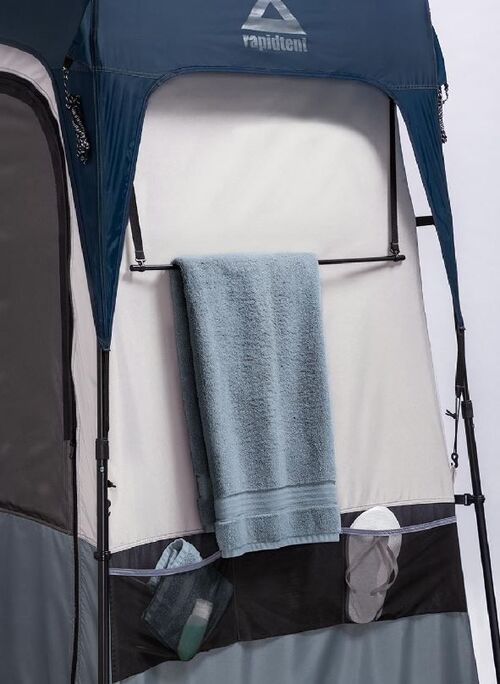 Heavy-duty ceiling hanger for portable shower (shower not included), see how it looks: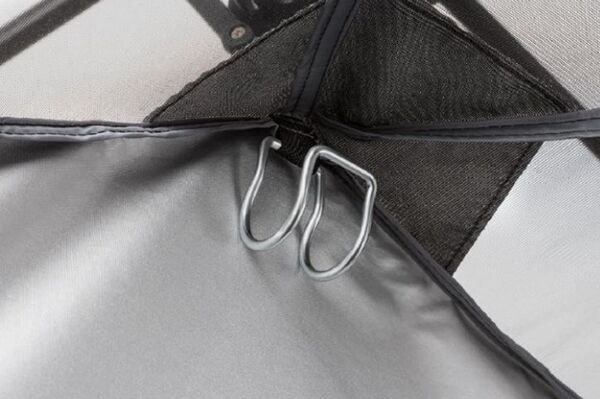 Materials
The frame: This is all steel, and it folds into an elongated structure like an umbrella.
The fabric: You have a 190D polyester taffeta combined with a mesh on the ceiling. The fabric is not see through, I have seen some people asking about this. There is no information about its waterproof rating.
Please see a bit more in this short video:
---
Who is it for
Regarding the area, you have two separate rooms here with the total floored area of 24.7 ft² (2.3 m²). So this is the same as in the Core Instant Camping Utility Shower Tent.
The front room is a change room, but you can place your portable toilet there as well. The hook in the inner room and the frame are strong enough to hang 4.5 gallons (17 liters) of water. So this all is quite impressive.
Regarding the weight, with its 18 lb (8.16 kg) is is quite heavy but this is a typical weight for such two-room privacy shelters.
The packed size is also quite typical for such a type, the numbers are given below. It is a bit long when packed.
Regarding the price, it is quite steep but this is a quality product. You can compare it with some other items of this type in my list of best 2-room outdoor shower tents for camping where it is included.
---
Specifications
Weight: 18 lb (8.16 kg).
Dimensions (H x L x W): 84 x 84 x 42 in (213 x 213 x 107 cm).
Inner area: 24.7 ft² (2.3 m²).
Packed size: 42.75 x 8 x 8 in (109 x 20 x 20 cm).
---
Final thoughts, rating, pros & cons
In summary, this Caddis Rapid 2-Room Privacy Shelter is easy to use with its instant-setup design. It is similar to several other items of this type presented here in the site. My guess is that they all come from the same factory in China. But it looks well done, and you have a highly respectable seller behind this product.
Below you can see how this shelter stands against my standard rating criteria that I apply consistently to all of them here in the site so that you can easily compare:
BEST PLACEs TO BUY:
Note that they also have a single-room version with very similar features. There is a screen house available as well from the same brand. You can use it as yet another annex in your camp, for dining, cooking, and sitting while being protected from mosquitoes.
For more products of this shape please check in the category Privacy Shelters. Let me know if you have questions, there is a comment box below. Bookmark this site and come again, this will keep you informed, as you realize I add texts here on a regular basis. Thank you for reading.