This Core Instant Camping Utility Shower Tent with Changing Privacy Room is a freestanding easy-to-use 2-room tall structure with a rain fly and a shower included.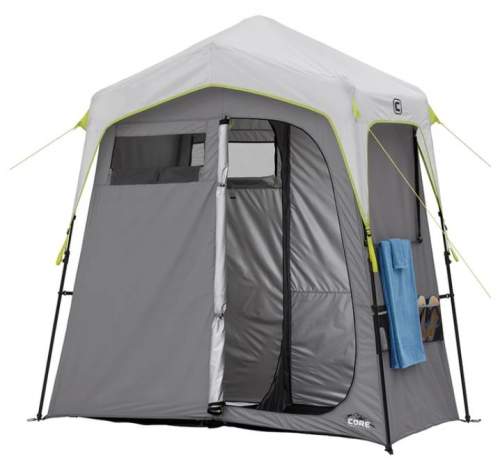 ---
Key features & benefits
Instant setup.
Freestanding.
2 Rooms.
Shower included.
---
Overview
This Core Privacy Shelter follows the usual design of several other items of this type here in the site. So this is a freestanding tall construction with one door and a couple of two-layer windows. The structure includes 2 rooms with an inner door between them. The picture below shows what you have in the package: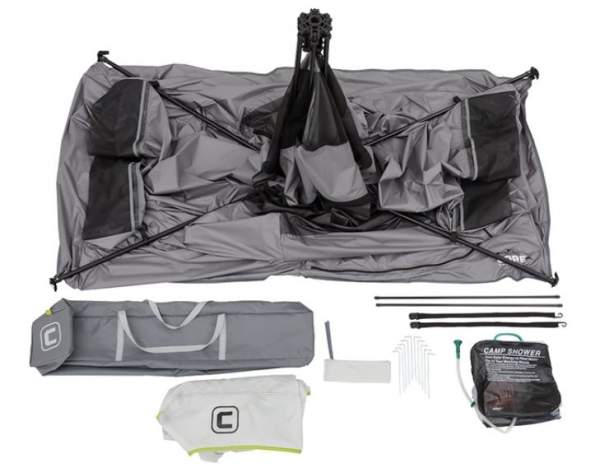 What you see in the picture is the frame that is pre-attached to the tent, so this is an instant setup design with 4 extendable legs poles. The official setup time is only 60 seconds. The fly shown in the picture is a piece that you can add separately, best to do this before you fully extend the legs.
Note also that this shelter comes with a bonus shower included, it is shown in the picture below; the volume is 5 gallons (19 liters).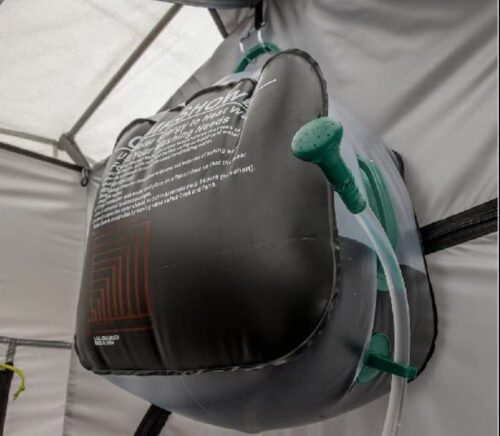 There is a full set of stakes and guylines so you should definitely use them in spite of the fact that the tent is freestanding. Note that it is very tall with a peak height of 84 inches (213 cm). The structure is very similar to this Ozark Trail Instant 2-Room Shower/Changing Shelter. Other features include two towel bars and wall storage pockets, see some of them below.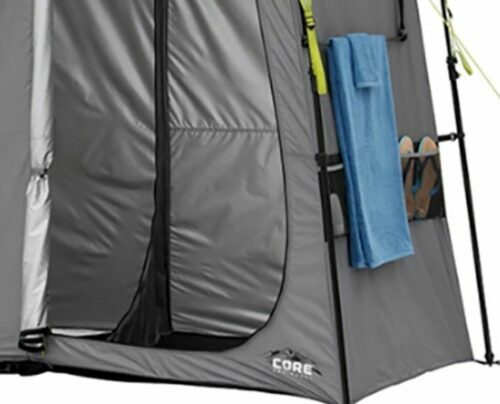 Materials
The frame is steel and the same material is used for the 10 stakes. The fabric is a 68D polyester and the fly is with 50+ UV protection and this is the highest among such materials.
The mesh areas are a polyester, and the sewn-in floor is polyethylene. The shower room is with a mesh on the perimeter to drain out water, see the picture below.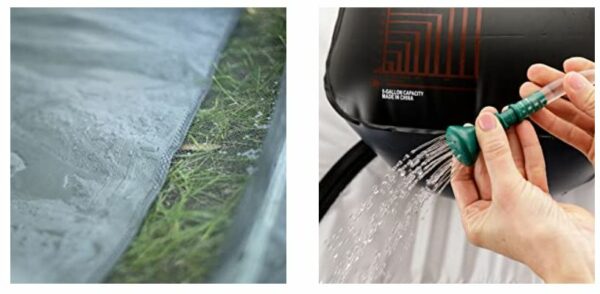 There is also a zipper-lock on the outside door panel: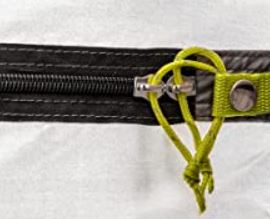 ---
Who is it for
This Core Instant Camping Utility Shower Tent is a nice addition to your camping tent, so it is suitable for families and for groups of friends. As you know, there are portable toilets for camping, so you can place one in the front room. There is enough space inside, the total area is 24.5 ft² (2.3 m²), and both rooms are equal size 3.5 x 3.5 feet (107 x 107 cm).
Regarding the weight and the packed size, both are substantial, see the numbers below, so this is not an item to carry anywhere, and you need a car for transportation, see the numbers below. You can compare it with the Caddis Rapid 2-Room Privacy Shelter that is built in the same style.
Regarding the price, it is quite typical for such products and I would say this is a fair price for the value.
---
Specifications
Weight: 17.75 lb (8.05 kg).
Dimensions: 7 x 3.5 ft (213 x 107 cm).
Area: 24.5 ft² (2.3 m²).
Packed size: 50 x 7 x 7 in (127 x 18 x 18 cm).
Peak height: 84 in (213 cm).
Warranty: 1-year limited warranty.
---
Final thoughts, rating, pros & cons
In summary of this Core Instant Camping Utility Shower Tent with Changing Privacy Room review, here you have a reliable product from a globally known outdoor brand. This shelter has been around for several years already so there are many reports by users and all is known about it. The average rating by users is very high. Fully recommended. It is included in my list of best 2-room outdoor shower tents for camping.
Please see how I rate this shelter, the same criteria are used for all of them so you can easily compare:
Check under the category Camping Privacy Shelters for more products of this type. Note that this EasyGo Product Shower Shelter is also with two rooms but it is larger. See also this unique WolfWise Two-Room Pop up Privacy Tent that is a 3-in-1 system.
Let me know if you have comments or questions, there is a comment box below. You might want to subscribe to my weekly newsletter, this will keep you informed, the subscription form is below. Thank you for reading and have a nice day.