The Coleman 8-Person Carlsbad Dark Room Dome Camping Tent with Screen Room blocks 90% of sunlight, it is easy to use and pleasant.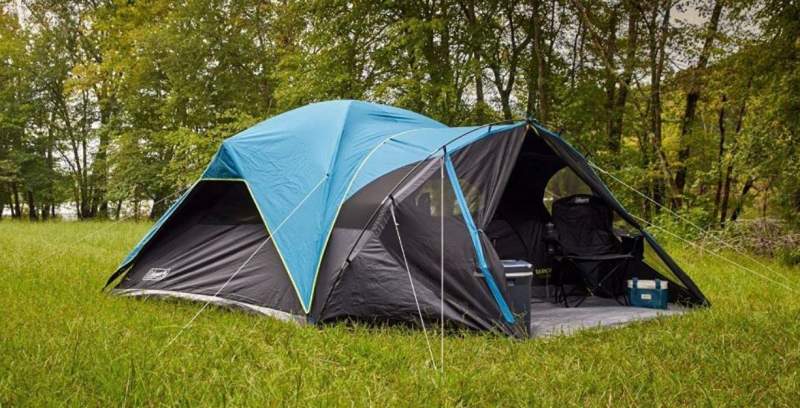 ---
Key features & benefits
Dark rest design.
Screen room.
Huge waterproof rating.
2 Rooms.
Great price.
---
What this is about
They have had a 6-person tent under the name Carlsbad on the market for many years already. But here you have a completely new tent they launched in 2021 for 8 people. The basic shape and functionality are the same, the fabric color and waterproof rating are different.
So this is a simple dome-style tent with a partial coverage fly that protects only the ceiling of the inner area. They call it a 2-room tent, and this implies the back room that is with a fully sealed floor, and the front screen room.
Note that the screen room offers no full protection. The fly does not protect its sides, and there are no inner panels. It is floored, but the floor has a mesh drain section for water, it is in front of the inner door and it goes the full width of the screen room. This means also that here you do not have full protection from ticks and similar creatures.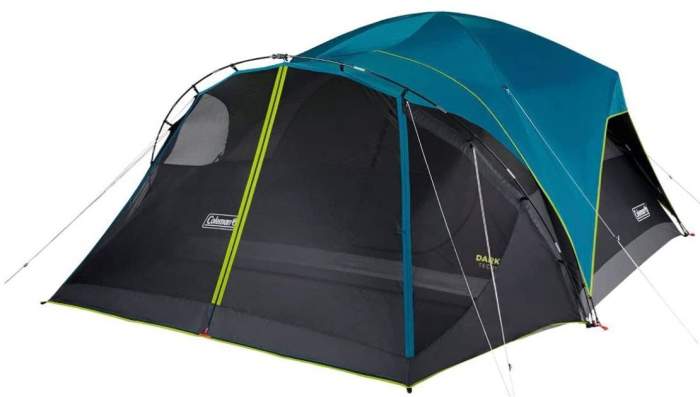 The tent is moderately tall, you have a peak height of 6 ft (183 cm), but this is only in the middle. As usual with dome-shaped tents, the volume is not so great. The screen room is with angled front mesh so it is not very tall, you need quite low chairs if you plan to sit here.
There are two windows on the sides so you can have views, this is because of the ridge pole that pulls the fly up. See below how it looks inside. Observe multiple wall pouches for storage.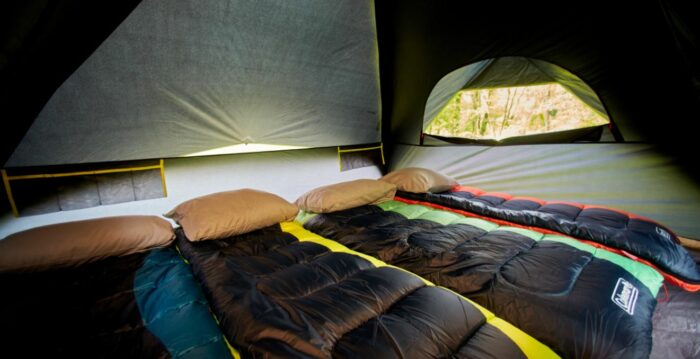 Dark rest design
So this is the best feature of this tent. It is built of a dark material and they claim that the inner tent blocks 90% of sunlight and reduces heat inside the tent.
Materials
The poles: You have 3 + 1 fiberglass shock-corded poles here, and this is what they call the Fast Pitch technology. This allows you to set up the tent fast using pre-attached poles and hub, fast fit feet, and snag-free clips. They use this design in many of their dome tents, see this Coleman Longs Peak Fast Pitch Dome Tent 6 Person as just one example out of many.
The fabric: They claim that the tent offers 3000 mm waterproof rating. This is huge and you should never need more, but I have seen people complaining about leaks. The floor is strong and tub-like with their usual patented welded corners. They use their inverted seams as in all of their tents.
Other features
Illumiline reflective guy lines for greater visibility at night.
E-port is available to bring electrical power inside.
Ventilation
The tent has mesh windows, and the inner door is partly protected under the fly and you can always have lots of air through the screen room. On the other hand, the ridge pole raises the fly on the sides, so these places act like vents that allow vapor to escape.
There are no floor vents, one of the back would help, but all in all this is a ventilated tent and there is not much to object.
---
Who is this Coleman 8-Person Carlsbad Dark Room Tent for
Regarding the area, they do not give the exact numbers for the two rooms. My estimate is that the inner tent offers around 108 ft² (10 m²), but I may be wrong. This is not much so the official capacity of 8 people is not realistic.
The screen room is around 70 ft² (6.5 m²) so this looks like a lot of storage area, but note that there is no full rain protection here. In other words, the truly useful space with full protection is limited in spite of the tent's impressive size.
Regarding seasons & climate, I see it as a great summer camping tent, or for up to two seasons maximum. They claim it can withstand winds of up to 35 mph, but I would not take this as a fact.
Regarding the weight, this tent weighs 26.55 lb (12 kg) so this looks heavy. The total area is large and such a weight should be justified, but this is not a fully protected area.
The packed size is 30 x 13.3 x 12.8 inches (76 x 34 x 33 cm) so this is a bulky item. All in all, it is for places with a car access, and you are not supposed to carry it anywhere.
Regarding the price, I would say it is very good for such a feature-rich tent.

---
Specifications
Weight: 26.55 lb (12 kg).
Official capacity: 8 people.
Dimensions: 15 x 12 ft (457 x 366 cm).
Inner area: around 108 ft² (10 m²).
Screen room area: around 70 ft² (6.5 m²).
Peak height: 6 ft (183 cm).
Packed size: 30 x 13.3 x 12.8 in (76 x 34 x 33 cm).
---
Final thoughts, rating, pros & cons
So the long name of this Coleman 8-Person Carlsbad Dark Room Dome Camping Tent with Screen Room tells it all, this is indeed a pleasant and feature-rich tent. Its dark-rest design is a really useful feature. The tent is best suited for summer camping, but it is best to disregard its official capacity and use it for up to 5 people or so.
In the table below you can see how this tent stands against my standard rating criteria. I apply them consistently to all the tents here in the site so that you can easily compare:
BEST PLACEs TO BUY:
If you need more options of tents in this general shape, please check among Dome Tents. But check also my list of Coleman 8 person camping tents for more tents of the same capacity from the same brand.
Let me know if you have questions, there is a comment box below. Bookmark this site and come again, this will keep you informed, as you realize I add texts here on a regular basis. Thank you for reading.