---
Coleman Longs Peak Fast Pitch Dome Tent 6 Person is a simple dome-style structure for summer camping, it is freestanding, with an easy setup, and a great price.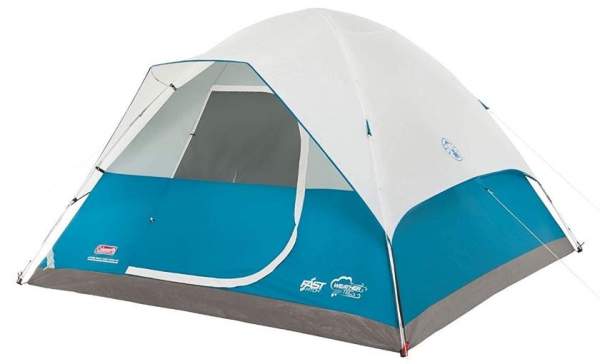 ---
Key features & benefits
Very easy to use.
Fast setup.
Lightweight.
Freestanding.
E-cable port.
Very affordable.
---
What this is about
This Coleman Longs Peak tent is a very simple dome-shape and freestanding tent. This implies that you can move it around and rotate even after you add the fly. But you have stakes included to fix it to the ground and do not ever miss doing so. The picture below shows its structure without the fly.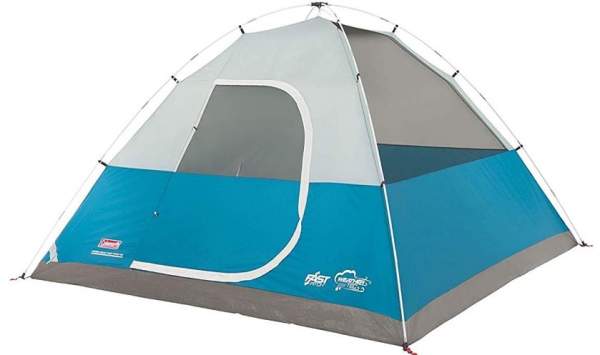 This is a single-room construction with a single door and one window on it. The picture below shows its back side when the fly is added. As you realize, there are no openings on the sides and on the back, and the fly is not a full-coverage type. Note also that the tent is quite tall for a dome of this size, the peak height is 72 inches (183 cm).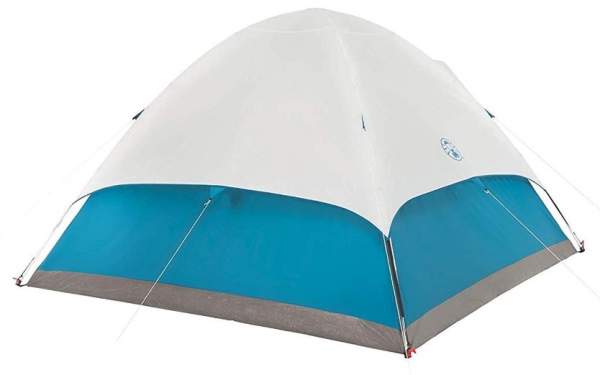 What is the meaning of Fast Pitch in the name
Coleman has a long series of so-called fast pitch tents, and this Longs Peak is one of them. You can see the same construction also in their Coleman Namakan Fast-Pitch Dome Tent 5, Coleman Steel Creek Fast Pitch Tent 6, Coleman Carlsbad 6, and in several more.
So this system includes a few features, but the most essential is the fact that the shock-corded poles are pre-attached to a hub element. But do not mix this with an instant tent, this is not what you have here. The poles in this Fast Pitch design are not preattached to the tent.
Some other manufacturers describe such a design as hubbed pole system, and there are many tents on the market of this type. These hub elements can be metal, but here you have a plastic pice shown below. So why talking so much about it? In fact, this is not such a big deal really, though Coleman claims that this makes setup 40% faster, as compared with some other non-hubbed tents.
In any case, the picture below shows the central hub element on the top of the tent. You will see a bit more about this system in the video below.
Ventilation
From the pictures above you have realized that the tent has lots of mesh on its sides, and there is also a mesh window on the door. But there are no floor vents here, pity they did not add one.

Other features
This is a very simple design, but you still have an E-cable port included, it is shown in the picture above.
There is a couple of small wall pockets to keep small items off the ground.
The carry bag is expandable.
The official setup time is 6 minutes.
One short pole is added to create a useful brim above the door, see the picture below.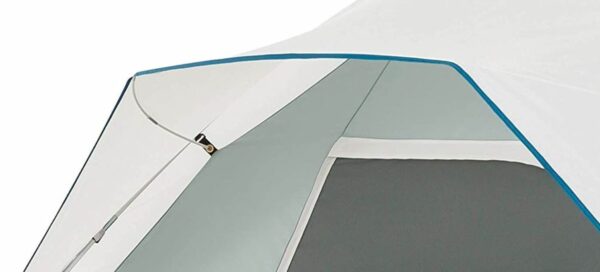 ---
Materials
The poles:
Here you have fiberglass. This is not so durable material but you have a budget tent here. Besides, such poles are used even in far more expensive tents. You can see them in the tents by NTK brand, and also in Vango tents here in the site.
When you spread the tent you have the poles as one single piece which you put on the tent and then attach them to the corners with a pin and ring system which is there. After that work on the clips and attach the dome to the poles. This is what they Insta-Clip snag-free suspension system.
The fabric:
There is not much info here. There is only a statement about the durable Polyguard fabric, and that their patented WeatherTec system is used, with welded floor and inverted seams. Nothing about waterproof rating and the materials, the usual story with Coleman tents. But no doubt the floor is polyethylene and you have a bathtub design so there is nothing one could object here, this part is fully waterproof for sure.
Illumiline reflective guy are added, you have them on all the sides.
Here is a video about the Fast Pitch system, please have a look:
---
Who is it for
Size-wise, the declared capacity is 6 people. When you see its dimensions, it is clear that 6 sleeping pads can be squeezed on the flor. The area is 100 ft² (9.3 m²) and this would imply 16.7 ft² (1.55 m²) per person.
But there are no storage areas here, so you would not have a place for your gear. Therefore, for real camping, this is a tent for up to 4 users, ideal for couples as well.
You might want to know that with such an area it is the same as Coleman's famous Sundome 6 tent. But the Fast Pitch which you have in Longs Peak tent is the main difference, but there are more. I have seen people asking about the differences.
Seasons-wise, this is a nice camping tent for up to 2 season use and for warm-weather camping. With such a mesh that cannot be closed, you would not feel great in a cool environment.
The structure is very aerodynamic and there are guylines, yet this is not a full-coverage fly so it is best to avoid very windy areas and lots of rain.
Weight-wise, the tent is very light with its 15.3 lb (6.9 kg). So it can be carried on some shorter trips, but there are lighter options for such a purpose.
The packed size is not particularly bad, it measures 20 x 12 x 12 inches (51 x 30 x 30 cm). This is still small enough to be transported even on a motorbike.
---
Specifications
Weight: 15.3 lb (6.9 kg).
Dimensions: 120 x 120 in (305 x 305 cm).
Area: 100 ft² (9.3 m²).
Area per person: 16.7 ft² (1.55 m²).
Peak height: 72 in (183 cm).
Packed size: 20 x 12 x 12 in (51 x 30 x 30 cm).
1-Year limited warranty.
---
Final thoughts, rating, pros & cons
So this Coleman Longs Peak Fast Pitch Dome Tent 6 Person is a simple and easy to use structure for warm-weather camping. Its price tag is hard to match. If you do not want to spend much and still have a tent from a top brand for occasional summer adventures, this is one great option.
Please see below how I rate it against my standard set of criteria used for all the tents here in the site, so you can easily compare:
You might want to check also this MOON LENCE Camping Tent 6 Person built in the same style. If you would rather have a tent with vestibules for storage, check this Kelty Wireless Tent 6 Person from their new series, and also this Big Agnes Bunk House 6 tent.
Note that this is not a sponsored text and I am not paid by the brand. Please use the comment box below in the case of questions or comments. Bookmark this site and stay informed, we add content regularly and you will always have fresh information about family camping tents.