Coleman 8 Person Instant Camping Tent is a very large and tall 2-room tent for 8 people, with an express setup and an incredible price. It comes with an integrated rain fly.
---
---
Key benefits & features
Incredibly easy setup – one person can do this.

Very affordable price.

Built-in rain fly.

Single-layer design.

Heavy-duty materials.

Freestanding tent.

7 huge windows.

2 doors.
2 rooms.
Very tall tent.
---
Confusion with the name
Note that there are two versions of this tent. The one presented here is 14 x 10 ft; the other is 14 x 8 ft and as I understand it comes with the rain fly. But the 14 x 10 version also exists as an option with the accessory fly included. So do not get confused if you see different descriptions on the Internet.
---
What type is this
The Coleman 8 person instant cabin tent is an instant setup and a cabin-type tent. This means that the poles are pre-attached to the tent so you just unfold it and extend the telescopic poles.
The nearly vertical walls and its height of nearly two meters are the features which make it a cabin type tent. Please see more about the terminology in my separate text.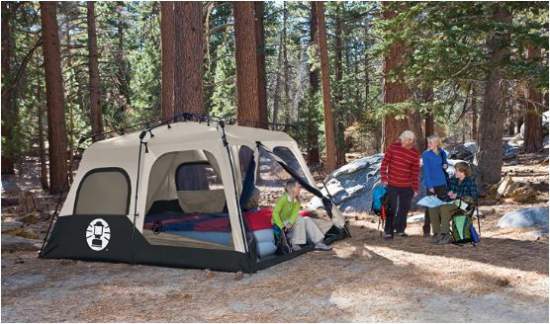 The tent is a single-layer type and the fly is built in. This is both good and bad. The good is that the setup is made easier, and the bad is that you do not have a mesh on the ceiling, so the ventilation is not the best feature as long as the window panels are closed.
This is also a 3-season tent with huge windows designed for comfort, and here again, you have both good and bad sides due to this, more below.
This is a very stable freestanding structure which you can pitch on any terrain, literally, and you can move it around when it is set up. So you do not have to stake it out, but stakes and guylines are included and do not miss doing this whenever possible.
---
Who is it for
How many people can this tent accommodate
The floor area of this tent is impressive. You have 140 sq ft (12.9 m²). From the comparison table below you will realize that this is more than what you have in the Core 9 tent of the same type, which is formally for 9 people.
But you do not have a vestibule, and all gear must fit inside. So, if this is for groups at some open-air gathering, you will be doing fine. But if this is about families, you would use it for parents and 3 – 4 kids maximum.
Transport and weight
This tent is quite heavy, you have 36.3 lb (16.5 kg) here. The packed size is not so impressive either, you have a carry bag which is roughly 47 x 10 inches (120 x 25 cm). So, you will need a car or any other means of transport, and the tent can be used at places with a car access.
How about beds
The tent can accommodate two full-size queen beds, one in each of the two rooms. See for example this Coleman Queen size camping bed, a tool from the same brand. It will fit easily.
Yet another better option is to use bunk beds, at least for kids; the walls are steep here and the tent is so high, so it is easy to put such bunk cots inside. See some great models here.
Note that in any variant with beds (cots), you always have space underneath the beds, so you can use it to store your gear. Using air mattresses on the ground is also an option, but they will take all space. Off-ground sleeping is a far better option in any tent.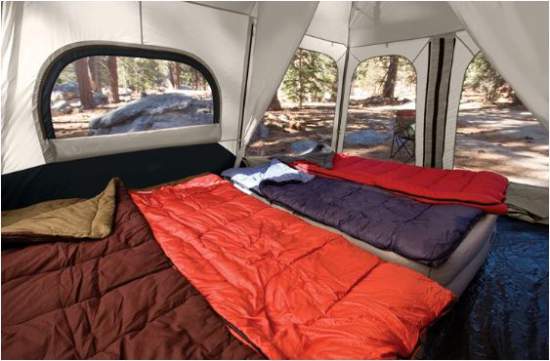 Is Coleman 8 person instant up tent a winter tool
This tent is a single-layer type and this is the only similarity with winter tents which are usually (but not always) single-layer structures. But do not even think of using this tent in a winter environment; this is a tool for very mild weather conditions and for summer mainly.
However, you can use it at high mountain passes in the summertime as long as you do not have strong winds. This closed design without mesh is certainly good for keeping the warmth inside the tent.

---
Weather protection
The walls
The Coleman 8 person instant up tent is fully waterproof. On all windows, you have panels from inside, so they provide rain protection (the outer layer is a mesh against insects). The panels are with zippers and you have flaps from outside. The horizontal flaps are oriented so that water doesn't get in.
The problem may appear with vertical flaps when you have rain and strong wind which can force water to move to the sides and under the flaps tp the zippers. So my point is that I would not rely on this system as fully waterproof, although it really looks great and durable.
A much better situation with flaps is on the doors. Here, on vertical zippers, you have double flaps, plus Velcro tabs which keep them in place. So there is no way for water to get in regardless of the winds. The horizontal flaps are with the same design as on windows, so this is surely fully waterproof.
The floor
I dislike the fact that the floor is not a bathtub type. But you have here what they describe as Weather Tec patented system which utilizes welded floors.
This welding is also known as plastic welding and it creates the strongest and the most durable seals. They do not decay in time and they are even stronger than the surrounding material.
What if the rain continues
The downside of this design is that the panels must be closed when it is raining. In such situations, this tent will not be a very pleasant place, you do not have mesh on the ceiling as typical for summer tents with a separate fly.
Imagine also preparing meals in such a closed space. You do not have a vestibule here, all must be done inside, not so great.
Should you buy a rain fly
If you follow the links given in the text, you will realize two things:
There is an option to buy the tent with the fly as well.
There is also an option to order it separately, and you can do this here.
So should you do this? I think yes. This will put your mind at rest at least regarding the roof. With the rain fly, it will be totally waterproof.
But note that the fly covers mainly the roof, see the picture below, but there is some protection for the zippers as well. And you still do not have a vestibule. So it is up to you, it depends on where you are going to use this tent. I know for sure that I would not go to the Alps without a fly, we have a lot of rain there and it can last for hours.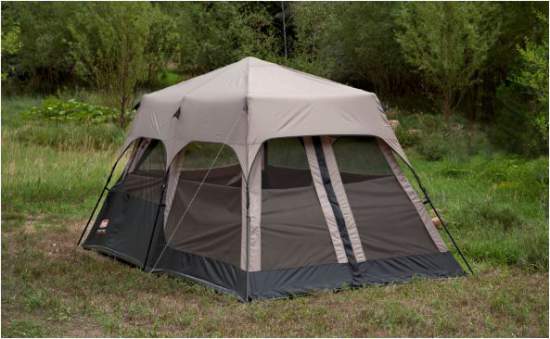 ---
Setup
The frame is like 6 spider legs, they all converge to the central point on the roof. Both the top poles and the side poles are straight, so the walls are also straight and almost vertical.
Perhaps it is good to see this in real, they set it up under 2 minutes:
---
Other features
All materials used here are very durable, this is the reason for its weight. So the fabric is 150D; not many tents are with such durable materials. Compare this with Eureka Sunrise EX 6 tent where you have 63D.
The poles are also heavy-duty steel. The main 6 poles are 16 mm and the roof poles are 12 mm.
Expandable bag
As you know, when you are in rush you sometimes do not pack the tent to the smallest volume, so getting it back to the bag can be annoying. So they have designed the bag to be expandable. The meaning of this is that on the bottom you have a tear-away strip, and underneath it, you have a gusseted part, a sort of baffle that expands the bag. The bag is nicely done in general, with two carry straps and a zipper it looks like a travel bag.
Storage pockets
This is a bit disappointing part, there are only 2 small mesh pockets for storage. I wonder what did they think. There is plenty of space around under the windows so they missed the opportunity to make this tent far more livable.
The divider and 2 rooms
This is a nice feature here; you have a divider that offers some privacy. The divider is with a central zipper, and you can roll it up and fix on the ceiling when you do not need it; you can do this with each of its two wings separately. It attaches to the side walls through some toggles and loops.
So naturally, you have two spacious rooms inside. Both are big enough to accommodate queen size beds.
Two doors
This is again something very useful; so you have two doors with different designs, one is with an inverted T-shape zipper and the other is like a D-shape. Both are with panels and mesh, so you can have windows on the doors as well.
Great headroom
Yet another great feature; you have 6 ft 5 in (77 in; 1.96 m) height in the center. Remember, this is not a dome-style tent, so you have a considerable height almost everywhere in the tent.
The feeling of volume is most important here. The walls are almost vertical, so this together with such a great height and huge windows gives an impression of a home comfort.
Ventilation
With so many windows with mesh, there can be no issues with ventilation and condensation in this tent. But if it raining and you keep the panels closed, the situation is not so great.
---
I already mentioned that the weight is not necessarily a bad feature; this is due to so strong materials used in the tent's construction. You would use a car for transportation in any case, so kilogram or two more simply doesn't matter.
The issue of the vestibule is much more important. Everything is fine with this tent as long as you do not have long spells of rain. So if the vestibule is important, i.e., you will be using the tent in areas with a lot of rain, you might want to consider something different, like this Nemo Wagontop 6.
The windows are a truly great feature, but they are the places where you might expect water passing through the vertical zippers sections.
The packed size is not so great indeed, but here too, you would use the car in any case, so the 47 inches (120 cm) of the packed length may not be such a big deal.
---
Specifications
Type: instant cabin-type, freestanding, 3-season.
Capacity: 8 people.
Weight: 36.3 lb (16.5 kg).
Dimensions: 14 x 10 ft (168 x 120 in; 4.3 x 3 m).
Floor area: 140 ft² (12.9 m²).
Area per person: 17.5 ft² (1.61 m²).
Peak height: 6 ft 5 in (77 in; 1.96 m).
Packed size (L x D): around 47 x 10 in (120 x 25 cm).
1-year limited warranty.
Fabric: 150D polyester.
Taped seams.
2 vents.
Doors: 2.
Windows: 7.
Carry bag included – note it is expandable.
Stakes and guylines included.
---
Coleman 8 Person Instant Tent vs Core 9 Person Instant Cabin Tent
These two tents are similar in structure and design, so see how they compare. For more details please follow the Core 9 link.
Core
Instant Cabin Tent 9
48 x 11 x 10.5 (122 x 28 x 27)
---
My verdict, rating, pros & cons
I would conclude this Coleman 8 Person Instant Camping Tent review by stressing again that this is a great construction with so many useful features, and the price is more than a bargain for such a great tent.
Bear in mind that this is a summer-type tent, and if you decide to buy it, add the fly to it although it may look redundant. All in all, there are many great points in its design but there are also downsides, so choose carefully. Check also their 10-person version with dark rest design.
This Coleman 8 person instant tent has been around for many years, so there are many reviews. Only on Amazon, you have more than 2000 customers' reports. It has received a very good average rating. Here is how I rate this tent:
Coleman 8-Person Instant Tent
$183.00
Pros
Very easy setup.
Great size.
Great price.
Very tall tent.
Freestanding.
2 Doors & 2 rooms.
Cons
No vestibules.
Not so great packed size.
Heavy.
Few pockets.
Not for heavy rains and winds.
If this tent is not completely what you are looking for, just look around on this site. Check my separate list of Coleman 8 person cabin tents.
You might want to check this Red Canyon 8 tent from the same brand, with almost 16 square meters of floor area, or this WeatherMaster 6 with a large screen room.
Thank you for reading, please use the comment box below if you have any question or comment. Have a nice day.