This Coleman Cabin Tent with Instant Setup is loaded with features that include two doors, 5 windows, dark rest design, 60 seconds setup, and much more.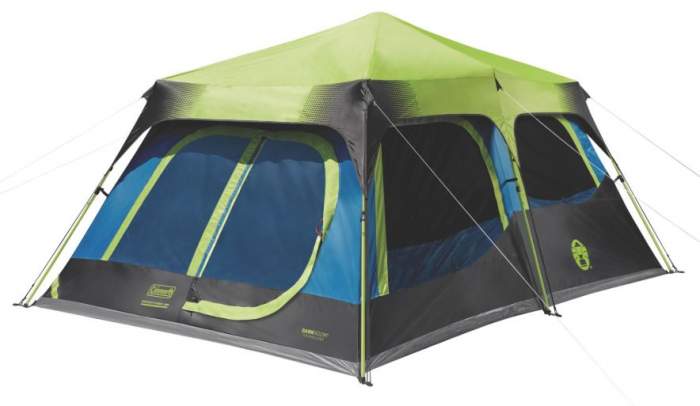 ---
Key features
Hinged door.
Dark rest design.
Cabin style tent.
Very tall tent.
E-cable port.
2 Doors.
Divider included for 2-room setup.
5 Huge windows.
Very good price.
---
What type is this Coleman Instant Cabin Tent
This tent incorporates several great features which Coleman normally has in different tents. So this is a very typical cabin style tent with angled yet straightened walls. But this is also an instant setup design, and this means that the frame is preattached to the tent and you pack it that way, see the frame in the picture below. So when you need it, you can deploy it in under one minute. I have included it in my list of best instant setup tents.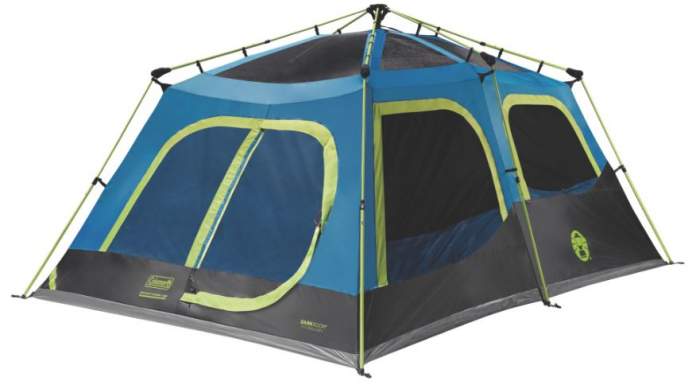 The tent is also fully freestanding, so this is indeed very convenient because you can have it pitched on any surface, no matter if this is concrete or grass, sand or rock, indoor or outdoor. This also implies that the fly is partial coverage type and it buckles to the tent base in the corners. This allows you to have views around through its 5 large windows.
Yet another great feature is its dark-rest design, see the picture below. They claim that the fabric reflects 90% of the sunlight and the atmosphere is cooler inside. So you can take a nap during the day even if it is sunny outside. Naturally, I have added it to my list of best dark rest tents.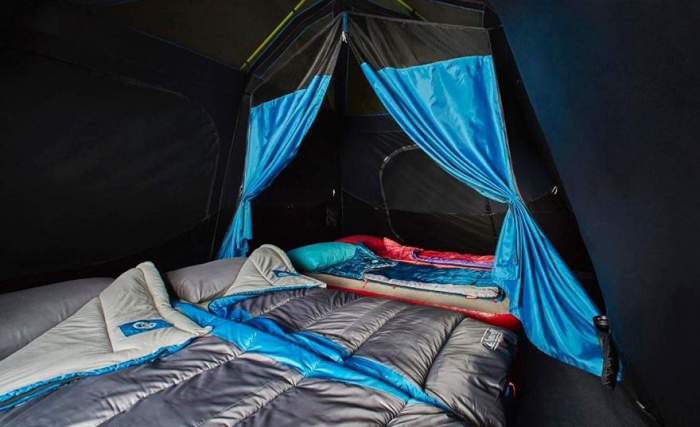 This is not all, there is yet another great detail here and this is its hinged door shown below. So if you are not familiar with this design, there are poles that run around the door's perimeter and this is a rigid structure similar to the door at home. There are also Velcro tabs that keep it closed so you do not have to wrestle with the zipper all the time. I have included it in my list of tents with hinged doors.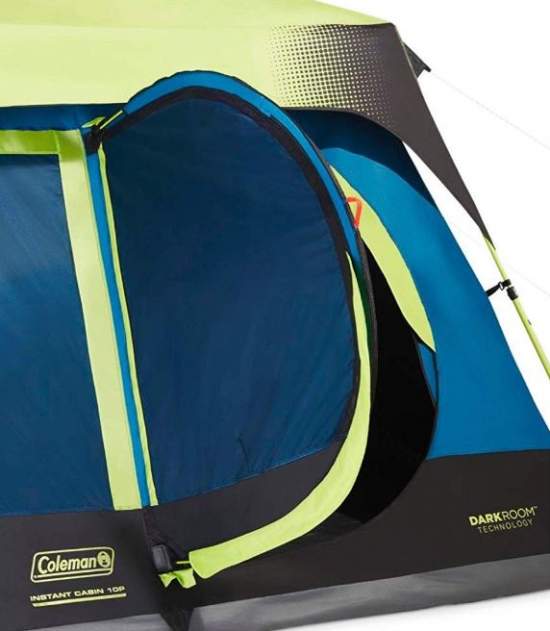 This is also a very tall tent with the stand-up height in its all parts, the peak height is 79 inches (201 cm). There are two doors (with windows, and one of them is the mentioned hinged door) and 5 separate windows with mesh and panels for protection and privacy.
---
Who is it for
Capacity-wise, the tent is officially for 10 people. But the area is only 140 ft² (13 m²) so better not attempt to accommodate such a number of people in this tent. It can easily accommodate two queen size beds (they claim there is the place for 4, but this makes no sense), so this would determine its true capacity and this is 4-5 people. It is good enough for parents camping with two kids.
Seasons-wise and climate-wise, I see this tent as a summer camping tent, or maximum for 2 seasons (late spring, summer, and early autumn). The ceiling is all mesh which cannot be closed, so this is great for warm weather camping but this is not optimal for a cold environment.
They claim that the tent can withstand winds over 35 mph, but this is a very boxy and tall structure. The frame is indeed strong and you can stake it properly to the ground, but I would not use this tent at places with strong winds. Such a high fly would not last long.
As for the rain protection, the fly is minimal and even if it is fully waterproof, the rain will go down to the walls where you have so many zippers everywhere, so chances for a leak are enormous. It is best to avoid areas with strong rains.
Weight-wise, with its 42 lb (19 kg) and the packed size which is around 42 x 9 x 9 inches (107 x 23 x 23 cm), this is a camping tent for places with car access. But its instant design makes it suitable for people who change the place frequently, so if you are on a cross-country tour on anything similar this is the tent to consider.

---
Materials
This is formally a 2-room structure with a removable divider, and there are two doors that can be used by the occupants in these two rooms. The frame is all steel so this is a good side of this tent, only the hinged door poles are flexible fiberglass.
Note also that all the windows are with zippers, which is surprising when you see its price; but this must be so with such a partial coverage fly.
Fabric
There is no indication at all about the fabric used in the construction, and this holds for the Coleman site and Amazon. So this is very disappointing to see. All you can find is a statement about the WeatherTec system and patented welded floors, and protected seams.
Now, reading between lines, the welded floor indicates that this is polyethylene so this is a strong and fully waterproof material. I would say that you are safe from groundwater. I also know from their other tents that the WeatherTec system includes polyester for the fly and the walls, and there is some light PU coating.
Ventilation
There is plenty of mesh on the ceiling and on the windows, so ventilation should never be a big issue in this tent. But I wish to stress that it has no floor vents, it would be much more livable with such an addition.
Other features
There is an E-cable port in the corner.
A lantern ring is on the ceiling.
All necessary guylines and stakes are in the package, see the picture below.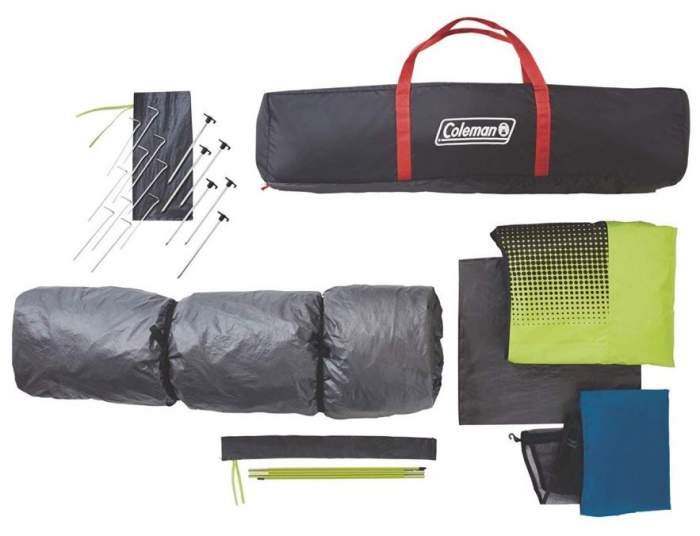 Please see a bit more in this video:
---
Specifications
Weight: 42 lb (19 kg).
Declared capacity: 10 people.
Dimensions: 14 x 10 ft (168 x 120 in; 427 x 305 cm).
Area: 140 ft² (13 m²).
Peak height: 79 in (201 cm).
Packed size: 42 x 9 x 9 in (107 x 23 x 23 cm).
---
Coleman Cabin Tent with Instant Setup vs Competitors
I have decided to show you this Coleman tent side by side with two Core tents built in the same style. So all of them are cabin style tents with a partial fly, but the Coleman is the only dark rest type and with hinged door. The prices are similar, but please follow the link to check from your side and to read more.
---
Final thoughts, rating, pros & cons
So this Coleman Cabin Tent with Instant Setup looks great and it is loaded with features, but do not put it on harsh tests, this is a pleasant structure for mild weather conditions without much rains and winds. Also, it is best to disregard the declared capacity which clearly makes no sense. To realize this you can also see their 8-person instant tent which is with the same floor area and 14 x 10 ft dimensions but the declared capacity is 8 people.
It is hard to find a tent with more customers' reports on Amazon. Currently, there are thousands of them, but many of those reports clearly have nothing to do with the current version. There are three tents under the same name, and they have been modified in the past, so the reports are about all those various versions.
In any case, the average rating is really high. My own rating is quite similar, but I use a standard set of criteria and apply them to all the tents in the site. So have a look at how I rate this tent:
Coleman Cabin Tent with Instant Setup 10 Person
Pros
Easy to use.
Very livable and pleasant.
Freestanding.
Great price.
Dark rest.
E-cable port.
Cons
Small area for the declared capacity.
Not for harsh weather conditions.
No floor vents.
You might want to compare this tent with the Wenzel Kodiak 9 Person Tent which is also built as a cabin tent with 2 cabinets. Check also their Ozark Trail 10 Person 2 Room tent which is more affordable. For more Coleman tents with this capacity please check in my separate text.
Note that this is not a sponsored text and I am not paid by the brand. Please use the comment box below in the case of questions or comments. I wish you a pleasant camping.