The Coleman Skydome 6-Person Screen Room Camping Tent with Dark Room Technology is an extended dome tent with two rooms and it blocks up to 90% of daylight.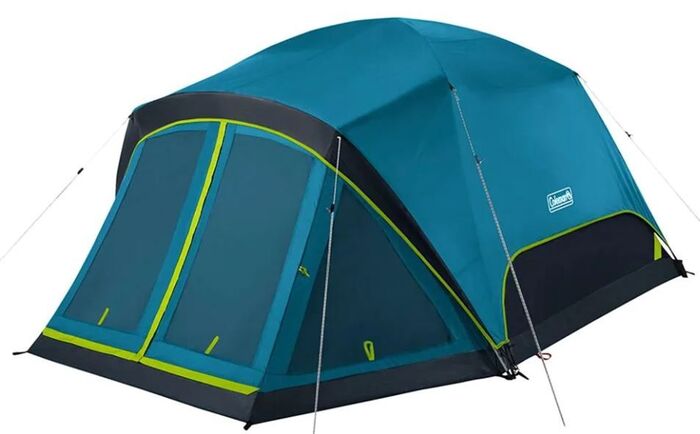 ---
Key features & benefits
Extended dome tent.
2 Rooms.
Fully protected screen room design.
Dark Room construction.
E-port.
---
What this is about
So here is yet another tent from the endless list of variants of Coleman's Skydome collection. They build these tents in many different sub-types and you can see some of them in the link above.
But they are all dome or extended dome type tents, the picture below shows the tent without the fly so you can better understand its structure. The rear part is under X-crossed poles and one extra loop is for the front extension.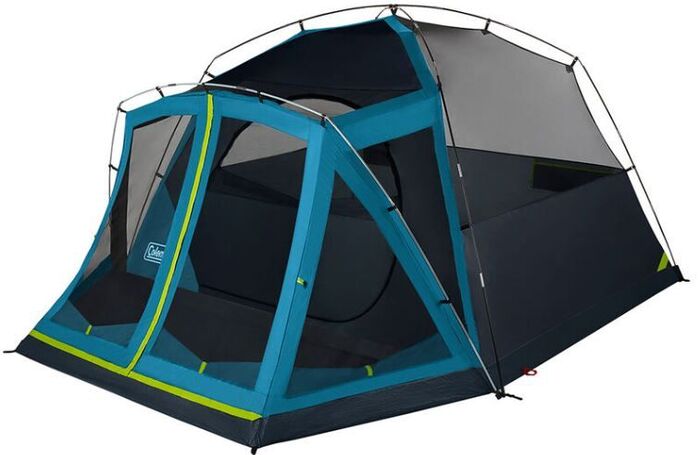 This is a collapsible tent that needs assembly, the picture below shows all its elements that are in the package. As you see there are many, but this is all standard, and setup of this tent is easy and simple.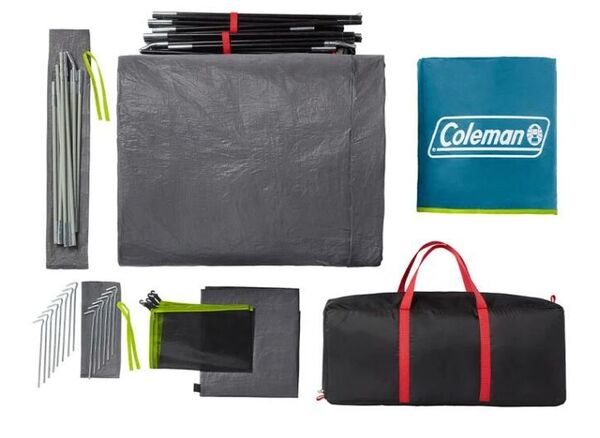 This particular Coleman Skydome 6-Person Screen Room Camping Tent with Dark Room Technology with its long and complicated name combines two essential features that make it so exceptional. They are described below.
Screen room
So the tent is a two-room configuration of a particular type. The front room is built with mesh on its three sides, and there you have also closable panels. So this is a fully protected room, and you can realize this from the top picture above that shows how it looks with closed panels.
But it has the extra features that make it a perfect screen room. See how it looks when the panels are rolled out, you have a pleasant place for sitting while being protected from all sorts of insects. Here you have around 40 square feet (3.7 m²) of the area. Note that the floor is fully sealed.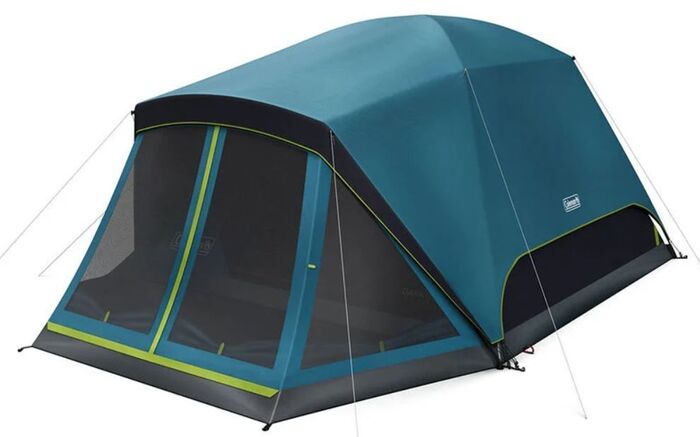 The rear room access is from the front screen room, there is a large oval inner door between the two rooms. Both rooms offer full protection with their sealed floors, there is no difference in this sense except that the front room gives something extra.
The tent as a whole is not freestanding, the extra pole that supports the front room must be staked and kept in position with a staked fly. There is one access points as you see from the pictures, and this is a door with an inverted-T shape shaped zipper.
Because of this feature, it is in my list of best screen room tents. The same design is in their Coleman Camping Tent Skydome 8 Person with Screen Room, but here you have extra, see the next section.
Dark Room
Coleman is the leading brand when this is about dark rest rooms, and here you have one more example of it. So they claim that the tent blocks up to 90% of the daylight. This is convenient so that you can sleep longer in the morning and you will not wake up when the sky is up.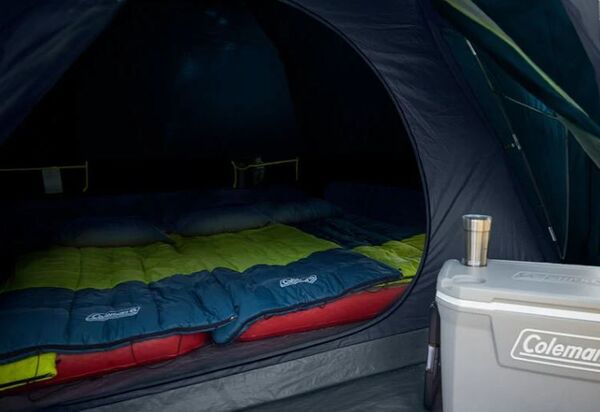 This is also great if you camp with kids who need to sleep during the day. It is included in my list of best dark rest tents.
The tent is constructed with pre-bent roof poles segments so this gives extra volume inside. This means more shoulder space; they claim 20% more as you see from the picture below.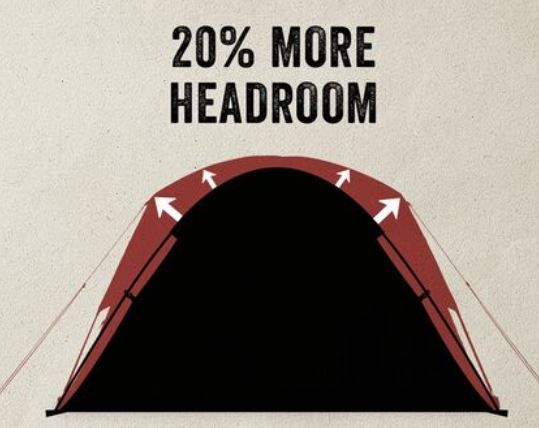 Other details
Gear pockets and loft to keep small items stored away.
There is an E-port to bring electrical power inside.
Materials
The poles & stakes: You have three fiberglass poles with quick corner attachment design. So there are some balls on the ends of the poles, and you simply put them in the corner pockets. From what I know, it was Kelty that introduced this concept first in some of its camping tents.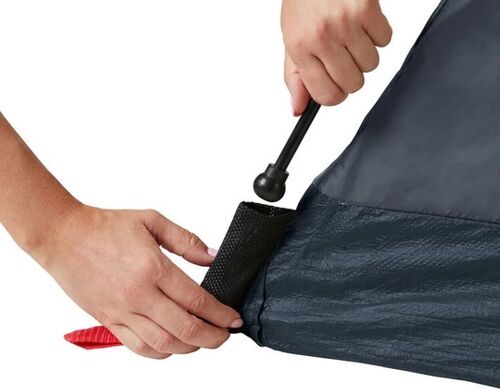 But not all poles attach that way, see what you have in some other places around the tent. Observe also how the fly attaches to the tent's base.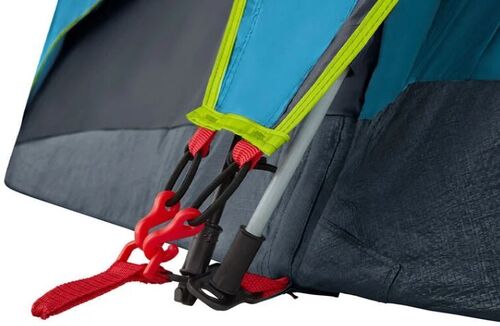 You will see some write about 5-minutes setup time because of pre-attached poles. I think this is a bit too optimistic, and the poles are not pre-attached, they are simply shock-corded as usual.
You have a full set of stakes and guylines included, they are shown in the picture with included elements above.
The fabric: The floor is a bathtub type and this is a floor is polyethylene with a 3000 mm waterproof rating. The rest is a polyester taffeta and its waterproof rating is not clearly indicated by the manufacturer. I have see some contradictory numbers around.
But they use what they call the WeatherTec system with welded corners, inverted seams, and taped seams. This is standard set of features in their US tents.
Ventilation
You have already seen that the canopy is all mesh and the front room is all in mesh. So this is all nice bit the tent has no floor vents. I think they are necessary when you have to keep it closed during the rain. The same holds for the fly which is without vents.
---
Who is it for
Regarding the area, the total protected and floored space is 125 ft² (11.6 m²). The official capacity is 6 people so this would mean 20.8 ft² (1.9 m²) per person. I think this is quite good.
Having two fully protected rooms is convenient so you can organize your camp life as you wish.
Regarding seasons & climate, the tent is officially tor 3 seasons and I think this is realistic. They write it is tested to withstand up to 35 mph winds.
I am not impressed with the absence of vents, and also with no data about the fly rating.
Regarding the weight, the tent is quite light with its 18.34 lb (8.3 kg). You have already seen how much space it offers. The packed size is also good, see the numbers below.
Regarding the price, it is a bit steep in view of its fiberglass poles, but indeed the tent has some other great features. The links are below so you can check from your side.
---
Specifications
Weight: 18.34 lb (8.3 kg).
Official capacity: 6 people.
Dimensions: 12.5 x 10 ft (3.8 x 3.05 cm).
Inner area: 125 ft² (11.6 m²).
Inner area per person: 20.8 ft² (1.9 m²).
Peak height: 72 in (183 cm).
Packed size: 25 x 9 x 9 in (64 x 23 x 23 cm).
Warranty: 1 year limited.
---
Final thoughts, rating, pros & cons
In summary, the best features are mentioned in the name of this Coleman Skydome 6-Person Screen Room Camping Tent with Dark Room Technology. I wish to stress again that it has two fully protected and functional rooms. It is nicely built but it would be much better with a few vents.
Below you can see how this tent stands against my standard rating criteria that I apply consistently to all of them here in the site so that you can easily compare:
BEST PLACEs TO BUY:
For more tents of this shape please check in the category Dome Tents. Let me know if you have questions, there is a comment box below. Bookmark this site and come again, this will keep you informed, as you realize I add texts here on a regular basis. Thank you for reading.