This Coleman Camping Tent Skydome 8 Person with Screen Room is a tall 2-room structure with a fully protected screen room and with a very reasonable price tag.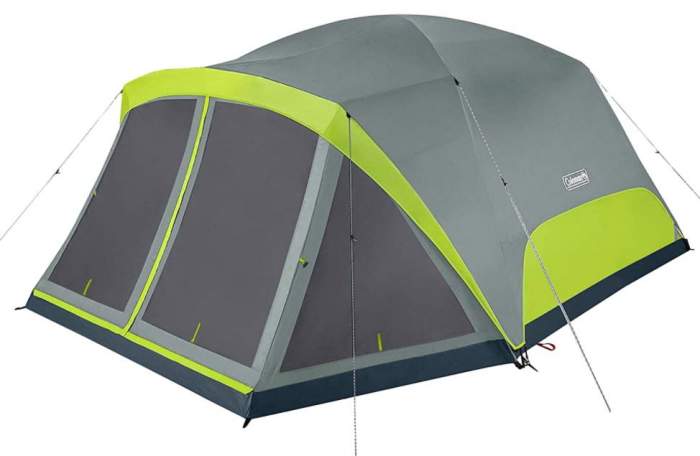 ---
Key features & benefits
Extended dome tent.
Fully protected screen room.
Tall structure.
Reasonable price.
---
What this is about
This is at least the fourth or even fifth sub-type from the Coleman Skydome tents series. To realize what I mean, see their Coleman Skydome 8 that is a dark-rest type simple dome. But see also this Skydome 8 person tent that is not a dark rest. Well, there is more; in 2021 they have launched a new sub-series of extended dome type tents.
However, this Coleman Camping Tent Skydome 8 Person with Screen Room is also an extended dome but with a screen room. This is the largest of the three such tents with a screen room.
Actually, there is more; I have seen also the simple Skydome but with a full-coverage fly, they launched it for the season 2021. So clearly this is a mess, the tents are very different and this all makes no sense. It appears they did not have enough new names, and I suspect that they might change these names in the future, I have seen this happening in the past.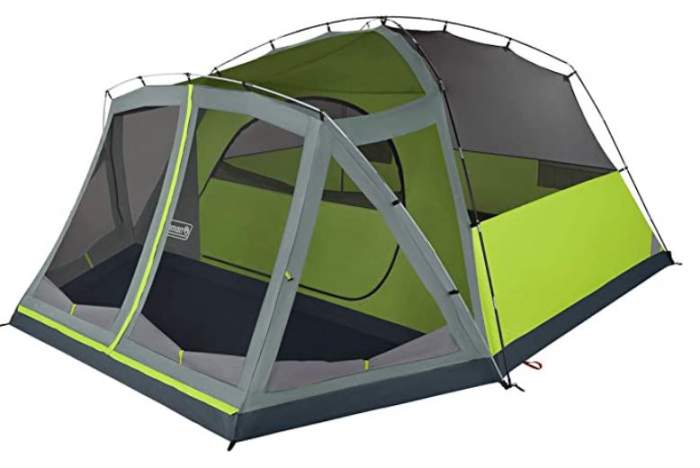 In any case, what you have here is an extended dome with an inner room and a front screen room, see the picture above that shows the tent without the fly. However, this screen room is with full protection, which means you have a sealed floor and all walls are double layer type with mesh and with panels for protection and for privacy.
Because of this, I have included it in my list of best tents with a screen room. Note that this structure is very similar to their Coleman Skylodge 12 Person Tent with Screen Room.
The tent is with one large entry point, so you have a door with an inverted-T zipper, and an inner D-shaped door between the screen room and the inner room.
Observe also how steep the side poles are, so this gives more shoulder space inside as compared with the simple dome configuration, they claim this is 20% more volume. The picture below shows the tent with the fly on, and with the screen room fully closed: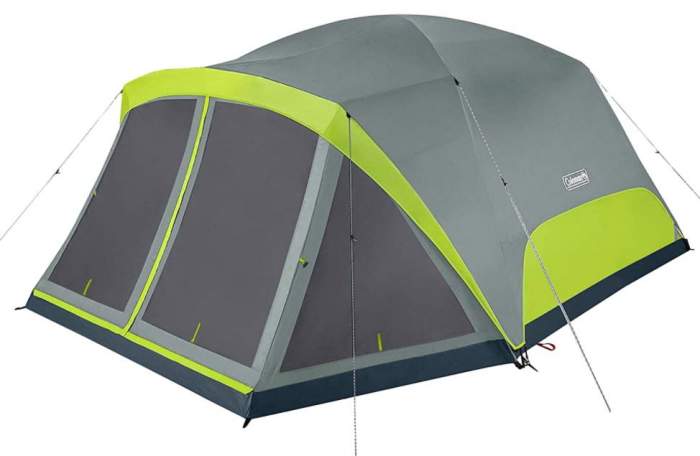 This is a tall tent with a peak height of 6.3 ft (192 cm). The picture above shows that this is an almost fully double-layer tent although the fly is not a full-coverage type. The walls that are not under the fly are almost all two-layer.
Materials
It is disappointing that they do not provide any details about the waterproof rating and the materials. But knowing their other tents, this is probably the same stuff so the tent is polyester and the floor is polyethylene.
They use the same design with seams as in their other tents, so this is what they call the WeatherTec system. This implies a tub-like floor that protects the inner from splashes, then patented welded corners, plus inverted and taped seams.
The fly attaches to the tent's base, see the picture below which shows also how the fiberglass poles attach to the tent. Higher on the canopy the attachment is with clips, this is visible in one of the pictures above.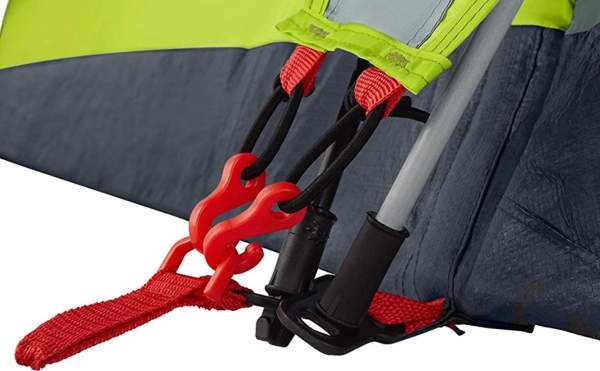 Ventilation
You have seen in the pictures above that the canopy is with lots of mesh, the inner door is also with mesh in the upper section but you can close it for privacy, there is a panel inside. The screen room is already described, it is fully a double-layer construction. This all looks good but I still miss some floor vents. Though I note that the fly on the sides does not go to the ground so this should allow for enough air circulation.
Other features
There is an E-cable port.
Wall pockets are available, see the picture.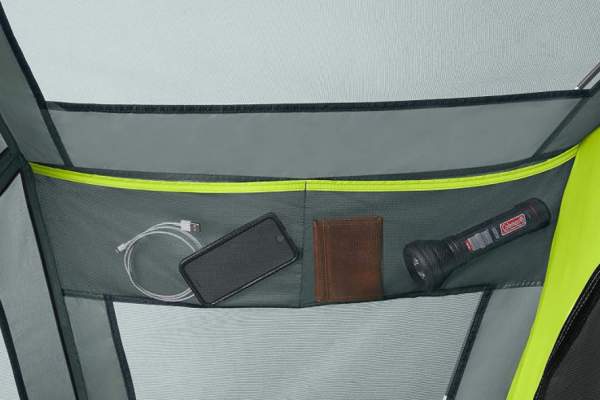 ---
Who is it for
Space-wise, the official capacity is 8 people, and for this you have the inner room area of 114 ft² (10.6 m²), plus the screen room which a trapezoid and its area is around 3 square meters or a bit more. So the total area is around 151 ft² (14 m²). This means around 18.8 ft² (1.75 m²) per person, and this is quite good. Both rooms offer full protection for occupants.
Seasons-wise & climate-wise, the tent is described as a 3-season shelter and I would say this is so. The front screen room adds versatility to this tent because it offers an area where you can sit and enjoy views while still be protected from insects. When it rains, you can close it completely.
They claim that the tent can withstand winds of up to 35 mph. With the fly on, and with the screen room fully closed, it looks very aerodynamic although it is quite tall. It is nicely proportioned and stable. But with so much mesh it is better to use it in the warmer part of the year.
Weight-wise, the tent is moderately light, it weighs 24.97 lb (11.3 kg). This may look a lot but the area is quite large here. The packed size is less impressive.
Regarding the price, I would say this is a fair price for such a nicely built tent.

---
Specifications
Official capacity: 8 people.
Weight: 24.97 lb (11.3 kg).
Inner dimensions: 12 x 9.5 ft (366 x 290 cm).
Screen room dimensions: 12 x 4 ft (366 x 122 cm).
Total area: 151 ft² (14 m²).
Screen room area: 37 ft² (3.4 m²).
Packed size: 26 x 22 x 11 in (66 x 56 x 28 cm).
Peak height: 6.3 ft (192 cm).
---
Final thoughts, rating, pros & cons
So you have seen it, this Coleman Camping Tent Skydome 8 Person with Screen Room is indeed nicely built, functional, and versatile. The front room is fully double-wall so you can use it as a pleasant screen room for sitting, but if you need it fully enclosed and sealed for protection from elements and insects, you can easily do this.
Please see how I rate this tent against my standard set of criteria, it scores well and the average rating is high.
BEST PLACEs TO BUY:
For more options in this style please check under the category Screened Tents. But check also my list of Coleman 8 person camping tents for more tents of the same capacity from the same brand. Note also that this KTT Large Tent 8-10 Person Family Cabin Tents for Camping is with nearly the same floor area. Thank you for reading and have a nice day.