The Coleman Skydome XL 8-Person Camping Tent with LED Lighting is an easy to use ventilated extended dome, with an e-cable port, and a fair price tag.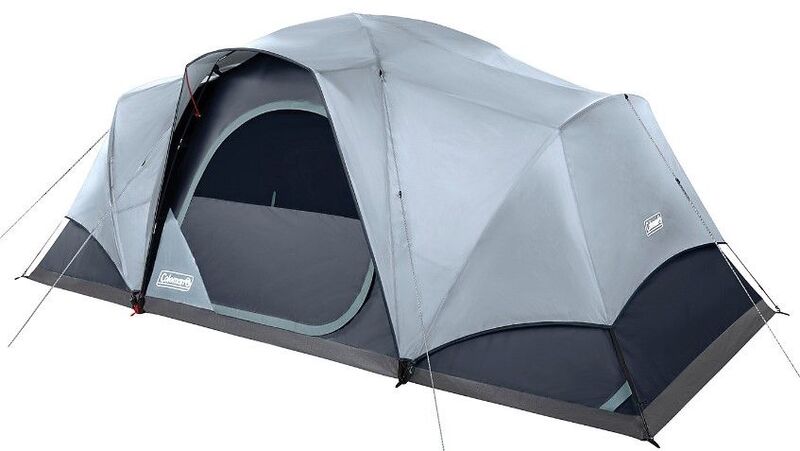 ---
Key features & benefits
---
Overview
Here you have a tent that can be described as an extended dome type shelter with the central part supported with two X-crossed poles, and it also has two extra loops on the sides. The structure is shown in the picture below where you see how the tent looks without the fly.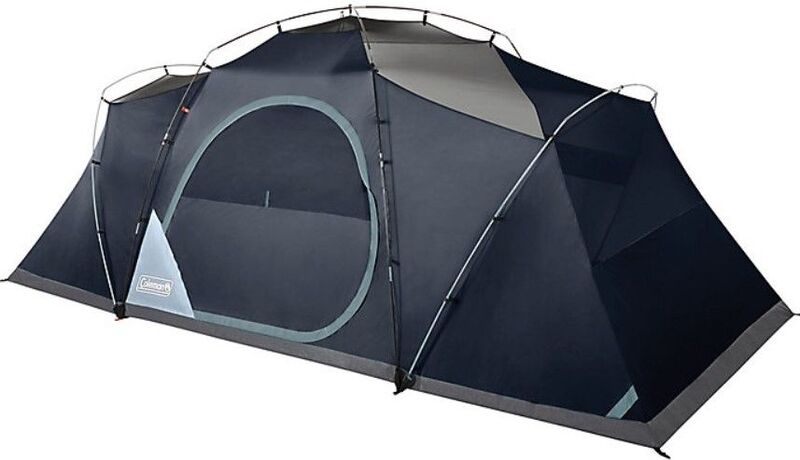 The door visible in the picture is the only one, perhaps not so great for a tent of this size, but this should be fine. Note that the peak height in the central area is 72 inches (183 cm).
The fly is a 3/4 type, so it does not go completely to the ground, but it covers the main part of the tent. It has some interesting and useful features. One is shown below, so this is the rear side of the tent. You see that there is a zipper that you can open and have views on that side when the sky is clear.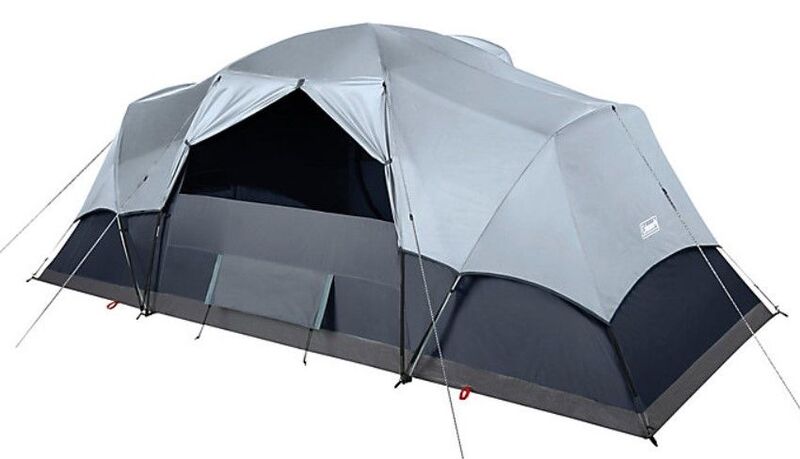 Such a small detail adds lots to livability of this tent. Note also that the door is partly protected by a small awning supported by one extra pole, see how this looks in the picture below. So you have a dry entry here, and this is indeed great to have.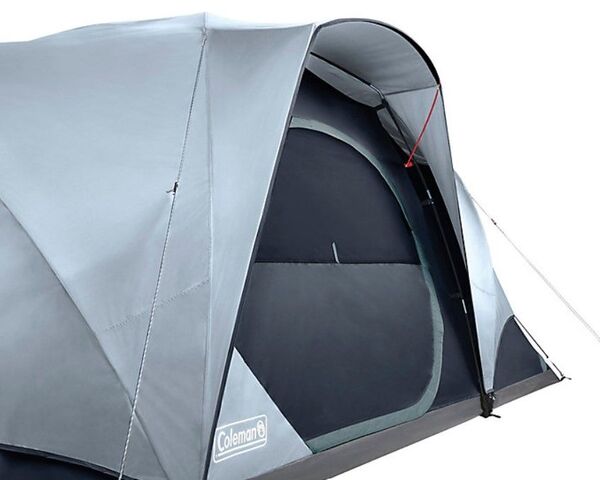 As you realize, the door has a mesh on the upper part so this is a window which you can use most of the time. Below you can see how the tent looks from inside. This is the view from the door, and now you see how the rear zipper works, you have a nice window on the rear side.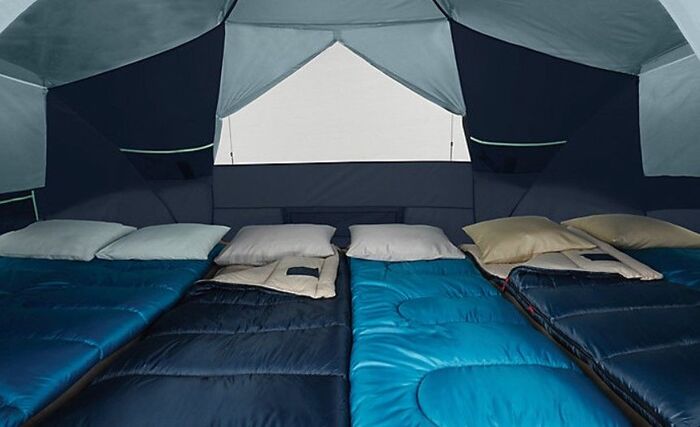 LED included
You have seen from the title that the tent comes with LED lighting that shines warm diffused overhead light. It is powered by 3 AA batteries (not included), and the picture below shows how this looks. This is why I have included it in my list of lighted tents.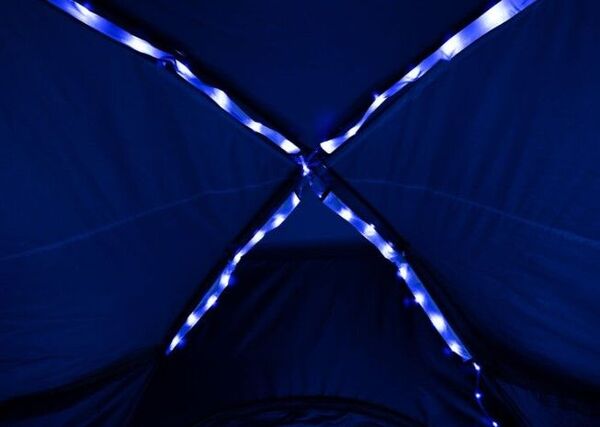 Materials
The poles: You have 6 shock-corded fiberglass poles here and they are shown in the picture below. Note that they have those balls at the ends, this is the same as in their Coleman Skydome Camping Tent with Dark Room Technology.
This is because there are small sleeves at the base of the tent instead of grommets or pin and ring design. So you put the end of the pole in the sleeve, and the ball is there to prevent damages to the fabric.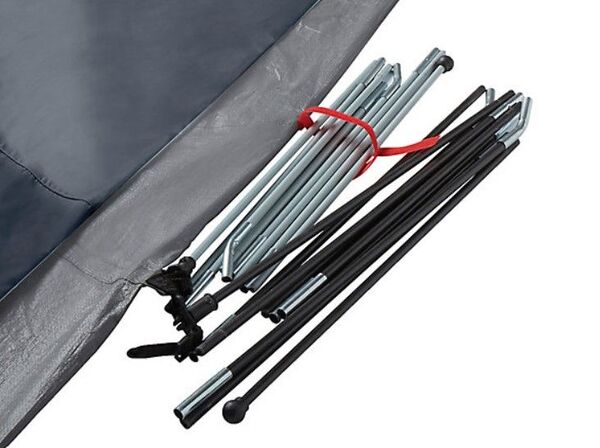 Set up is easy, and they claim that the official time is 5 minutes. Perhaps a bit too optimistic but it is close to reality, everything is color coded for an intuitive setup.
Note that they write about pre-attached poles, so this can make people confused. This simply implies shock-corded, this is not any sort of instant tent.
The fabric: They use their standard WeatherTec system with a tub-like floor, welded corners, and inverted taped seams. I could not find information about waterproof rating, this is a shame. But the floor is a polyethylene so you are safe from that side for sure.
Other features include:
Gear pockets and loft to keep small items stored away and organized.
E-Port to bring electrical power inside.
Ventilation
The tent has plenty of mesh on the canopy, plus the door with its mesh area. The fly allows for air circulation because it does not go to the ground. But they have added one floor vent, you can see it in the picture above showing the rear side of the tent.
The front awning raises the fly and vapor can always escape. So this all together works fine and you should not have issues with ventilation and condensation in this tent.
In this video you can see more:
---
Who is it for
Regarding the area, the tent is officially for 8 people, and this implies just enough space to put 8 sleeping pads on the floor. Namely, you have 112 ft² (10.4 m²) of the floored area, and this would mean 14 ft² (1.3 m²).
So this is not really a lot, and it is best to downgrade the number of users by half or so, or to maximum 6 people. In principle, it can accommodate 3 queen-size air beds, but you would not have any space left, so when you see such a statement in specifications, it is quite misleading.
Regarding seasons & climate, the tent is with a large fly that covers the bigger part of it. It is not bulky, and they claim it can withstand up to 35 mph (56 km/h) winds. I think it is good enough for up to 3-season family camping.
Regarding the weight, this tent weighs 22 lb (10 kg), and in view of its size, this is good enough. This is a camping tent so the weight should not be an issue in any case, you will use it for car camping.
The packed size does not look bad, but it is a bit bulky, you will see the numbers below and my rating.
Regarding the price, it is fair for such a tent, there are several sellers that offer this tent so please follow the links below and compare current prices.
---
Specifications
Weight: 22 lb (10 kg).
Official capacity: 8 people.
Dimensions: 16 x 7 ft (488 x 213 cm).
Inner area: 112 ft² (10.4 m²).
Inner area per person: 14 ft² (1.3 m²).
Peak height: 72 in (183 cm).
Packed size: 26 x 11 x 11 in (66 x 28 x 28 cm).
Warranty: 1 year.
---
Final thoughts, rating, pros & cons
Below you can see how this tent stands against my standard rating criteria that I apply consistently to all of them here in the site so that you can easily compare:
BEST PLACEs TO BUY:
For more tents of this shape please check in the category Dome Tents. Let me know if you have questions, there is a comment box below.
Bookmark this site and come again, this will keep you informed, as you realize I add texts here on a regular basis. Thank you for reading.