---
Here you have my list with Best Lighted Tents that are on the market, all models from renown brands and with some truly interesting features. So please keep reading.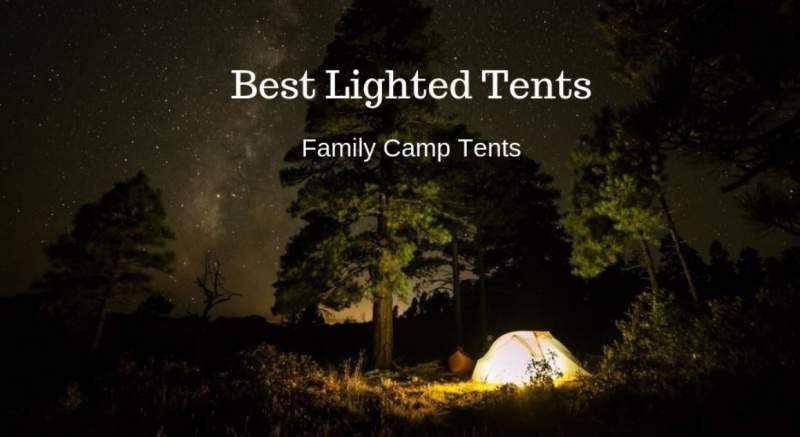 ---
What is a lighted tent
The term lighted tent used here implies a tent that comes with an integrated (usually LED) light system that includes the light somewhere on the roof poles, plus a switch button on the wall or under the ceiling. Such a system normally operates on batteries and the switch usually allows you to choose among different lighting options.
---
My list of best tents with light
Here is my list with the tents ordered by the declared capacity, so the numbers are just for navigation and not for ranking:
You will notice that they come with a variety of features that include the following:
Many of them are cabin style tents, but you will see also tunnel and dome shape tents here. The main differences between these types of tents you can find in my text about types of tents for camping.
All are with an integrated light system of course, but you will also see some with a fan included as well.
Some have a screen room.
Some are instant tents with the setup time under 60 seconds.
Some have multiple rooms.
The official capacity is indicated for each of the tents, but without exception this is an unrealistic capacity and you can roughly take the half of the indicated value as a realistic capacity guide. I have discussed this issue of tents' capacity in my separate text.
These features can be your criteria for choosing one of the lighted tents given here. Note that most of the tents are described in detail in my full separate reviews, so please follow the links for more details.
---
1. Big Agnes Titan 6 mtnGLO tent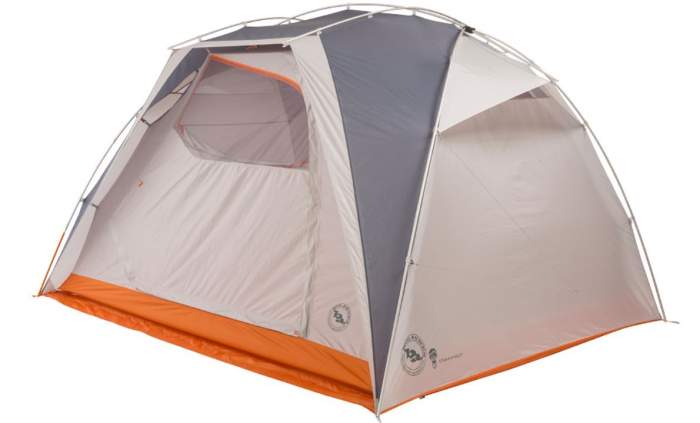 This Titan 6-person tent is a part of a completely new series which Big Agnes launched for the 2019 season. This is a quite unique design with an externally positioned frame so the fly attaches to it from below, and the inner tent attaches to the fly.
The structure is completely freestanding, and it offers a sunshade configuration with the fly and the poles only. This is possible because the fly is with straps that connect its two sides.
The poles are DAC DA17 so you have the best what is on the market, the fly and the inner tent are ripstop polyester strong fabric, and with 1500 mm waterproof rating. The weight is 14 lb 5 oz (6.46 kg) and the area is 84 ft² (7.8 m²). Please follow the link for more.

---
2. Coleman Elite Sundome Tent with LED Light System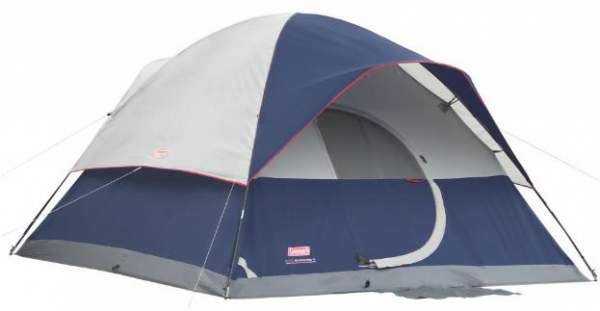 Here you have a dome style tent with two poles creating the X-shaped self-supporting and freestanding structure. The tent is low and aerodynamic and such structures behave nicely in windy conditions. The poles are fiberglass and the capacity is 6 people, but in view of its dome shape, there is no much headspace here so better use it for up to 3 people.
The tent is with two doors protected by small awnings, and one of them is a hinged door. You will see yet another tent with such a door type below.
But the reason for having this tent here is its built-in LED lighting system. There is a wall switch to select between high, low and nightlight modes. The system is CPX 6 compatible and it is powered by an included battery cartridge with 4 D-batteries or a rechargeable cartridge. You have 100 lumens at high, 42 at low, and 5 lumens at nightlight mode. The declared runtime is 26 hours (high), 65 hours (low), 81 hours (nightlight).
You also have auto roll windows, and the tent is with an E-port. The weight is 20 lb (9.1 kg) so this is one of the lightest tent here in the list. The dimensions are 12 x 10 ft (366 x 305 cm) and this means 120 ft² (11 m²) of the floor area. The packed size is 30 x 11 x 8 inches (76 x 28 x 20 cm).
Take a Closer Look
---
3. Coleman Elite WeatherMaster Screened 6 Person Tent With Built-In LED Light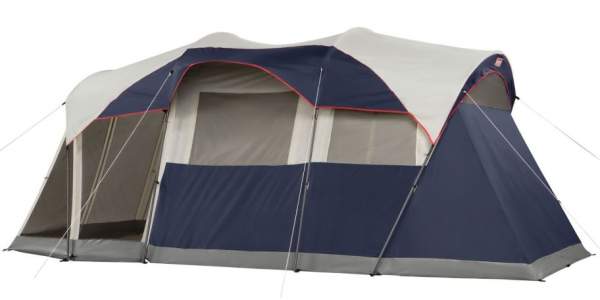 This tent has some mixed features of a tunnel and cabin style tent. The side poles are straight so the walls are flat as in a cabin tent, but you have four arches on the roof as typical for tunnel tents. This is why the tent is a non-freestanding structure, with 2 rooms plus a screen room.
Yet another specific feature is that one of the doors (out of two) is a hinged door. You also have 4 separate windows plus one on the door, plus the screen room window, so this is a very pleasant and livable tent. It comes equipped with an E-cable port.
But it is here in the list because of its built-in LED lighting that provides bright overhead illumination. The wall switch allows you to choose high, low and nightlight modes with 100 lumens (high), 42 (low), and 5 (nightlight). The corresponding runtimes are 26 hours (high), 65 hours (low), and 81 hours (nightlight). This is again CPX 6 compatible. The system is powered by a battery cartridge operating on 4 D-batteries (not included) or on a rechargeable cartridge (not included).
The poles are a combination of steel and fiberglass. The total area is 153 ft² (14.2 m²), the weight is 41 lb (18.6 kg), and the packed size is around 48 x 11 x 10 inches (122 x 28 x 25 cm).

---
4. Ozark Trail 6 Person Instant Cabin Tent with Light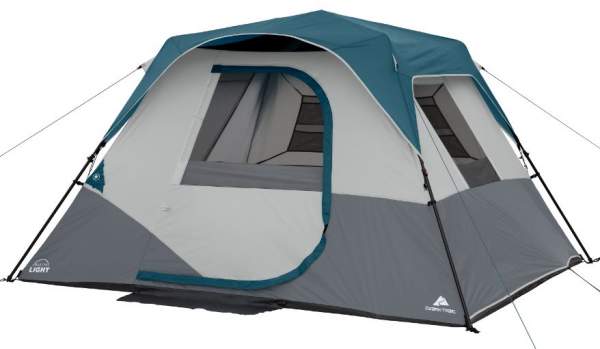 This is a very affordable and nicely built freestanding tent with 4 telescopic steel legs. The frame is attached to the tent so this is an instant setup construction. The tent is a single room structure with two separate windows and one door that also has a window on it. It comes with several bonuses that include the light system of course with LED lights along the roof poles and a switch box on the ceiling, a removable media pocket, a removable storage system, and an E-cable port.
The peak height is 66 inches (168 cm) and the tent offers an area of 90 ft² (8.36 m²). The packed size is (L x D) 43 x 8 inches (109 x 20 cm) and the weight is 19.38 lb (8.8 kg).
They do not provide any info about waterproof rating but in any case, I see it as a summer camping tent, maximum for 1.5 – 2 seasons. The ceiling is all mesh and the tent has two large vents on the sides so ventilation is very good and it is suitable for a warm weather camping.

---
5. Coleman Prairie Breeze 9 Person Cabin Tent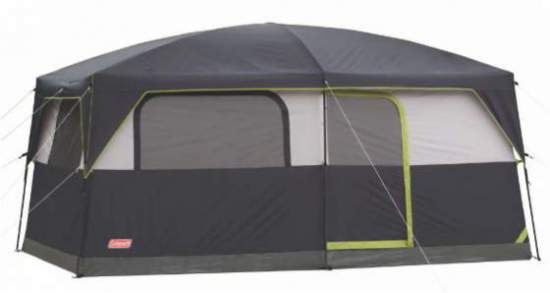 The Coleman Prairie Breeze 9 is a 2-room structure with 6 oversized windows and a single door. As you realize from the picture, this is a very boxy structure with straight walls and very tall with its 84 inches (213 cm) peak height.
The frame includes 6 vertical steel poles and the same number of fiberglass roof poles. It takes some 15 minutes or so to set this tent up, everything is color-coded. The fly is minimal and it attaches to the legs so the tent is fully freestanding.
It is here because of its integrated light. So what you have is a CPX 6 compatible fan and LED lighting system. This operates on 4D batteries or one CPX 6 cartridge. The light alone gives 75 lumens on high with 195-hour runtime. The fan alone gives 26-hour runtime on high and 34-hour runtime on low. Both combined give 75 lumens and 20-hour runtime on high and 75 lumens and 27-hour runtime on low. Note that the fan has two speeds and two directions, with the air up or down. This is regulated through a switch on the wall.
The packed size 40.5 x 14.5 x 8.5 inches (103 x 37 x 22 cm) and the weight 37.6 lb (17.06 kg). The total area is 140 ft² (13.02 m²).

---
6. CORE Lighted 9 Person Instant Cabin Tent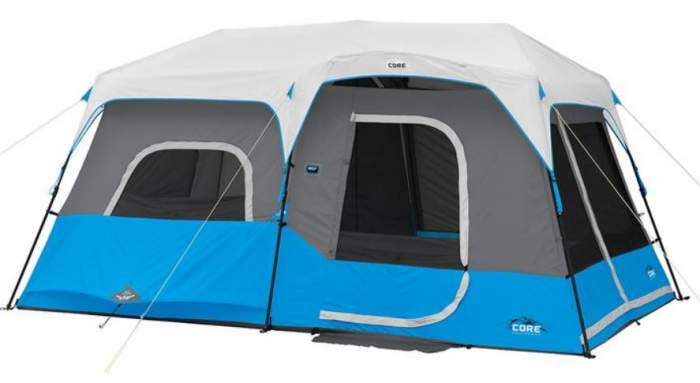 The Core brand has launched a series of lighted tents recently and this 9-person tent is one of them, and the smallest as well. So this is a nicely built tent with a number of really good features. I would start by stressing that this is a freestanding tent with its 6 legs and the partial coverage fly which clips to the legs. So you can move it and rotate even when you set it up.
The light system is integrated into its roof poles and you have three modes of operation that work on 4 batteries. You have high, medium, and nightlight levels with 950, 300, and 35 lumens, respectively.
The structure is with 2 rooms and the frame is steel. This is also a rather tall and livable tent with a peak height of 78 inches (198 cm). The frame is preattached to the tent so this is a true instant tent which you can set up in one minute. I see it most suitable for summer camping in quiet weather conditions.
The weight is 40.3 lb (18.3 kg), the area is 126 ft² (11.7 m²), and the packed size is 48 x 13 x 13 inches (122 x 33 x 33 cm). You will find much more in the link below.

---
7. CORE Lighted 10 Person Instant Cabin Tent with Screen Room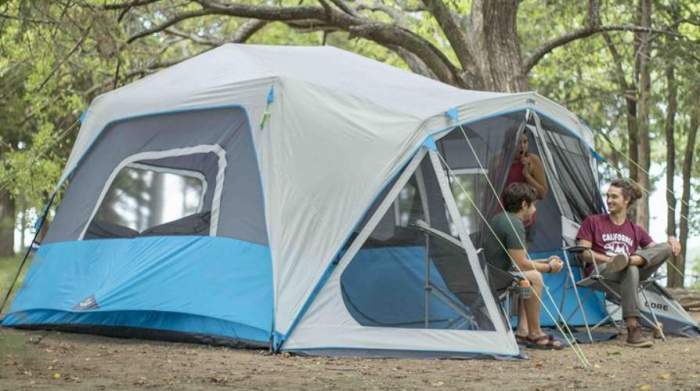 This Core 10 person tent is a 3-room structure, with two floored inner rooms and the screen room in front of them. Note that the screen room is with the fly on, but its side walls are without panels, so it gives protection from flying insects and partial protection from the rain.
This is again an instant setup tent and the light system is the same as in their 9-person tent above. The tent has 4 large windows and two inner doors in the screen room. It comes also with an E-cable port.
The total covered area is 203 ft² (18.9 m²), but the inner floored (and fully protected) area is 140 ft² (13 m²). The weight is 47.8 lb (21.7 kg) and the packed size is 49 x 16 x 11.5 inches (124 x 41 x 29 cm). So this is for a car camping and for summer situations, which means calm weather and without much rain and winds.

---
8. Ozark Trail Instant Cabin Tent with Built in Cabin Lights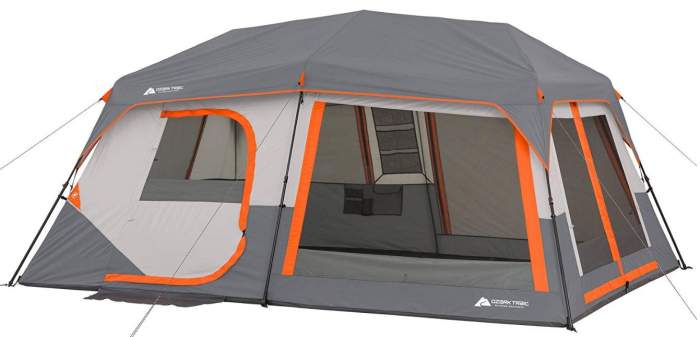 This Ozark Trail Instant Cabin Tent with Built in Cabin Lights comes with integrated lights and this is why it is here in the list. But it has plenty of great features. This is a 2-room freestanding construction and it is an instant tent. So I have added it also to my list of best instant camping tents.
One of the rooms is a screen room with mesh and zippered panels on all sides, so you can use it as it suits you. Note that it is fully floored and protected. I have included it in my list of tents with screen rooms.
The frame is steel, you have an E-cable port, a media pocket, a gear storage system, 2 doors, and 7 windows. Note also that the tent is very affordable. The area is 140 ft² (13 m²) and the weight is 32.6 lb (14.8 kg).

---
9. Core Lighted 12 Person Instant Cabin Tent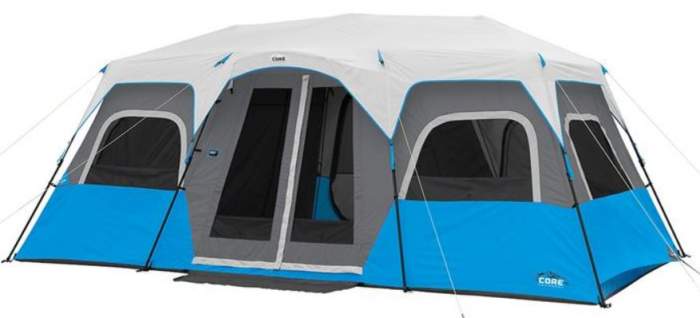 This is a huge tent with 18 x 10 ft dimensions and the total floor area of 180 ft² (16.7 m²). It is full of great features, and it includes 3 rooms, 2 large doors plus 7 windows. This is also an instant tent with a steel frame.
But the reason for having this tent here in the list is its integrated light system. This is exactly the same design as in the other two Core tents presented above.
Other features include an E-cable port, the tent is 80 inches tall and it is big enough to accommodate 3 queen size beds. But the waterproof rating is low and the fly is minimal, so this is a tent for summer camping in a quiet environment and without much rain.

---
10. Ozark Trail 12-Person Base Camp Tent with Light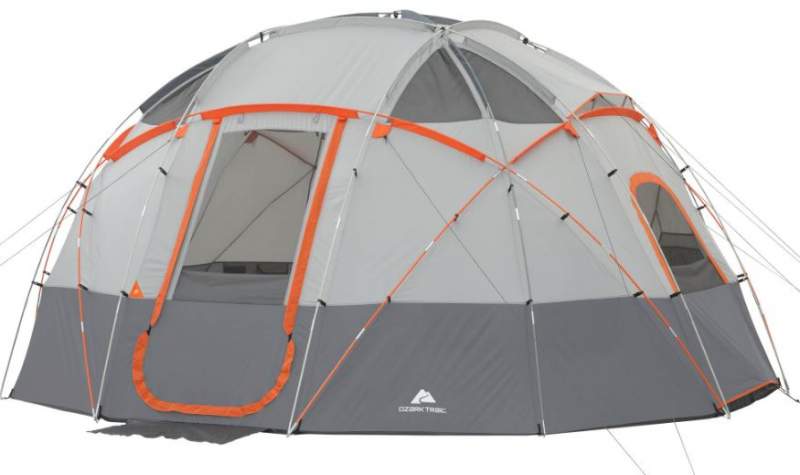 This Ozark Trail tent is currently the largest dome-style tent on the market. The diameter is 16 ft (488 cm) so the total area is 201 ft² (18.7 m²). This is why I have included it also in my list of extra large family camping tents.
But this is also one of the tallest tents on the market with its 92 inches (234 cm) peak height. So I have added it in my list of very tall tents.
This is a single layer design with two doors and 8 windows. There are 10 fiberglass poles that create the dome and they have many cross points so the structure is very stable and strong. But this is a tent for summer camping and it is best to avoid areas with lots of rain unless you have a tarp to put above.

---
11. Ozark Trail Hazel Creek 12 Person Cabin Tent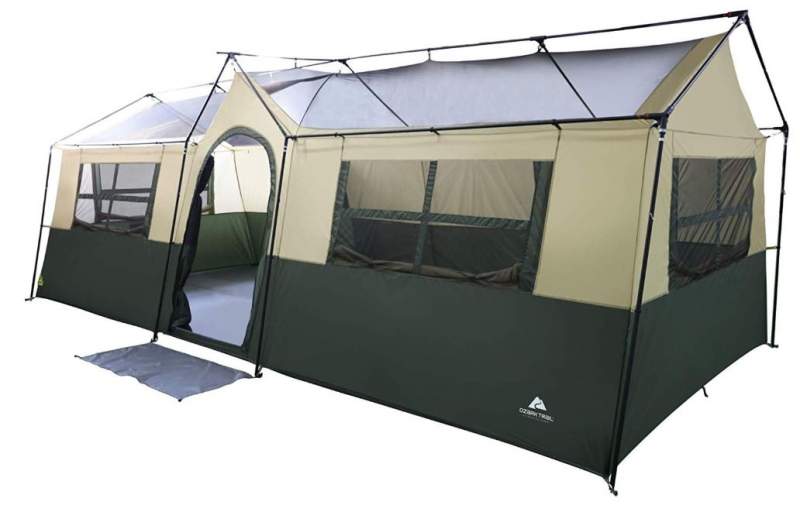 This Hazel Creek 12 is a huge tent with the area of 180 ft² (16.7 m²) and the weight is 65.2 lb (30 kg). It offers 3 rooms and one door shown in the picture above, plus 5 mesh windows, and an E-cable port.
The picture above shows the tent without the fly so you can see its cabin-style framed construction. The poles are steel. But it is here because of its LED lights that work with 6 AAA batteries for the whole set.
The tent also has two cabinets with their own support poles, they are floored and sealed, and equipped with mesh shelves. So I have included it in my list of tents with cabinets.

---
How to choose & Editor's Choice tent
So this was my list with the Best Lighted Tents that are currently on the market. I have presented a variety of types and this was on purpose. You can choose between dome, tunnel, and cabin style tents. This is a temporary list and it will be modified when I find new models on the market and add them to the list. So bookmark this text and visit it from time to time to check for updates.
Obviously, if you plan to change your camping place frequently, it is best to go for an instant setup tent. You have them several in the list. Those are also very pleasant and livable structures, perfect for summer camping without lots of wind and rain.
If this is about a group, privacy may be an important issue so choose some of the tents with multiple rooms, you have a few of them above.
This is a site with family camping tents and this is why all the tents in the list are with the official capacity of 5 people and more. But if you need a lighted tent for backpackers and hikers, check this Big Agnes Copper Spur UL3 mtnGLO tent.
Editor's Choice
CORE Lighted 10 Person Instant Cabin Tent with Screen Room
$349.99
Please use the comments box below in the case of questions and comments. Have a nice day.
---