The Coleman Valdes Deluxe 6 XL Air BlackOut Bedroom Family Tent is a very large 4-room 3-season structure with solid windows, and supported with inflatable beams.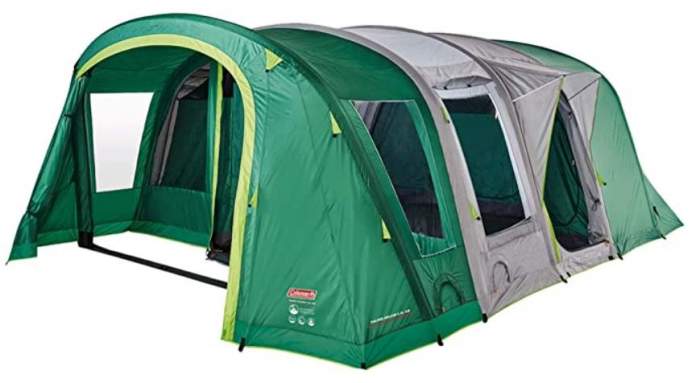 ---
Key features & benefits
Tunnel type tent.
4 Rooms + a closable porch.
Dark rest bedrooms.
Air beam technology.
Huge space.
Tall tent.
4 Types of pegs in the package.
---
What this Coleman Valdes Deluxe 6 XL Air is about
This tent should not be mixed with their another large tent with the word Valdes in the name which is quite different.
Here you have a tunnel shaped shell tent plus two inner tents. One of the inner tents is with a divider so you can have three bedrooms. The floor plan below shows them on the right.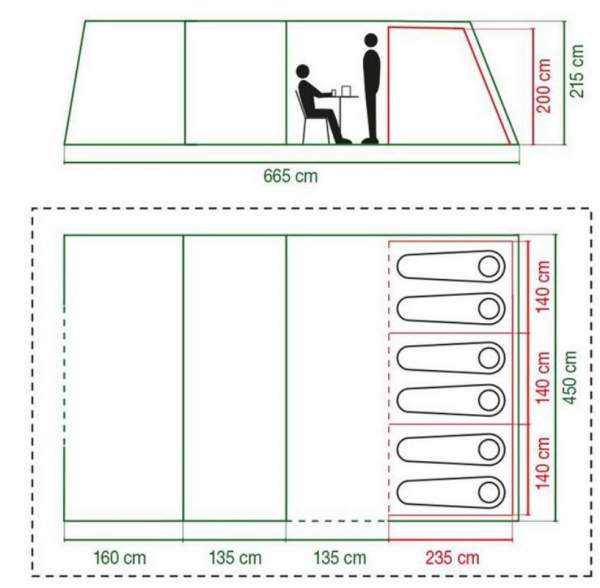 The central area is a living room, you can see it in the picture below. This is a large space with several separate solid windows. The bedrooms are partly visible on the right. Note that you can remove any of the inner tents and make the living room even larger.
There is a porch as well, and here you have windows on the sides, plus a large door shown in the picture below. This space is without floor but fully protected from the rain.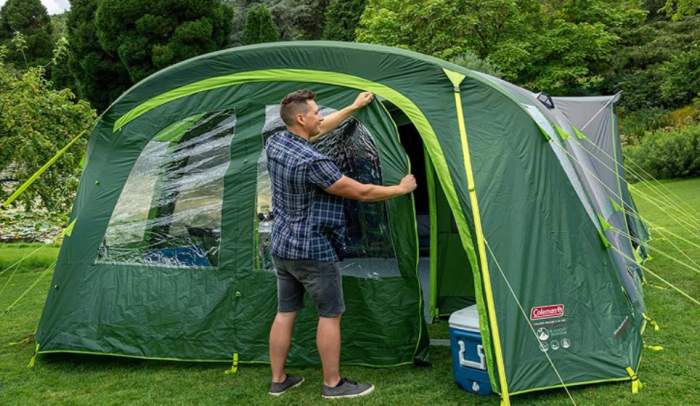 Below you can see how the porch looks when fully closed. Observe also the side door which is in the living area. It has a brim so this is a dry entry point. The inner door between the porch and the living room is also fully protected and very large, and there are two solid windows on its sides.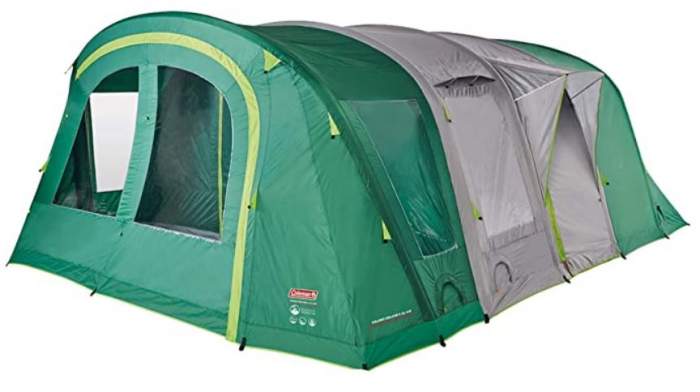 BlackOut or dark rest design
The bedrooms are made of a very dark material, and Coleman is a champion in this technology. They claim that it blocks up to 99% of daylight. They also write that the bedrooms are 5°C cooler during the day, and 1°C warmer at night. So this is the blackout design at its best.
This is great for people sensitive to daylight. It helps you sleeping longer, and this is also useful for families with small kids that must sleep during the day. Because of these features, it is included in my list of best dark rest tents.
Support
The tent is supported with five TPU air beams which you inflate to 7.5 PSI. They all inflate separately. This is what they call the FastPitch Air technology, and it enables swift pitching by a single person. There is a pump and manometer included. You will see more in the video below.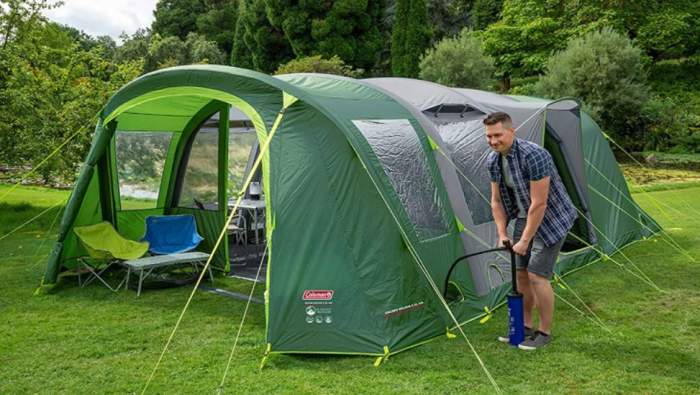 Materials
The poles & stakes: The only solid pole is a short one that is used for the side brim. The tent comes with many pegs and stakes, there are 4 types of them.
You have large plastic pegs to secure the tent's base.
Steel pegs are for storm straps.
J-shaped steel stakes are for guylines.
Flat head pegs are for a barrier free access on the inner porch door, see the picture below. This is great for kids running around to avoid tripping.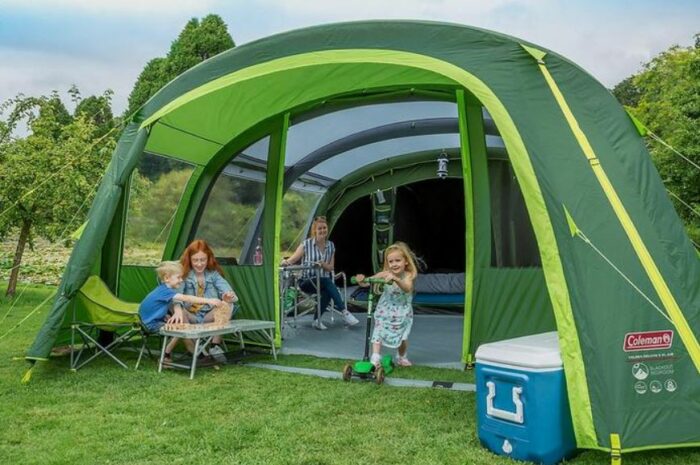 The fabric: The shell is a polyester PU coated and fire retardant. It has their UVGuard with an SPF50 to protect you from the sun's harmful ultraviolet rays. The seams are taped and the waterproof rating is huge 4500 mm. The floor is a welded and waterproof polyethylene with a fully integrated rainskirt.
Ventilation
This tent has numerous vents, if you look closely the pictures above you will see them above the windows in the living room. But there is also one rear vent that goes full width of the tent. So there is not much one could object here.
In this video you can see how to set this tent up. In spite of its size, one person can do the job easily. Please have a look:
---
Who is it for
Regarding the area, the tent's floored space is 244.3 ft² (22.7 m²), and its official capacity is 6 people. This means it offers 40.7 ft² (3.78 m²) per person, simply incredible.
But there is also a fully closable porch with its 75.3 ft² (7 m²). This is an area where you can cook and keep all your gear. So the total protected space is 320 ft² (29.7 m²). This is why I have included it in my list of extra large family camping tents.
The official capacity is based on the number of places in bedrooms. However, the living room is fully sealed and protected, and here you have 130.8 ft² (12.15 m²). If necessary, this space can accommodate 6 people more.
Note also that each of the bedrooms is 140 cm wide, and this is what they call XXL bedrooms. They are designed to comfortably accommodate larger double air beds.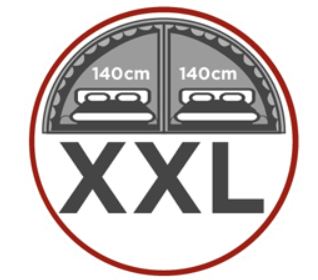 Regarding seasons & climate, the tent offers full protection in almost any weather conditions. Because of its beams, I would not use it in areas with snow, but other than that it will work well anywhere.
It is tall and bulky, but it is equipped with exceptionally strong storm straps on the front and on the back. It is fully closable and with solid windows, and this makes it suitable for a cooler climate. But it is ventilated so you can use it also for summer camping.
Regarding the weight & packed size, this is a car camping tent and you would not want to move it far from the car. It weighs 84.7 lb (38.4 kg), and its packed size is also huge, 30.7 x 22.8 x 20.9 inches (78 x 58 x 53 cm). But you have seen its size, so such numbers are expected, and the tent scores high in my rating below.
---
Specifications
Weight: 84.7 lb (38.4 kg).
Official capacity: 6 people.
Dimensions: 21.82 x 14.76 ft (665 x 450 cm).
Inner area: 244.3 ft² (22.7 m²).
Inner area per person: 40.7 ft² (3.78 m²).
Living room: 130.8 ft² (12.15 m²).
Porch area: 75.3 ft² (7 m²).
Peak height: 84.6 in (215 cm).
Packed size: 30.7 x 22.8 x 20.9 in (78 x 58 x 53 cm).
---
Final thoughts, rating, pros & cons
In summary, this Coleman Valdes Deluxe 6 XL Air BlackOut Bedroom Family Tent is exceptionally well-built. Its space and organization are excellent, and it can easily accommodate 12 people if necessary. The living area is large and pleasant, and the porch adds lots of very useful space for sitting and cooking.
You have an advanced dark rest design and an air-beam technology. This makes it great for families with kids, and one person can pitch it easily. Fully recommended.
Below you can see how this tent stands against my standard rating criteria. I apply them consistently to all tents here in the site so that you can easily compare:
Coleman Valdes Deluxe 6 XL Air BlackOut Bedroom Family Tent
BEST PLACEs TO BUY:
For more tents of this shape please check in the category Tunnel Tents. In particular, see my list of Coleman 4 rooms tents where this tent is also included.
Let me know if you have questions, there is a comment box below. Bookmark this site and come again, this will keep you informed, as you realize I add texts here on a regular basis. Thank you for reading.