The Crua Culla Family Insulated Air Beam Tent is a freestanding dark rest shelter, with an R-value 9, extremely easy to use, breathable, and nicely ventilated.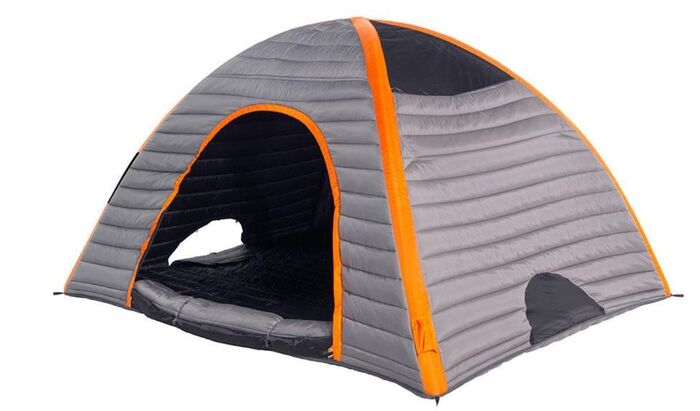 ---
Key features & benefits
Insulated tent.
R-value 9.
Air beams.
Dark rest design.
Sound protection.
Freestanding.
Incredibly easy to use.
---
What this Crua Culla Family tent is about
This tent is designed to be used as an inner tent in areas with rain, or you can use it on its own if this is a dry area camping. This is a design completely unique to this brand.
Crua Outdoors has several versions of these insulated cocoons on the market. They include Crua Culla Solo, Crua Culla for two people, and Crua Culla Maxx for three people. So this Culla Family is the largest of them for 5 people.
The picture below shows view inside so you get some idea how it looks. What you see is that the complete body is with those baffles just like a sleeping bag.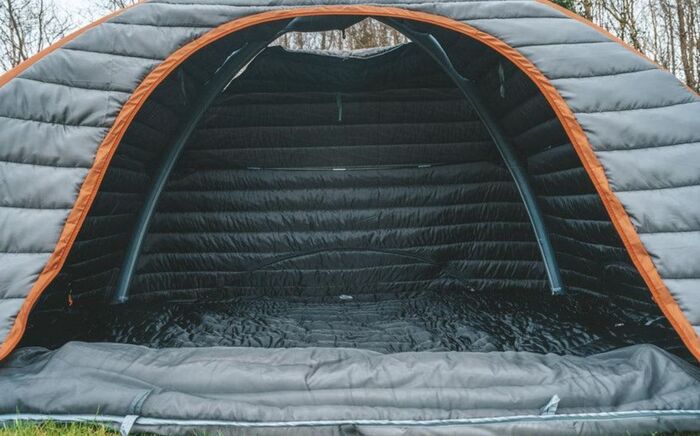 They claim that the effective R-value here is 9. I find it a bit strange that they describe this in terms of R-value which is commonly used for sleeping pads. It would be more appropriate to speak about temperature rating similar so sleeping bags.
What you see in the picture here is the only door. There are no separate windows, but the door is a double-layer type with a full zippered mesh and a zippered panel. So you can have views outside, the picture below shows these details.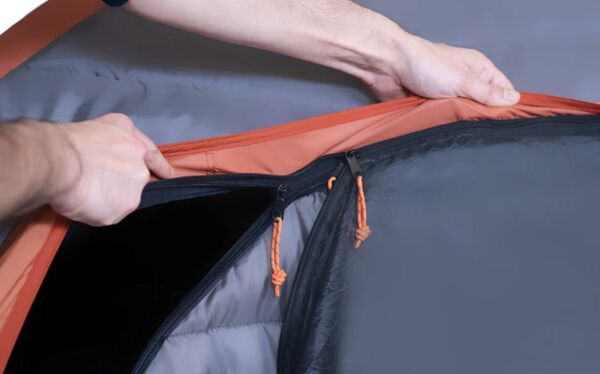 Dark rest design & sound insulation
With such thick insulated walls, this is a perfect example of a blackout or dark rest shelter. When everything is closed, there is no light inside at all. This is why it is included in my list of best dark rest tents.
This all results in a considerable dampening of the outside sounds. So you can sleep longer in the morning because you will not depend on the sun, and you will also have less noise.
Air beam support
You have X-crossed air beams, so the the structure is similar to a dome tent and it is completely freestanding and self-supporting. This makes setup extremely easy. The picture below shows how an air beam is inflated.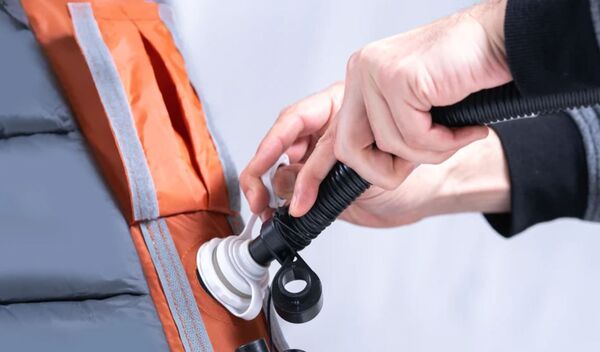 In view of this, you can use it inside of any larger family camping tent. The picture below shows how it fits into their Crua Core tent but you can indeed use any tent where this cocoon can fit, no matter of the shape, you will see the dimensions below. You can use it also in a tunnel-shaped shell tent.
Inside you have a hook for a lantern, and several pockets for valuables. Please see more in this video:
Materials
The support: I already mentioned that this is all about air beams. The beams should be inflated up to 7 PSI. But there are three inner spreader poles included, one is shown in the picture.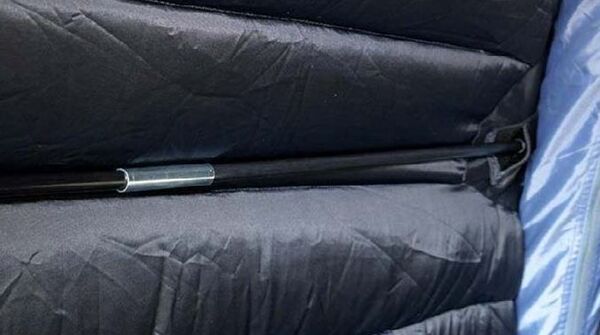 The fabric: There is no info about the fabric, this is obviously a polyester and it is breathable, but it is definitely not waterproof. The insulation is synthetic and this is 450 g/m².
Ventilation
You have already seen the large door with its full size mesh. But the tent has 3 floor vents, the rear one is visible in the picture below. There are two more on the sides, they are visible in the pictures presented above. All of them are with dual zippered mesh and panel, so you can open them completely as well.
There are also two roof vents, both with mesh and with closable insulated panels. So there is nothing really one should object here.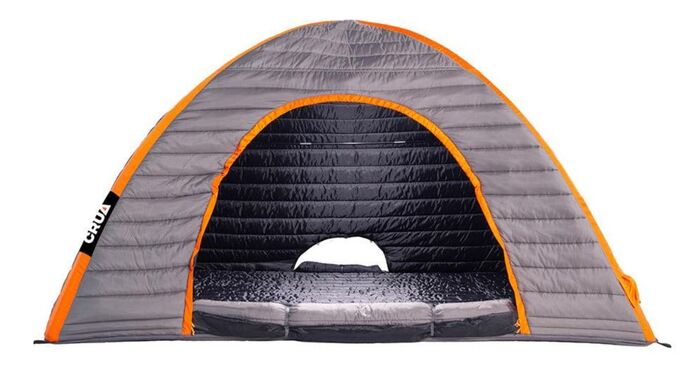 In the video below you have a walk around so you can see more details about the tent:
---
Who is it for
Regarding the area, the tent is officially for 5 people. This means that it has enough space for 5 sleeping pads on the floor. The dimensions are such that this is possible but I would reduce the number of users. The floor area is 66.6 ft² (6.19 m²), and this would give 13.3 ft² (1.23 m²) per person.
Regarding seasons & climate, they claim it will protect you from any temperature outside, no matter if it is cold or warm. The ventilation is excellent in the tent. The picture below shows how it looks when closed. You can regulate air flow with its 5 vents and with the mesh on the door.
You can use it on its own in areas without rain, there are loops in the corners for stakes. Otherwise, use it inside of any larger tent where it can fit. You do not need to stake it in this case.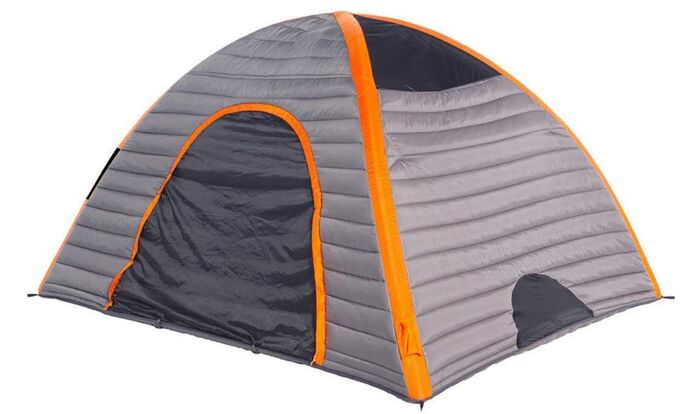 Regarding the weight, with its 30.8 lb (14 kg) this is a heavy tent, but you cannot really compare it with anything because it is unique. Here you have thick insulating canopy and the floor, so the weight is justified.
The packed size is not very bad in view of such thick insulating walls, see the numbers below.
Regarding the price, it is steep, but this is something special and versatile. For those who need such a shelter this is a great value.
---
Specifications
Weight: 30.8 lb (14 kg).
Official capacity: 5 people.
Dimensions: 115 x 83.5 in (292 x 212 cm).
Inner area: 66.6 ft² (6.19 m²).
Inner area per person: 13.3 ft² (1.23 m²).
Peak height: 63 in (160 cm).
Packed size: 28 x 20 x 15 in (71 x 51 x 38 cm).
Warranty: 2 years.
---
Final thoughts, rating, pros & cons
In summary, this Crua Culla Family Insulated Air Beam Tent is unique to this brand and it is the largest in the group of 4 tents of this type.
The tent is extremely easy to use, completely freestanding, with thick insulation that also creates a true dark rest atmosphere and sound protection. Fully recommended. It is included in my list of best insulated tents.
Below you can see how this tent stands against my standard rating criteria. However this is not a standard tent and it is not easy to rate it properly because you cannot compare it with competitors, they do not exist.
BEST PLACEs TO BUY:
For more tents of this size please check in the category Tents for 5/6 people.
Let me know if you have questions, there is a comment box below. Bookmark this site and come again, this will keep you informed, as you realize I add texts here on a regular basis. Thank you for reading.