---
Here you have the list with the best insulated tents for camping, all with the R-values 4 or 9, suitable for the harshest winter conditions.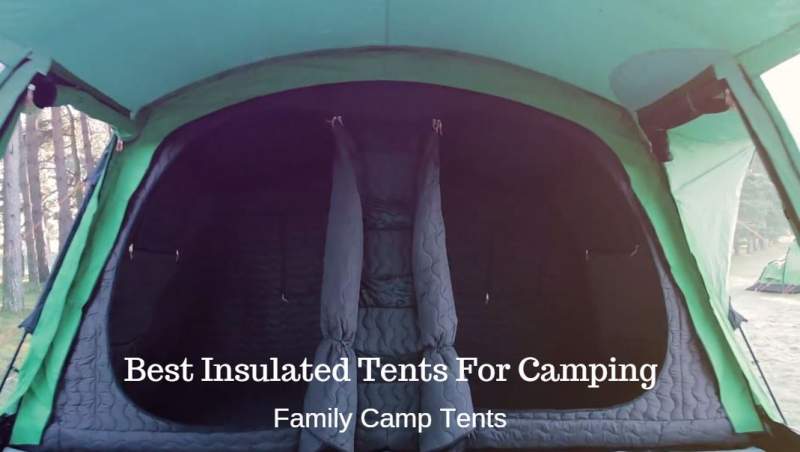 ---
There are many tents on the market that are designed for cold weather camping. But the number of insulated camping tents is very small. If you search the Internet for such tents, you will find various lists of winter tents where the authors use the term 'insulated', or just Google will show you such tents instead of the truly insulated tents. But those are usually not insulated tents, an insulated tent should have some insulation layer.
In fact, currently, I know only three of them that are available on a larger scale, on Amazon, and on some important EU sites. There may be more local manufacturers with such tents, but those products are clearly not available globally.
The mentioned three insulated tents for camping all belong to the same brand, the Crua Outdoors. As it appears now, this brand is without real competition in this industry, and their products are truly remarkable.
---
The best insulated tents for cold weather camping
Here they are, ordered by the capacity from smaller to larger:
---
1. Crua Cocoon Insulated Dome Tent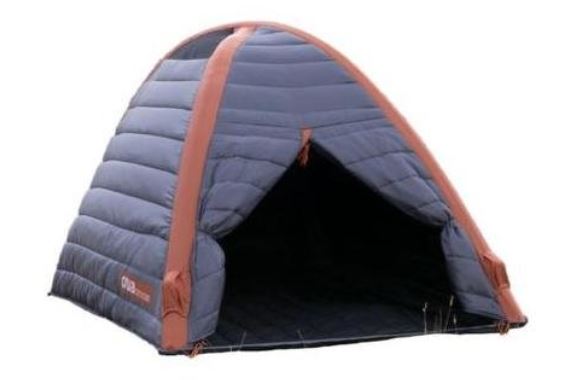 As a 2-person tent, this is surely not something that could be called a family camping tent. In fact, the Cocoon is not a tent in the strict sense because it is not built to be waterproof. It is designed to be used in their Crua Duo tent as a separate unit.
This is an insulated cocoon as its name says. You might rather think about it as of a huge sleeping bag. Namely, the R-value which you have here is 9. This makes it suitable for the temperatures below -40 F (-40 C).  
The point is, this cocoon or several of such cocoons can be used in any of the large family camping tents which you have here in the site. So imagine a great tunnel tent with a huge waterproof rating and a pair of such cocoons inside. With such equipment, you will have all the protection you need.
But perhaps you might want to know a bit more about its features. So this is a structure with air beams, there are no hard poles here. The insulation layer is in principle breathable but you also have vents. This is also what you could call a dark rest or black-out design. With such an insulation layer, it offers also great sound insulation.
This Cocoon is compatible with the Crua Clan which includes 7 tents, 1 Crua Core, plus 3 Crua Duos, plus 3 Crua Cocoons.
Here are some numbers. The weight is 15 lb (6.8 kg) and the area is 29.9 ft² (2.8 m²). You might want to know the dimensions if you plan to use it in a larger family tent, so it is 6.8 x 4.4 ft (207 x 134 cm) and the peak height is 4 ft (122 cm).

---
2. Crua Tri 3 Person Insulated Tent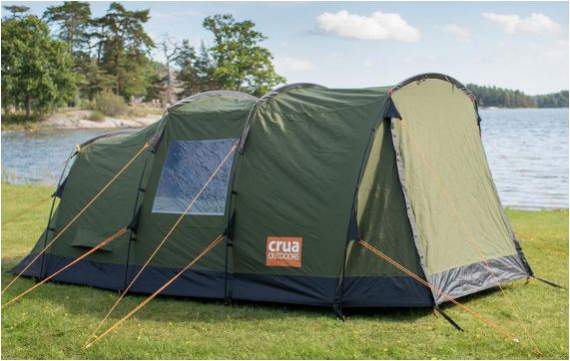 This is a 3-person tent with a completely unique design for a 4-season use. It is thermally insulated and the R-value is 4. This is a waterproof but breathable tent and also a dark-rest type. So what you have here is a tent with its own inner cocoon which you attach from inside. The general structure is of a tunnel-type, non-freestanding, and with aluminum poles.
The shell fabric is poly-cotton, a laminated blend of polyester and cotton with an 80/20 ratio. The inner tent fabric is poly-cotton 65/35 ratio. the insulation is a hollow-fiber material. The tent is with two PVC windows, and one is visible in the picture above.
The total area is 68.5 ft² (6.36 m²) where the sleeping zone is around 4.6 m² and the remaining 19.5 ft² (1.8 m²) is the porch and a front vestibule which also creates a huge awning. The waterproofness rating is impressive 5000 mm.

---
3. Crua Cottage Premium Quality 4-6 Person Family Tent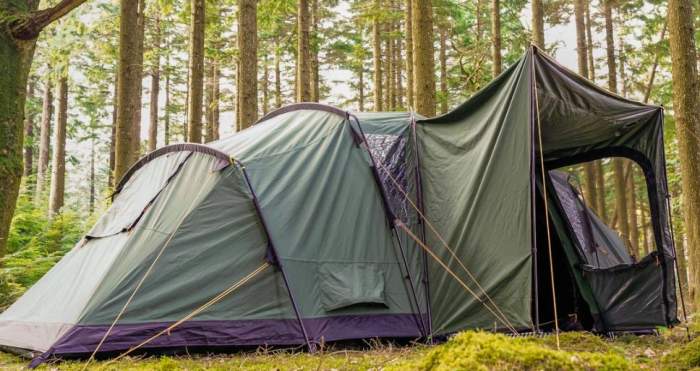 This tent has three rooms with a sewn-in and sealed floor and yet another room which they call the Sun Room that is without floor but fully functional as a room. It has also a porch. But the tent is here because of its insulated sleeping rooms. Note that these same rooms are also dark rest rooms because the light is completely blocked. So I have added it to my list of best dark-rest tents.
This is a very tall tent is which is difficult to put in any specific group, it has features of a cabin-type and a tunnel-type tent. In any case, its peak height is impressive 8.2 ft (250 cm). So naturally, it is included in my list of very tall family camping tents. This is also one great example of poly-cotton tents, so it is breathable and waterproof. This is a tent for all seasons and all climates.
Here are a few numbers which you will want to know, the weight is 172 lb (78 kg) and the floor area is 188 ft² (17.5 m²), plus the mentioned Sun Room area of 67.3 ft² (6.25 m²).

---
4. Crua Loj 6 Person Thermo Insulated Tent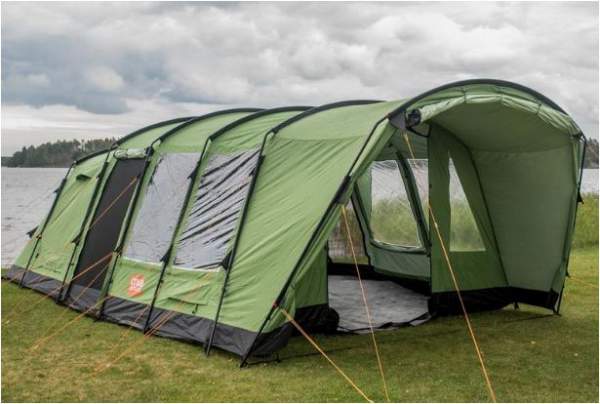 This Crua Loj 6 tent is given in several categories and lists here in the site. This is not surprising in view of its incredible features. The reason for having it here is obviously its insulation. So it has its inner cocoons that are thermally insulated and with the R-value 4.
The official capacity is 6 people, but this is an enormous construction and I have included in my list of extra large tents. The total protected area is 300 ft² (28 m²) and this includes the porch as well. The inner floor area is 235 ft² (22 m²). Note that this is also a very tall tent with its peak height of 83 inches (211 cm).
So the area is organized into 3 rooms plus a porch with vestibule and awning. This is also a dark-rest tent in the true sense. The structure is tunnel-type and the poles are all steel. It has 6 PVC windows plus 7 vents. It comes also with an insulating carpet and a footprint is included too.
The inner tent fabric is 65/35 ratio poly-cotton, while the outer shell is a laminated poly-cotton 80/20. The waterproof rating is 5000 mm. You have a fully waterproof polyethylene on the floor.
So from this all, you realize how impressive this structure is, but there is much more so please follow the link to read my full review.

---
Final thoughts
So as you realize, this list of best insulated tents for camping is currently short and this is simply because there are no more tents to show. But I am keeping an eye on the developments in this industry and I shall include new models if/when they appear on the market. However, these tents which you have in the text are with some truly incredible features, so they are not here just because there is nothing else to show.
The Crua Loj 6 may be too big for some users, and if so then the Crua Tri tent is a great option. On the other hand, the Crua Cocoon offers quite some versatility because you can put it in any tent that is bigger than its own size, and you get an incredible insulated shelter with the R-value 9.
Thank you for reading. Please let me know if you have seen some quality insulated tent on the market that is available globally. There is a comment box below, use it also if you have any comment or question.
---