---
Easy Camp Hurricane 500 Inflatable Tunnel Tent is a 3-room structure with a high waterproof rating, multiple windows and doors, and a great price. Find out more below.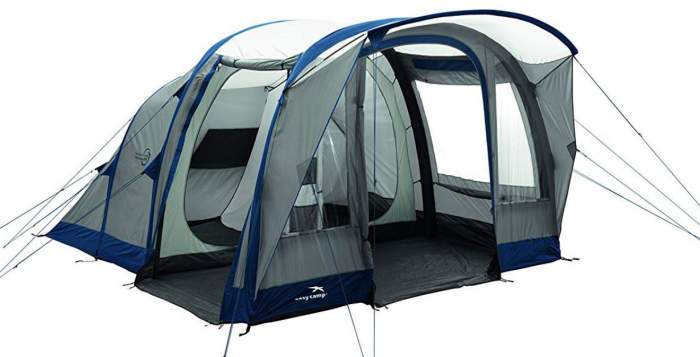 ---
Key features
Inflatable beams instead of poles.
3 Rooms.
2 Doors.
Tunnel type tent.
Clear PVC windows.
Very affordable.
---
So what type of tent is this Easy Camp Hurricane 500
Here you have a tunnel-shaped 3-room structure with a shell tent that comes with a fully sewn-in and sealed floor, and an inner tent with a removable divider (shown in the picture below). So the sleeping area has two units with a different size (you will see the floor plan in the picture below), and each of them is with its own inner door.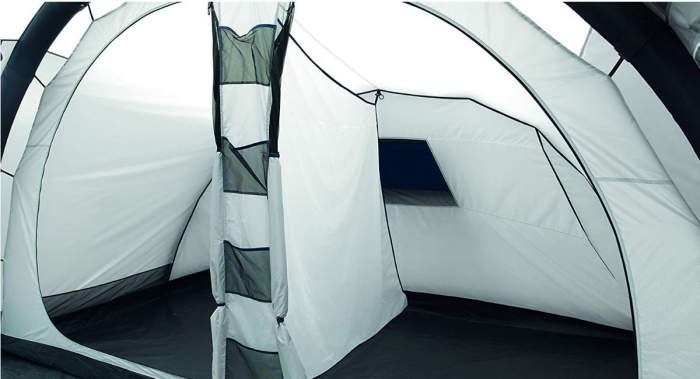 The third room is the living room, and it alone has close to 5 square meters of area, and you have access to it through 2 large doors. There are 3 separate windows in the living room plus the windows on the doors, so this is a pleasant space for sitting.
Note that you have a clever design at the entrance points, the floor can be made flat to avoid tripping and also to have easy access with a wheelchair, this is visible in the top picture above. This is achieved with short zippers on the sides of the doors, when you unzip them you can make the entrance floor completely flat.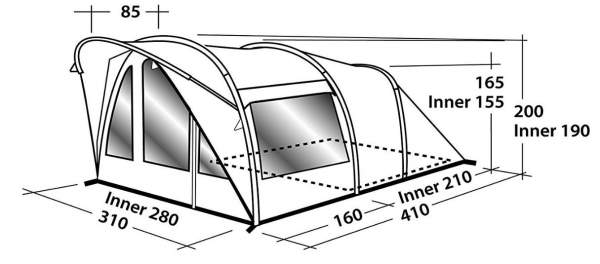 The picture above shows that this is a rather tall tent with a standing height for most of the users, though the sleeping area is lower.
Inflatable technology
The tent is without classic poles, you have 3 inflatable beams instead, with separate valves for each of them, and a pump is included in the package. So one person can raise this tent easily in just a few minutes. The maximum pressure in the tubes is 9 psi (0.6 bar).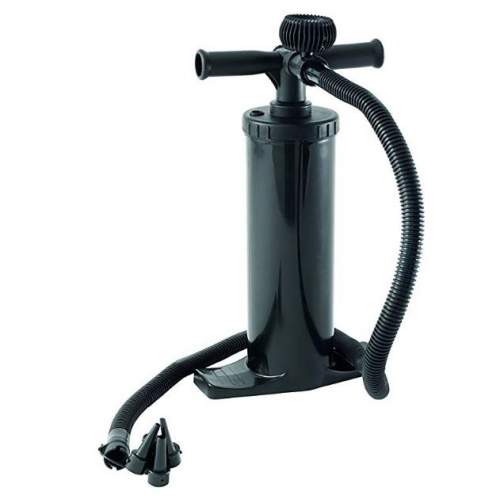 Though there is a short fiberglass brow pole 11 mm diameter above the front door (see the picture above), it is there to support the small awning that protects the front door.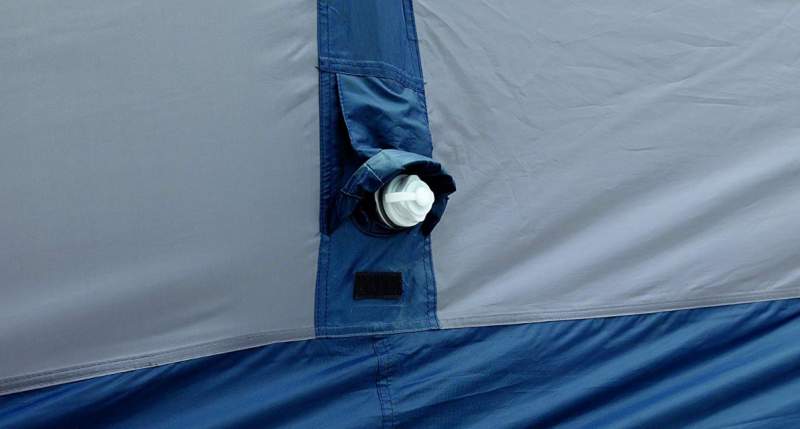 ---
Who is it for
Capacity: The declared capacity is 6 people and the picture below shows its dimensions. The actual inner area is 116.3 ft² (10.8 m²), and this means 23.2 ft² (2.1 m²) per person.
So this is lots of space and in view of the fully sealed floor in the front room, there is a place for 2 people more in that area. So the tent can accommodate 7 people if necessary.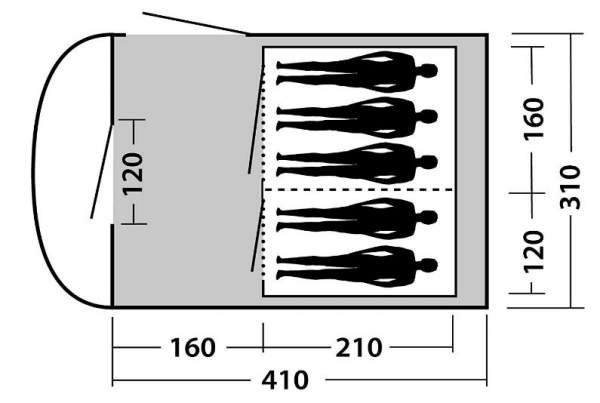 Climate-wise & seasons-wise, the tent is with a high waterproof rating, with vents on the shell, and quite enclosed when this is needed. So this is a 3-season tent which will protect you from elements. I see it better suited for a cooler climate.
Weight-wise, with its 34.8 lb (15.8 kg), this is a heavy tent. But this is a camping tent and you are not supposed to carry it anywhere. The packed size (L x D) is 29.5 x 16.1 inches (75 x 41 cm), so you need a car for transportation.

---
Materials
You have already seen the situation with the poles, so here is a bit about the fabric. The shell is 190T 100% polyester with PU coating and with 3000 mm hydrostatic head, and a fire retardant material. The windows material is a solid and clear PVC.
The shell floor is 100% polyethylene, they do not give the waterproof rating but this is normally always with a very high rating. The inner tent is a breathable 100% polyester with a waterproof floor which is the same material as the groundsheet. Note that the shell floor extends under the inner tent so this means you have a double floor protection in the sleeping area.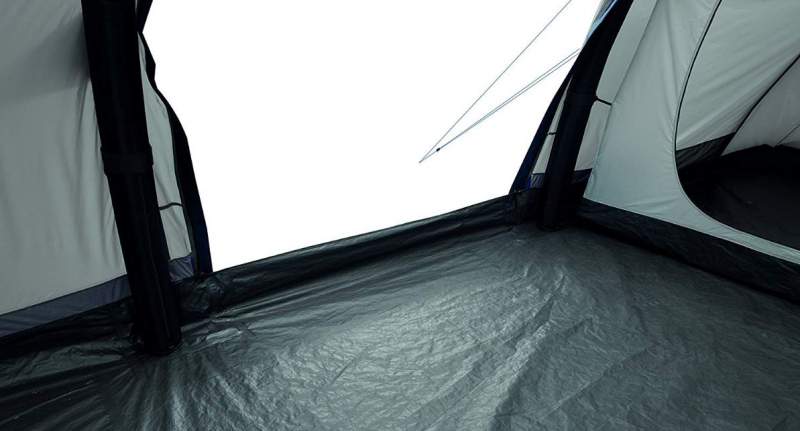 Ventilation
There are vents on the back (shown below) and in the living room, and the inner tent is well separated from the shell. This allows for air circulation between the two layers and this should be good enough to fight condensation. The inner doors are also with mesh in the upper sections.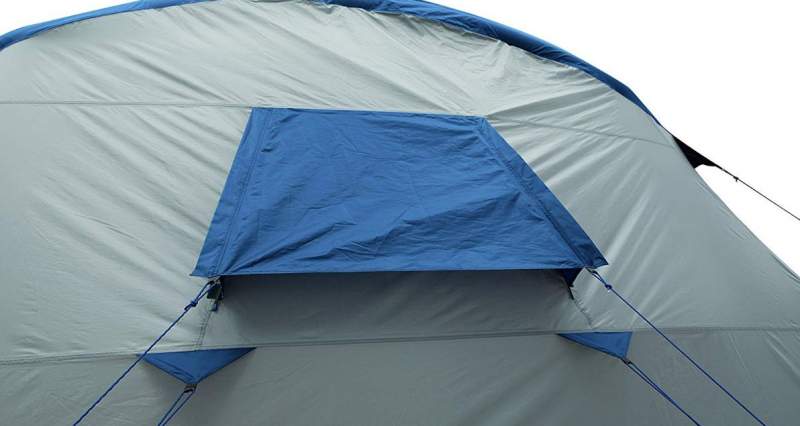 Other features
There is a series of mesh pockets on the inner tent's walls.
Guyout lines and stakes are included in the package.
E-cable port is available.
Please see a bit more in this video, it shows this 5-person tent and also a smaller 3-person version from the same series:
---
Specifications
Declared capacity: 5 people.
Weight: 34.8 lb (15.8 kg).
Dimensions: 161.4 x 122 in (410 x 310 cm).
Floor area: 116.3 ft² (10.8 m²).
Area per person: 23.2 ft² (2.1 m²).
Inner peak height: 74.8 in (190 cm).
Packed size (L x D): 29.5 x 16.1 in (75 x 41 cm).
---
Easy Camp Hurricane 500 Inflatable Tunnel Tent vs Competitors
You might want to see how this 5-person tent compares with two Vango tents that are with the same declared capacity and both inflatable as well.
As you realize, it offers far less space although it is a comfortable tent as I mentioned above. It is also relatively heavy when compared with its competitors, in particular with respect to Vango Odyssey 500. But its price is without a match.
---
Final thoughts, rating, pros & cons
So you have seen all the features of this Easy Camp Hurricane 500 Inflatable Tunnel Tent, and you realize that this is a really affordable tent for all what it offers. The waterproof rating is very high so you will be protected in any conditions in a 3-season use.
The air-beam technology which you have here is becoming increasingly more popular although such tents have been on the market for around a decade already.
Note that on the EU market it is considerably more expensive than in the US. Please see how I rate this tent against my standard set of criteria for easy comparison with other tents here in the site:
Easy Camp Hurricane 500 Inflatable Tunnel Tent
Note that this is not a sponsored text and I am not paid by the brand. Please use the comment box below in the case of questions or comments.