---
Vango 5 Person Odyssey Air 500 Tent is a nicely built 3-room family camping tent with inflatable beams instead of classic poles, and with 15 square meters of space for 5 people.
---
Key features & benefits
Air beam technology.
3 rooms.
"Lights out" design.
Easy setup.
---
What kind of tent is this
The Odyssey Air 500 is an inflatable tent, with air beams instead of classic poles. In fact, Vango was probably the first brand that started building such tents several decades ago. So you have 3 beams and an included pump, and two people can set it up in around 8 – 10 minutes.
The tent is not freestanding, so the first thing to do is to stake its corners to the ground. Note that this tent should not be mixed with yet another from the same brand and with a similar name, the Vango Airbeam Odyssey Air 500 Villa Tent.
Lights out design: This is the term Vango uses for their tents with dark rest (or dark room) design. This means that you have an external waterproof shell tent, plus an inner smaller cocoon area with a darker material. So when you close the tent completely, the glare is reduced and you can sleep longer in the morning.
Hybrid single-double layer structure: The tent is a double-layer type in the sleeping area where you have the inner tent attached to the outer shell. The sitting zone is a single layer structure.
Tunnel type: You have 3 pre-angled air beam arches that support the tent and this gives it its tunnel profile and a high ceiling in the bigger part of the tent, with 76.8 inches (195 cm) of height.
3-Room tent: There are two main parts here, see the floor plan below, the sitting area and the sleeping zone. The latter is with a divider so you can split it into two parts, one for 2 people and the other for 3 people. All in all, you have 3 units inside.
---
Who is it for
Sizewise, the declared capacity of the Odyssey Air 500 is 5 people. So, see the floor plan in order to realize if this is enough or not: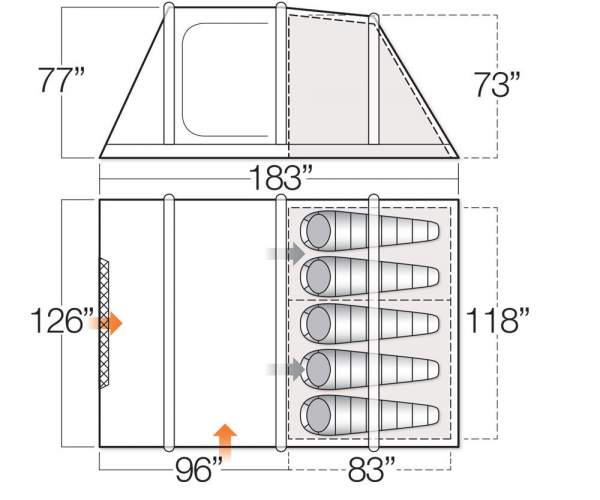 Here you have the floor area of 160 ft² (14.88 m²), which gives 32 ft² (3 m²) per person. So this is a very reasonable number and the tent can indeed easily accommodate 5 people. The large sitting area adds a lot to its livability.
Seasons-wise, the tent is with a very high waterproof rating of 4000 mm. This is a very impressive number again, so the tent will surely protect you from the rain in any weather situation. This is a true 3-season tent designed by a company located in Scotland, so imagine, they know what real rain is.
The tent's design and structure are such that it is not so great for a warm climate. I have seen some people complaining it is too hot in it; they did not do their search properly and did not read about the tent's features. But it will be your excellent camping tool in a cooler and wet area.
The tent is perfect for groups and for parents with kids. The sitting area is a nice space to organize life in the camp.
The weight and the packed size are such that you can transport it even on a motorbike. In any case, this is a camping tool for places with a motorized access.
---
Materials and organization
You have already seen the floor plan and the rooms' structure. Here, to stress that you have two doors, one on the front and one side door. The latter is without mesh, pity, cannot understand the logic of this.
The sitting room is floored, but the floor is not sewn in; it is linked it. This means you can also remove it when you need to clean it or when you do not want it in the living area. However, the inner tent (the sleeping area) is completely floored separately, and here you have a bathtub floor, so this is a tent within the tent. Note that the Capri 600 from the same brand is with a sewn-in floor.
The divider in the sleeping zone is toggled, so it provides some minimal privacy when needed but you can roll it away when not in use. The two inner doors are partly with mesh, so you have a complete protection from insects in the sleeping area and ventilation should be good enough. I have already pointed out that this is a "lights out" zone, so you can sleep during the day.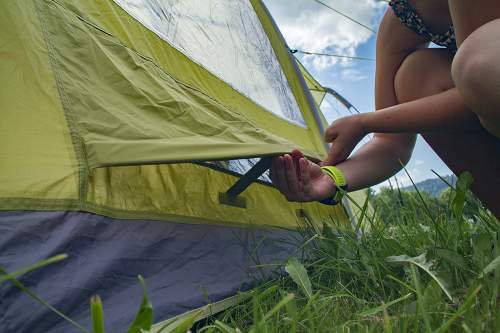 There are 3 windows in the sitting room and all are with PVC translucent panels, see the pictures above. So this is a rather closed space, no much mesh around, but there is a vent under the large window, shown above.
The shell tent is a fully waterproof and durable material, 70D polyester. The floor is waterproof PE, robust and hardwearing fabric. All seams are factory taped.
You also have a few smaller pockets for storage, and a lantern hanging point. The tent is equipped with a patented Tension Band System (TBS II) which stabilizes the tent in adverse conditions like in strong and changeable winds. The bands are tensioned and fixed at the pole at 3 points so that sideways movement is reduced. You can stow it away in calm weather, there are buckles on the straps as you can see below.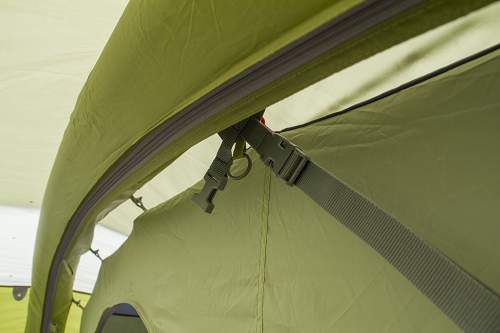 ---
Specifications
Type:

5-person air beam tent.

Weight: 35 lb (15.9 kg).
Dimensions (L x W): 183.1 x 126 in (465 x 320 cm).
Floor area: 160 ft² (14.88 m²).
Area per person: 32 ft² (3 m²).
Peak height: 76.8 in (195 cm).

Packed size: 27.6 x 13.4 x 13.4 in (70 x 34 x 34 cm).

High visibility guylines.
Weather tested to the European standard EN5912 by the certified test center.
Easypack Carry Bag, oversized and made with 50% more volume.
Spacious ISO standard sized bedrooms.
---
Vango Odyssey Air 500 vs Competitors
Here I give the Odyssey Air 500 side by side with two other tents with the air beam technology. As you see, it offers more space than the Moose Outdoors tent which is for 6 people. But the Capri 6 tent is by far the most luxurious option here. Please follow the links in the table to see more.
---
Vango 5 Person Odyssey 500 Tent – with classic poles
You might want to know that they have the version of this tent with classic (fiberglass) poles and with all the same remaining features. There are differences in the weight and in the packed size because of the poles. You can find more here.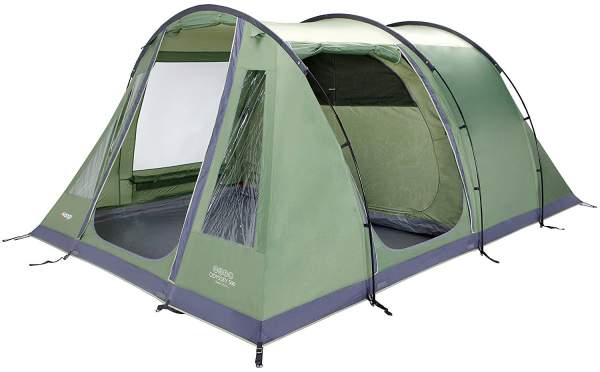 ---
What is Vango
Perhaps you might want to know something about the brand behind this tent. So Vango was established in the West of Scotland in 1966. The name is an anagram of Govan. They became famous with the celebrated Force Ten tent. But it is best that you see this video about the company, you will see the person who started it:
---
Final thoughts, rating, pros & cons
So as you realize from this Vango 5 Person Odyssey Air 500 Tent review, this is a quality tent from a trustworthy brand that has been in this industry for decades, and they have started the air beam technology which you have implemented here.
This tent offers around 3 square meters of the floor area per person if used by 5 people, so this is a generous and comfortable design, and most importantly, the tent is totally reliable and with an impressive waterproofness rating. I have included it in my list of the best 5 person camping tents.
Please see how I rate this tent:
Vango 5 Person Odyssey Air 500 Tent
For EU & UK visitors, to check the price or to order this tent please check here.
You might want to know that the Odyssey series by Vango includes also the Odyssey 600 and Odyssey 800, both with air beams. Note that there also exists the Vango 5 person Odyssey 500 with classic poles. More inflatable tents are available in this list. Check also this Eurohike Rydal 500 tent which is also for 5 people.
Thank you for reading. If you have any question or comment, please use the comment box below. Have a nice day.