---
This EVER ADVANCED Instant Cabin Tent 6 Person with Rainfly is pleasant with its windows on all sides, and you can set it up in 60 seconds. Keep reading.
---
Key features & benefits
Instant setup tent.
Freestanding.
One door.
3+1 Windows.
E-cable port.
Great price.
---
Overview – what is in the name
The key words in the name of this tent are Instant Cabin. So this is a structure with a frame preattached to the tent and you simply extend its four telescopic poles. Note that the tent's official setup time is 60 seconds. You will need a bit more if you want to attach the fly but this is indeed easy and fast. One person can easily set this tent up in a couple of minutes.
The word Cabin tells you that you have a tent with straight and steep walls. Note also that the peak height is 73 inches (185 cm), so the structure is with lots of shoulder space.
It can be described as freestanding and self-supporting. This holds even after you attach its minimal fly that covers only the ceiling. The fly attaches to the tent's corners, so you can rotate the tent and move short distances before you stake it down properly. The point is that you never miss staking it properly when you use the tent outdoor.
You have openings on all sides, so this includes one door with a window on its upper part, plus three separate windows. All the windows are the double-layer type with mesh against insects and inner zippered panels for rain/wind protection and for privacy. The picture below shows some of them.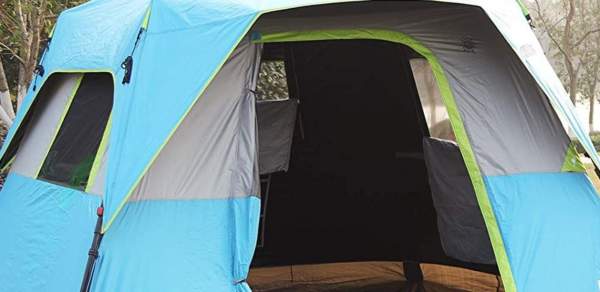 As mentioned, the fly is minimal and this is why you have great views around. But the fly creates a small awning above the door shown above, for a more or less dry entry.
Materials
They use steel for the side poles and fiberglass on the roof. The legs poles have red buttons visible in the pictures, so when you want to turn it down, you simply press and release the telescopic poles and the tent will collapse. After that you fold it easily.
The fabric is most likely polyester but the manufacturer did not bother to provide the waterproof rating. The floor is bathtub style so you are safe from splashes. They claim that the fabric provides UPF +50 UV protection (the picture below) so this should be completely enough for any outdoor use.
Note that you have an e-cable port (see the picture below) and several wall pouches to store your small items and to keep them off the ground. 

Ventilation
You have already seen about openings with mesh on all sides. The ceiling is also mesh so this looks great for situations when the sky is clear. But when it is raining, the windows must be zipped up and in such cases floor vents are necessary. They are not available here, pity.
---
Who is it for
Regarding the capacity, the tent is officially for 6 people. When you see its dimensions, you realize it is indeed possible to place 6 sleeping pads on the floor. The area is 81 ft² (7.5 m²) and this means 13.5 ft² (1.25 m²) per person.
So they use the backpacking principle to determine the capacity, which is just a way to tell you how much floor space you can expect. But this is a car camping tent and I see it best suited for couples or for parents with a small kid. 
Regarding seasons & climate, I see this tent as best suited for summer camping or for a maximum of two seasons. It is best to avoid windy places and lots of rain with such a boxy structure and such a partial-coverage fly.
Regarding the weight & packed size, the tent is both heavy and bulky. But such instant tents are usually long when packed and this is nothing unusual, a sort of a trade-off. The same holds with the weight which is 24.4 lb (11 kg), it is typical for such a type and for its steel legs poles. They write about using it for hiking and backpacking, but better ignore this, the tent is for car camping.
Regarding the price, the tent is incredibly affordable and this is a great value for the money.
Specifications
Weight: 24.4 lb (11 kg).
Dimensions: 9 x 9 ft (274 x 274 cm).
Area: 81 ft² (7.5 m²).
Area per person: 13.5 ft² (1.25 m²).
Peak height: 73 in (185 cm).
Packed size: 47.6 x 7.9 x 7.9 in (121 x 20 x 20 cm).
Frame: steel & fiberglass.
Warranty: 12-month manufacturer warranty.
---
Final thoughts
So this EVER ADVANCED Instant Cabin Tent 6 Person is nicely proportioned, incredibly easy to use, and with a great price tag. If you do not want to spend much and still have a cool-looking tent for occasional outdoor adventures with friends or your family members, this is it. I have added it to my list of best instant camping tents.
Please see how I rate this tent against my standard set of criteria:
For more options of this shape please check under the group Cabin Tents. Check also in the capacity group of Tents for 5/6 people, they are built in a variety of sizes and shapes.
Let me know if you have questions or comments, there is a comment box below. Thank you for reading and have a nice day.