The capacity of a tent is frequently given in its name already and in specifications as well. So what is camping tent sleeping capacity and how is it determined? Does it make sense at all? Find out here.
---
This is about backpacking capacity – in most cases
You have seen the question in the title. So here is the answer: it doesn't make sense (in most cases). Here is why.
The usual way of measuring the tent capacity is based on how many sleeping pads you can put on the floor of a tent. So this is a backpacking principle which makes sense for backpackers. For those guys, this is about carrying the tent in the backpack and they go for a minimum. I myself carry tents a lot and I know it from my own experience.
What appears to be overlooked is the fact that backpacking tents almost always have one or two vestibules to store the gear. This is not so with family camping tents, in particular, the cabin style tents and instant tents, which only have the inner floor area and only exceptionally some porch or awning.
It is normal for a backpacking tent to offer around 15 square feet (1.4 m²) of area per person, plus the vestibule area. But if this is about camping and family camping tents, this is more about leisure and pleasure, the daily activity in the camp is around the tent and in the tent. For backpackers, this is only about staying the night in the tent and get going the next morning. So you cannot mix things here, such a principle cannot work for family camping tents.
Nevertheless, you will see in the descriptions of some large family camping tents that they give sometimes really funny prescriptions and pictures of pads on the floor. If you have never seen this, have a look here below, this is from the Wenzel Grandview 9 tent: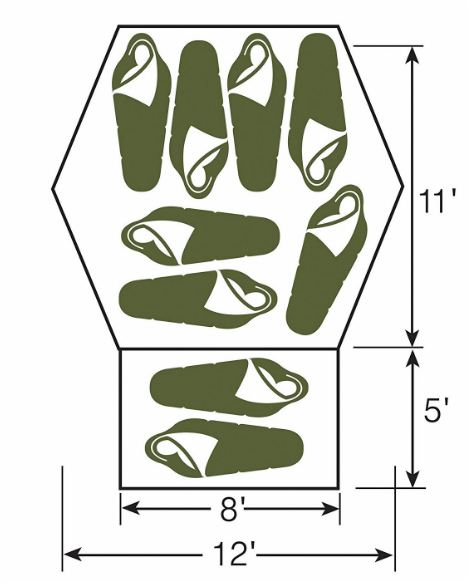 When I see such a picture, my first thought is about the rain outside, so all the stinking boots and shoes of these people and their all camping stuff are somewhere between these bags. Imagine the atmosphere.
⇒ Related: How Big Is a 4 Person Tent?
---
Can this really work for family camping tents?
It is almost certain that each of such tents can indeed accommodate the declared number of occupants. So this may work if this is about some open-air festivals and concerts where the tent is used only to stay overnight and without much luggage. But for family camping and for camping for groups, it makes no much sense.
You will see some suggesting 'a rule of thumb': order a family camping tent with a capacity of two (or three) more than the number of campers that will occupy the tent. I would go a step farther – take the declared number of user and divide it by two. So simple.
This would mean that a 12-person tent might be great for 6 people, a 10-person tent for 5, etc., you get the idea.
You might think this is exaggerated, and indeed, there are some examples which show this, you will see a couple of them below. But these are just great exceptions, more about this later.
I have seen examples of one couple alone using a tent for 10 or 12 people, and the tent looked too small for them, that is how full of furniture it was. So this is quite individual, some people need all their stuff in the camp and this is their right. But I am talking about a bare minimum of a livable space, which you need to avoid a nightmare in the camp.
Let me give you one example. Take this Ozark Trail 15 person instant tent. It looks huge, with 250 ft² (23.2 m²). Divide this by 15 and you get less than 17 ft² (1.55 m²) per person. So this is the backpacking norm. See in the picture what they suggest: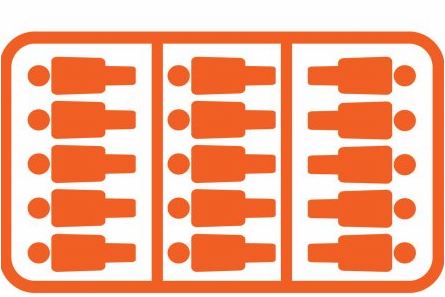 Remember my comment about boots and shoes; here you have them 15 pairs (at least). But see the floor plan, you have 3 rooms, the central room is the only room with external doors, and you have two side rooms. To have any comfort, you would use those side rooms for 3 – 4 people maximum, and use the central room as a sitting room.
So a realistic capacity for this tent would be 6 – 8 people only. Note, for 7 users you have 36 ft² per person, roughly twice the 'backpacking' value, and this is still quite a modest number. Most people would not be happy with this.
I could show you more examples of this type, there are many family tents described here on the site. But in any case, this leads us to some possible conclusion about the tent sleeping capacity.
For an ordinary family or group camping, it makes no sense going below 30 square feet (or roughly 3 square meters) per person. The more you have above this value, the better. But there are a few more factors to bear in mind, it is not all about the floor size.
---
Tent floor area vs the declared tent capacity – some positive examples
Sometimes, you just get confused when you compare the declared capacity of some tents. See these two tents, one is this Tahoe Gear Ozark 16 person tent, with the floor area of 253 square feet (23.5 m²), which gives 1.47 m² per person. This is a beautifully designed tent of course.
But compare it with this Texsport Highland 8 tent, which is, as the name suggests an 8-person tent, yet it offers 240 ft² (22.3 m²) of the floor area, so you have 2.8 square meters of space per person. Note, they have a practically identical design.
So the first tent is far from comfortable for such a declared capacity, while the second is really great for its own declared number of users.
The point is, check the actual floor area and simply disregard the declared capacity. In many cases, it makes no sense.
As you realize, there are indeed some great examples with a properly defined capacity. You have already seen one above, the Texsport Highland 8 tent offers enough space although it has no external storage areas. One much better example is this Crua Loj 6 Insulated tent. Now, be prepared to see its capacity:
Total covered space: 300 ft² (28 m²).
Inner floor area: 235 ft² (22 m²).
Porch area: 65 ft² (6 m²).
This is a 6-person tent. So here you have 3.6 square meters (almost 40 square feet) of the inner space per person, and the total covered space per person is 4.7 m² (50 ft²). There is no other tent within this site which could come close to these numbers.
The designers of this tent obviously did not have the backpacking guidelines in mind, here you have a far more generous system used. But you might be shocked when you see the price, follow this link.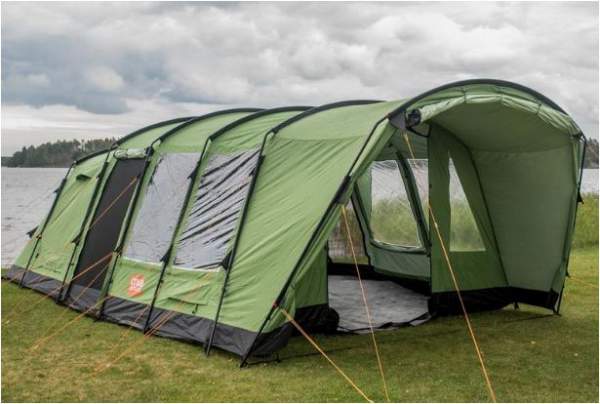 ---
What else to consider
I mentioned above that the floor area of a tent is not the only parameter. Here are some other features that either make the tent livable and effectively increase the sleeping capacity, or do the opposite:
Vestibule(s).
Porch or floorless screen room.
Awning.
Tent floor shape.
Tent height.
Tent type.
Misleading declared tent dimensions.
These are just a few, there may be much more for sure. I shall be happy to hear from you, there is a comment box below. So let us know, what would you add here?
Vestibules
This should be self-evident, and you have some great examples here on the site. Just have a look in this Nemo Wagontop 6 tent and Big Agnes Flying Diamond 6. Those tents have huge storage and/or sitting areas in their vestibules.
Being able to keep some stuff outside (boots included), will increase the tent's sleeping capacity and make it a more pleasant place.
Porch or a floorless screen room
The function of a porch or a floorless screen room is similar to a vestibule, to increase the effective protected area.
However, in general, vestibules are always with a full protection against the rain. But a porch or a screen is not always fully covered. You can see the example of such a partly protected porch in this Ozark Trail 10 person tent with screen porch. As for a screen room which is not fully protected, it is best to check Ozark Trail 9-Person Instant Cabin Tent with screen room.
Awning
Obviously, an awning itself is not for sleeping, but if it is big enough you can store some items underneath it. Or you can use it just for sitting, and this might make the situation in the tent with too many occupants a bit more bearable at least during the day. So in an indirect way, it may increase the sleeping capacity of a family camping tent.
Tent floor shape
This is about the inner organization and about the ability to use the floor area most effectively. The best in this sense are rectangular and elongated tents. You have seen above the floor of the Ozark Trail 15 person instant tent.
On the other hand, tents with more sides and with an irregular shape may look more attractive and may contribute to a positive camping experience.
You have seen the hexagonal shape in the Wenzel Grandview 9 tent. It looks complicated to organize the floor area, but it is very attractive. Over-crowding such a space will ruin the camping experience.
Tent type & height
So, how the tent height increases sleeping capacity? Well, consider using bunk cots. Such bunk beds can really be functional and attractive, and kids love them. They go nicely with tall cabin style tents, and they fit great against their straightened walls. You would not put bunk camping beds in a dome style tent – rectangular structures like such boxy bunk beds do not go well with a nearly spherical dome tent walls.
Also, when you use some camp furniture in a tent without a rectangular floor, you would have to keep them away from walls in some areas. This may reduce the sleeping area, but this is not always so – you can store some stuff in such smaller places that are left behind the larger furniture pieces.
Misleading declared tent dimensions
Some tents have a shape of a cross or the sign +, and some are L-shaped. Manufacturers sometimes give the dimensions of their largest sizes and those are misleadingly understood as the inner floor area. In fact, such numbers only determine how much ground such tents occupy in the camp.
Here is one perfect example of such a misleading description: the Ozark Trail Base Camp 14-Person Cabin Tent. In specifications, they give its size 20 x 20 ft (6 x 6 m). But see its shape: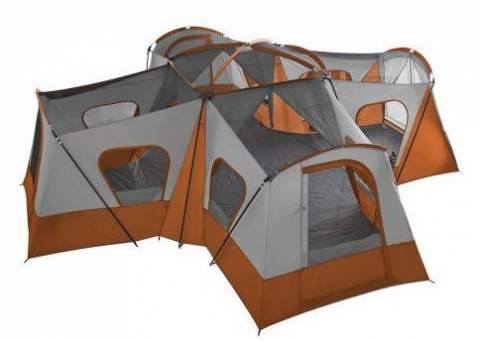 But if you look more carefully, the actual floor area of this cross-shaped structure is around 5/9 of the 20 x 20 ft ground surface which this tent needs. They do not give the floor area, not sure if this is on purpose.
My estimate was that it was not more than some 222 ft² (20 m²). This gives less than 16 ft² per person, instead of (20 x 20)/14 = 29 ft² what you might conclude from the specifications. In spite of its size, this tent offers just a backpacking comfort (with respect to the floor area) if it is used for the declared number of 14 occupants.
---
Final thoughts
So those are my meditations about the camping tent sleeping capacity. As you realize, for backpack portable tents the usual principle of determining the capacity surely makes sense, but applying it to the ordinary camping tents is pointless. You would normally want more than just a pad on the tent floor.
I hope the text helps a bit. It would be great to hear from you, so do use the comment box below and let me know what you think.
---