This Ferrino Flow 4 Family Tent review is about a great 3-room tent with inflatable beams instead of classic poles, suitable for 3-season family camping.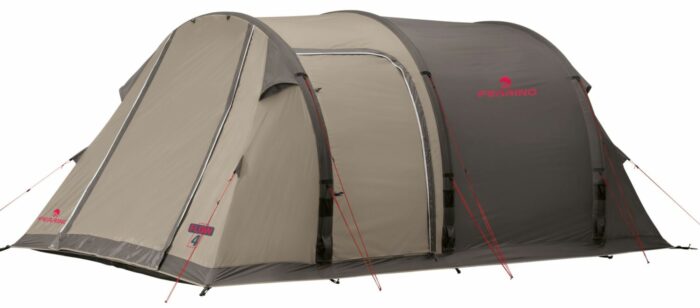 ---
Key features & benefits
Inflatable beams instead of poles.
3 Rooms.
3 Doors.
Huge space.
Great waterproof rating.
---
What this Ferrino Flow 4 Person Tent is about
I would start with the shape, so what you have here is a very typical tunnel-type tent. But it is supported by three air beams instead of poles and this is what makes it specific. It is easy to use and one person can make it ready in several minutes. Because of such a design, I have included it in my list of best inflatable family camping tents.
Note that the tent is not freestanding, so you have to stake it down properly. You can do this before inflating the beams, or you can stake one end first, inflate the beams and then spread the tent like an accordion and finish the staking after that. Note that the tent is quite tall, you have 70.87 inches (180 cm) peak height.
How many rooms?
The picture below shows the floor plan and the most important dimensions. So formally, this is a 3-room tent, but there is more to this.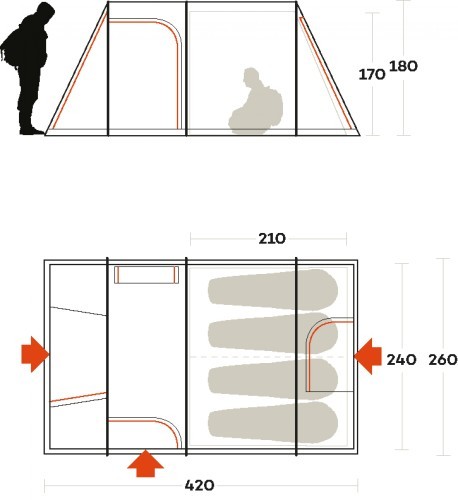 You have an inner tent within the shell tent, and there you have two sleeping rooms with a removable divider between them, each with its own door, see the picture: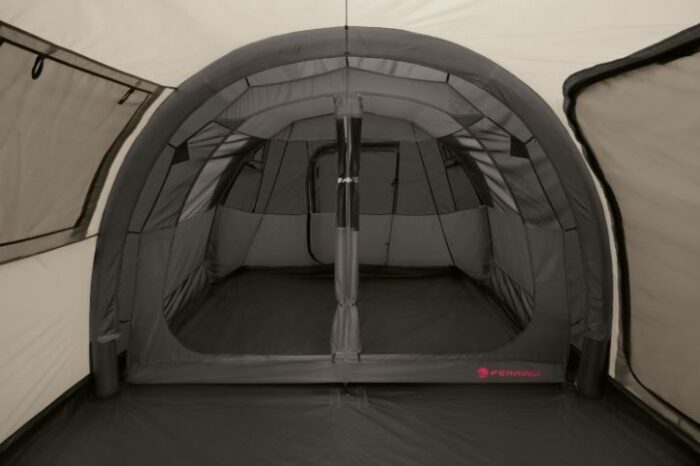 The front room can be used as a living area. Note that the inner tent can be removed and you can use the shell tent as a single-room tent shown in the picture: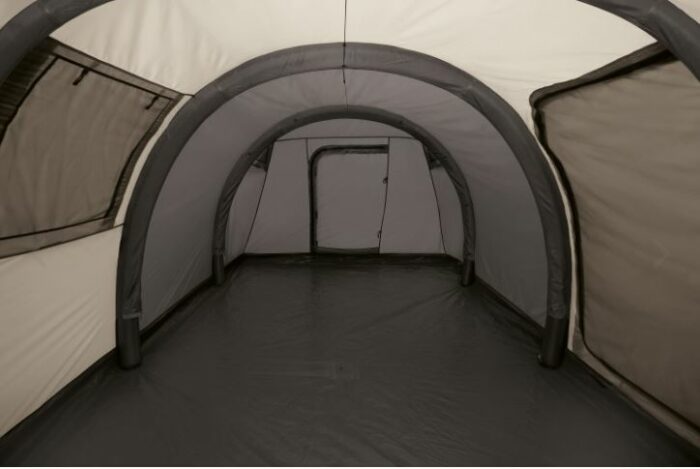 So you can have 1, 2, or 3 rooms, to use as you wish. Note that the inner tent can remain attached all the time, and you can keep it there when you pack the tent.
Such a structure allows for dry setup, this means that you can inflate the beams even if it is raining, and the inner area will remain protected in the process. This is not so when you have a separate fly to attach to the tent.
The doors & windows
There are three external doors in total, one on the front, one on the back, and one on the side. The side door is double-layer full size, this means you have separate zippered mesh plus a separate zippered panel. The rear door has a mesh window on the upper half, while the largest front door is a single layer type with two parallel zippers.
There is also one separate window on the side, with mesh and with a zippered panel. You can see it in the picture above.
Ventilation
I already mentioned large mesh sections on the shell tent, but they have added vents as well, so you have 4 roof vents, two on the front and two on the rear side. Sleeping area doors are with a mosquito net in the upper part.
The inner tent is attached to the shell with toggles, so you have a gap of 10 cm between the two layers, and this is good enough to have air circulation through the tent. But there are no floor vents here, pity.

---
Materials
Because there are no poles, this is all about the fabric. So the shell tent is a durable 70D polyester Diamond, 75 g/m², it is coated with thermal-insulated aluminized polyurethane that gives it a 2000 mm waterproof rating. All seams are taped. The same materials are used here as in their Ferrino Proxes 5 Advanced tent.
The inner tent is a water-repellent breathable polyester. The inner tent's floor is also 70D polyester, 80 g/ m², and it is waterproof to 2500 mm. The shell tent's floor is a waterproof fully welded polyethylene with more than 10000 mm waterproof rating. Note that you have two floors in the sleeping area, one above the other, so protection from elements can hardly be better.
The beams are 3 independent inflatable elements.
Other details
Inner tent secured to the flysheet using loops.
Steel pegs are included.
Multipoint guyline system to secure the tent.
Large Supertex stuff sack.
A repair kit for beams is included.
A manual air pump is in the package, see the picture.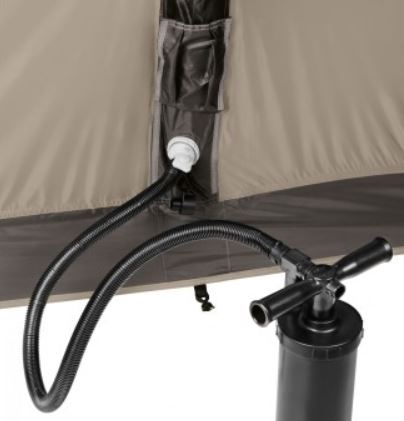 ---
Who is it for
Regarding the capacity, this tent is officially for 4 people. But this is a large tent, and this is why I have included it here in the group of these exclusive 4-person tents that can accommodate more than 4 people.
To realize this, see its floor area, the sleeping rooms indeed have space for 4 users. But the living room is so large that it can easily accommodate 2 people more. So if necessary, there is place for 6 people in this tent, and now you realize why it is included here in the site.
Regarding climate & seasons, I have no doubt that this tent will protect you anywhere in a 3-season use. The waterproof rating is good and its air beams can never break so the tent will perform great if you use it in windy places. Even if it bends due to wind pressure, it will instantly bounce back when the pressure drops. Ventilation is very good, so you can use it in any climate. It can be closed when you feel cold.
Regarding the weight, for a 4-person tent its 28.66 lb (13 kg) of weight looks really bad, but see again its floor area and its size, this is a large tent and the weight is justified.
The packed size 29.5 x 13.8 x 13.8 inches (75 x 35 x 35 cm) is not particularly great, so you definitely need a car for such a tent. Please see a bit more in this short video:
---
Specifications
Official capacity: 4 people.
Weight: 28.66 lb (13 kg).
Dimensions: 13.78 x 8.53 ft (420 x 260 cm).
Total inner area: 117.5 ft² (10.9 m²).
Area per person: 29.37 ft² (2.7 m²).
Peak height: 70.87 in (180 cm).
Packed size: 29.5 x 13.8 x 13.8 in (75 x 35 x 35 cm).
---
Summary, rating, pros & cons
In the summary of this Ferrino Flow 4 Family Tent review I wish to stress again that this is a reliable tent with full protection in a 3-season use. They use advanced air-beam technology and this is what makes it a very particular tent. The organization of space is excellent, and you have it more than you need for 4 people. The brand behind this tent has a long history, they have been in the business of building tents from 19th century. Fully recommended.
Note that this brand has yet another inflatable larger tent, the Ferrino Ready Steady 5 Inflating Family Tent, you might want to know this if the tent described above is not large enough for you.
Please see how I rate this tent against my standard set of criteria so you can easily compare with other tents in the site here:
For more tents with the same capacity check under the category Tents for 4 people. This Coleman Tent Vail 4 Person is with the same official capacity and also a tunnel-tent, but you have classic poles here. If you need more options of this type, check under the category Tunnel tents.
Bookmark this site and visit again, this will keep you informed, we add texts here regularly. There is a subscription form below for our weekly newsletter, so subscribe and stay in touch. Thank you for reading and have a nice day.