This Ferrino Ready Steady 5 Inflating Family Tent review is about a large 3-room tent with inflatable beams instead of poles, and with great organization and features. Keep reading.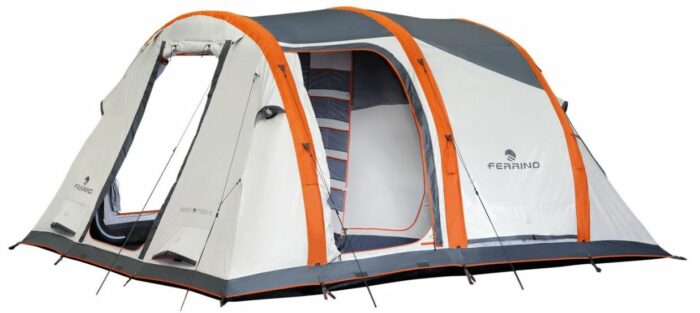 ---
Key features & benefits
Air beam tent.
Tunnel-type.
3 Rooms.
4 Doors.
Great waterproof rating.
Very easy to use.
Multiple vents.
Mesh on the doors.
Multiple storage elements.
---
What this is about
There are two basic things to know:
This tent has been on the market for a decade already. So it has been modified and improved, and it has stood the test of time.
Ferrino brand has been around since the 19th century, more precisely the company started in 1870 in Torino (Turin), Italy. So yeah, I know this brand has not been very known on Amazon and on the US market, but this is a well-established brand in the EU.
Back to the tent, this is a structure without solid poles. You have air beams instead, and a pump is included in the package. This is a one-piece pneumatic tunnel structure with tensioning spacers, see the part of it: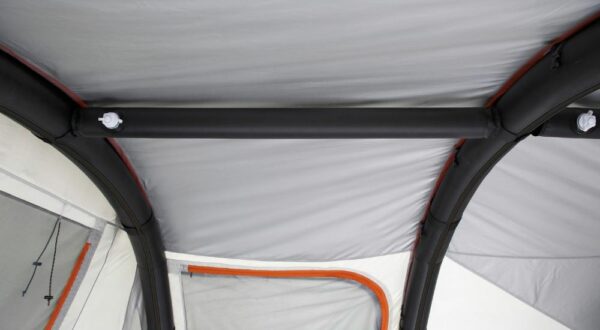 The tent is a hybrid single/double-wall type. This means the following:
• There is an inner sleeping area with two sleeping rooms with a zippered and removable divider, so this is a double-wall part with the shell around. In fact, there are two separate inner tents, one for two people and one for three people. Note that both of them are with their own floor and you also have the shell floor underneath them.
• Both inner tents can be removed or you can use any of them separately and have more space for storage and for living space.
• There is also a large living area (see the floor plan below) which is under the shell, so this is a single-wall part. Note, both parts are fully protected and sealed.

So this is a 3-room tent at its best, but this is a modular design and you can have one, two, or three rooms. The peak height is also excellent, you have 205/190 cm in the living room and in the sleeping rooms, respectively. As you realize, this is an impressive structure. I have included it in my list of best 3-room tents.
There are no less than 4 external doors and those on the living room are the double-layer type with mesh plus panels for protection and privacy. The picture below shows how it looks inside. So you see the inner tents hanging from the air beam, and the two inner doors are visible: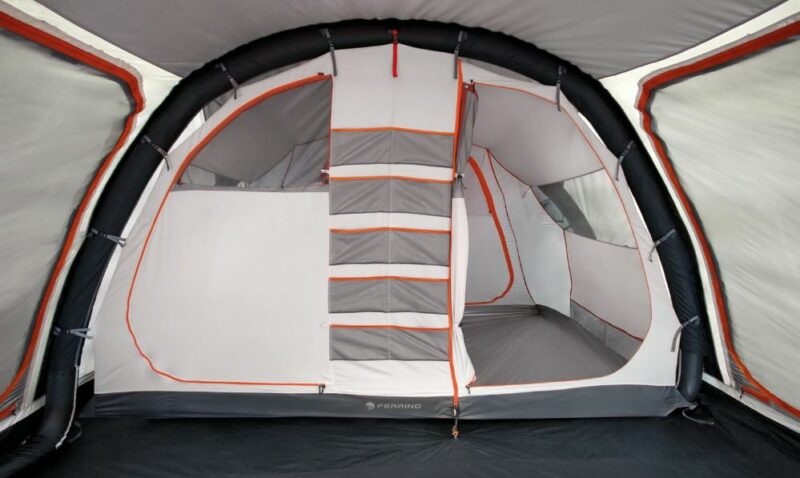 Observe also multiple storage pouches on the wall between the inner doors, and you have them many in the inner tents as well.
Ventilation
Ventilation is properly designed with multiple floor vents and roof vents. The picture below shows the tent with the closed doors and closed vents, this is a setup when it is very cold outside. But you notice there are 4 vents in the living room alone, plus a few on the back side.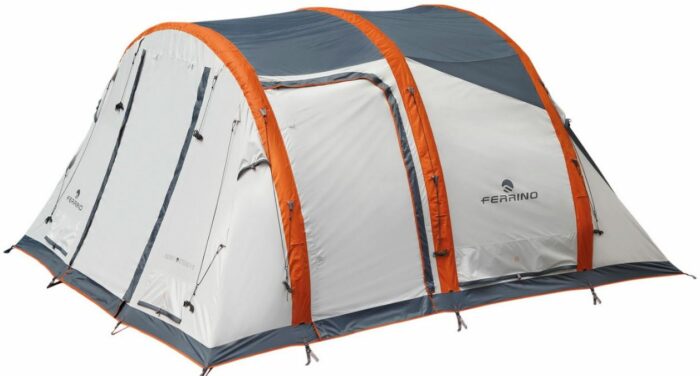 But you also have mesh on the doors which you will use when the sky is clear. There is nothing one could object to this design.
---
Who is it for
Space-wise, the declared capacity is 5 people and the picture below shows what the tent offers. The sleeping area gives 6.66 m² and you have 6.84 m² in the living room. So the total protected area is 13.5 m² (145 ft²), and this is indeed a very generous space with 2.7 m² (29 ft²) per person.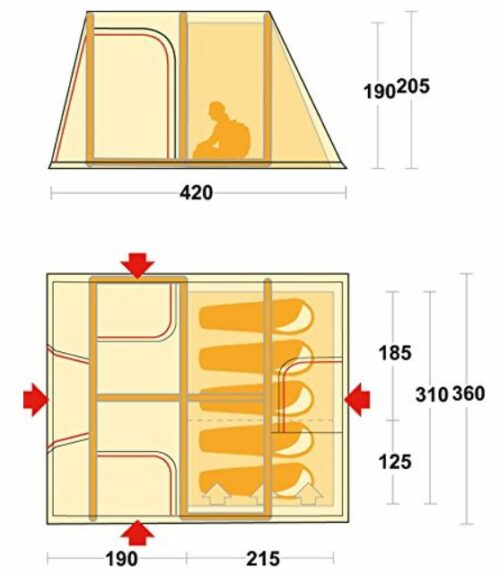 Because the living room is fully sealed and protected, this tent can accommodate more than what the declared capacity tells you. It can easily accommodate 3 people more. So I have all good reasons to include it in my list of best 5-person tents.
Seasons-wise & climate-wise, I would dare to claim that this is a tent for all seasons, but it should not be used in areas where you expect snow because there is no solid frame here.
On the other hand, such air beams instead of poles are known to behave great in the case of winds. They cannot break, they can bend but they will restore their shape instantly. Note that all the openings (doors and windows) can be closed if you feel cold and the same holds for the vents. This allows you to use the tent also in the areas with lots of sand in the air.
If you use it in a warm climate, the doors are with mesh and panels, and you have many floor vents and roof vents. So you have plenty of options for ventilation and crossflow.
Weight-wise, with 25.6 lb (11.6 kg) this is not a lightweight tent. But this is quite typical for tents with air beams, and here you have them added as inner tensioners as well, so the weight is justified.
---
Materials
The fabric
The inner tents are with the notation H.T. (high tenacity) 75D polyester, 70 g/m², water repellent, and breathable. Their floor is a 70D, 70 g/m² polyester, coated with thermal-insulated, aluminized polyurethane, with a waterproof rating of 2500 mm.
The shell fly is 210D Oxford polyester, 130 g/m² coated with thermal-insulated, aluminized polyurethane, and waterproof rating 2500 mm. The floor of the shell tent is a thick fully waterproof polyethylene. All seams are taped on the shell and on the inner floors. So these are all impressive materials and features and the tent provides full protection from the elements.
Other features
Steel pegs.
Seeping area doors with mosquito net.
Multi-point guy-line system to secure the tent.
Internal storage pockets.
Opening and system with Velcro for the E-cable.
Lamp hook.
Large Supertex stuff sack.
---
Specifications
Declared capacity: 5 people.
Weight: 25.6 lb (11.6 kg).
Dimensions: 165 x 142 in (420 x 360 cm). Note, these are data from the manufacturer.
Area: 145 ft² (13.5 m²).
Area per person: 29 ft² (2.7 m²).
Packed size: 26 x 10.2 x 10.2 in (66 x 26 x 26 cm).
Peak height: 80.7/74.8 in (205/190 cm).
---
Final thoughts, rating, pros & cons
So to summarize this Ferrino Ready Steady 5 Inflating Family Tent review, it is rare to see a tent that can accommodate more people than what its declared capacity tells you. This is what you have here. So this tent is a luxurious family camping castle with multiple rooms and modular design, very easy to use, and very reliable. Fully recommended.
Please see how I rate this tent against my standard set of criteria used for all the tents in the site so you can easily compare:
This site is all about tents, so just look around if you need something different. We have several tents from this brand presented here. Check their Ferrino Proxes 5 Family Tent and also Ferrino Proxes 5 Advanced Family Tent if you want something with classic poles. Check also this KingCamp Tent 6 Person 2-in-1 Outdoor Camping Tent that has 3 rooms as well.
Note that we add texts regularly, so bookmark this site and stay informed. Subscribe to our weekly newsletter, the subscription form is below. Let us know what you think, there is a comment box below.