The Guide Gear 6-sided Hex Screen House Tent with Wind Panels can be described as a hybrid between a screen house and a tent because of its fixed mesh walls and removable panels that provide full protection.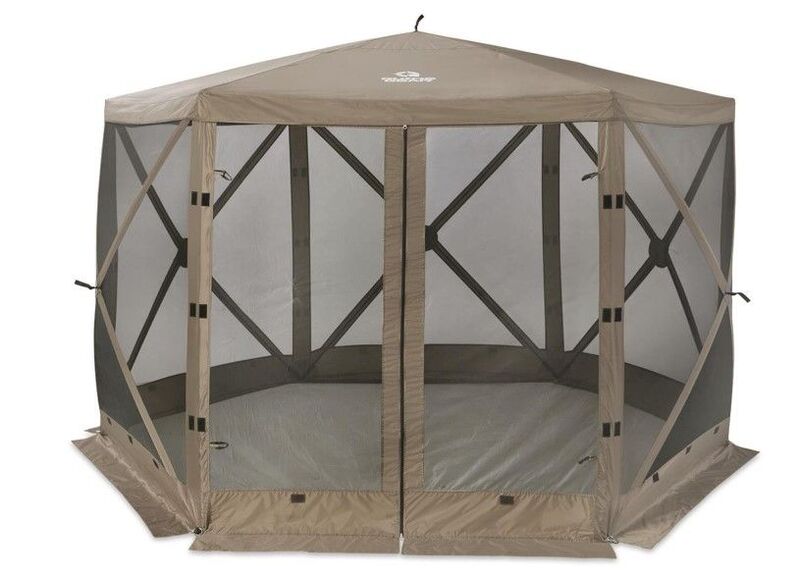 ---
Key features & benefits
Instant setup.
Fully closable with included panels.
One door.
Accessory floor available.
---
What this is about
The official name of this Guide Gear 6-Sided Hex Screen House Tent with Wind Panels is quite descriptive and it tells you a lot about this shelter.
So this is a hexagonal cabin type and more or less freestanding structure with a single door shown in the pictures. The shelter is quite tall, you have 90 inches (229 cm) peak height, and you realize from the pictures that its ceiling is high everywhere. The walls are also vertical, so you have plenty of volume and head-room here.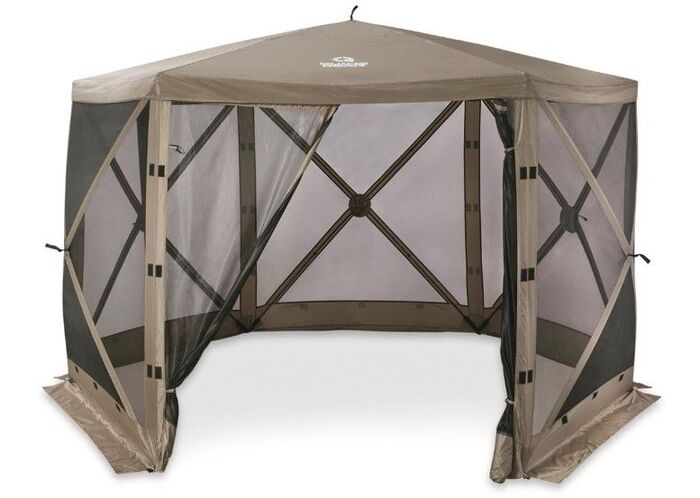 Instant setup
The X-crossed elements that you see are integrated poles sewn-in into their sleeves. In other words, the frame is pre-attached here and this is all one single piece.
This all makes the shelter instant type. When you unfold it, simply pull out those loops that you see in the middle of its 5 sides, and also push up the ceiling which is the same pop-up structure with 6 converging poles.
Fully closable
This is a feature that makes this shelter a hybrid, it can be described as a tent as well. It comes with 5 separate panels that you can zip to its 5 sides, and something similar you also have for the door.
The picture below shows how it looks when fully closed. With panels, this is practically a floorless tent, you are fully protected inside.
Materials
The poles: You have fiberglass used here, and the poles are 11 mm diameter. As mentioned above, they are sewn in so you will not have to deal with them in any case.
The fabric: The walls are all no-see-um mesh with a taffeta skirt on the ground. So when you attach panels, these skirts will direct water outward.
The ceiling is water-resistant seam-taped 210D polyester oxford with a PU coating that gives it a 1500 mm rating. The same material is used for the removable panels. So this is enormously durable material. They claim that this is a CPAI-84 fire-retardant fabric.
Accessory tent floor
They also have the Guide Gear 6-sided Hex Screen House Tent Floor which can be ordered separately. This is a water-resistant protection between you and the ground made of a 210-denier polyester. Its waterproof rating is 3000 mm due to a PU coating and taped seams.
You get stakes in the package that can be used with 6 metal grommets to secure the floor. This is a hexagon and its dimensions are 138 x 128 inches (351 x 325 cm).
Other details
You have included lantern hangers attached to ceiling panels. The picture below shows how it may look with lanterns attached and used.
Also included are XL stakes, tie-down ropes, and zip carry bag.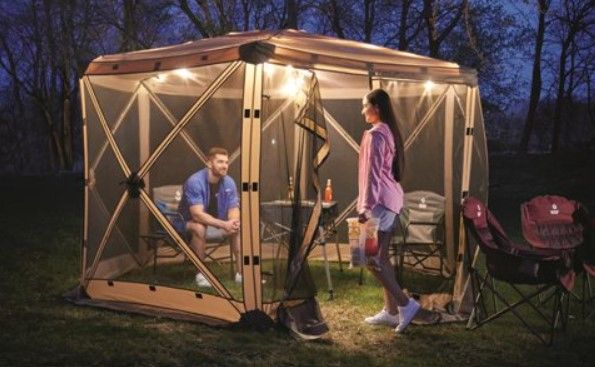 ---
Who is it for
Regarding the area, you have 107 ft² (9.9 m²). The dimensions are such that you can easily put a table inside together with 4-6 chairs, dependent on their size and design of course.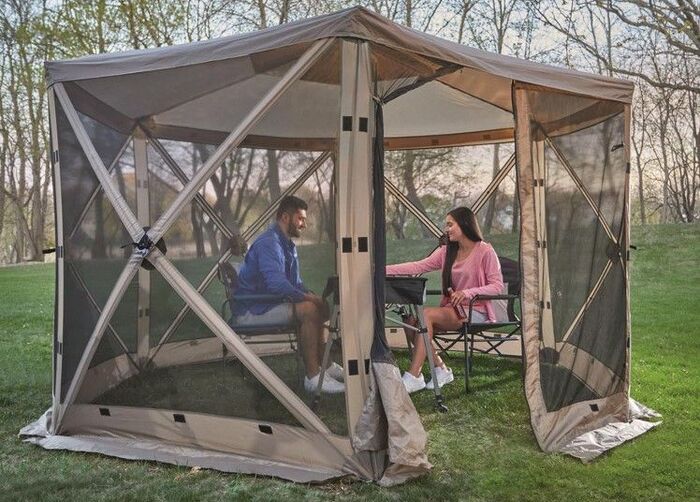 Regarding best use, this is a versatile shelter so you can use it as a screen house next to your camping tent. The waterproof panels will protect anything you keep inside.
On the other hand, if you are in an area without crawling insects, there is no reason why you would not use it as a floorless tent.
This is also an item you can take on picnics, and use on the beach where it can serve as a privacy room, and as a place for small kids if they need to take a nap during the day.
Regarding the weight and packed size, well, these are not the best features of this shelter. It is quite heavy, but this is because of those extra panels. This is almost completely a double-layer structure.
But far more problematic is its length when folded, the numbers below, so you cannot transport it inside of the car. Such length is typical for instant pop-out tents and screen houses of this type.
---
Specifications
Weight: 35.9 lb (16.3 kg).
Dimensions: 138 x 128 in (351 x 325 cm).
Inner area: 107 ft² (9.9 m²).
Peak height: 90 in (229 cm).
Packed size: 75 x 7.48 x 7.48 in (191 x 19 x 19 cm).
---
Final thoughts, rating, pros & cons
In summary, this Guide Gear 6-Sided Hex Screen House Tent with Wind Panels is a well-made and a quality versatile shelter. It offers almost complete protection from elements and from flying insects. You can use it as a tent or as an advanced screen house. Fully recommended. I have included it in my list of best screen houses for camping.
Below you can see how this shelter stands against my standard rating criteria that I apply consistently to all of them here in the site so that you can easily compare:
BEST PLACEs TO BUY:
For more shelter of this shape please check in the category Camping Screen Houses.
Let me know if you have questions, there is a comment box below. Bookmark this site and come again, this will keep you informed, as you realize I add texts here on a regular basis. Thank you for reading.