---
If you are in search of a camping shelter that will save you from mosquitoes and other flying insects, check this list of Best Screen Houses for Camping from the best-known brands in this industry.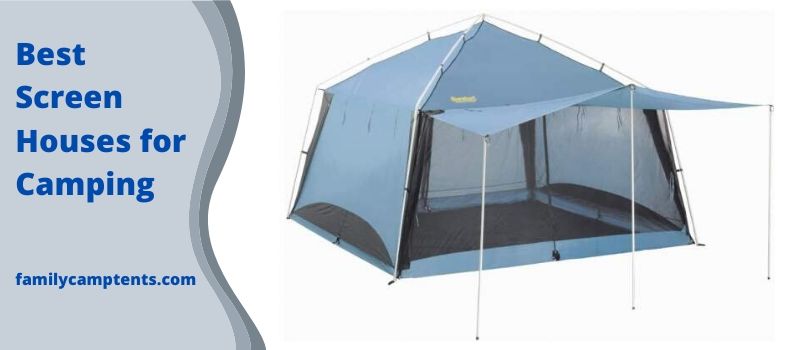 ---
My list of the best screen shelters for camping
Below, I give the list of the screen houses ordered by the area from smaller to larger. You will realize that regarding setup, there are two main types: instant and non-instant screen houses. This term instant is the same as what applies to instant tents, so the frame is pre-attached to the screened canopy and it remains so all the time. The non-instant screen shelters require assembly, but this is always very easy with their shock-corded poles.
You will notice also that these are all well-established brands, in fact the best known in this industry. So you know what you are buying. The focus here is on camping items, and this implies certain features like portability and great packed size.
Note also that they all are more or less freestanding. The meaning is that you can move them around and rotate even after you set them up. But they all come with stakes and guylines so do not miss anchoring them to the ground.
Most of them are presented in detail in my separate reviews so please follow the links for more information. Here I give only some basic features.
---
1. Wenzel Magnetic Screen House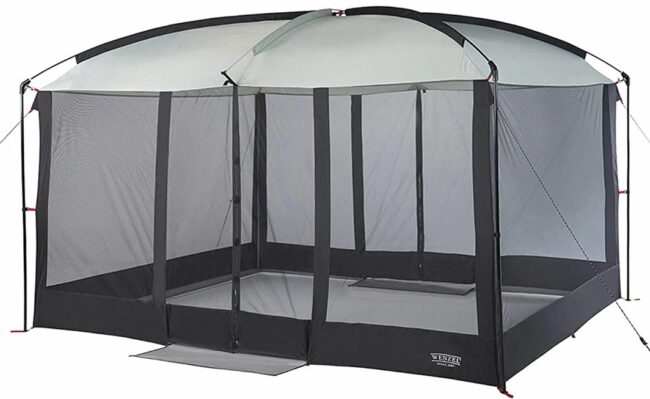 The key feature here is expressed by the word 'magnetic'. This implies magnetic strips that line the large "I" style door opening for automatic closure and for hands-free entry/exit use. This is really convenient to avoid flying insects getting in, in particular if you have dogs or kids that circulate through the doors all the time.
As you realize, the walls are completely vertical so you have plenty of volume, and the roof creates a shed over the whole base area. This is not always so with some other screen shelters that have angled walls.
The dimensions are 11 x 9 ft so the area is 99 ft² (9.2 m²). The shape is such that it best fits some elongated and narrow camping table. The peak height is 7.5 ft (229 cm), and the weight is 17 lbs 7 oz (7.9 kg), so this is one of the lightest screen houses here. Do you remember what I mentioned about the renown brands? Well, Wenzel is a champion, it has been around since 1887. Note that there is yet another screen house that look exactly the same under the name Tailgaterz Magnetic Screen House.
---
2. Eureka NoBugZone Screened Canopy Shelter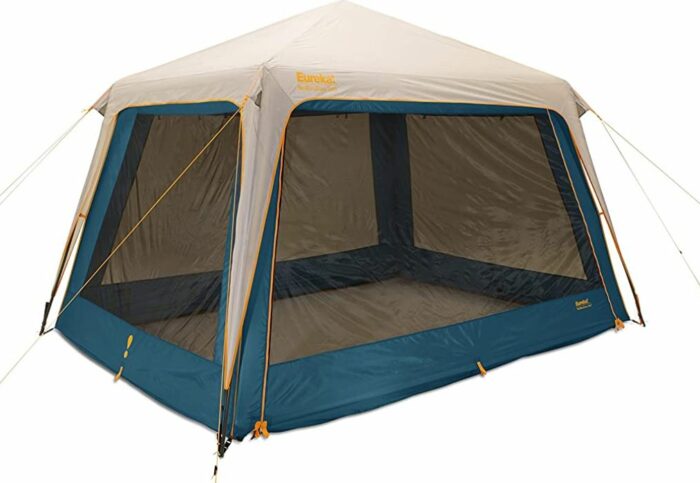 This great screen shelter comes in two different variants, one without a fly but with a waterproof roof, and another with a removable fly but with a mesh roof. This second variant is shown in the picture above. Note that they also sell removable panels as accessories.
This is a tall freestanding structure with two large doors, the one visible in the picture above rolls up and you can fix it under the roof. This screen house for camping weighs 18 lb 8 oz (8.39 kg), and the area inside is 108 ft² (10 m²). Please follow the link for more details. Eureka brand has a long history, it was founded in 1895.

---
3. Browning Camping Basecamp Screen House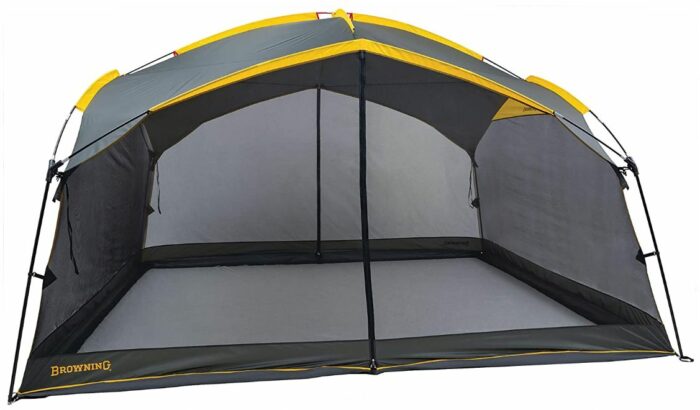 This Browning Camping Basecamp Screen House offers 120 ft² (11.16 m²) of the floor area. It is freestanding and very tall, with two doors equipped with a central zipper visible in the picture above.
It comes with a waterproof roof so you have a shed and rain protection as well. The poles are a steel and fiberglass combination, and they are very unique with Y-shaped hub elements on all four corners. The packed size is also great. This screen house weighs 17 lb 14 oz (8.1 kg).

---
4. Coleman Screened Canopy Tent with Instant Setup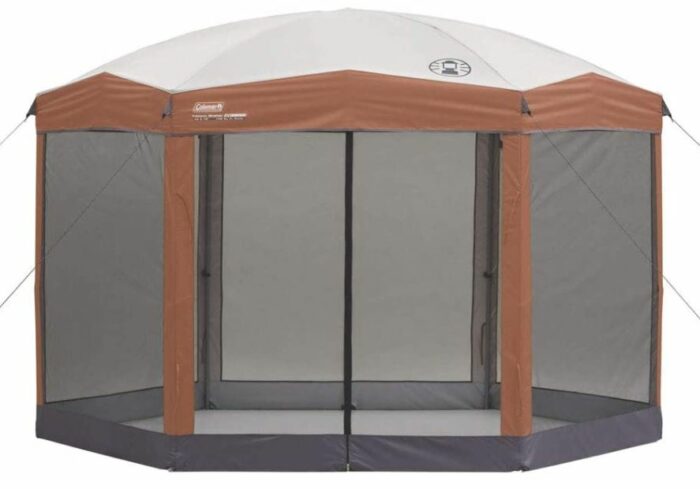 As you realize from the picture, here you have a structure with completely vertical walls, so the volume inside cannot be bigger for its base size. Now, the size is a bit confusing, the official dimensions are 12 x 10 ft and this is a hexagon. This would imply 120 ft² (11.1 m²), but you will notice everywhere the number of 90 square feet.
In any case, here you have enough space for 4-5 people dependent on the size of the furniture which you use. This is an instant- setup design as its name suggests, so setting this structure up can hardly be easier. The peak height is impressive 8 ft 4 in (254 cm), and the weight is 45.2 lb (20.5 kg).

Please see more in this video:
---
5. Eureka Northern Breeze Aluminum Frame Screen House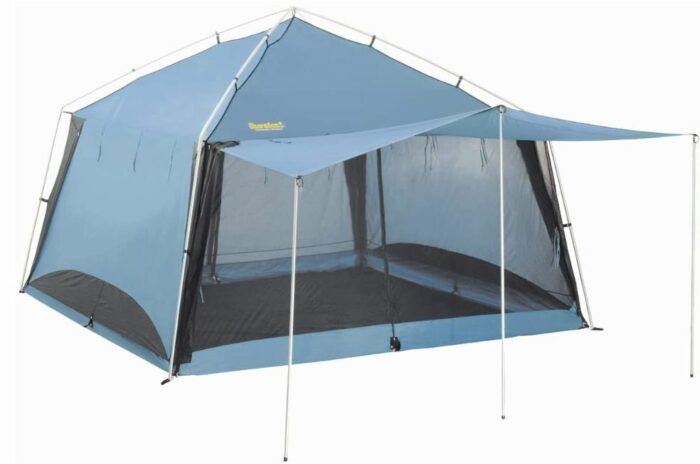 This Eureka Northern Breeze Aluminum Frame Screen House is unique here because of its double-wall structure. So you have mesh and panels that can be rolled up, and you have full protection from the rain, and lots of privacy when you need it. So this structure can be used also as a tent.
There are 2 doors and it also offers the awning configuration shown in the picture. The poles are quality aluminum. This screen house is freestanding and also incredibly tall with the 8 ft 5 inches (256 cm) interior peak height. It weighs 25 lb (11.3 kg), and the area is 144 ft² (13.4 m²).

---
6. Coleman 15 x 13 Instant Screen House
This Coleman 15 x 13 Instant Screen House is with a hexagonal base and the numbers in the name are the diagonals of the hexagon. So this implies a very large area of 146.14 ft² (18 m²).
The word instant describes its incredibly easy setup which is officially under 60 seconds. This is again a very tall structure, fully freestanding, and with two identical doors with zippers. It is fully freestanding with its 6 legs and they are in fact footed.
The area/weight ratio is simply excellent, around 2.2 m²/kg and the screen house weighs 18.24 lb (8.3 kg). The roof is rather small but it does provide some shade. The price is very reasonable. Note that they have a smaller version built in a similar but rectangular style, the Coleman Screen House 10 x 10.

---
How to choose your screen house for camping
There are several aspects to consider, they are given below in no particular order:
The level of protection
All the screen shelters here in the list provide protection from flying insects, there is little difference from this point of view. But you might want to consider also i) protection from the Sun, and ii) protection from the rain.
Normally you have shade in all of them and the roofs are usually waterproof. But these are screen houses so if you want rain protection, check those with the side panels. Some have them included, or they can be ordered separately.
Packed size
This may be important so bear this parameter in mind, there are big differences in the packed size. Usually, the screen houses with instant setup are longer when packed. So this is a sort of trade-off, they are easy to use but they take more space in the car trunk.
Easy of use
If you plan to change the place frequently, you might want to consider those with instant setup. They are incredibly easy to use, but as mentioned above they tend to be longer when packed.
Weight
This is probably less important as these are all items designed for camping places with a motorized access. But there are differences in the weight by a factor 2-3, so check if this is important.
Capacity
Obviously, this will depend on the base size, but its shape also matters, as well as the shape of the furniture. So for example, if you have a hexagon, the best shape for the table inside might be round.
On the other hand, large chairs with a backrest that is angled a lot will also take more space. bear in mind also the armrests design and the width of the chairs in general.
Editor's Choice
I could not resist, this is currently my favorite here:
For more options please check under the category Camping Screen Houses. See also my separate category of Screened Tents. Note that this list will be updated whenever we find something worth adding here. So you might want to bookmark this site and visit occasionally.
Thank you for reading. There is a subscription form below, so subscribe to our weekly newsletter and stay informed. Have a nice day.