The Kampa Hayling 4 Air TC Tent is a polycotton construction with air beams, 3 separate rooms, solid windows, and dark bedrooms.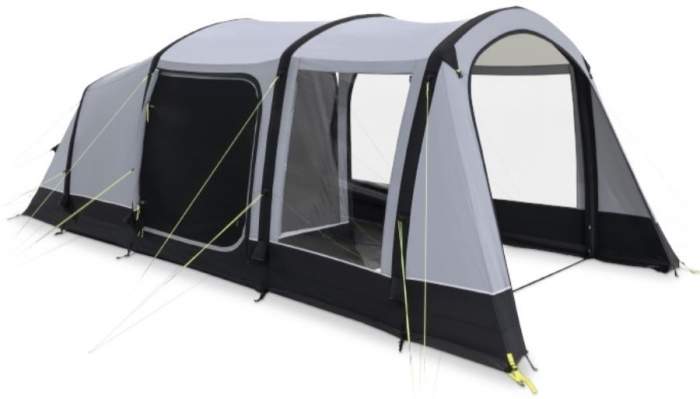 ---
Key features & benefits
Polycotton tent.
3 Rooms + porch.
Inflatable beams.
Dark rest bedrooms.
Solid windows.
---
What is in the name
This Kampa Hayling 4 Air TC Tent should not be mixed with their Kampa Hayling 4 AIR Tent which is a synthetic tent. So this new tent on the market with the letters TC in the name is a polycotton construction, this is the main difference but there are more smaller details where the tent differ.
So this is a tunnel-type construction, the picture below shows the floor plan and the most important dimensions. There are three different sections here. You have two bedrooms within an inner tent which is on the left in the picture. There is a removable divider between them.
In front of the inner tent there is a large living room, and this continues into a porch which is deep and quite protected. Because of this, I have included it in my list of best canvas tents with a porch.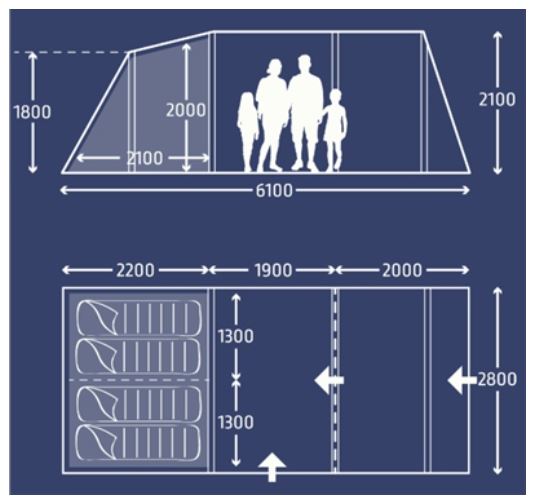 The tent is tall and pleasant, the peak height is 82.68 inches (210 cm), so you have a stand-up height in most of the structure. The side walls are very steep and almost vertical so you have plenty of volume and shoulder space in this tent.
The doors & windows
There are two doors here and they are indicated by the arrows in the picture. These are two layer-structures with a mesh zippered door plus a zippered panel. The floor under the porch door is with a drop-down design, but when needed you can attach it to the door, there are Velcro tabs for this purpose.
Numerous windows in the living room and the porch are solid PVC. Those in the living area are with inner shutters equipped with toggles for privacy. You can open them half height or completely. There are no such panels on the porch windows.
Other details
Bedroom pockets above the floor.
Lantern hanging points.
E-cable port in the living room.
Velcro loops to pass a cable.
Materials
The support: So this is about inflatable beams, there are no solid poles here. You have 4 beams instead and this is what makes setup very easy so one person can easily pitch this tent. A manual pump is included.
The fabric: They use their Weathershield TC breathable polycotton material that naturally reduces condensation and regulates the interior temperature. The bathtub floor is fully sewn-in and sealed polyethylene (PE) 130 g/m² with a 10000 mm HH.
The inner tent's fabric is dark so the tent could be described as a dark-rest type. But there are far darker options on the market, you can see them here in the site under the category Dark Rest Tents.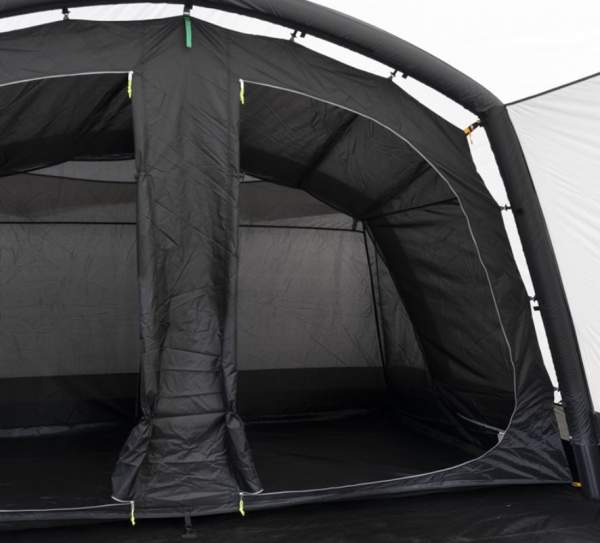 Ventilation
You have seen about its large doors with the mesh. The one under the porch is well protected so most of the time you can keep it with mesh only.
But if you have to close it, there is a vent above the door. One larger vent is on the rear side behind the inner tent.
---
Who is it for
Regarding the area, the tent is officially for 4 people and for this it offers 123.6 ft² (11.48 m²) of the total floored area. This would mean 30.9 ft² (2.87 m²) per person and this is lots of space. Note that there is also the porch with its 60.3 ft² (5.6 m²) to keep your camping furniture and similar stuff.
The two bedrooms are large enough for 4 people so the capacity is realistic. In fact, it is more that that because the large living room with its 57 ft² (5.3 m²) can easily accommodate 3 people more if necessary.
Regarding seasons & climate, this is a very good 3-season tent with enough ventilation and a breathable fabric if you use it in a warm weather, and closable if you camp in a cold environment.
The inflatable beams can never break under wind, so the tent should work well even in windy places. You can order extra straps to use on the front to secure it even more.
Regarding the weight, this is a really heavy tent that weighs 56 lb (25.38 kg). The packed size is 29.1 x 18.9 x 16.9 inches (74 x 48 x 43 cm) so you realize it is also quite bulky. All in all, this is a car camping tent and it requires some space in the car trunk.
Regarding the price, it is steep but this is a quality product. You will have link below to check for updates.
---
Specifications
Weight: 56 lb (25.38 kg).
Official capacity: 4 people.
Dimensions: 20 x 9.5 ft (610 x 280 cm).
Inner area: 123.6 ft² (11.48 m²).
Inner area per person: 30.9 ft² (2.87 m²).
Porch area: 60.3 ft² (5.6 m²).
Peak height: 82.68 in (210 cm).
Packed size: 29.1 x 18.9 x 16.9 in (74 x 48 x 43 cm).
---
Final thoughts, rating, pros & cons
In summary, this Kampa Hayling 4 Air TC Tent is yet another variant of a tent that has been around for a number of years already. This time they have changed the fabric so you have a breathable structure. The inner organization with 3 separate rooms is very good and large solid panoramic windows and the high ceiling make the tent very pleasant.
The tent is easy to use with its air beams, and I have included it in my list of best inflatable tents. Fully recommended.
Below you can see how this tent stands against my standard rating criteria that I apply consistently to all the tents here in the site so that you can easily compare:
BEST PLACE TO BUY:
For more tents of this shape please check in the category Tunnel Tents. Let me know if you have questions, there is a comment box below. Bookmark this site and come again, this will keep you informed, as you realize I add texts here on a regular basis. Thank you for reading.