The Kelty Caboose Tent 4 Person is a very tall structure with unique features and a huge vestibule for storage. You can use it on its own and also attached to a car.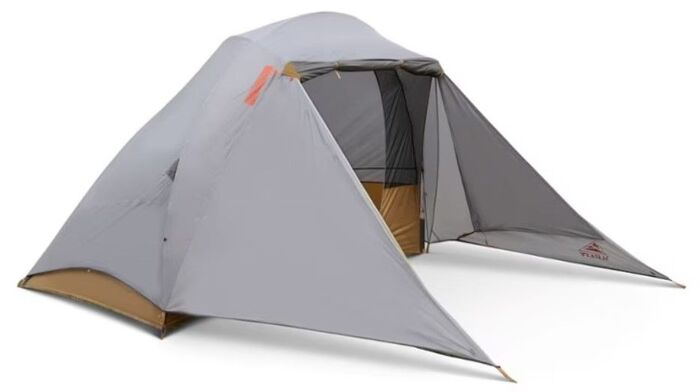 ---
Key features & benefits
Freestanding tent.
Integrated vehicle-based awning.
Very tall.
Huge vestibule.
Fiberglass poles.
1 Door.
---
What this Kelty Caboose is about
Here you have yet another unique design from Kelty. If you look at the tent on its own, this is a sort of a dome style tent. In fact, it would be more appropriate to say half-dome.
They describe it as freestanding, but this applies only to the inner tent. It has one large vestibule that must be staked to the ground to be functional.
The same is with all dome-shaped tents that have a full coverage fly and vestibules. So this is not related to its unique features. The picture below shows it with the vestibule flap rolled above the door. This reveals also some inner details and its huge single door.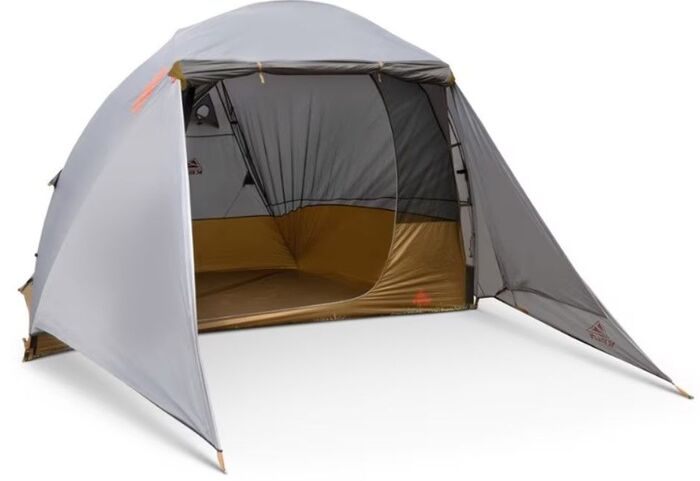 Below you can see it with the closed vestibule. You realize it is very elongated, so just to know that the fully covered area under the vestibule alone is 52.6 ft² (4.9 m²).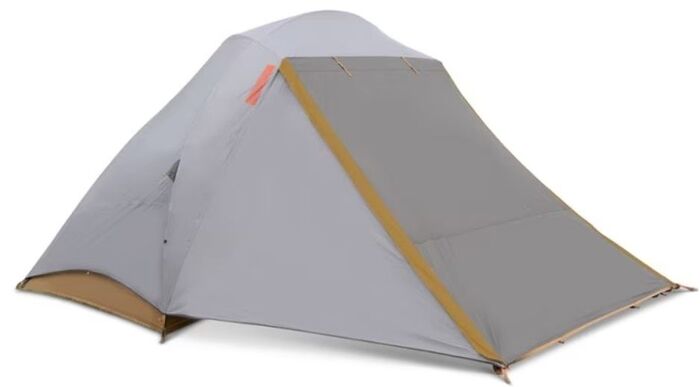 Perhaps you would not expect this from the picture, but the tent is very tall, you have no less than 78 inches (198 cm) peak height.
Integrated vehicle-based awning – a small unique but functional detail
The unique design is related to this vestibule. The tent has integrated flaps on the sides that you can keep out of way when not needed, see one in the picture below. It is folded on the side wall of the vestibule.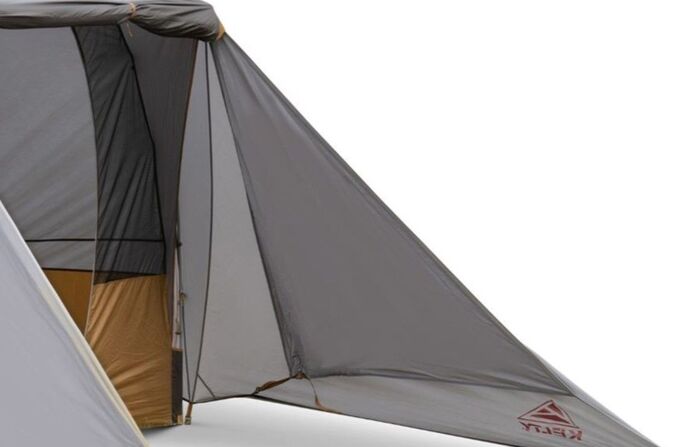 The main vestibule flap is with two side zippers. So you can roll it up as shown in the pictures. However, you can extend the main vestibule flap and attach to the car as shown in the picture below. Here, the side flap is attached to the main flap to create a closed space from that side. This gives privacy and protection from the wind and sun.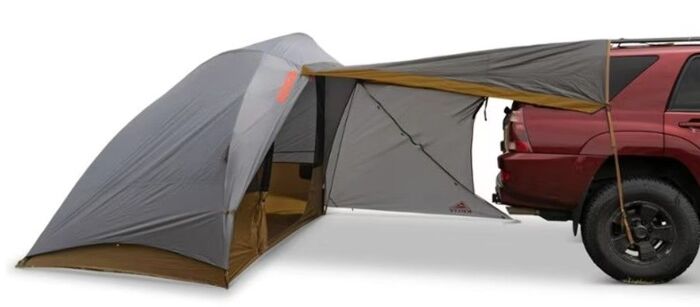 You can create several different configurations with the mentioned side flaps. Below you can see both flaps unfolded and attached to the main awning/flap. This provides maximum privacy and protection.
You can also roll the sides of the vestibule and attach to the sides, and keep only the main flap as a shade. In this case you can walk in and out easily. The picture below shows how this looks:

Materials
The poles: You have three main poles that support the inner tent. This is a fiberglass with 12.7 millimeters pole diameter. Two of the poles attach to the tent's base on the rear side through Quick Corners, and their other ends attach above the door.
This mentioned Quick Corners design implies narrow and deep pockets where you put the end of a pole. They use this in many of their new tents. Heavy-duty stakes and guy lines included.
The long pole on the front attaches to the base through grommets that are on the sides of the door. This, together with tension that the poles create in the fabric, make the canopy tent fully freestanding.
The fabric: They use a 68D polyester for all taffeta parts, and its waterproof rating is 1500 mm. This is a very standard material for Kelty tents. All seams are taped. A big part of canopy is a no-see-um mesh, but you have a full fly, so this is a two-layer tent.
They have the Kelty Caboose 4P footprint that is sold separately. The tent comes with a Shark Mouth duffel bag included for easy pack-up and cross-body transport.
Please see more in this video:
---
Who is it for
Regarding the area, the tent is officially for 4 people. For this you have an inner space of 62.1 ft² (5.7 m²). The dimensions are such that you can put 4 sleeping pads on the floor.
The vestibule alone adds 52.6 ft² (4.9 m²), and you still have the car where you can arrange for sleeping of one or two people more, but this depends on the car of course.
The good side of this design is that you can always detach the car and drive around while the tent remains in the camp, so you can keep your camping place.
Regarding seasons & climate, they describe it as a 3-season tent, but I see it best suited for the warmer part of the year.
If it is very windy, you can detach it from the car and close the vestibule. In this case it is very aerodynamic and it will perform great. The full fly will protect you from the rain and wind.
Regarding the weight, this is a heavy tent but I do not see this as a nig issue, you are supposed to use it with the car. The packed size is more important, so it is a bit bulky indeed, see the numbers below.
Regarding the price, I would say it is a bit steep, but this is a quality and unique tent.
---
Specifications
Weight: 21 lb (9.5 kg).
Official capacity: 4 people.
Dimensions: 120 x 84 in (304 x 213 cm).
Inner area: 62.1 ft² (5.7 m²).
Inner area per person: d34.5 ft² (3.21 m²).
Vestibule area: 52.6 ft² (4.9 m²).
Total covered area with extended awning: 114.7 ft² (10.6 m²).
Peak height: 78 in (198 cm).
Packed size: 24 x 11 x 10 in (61 x 28 x 25 cm).
Warranty: limited lifetime.
---
Final thoughts, rating, pros & cons
In summary, this Kelty Caboose Tent offers plenty of space for up to 4 people, it is unique and functional. You can use it on its own and also attached to the car. The tent is with a full coverage fly so you will be protected no matter where you use it. Fully recommended.
Below you can see how this tent stands against my standard rating criteria that I apply consistently to all of them here in the site so that you can easily compare:
BEST PLACEs TO BUY:
For more tents of this shape please check in the category Tents for 4 People. You might want to compare it with the Rightline Gear 6-Person SUV Tent.
Let me know if you have questions, there is a comment box below. Bookmark this site and come again, this will keep you informed, as you realize I add texts here on a regular basis. Thank you for reading.