The Rightline Gear 6-Person SUV Tent is a freestanding and easy to use shelter attachable to various vehicles, with a partial coverage fly and large windows.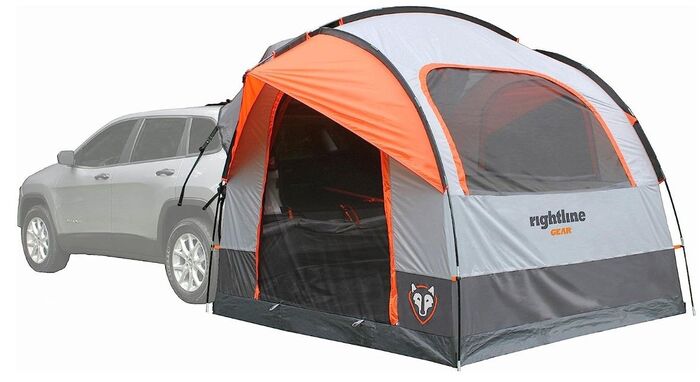 ---
Key features & benefits
Freestanding.
Tall tent.
Fiberglass poles.
2 Windows.
1 Door with a window.
---
What this is about
This tent can be described as a tunnel type of a particular type. This means you have two loops, on the front and on the back, but there is also a ridge roof pole which is crucial. You can see it in the pictures.
With this ridge pole in place, the tent is completely freestanding. It crosses the two other poles and it attaches to the tent on two sides. The tension created in the fabric is what makes the tent freestanding.
Vehicle attachment
But this is also a tent designed to be used attached to the vehicle. This is indicated with the letters SUV in the official name. In fact, you can use it with almost any car.
The picture above shows the side which is used to attach to a vehicle. Here you have two sleeves that you can roll and fix in place as in the picture. In this case, you can use this tent on its own, no need to have it attached to a car.
Note that there is an inner zippered panel that you can use for situations without the car attached. With this you can keep the tent completely closed just like any other ground tent.
But below you can see how the upper sleeve unfolds and you attach it to the car. There are numerous straps in the package so you can always attach it and keep the tent tight and closed.
The mentioned inner panel allows you to keep the tent in place when you want to drive around with the car. So just detach its straps and close the tent, and leave it where it is.
The door and windows
There is one large door, you can see it in the picture. Note that it is fully double layer, so you have separate mesh zippered door and a zippered panel. With this you can regulate air flow, protection, and privacy.
There are two separate double-layer windows, each with a fixed mesh and a zippered panel.
Materials
The poles: There are three fiberglass poles, they are shock corded and with pin-and-ring attachment in the tent's corners. On the canopy you have long sleeves for poles.
The fabric: You have polyester used here, and its waterproof rating is 2000 mm. The floor is a bathtub style.
The picture below shows the partial coverage fly. Note that it covers the side window when in place, but there is a brim on the rear side, so you still have views in that direction.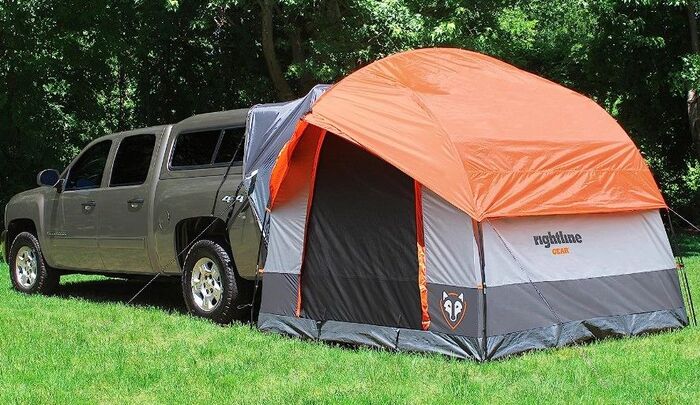 Ventilation
The tent has several large mesh areas, so this can create lots of air flow. Note that the door has mesh that goes all the way to the ground. So as long as the sky is clear, you will have plenty of circulation.
The cross pole creates small awnings on both sides so the door and rear window are at least partly protected. So you can keep them with mesh perhaps even when it rains.
However, there will be situations when you have to keep this all closed, and then you would want to have floor vents. Well, they are missing here, pity.
In this video you can see more, please have a look:
Note that they have a useful
manual available
, so have a look if you need it.
---
Who is this Rightline Gear 6-Person SUV Tent for
Regarding the area, on Amazon they describe it as a 6 person tent and this is in its official name. But this implies it is a 4-person tent with plus two people that can sleep in the car.
You have only 64 ft² (6 m²) of the floor area. This is less space than in the TIMBER RIDGE 5 Person SUV Tent. So it is best to downgrade this drastically, say to 2-3 people maximum.
Regarding seasons & climate, I have seen the statement on Amazon that this is a 4-season tent. But I do not think this makes sense. I see it as a tent for the warmer part of the year and for mild weather.
With such a partial coverage fly it would not last long in extreme weather conditions. But the seams are taped.
To make the connection with the car completely closed regarding insects, you might want to use small magnets and put at some places. This will prevent insects getting in.
Regarding the weight, this is a heavy tent, it weighs 21 lb (9.5 kg). But this is not important, you are not supposed to carry it anywhere.
The packed size is also not its best feature but this is still reasonable.
Regarding the price, I would say it is far for what you have here.

---
Specifications
Weight: 21 lb (9.5 kg).
Official capacity: 6 people.
Dimensions: 8 x 8 ft (244 x 244 cm).
Inner area: 64 ft² (6 m²).
Peak height: 86.4 in (219 cm).
Packed size: 26 x 10 x 10 in (66 x 25 x 25 cm).
---
Final thoughts, rating, pros & cons
In summary, this Rightline Gear 6-Person SUV Tent is well built and functional. You can use it attached to a vehicle, and also on its own as a freestanding camping tent. It is easy to use, tall and pleasant. But disregard its official capacity, it makes no sense.
Below you can see how this tent stands against my standard rating criteria that I apply consistently to all of them here in the site so that you can easily compare:
BEST PLACEs TO BUY:
For more tents of this shape please check in the category Tents for 5-6 People. But check also this Kelty Caboose Tent that is also designed to be used with a car.
Let me know if you have questions, there is a comment box below. Bookmark this site and come again, this will keep you informed, as you realize I add texts here on a regular basis. Thank you for reading.