---
The Kelty Discovery 6 Tent presented here is the new version of the tent that has been on the market for years. This is a simple dome with 2 fiberglass poles, 1 door, and a full-coverage fly.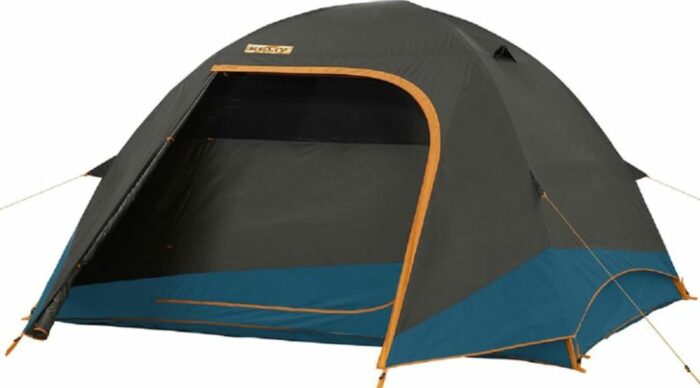 ---
Key features & benefits
Kelty Quick-Corner design.
Full-coverage fly.
1 Door.
Fiberglass poles.
Great price.
---
What this Kelty Discovery 6 Person Tent is about
Here you have the new version of the Kelty's tent that has been on the market for several years, and as far as I know, they were selling it exclusively at REI. So it seems the same holds even with this new version that appeared for the season 2020, I cannot see it at any other seller.
So this is again a simple dome structure supported by two poles only. The picture below shows it without the fly and in this setup it is fully freestanding so you can move it around and rotate.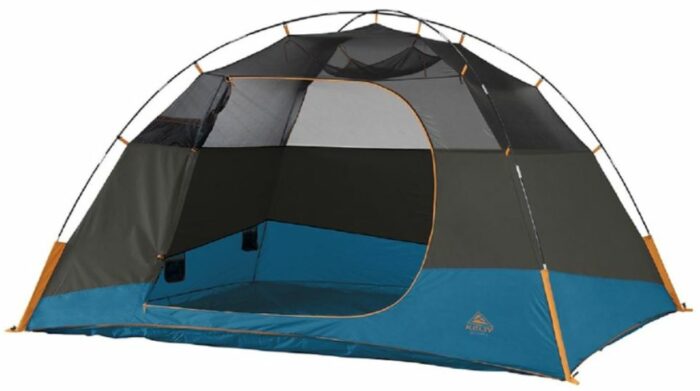 Apart from new colors, yet another new detail here is the Quick Corner design. This is a new detail they were introducing in their tents launched for 2020. You can see it in their Kelty Wireless Tent 6 Person. The picture below shows how this looks.
So you have narrow pockets in the corners, this is instead of the usual grommets or pin and ring system. You put the pole end in the pocket and then go to do the same on the other side. This makes the setup easier because the pole's end will not jump out as frequently happens with grommets. One person can do the job easily. After having the poles in the pockets, you continue attaching the canopy through its clips.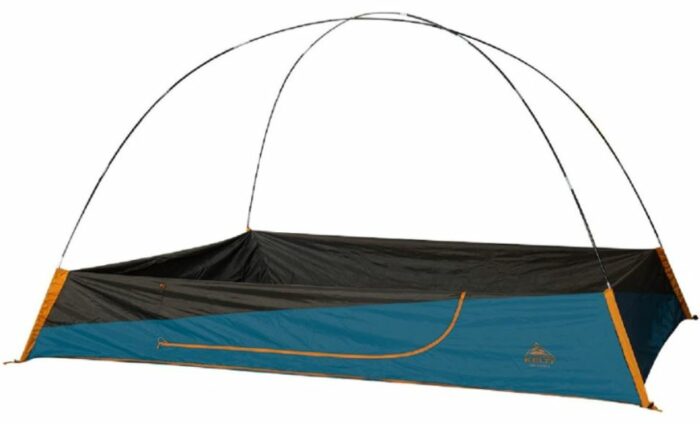 The fly is full-coverage type, the picture below shows hor the tent looks when it is on and when the vestibule is closed. Note that this is the only vestibule, and it that matches the single door that you have here. Having a vestibule is a bonus because it adds some extra storage space, more precisely you have 25 ft² (2.3 m²), but strictly speaking, the tent is not freestanding with it although they write it is.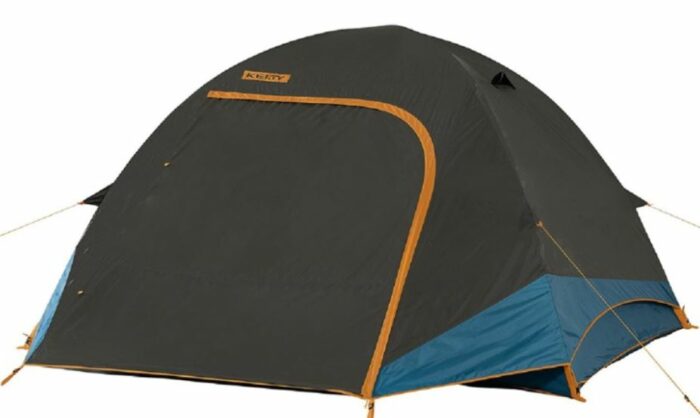 The tent is moderately tall, the peak height is 69 inches (175 cm). But note that this is a simple dome so the inner volume and shoulder width are not so great.
Ventilation
This tent has plenty of mesh on the canopy and the picture above shows that there is enough gap between the ground and the fly for air circulation. But they have added fly vents to let vapor escape, see the picture below. So this is all properly done and there is not much one could object here, for a dome tent you cannot expect much more.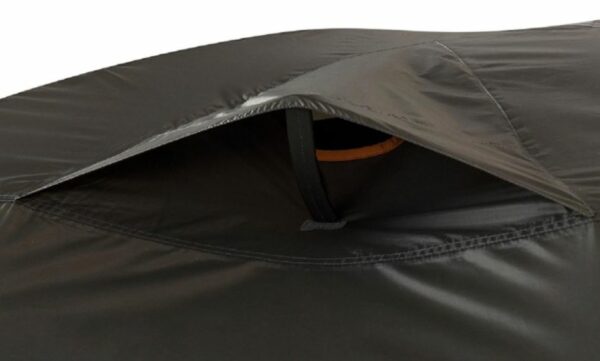 Materials
The poles: You have shock-corded fiberglass, two poles only, so all is easy to use. The diameter is in the range 11 – 12.7 millimeters. This is not a very durable material and it needs careful handling otherwise it may crack and split.
The fabric: The canopy is a combination of a 68D polyester and mesh. The same material is used for the floor and for the rainfly, but here you have a coating that gives it an 1800 mm waterproof rating. All seams are factory taped. You have color-coding in place for easy setup, see the picture below.
Other features include quality stakes, and guylines with storage pockets (one shown above). There are a few wall pockets as well, and a night light pocket on the ceiling. The carry bag shown below is a shark mouth duffle design, so packing the tent is easy.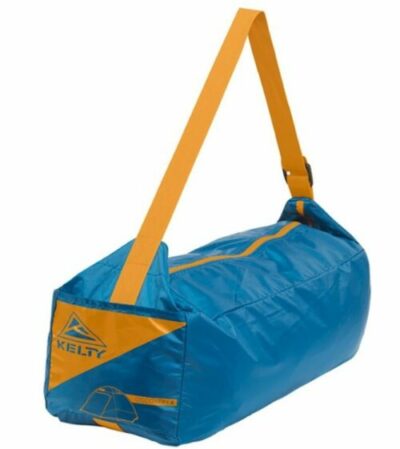 ---
Who is it for
Regarding the capacity, officially this is a 6-person tent and for this you have 97.5 ft (9 m²) of the inner area, plus 25 ft² (2.3 m²) under the vestibule. So this is not bad but it is best to downgrade the number of users to up to 4 people only.
Regarding climate & seasons, in view of so much mesh on the canopy it is best to avoid a cold environment and use this tent for two warm seasons maximum. They describe it as a 3-season tent and you can use it that way, but this does not mean you would feel great in it when it is cold outside.
The tent is moderately tall and it is very aerodynamic, and this means it will perform well in a windy environment. Such dome tents with a full fly are the best in such conditions. The waterproof rating is good and you will never need more. So this tent will protect you no matter where you use it.
Regarding the weight, in view of its 15 lb 4 oz (6.9 kg) this is a lightweight tent, but there are lighter options with such a capacity to carry on the trail. The packed size (L x D) 30 x 9 inches (76 x 23 cm) is not very impressive. So this is a camping tent for places with a car access.
---
Specifications
Official capacity: 6 people.
Weight: 15 lb 4 oz (6.9 kg).
Dimensions: 130 x 108 in (330 x 274 cm).
Inner area: 97.5 ft (9 m²).
Inner area per person: 16.25 ft² (1.5 m²).
Vestibule area: 25 ft² (2.3 m²).
Total covered area: 122.5 ft² (11.3 m²).
Peak height: 69 in (175 cm).
Packed size (L x D): 30 x 9 in (76 x 23 cm).
---
Final thoughts, rating, pros & cons
In the summary of this Kelty Discovery 6 Tent review, I would stress that this is a simple dome structure, its waterproof rating is good enough for any environment, so you will be protected in it. The poles are not its best feature but this material is commonly used in such budget-friendly tents.
The price is more than appropriate for what you have here, after all this is a tent from a globally known brand that has been around for more than half a century.
Please see how I rate this tent, the same criteria are consistently used for all of them here in the site so you can easily compare.
Please check under the group Dome tents if you need more options of this type. This particular category of 6-person tents contains structures of very different sizes, from small backpacking tents to large camping castles. So check under the category Tents for 5/6 people for more options if you need something larger.
See this ust House Party Car Camping Tent 6 person if you would want something completely different built in the tunnel-shape. Check also this nicely ventilated Eureka Kohana 6 Person Family Camping Tent.
Thank you for reading. Please use the comment box below in the case of comments or questions. Have a nice day.