---
This ust House Party Car Camping Tent 6 person is with a single layer design and it is a unique tunnel-type freestanding tent with aluminum poles, and light enough to be carried on the trail.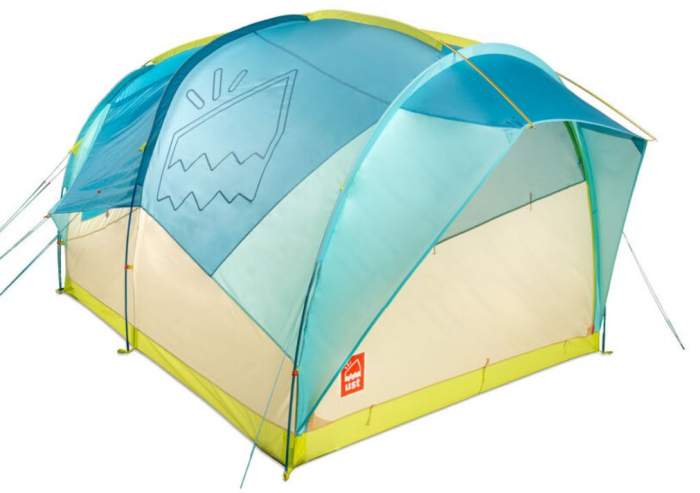 ---
Key features & benefits
Tunnel type tent.
Freestanding.
2 Doors.
Single-layer design.
Aluminum poles.
---
What this is about
This ust House Party Car Camping Tent is an unusual tunnel-type construction. What makes it unique is the construction of the poles that make it freestanding.
So you have three standard loops as expected in a tunnel tent, but crucial here are the two roof poles that create an X-shaped profile on the roof and they end up at the two vertical sides above the doors, you can see this in the top picture above. The tension in the fabric and the roof poles make the structure self-supporting and freestanding. But you have all the necessary stakes and guylines to secure the tent and to fix it to the ground properly.
This is a sort of a single-layer tent, and the poles are added from outside. This is convenient when you have to set the tent up in rain, the inner area will remain protected. This is usually described as a dry-setup. Note also that there are small brims above the doors, so you have dry entry points.
The tent is with two huge doors on the two ends, they open completely and this is convenient if you bring inside camping cots that are assembled outside.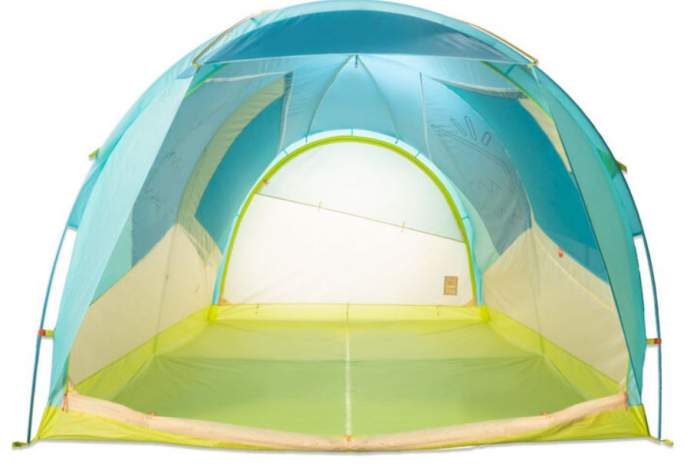 The tent is quite tall with its 75 inches (191 cm) peak height, so this should be a stand-up height for many users. Note that this is a single-room structure, there are no dividers inside.
Ventilation
For a single layer tent, it is important to have good ventilation to reduce condensation. So the tunnel construction shown above helps with this. Note that the doors have mesh sections with panels as well. The doors are under the brims and they are partly protected so you can keep them open in the upper parts.
But they have added huge side mesh sections underneath the fly, you can realize how they look from the picture below. You might describe them also as protected roof windows. However, there are no floor vents, they may be necessary when you have to keep the doors closed.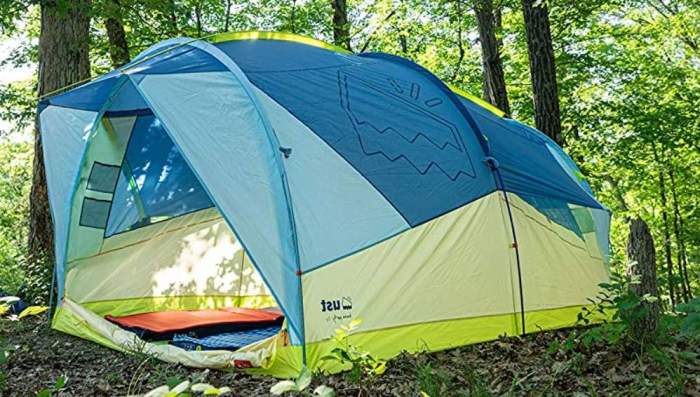 ---
Materials
The poles & stakes
I already mentioned the poles, so you have them 5 in total, and this is aluminum with 11 and 9.5 mm in diameter. Everything is color-coded, you have sleeves on the roof, clips on the lower sections, and grommets at the tent's base. Nothing to object here.
The stakes are also excellent, hex-shaped aluminum 7 inches (18 cm) long, see the picture. You have them 12 pieces in the package.

The fabric
The shell is a moderately durable 66D 190T polyester with PU coating that gives it a 2000 mm waterproof rating. You will never need more. They claim it is a CPAI-84 flame retardant. The seams are taped. Note that sleeves are 150D oxford polyester with 300D reinforced areas. The floor is a durable 150D oxford polyester. 
Other features
Expandable walls: They use this term and it may be a bit confusing, but I would say there is not much in it. The meaning is simply that with the guyout lines you can pull the poles away in their central sections. This will create a bit wider area above the floor, but this will also naturally make the tent lower. So, every tunnel tent with flexible poles will allow for this, and there is nothing specific in this particular tent.
Note also that you have multiple wall pockets for small items to keep them off the floor, this is always useful to have, see one of them in the picture below. Very interesting is also the carry bag, you have shoulder straps so you can carry it backpack style, see it in the picture below.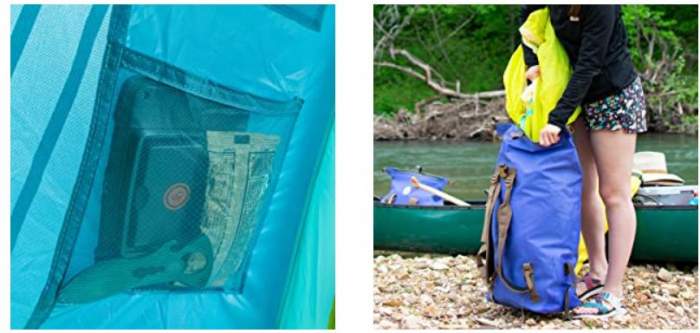 ---
Who is it for
Regarding the weight, with its 13 lb 2 oz (5.95 kg) this is a very light tent. In fact, it is so light that I have included it in my list of best backpacking 6-person tents. The reason for such a weight is its single-wall construction but see also its size.
Regarding the size, you have 84.6 ft² (7.9 m²) and it is officially for 6 people. This would mean 14.1 ft² (1.3 m²) per person. Note also that dimensions are such that it is very difficult to set 6 pads on the floor. So it is best to forget its declared capacity, this is a tent for 3-4 people maximum.
Regarding seasons & climate, they describe it as a 3-season tent and I would say this is indeed so. The tent is closable if you feel cold, but bear in mind it is a single-wall tent. In a warm climate and when the sky is clear, you will have enough ventilation, you have seen about this in the text above. 
With such colors, in direct sunlight, it may not be so great in such a tent, but if you pitch it under some trees this will make all the difference in the world. Note also that the tent is tall and its front and back sides are not very aerodynamic, so I would avoid very windy areas.
Regarding the price, the tent is quite expensive, but you have aluminum poles and quality fabric so this is almost a fair price. 

---
Specifications
Official capacity: 6 people.
Weight: 13 lb 2 oz (5.95 kg).
Dimensions: 10.58 x 8 ft (322 x 244 cm).
Area: 84.6 ft² (7.8 m²).
Area per person: 14.1 ft² (1.3 m²).
Peak height: 75 in (191 cm).
Packed size: 23.5 x 8.5 x 8.5 in (60 x 22 x 22 cm).
Warranty: limited lifetime warranty.
---
About ust brand
I find it quite unusual to use small letters for a brand name, but this is what they want and I am using as they write themselves. On their site, they write that ust has been around since 1936, quite remarkable.
---
Final thoughts, rating, pros & cons
So this ust House Party Car Camping 6 Person Tent is indeed quite unique on the market with such roof poles configuration that makes it freestanding. Though it is fair to say that there are more freestanding tunnel tents on the market of course. 
The aluminum poles and quality fabric are behind its steep price. The doors are huge and the tent is reasonably well ventilated. But the official capacity is unrealistic so better ignore it.
Please see how I rate this tent against my standard set of criteria:
ust House Party car Camping Tent with Single Layer Design
For more tents of this type check under the group Tunnel Tents here in the site, and for this official capacity, group check my long list of best 6-person tents. You might want to compare this tent with this REI Kingdom 6 Person Tent that is also a tunnel tent.
Note that we add texts here on a regular basis, so bookmark this site and visit it occasionally, this will keep you informed. Thank you for reading and have a nice day.