The Kelty Discovery Basecamp 6 Person Tent is a lightweight, compact, and easy to use simple dome type tent suitable for a 3-season camping, and with a great price tag.
---
Key features & benefits
Simple dome tent.
Very easy to use.
Fiberglass poles.
1 Door.
1 Window.
Freestanding.
Great price.
---
What this tent is about
Here you have a tent from Kelty from their Discovery Basecamp series that includes also one 4-person tent. It should not be mixed with their Discovery Element tents that are with a full fly.
So in this Discovery Basecamp tents you have a very simple dome style structure supported with only two main X-crossed poles shown in the picture below.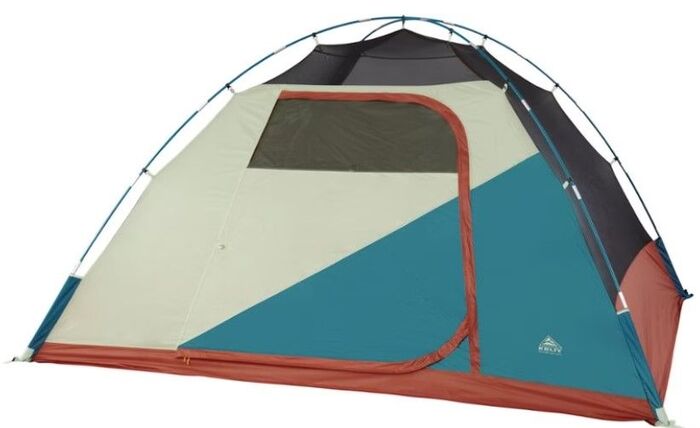 The door shown in the picture is the only one, and it is with a window on its upper part. The fly is a partial coverage fly. This means that there is no vestibule for storage.
But the good side of this is that you have an easy access, no need to wrestle with vestibule and its zipper, and you also have views through the mentioned window even when the fly is on.
Yet another good side of the design is that the tent is fully freestanding. You can rotate it and move around even when the fly is on, and you can pitch it practically anywhere where you find a flat ground.
The peak height is 68 inches (173 cm), so you do not have a stand up height here.
Materials
The poles: You have two main fiberglass poles 13 mm diameter, and one short brow pole 8 mm diameter. So this is all easy to use and self-intuitive.
Note that they use here what they call the Quick Corners design, see the picture. This means there are long and narrow pockets in the corners of the tent where you put the end of the pole.
This makes the setup truly easy, the pole remains in place when you go to the other side to put it into position. The same design you can see in their mentioned Discovery Element 6 Tent, Rumpus 6 Person Tent, and in several others.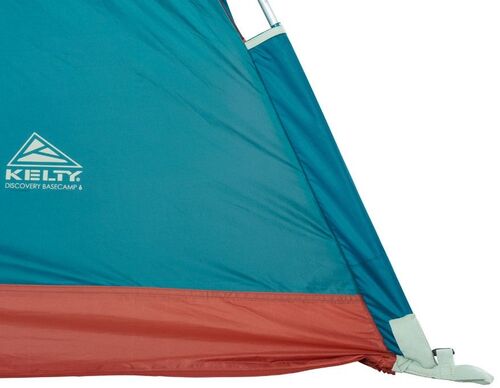 The fabric: The fabric is a quite typical 68D polyester with a 1200 mm rating, the same used for the fly, walls, and the floor. Large mesh sections are a No-See-Um type.
The included carry bag is likely from the same material and a Shark-Mouth duffel type that provides easy pack-up.
Ventilation
The tent has plenty of mesh on canopy so vapor can escape. There are no vents on the fly, but the short pole pulls the fly up and vapor can get out on the front of the tent, see the picture below.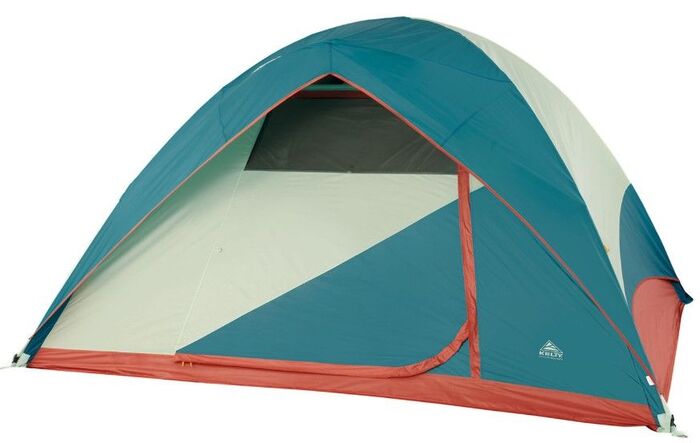 More problematic may be the fact that there are no floor vents. Though the fly does not go all the way to the ground so you can have inflow of fresh air underneath it, the taffeta wall on the sides is not high.
Please see more in this video:
---
Who is this Kelty Discovery Basecamp 6 tent for
Regarding the area, it is officially for 6 people, but you have only 87.6 ft² (8.1 m²). So you have enough place to put 6 sleeping pads on the floor.
The picture below shows what they think about using the floor space. But for real camping it is best to downgrade this to maximum 4 people.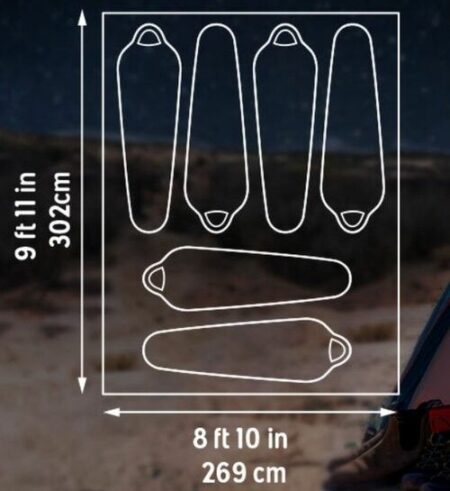 Regarding seasons & climate, they describe it as a 3-season tent and this is indeed so. The tent is aerodynamic and it will perform well even in moderately windy conditions.
Regarding the weight, it weighs 13 lb 14 oz (6.29 kg) and they also provide the minimum weight (the numbers are below) assuming you might want to carry it on the trail. My guess is this is why on Amazon they call it the Kelty Discovery Basecamp Backpacking Tent.
But there are lighter 6-person options for the trail. In any case, the tent is indeed lightweight, and this is partly so also because it has no vestibule that adds weigh but also provides a storage space which you do not have here.
The packed size is good, you will see the numbers below. The carry bag is shown in the picture.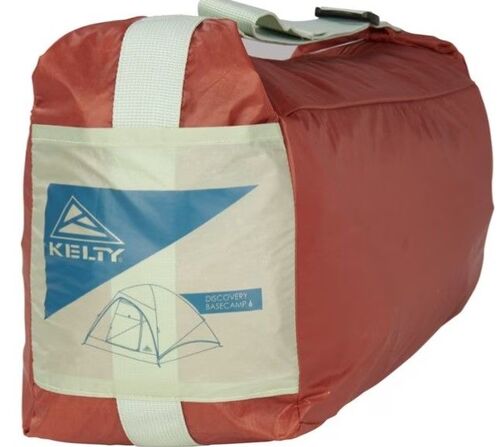 Regarding the price, it is amazing for such a tent, a great value for the money, plus such a brand behind the product.

---
Specifications
Weight: 13 lb 14 oz (6.29 kg).
Minimum weight: 12 lb 14 oz (5.84 kg).
Official capacity: 6 people.
Dimensions: 119 x 106 in (302 x 269 cm).
Inner area: 87.6 ft² (8.1 m²).
Inner area per person: 14.6 ft² (1.35 m²).
Peak height: 68 in (173 cm).
Packed size: 23 x 7 x 7 in (58 x 18 x 18 cm).
---
Final thoughts, rating, pros & cons
In summary, this Kelty Discovery Basecamp 6 Person Tent is a very simple and easy to use shelter with its Quick Corners design. One person can set it up in just a few minutes.
The tent is designed to do the job and if you are on a budget no need to look further. You have a product from a globally known and reliable brand that has been around for longer than half a century. Fully recommended.
Below you can see how this tent stands against my standard rating criteria that I apply consistently to all of them here in the site so that you can easily compare:
BEST PLACEs TO BUY:
As usual with products from Kelty, there are many online sellers who are happy to offer the tent, so here a just a few of them:
For more tents of this shape please check in the category Dome Tents. Note that their Kelty Ballarat 6 is practically identical.
Let me know if you have questions, there is a comment box below. Bookmark this site and come again, this will keep you informed, as you realize I add texts here on a regular basis. Thank you for reading.