---
KTT Large Tent 8-10 Person Family Cabin Tents for Camping are tall 2-room structures with 3 doors and windows on all sides, with an awning configuration and a great price.
---
Key features & benefits
Cabin-style tent.
2 Rooms.
3 Doors.
1 + 3 Windows.
Steel & fiberglass poles.
Awning configuration.
Very good price.
---
Overview
Here you have a cabin-style tall tent with almost vertical walls. It is very tall, you have a peak height of 6.58 ft (200 cm). The tent could be described as more or less freestanding, but this is a heavy and boxy structure and don't miss staking it down properly. Note that they also have a larger version built in the same style, the KTT Extra Large Tent 12 Person.
The doors and the windows
The doors are nice here. You have them 3 and the front door is with a full-size mesh layer plus a zippered flap. This panel flap is with parallel zippers on the sides and you can raise it and create a great awning shown in the picture below.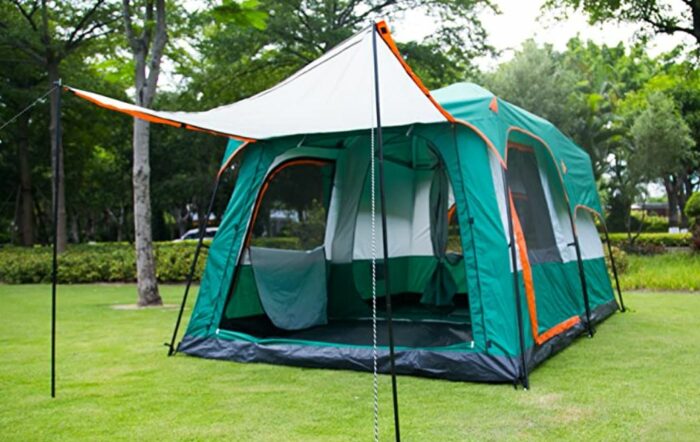 This awning creates a large covered area so you can use it for sitting in the shade and for cooking. When it is windy, you can roll the panel above the door as shown in the picture below.
The picture shows the tent without the fly so you can better understand its structure. Note that the fly is partial-coverage type, and this is why you have unobstructed views around.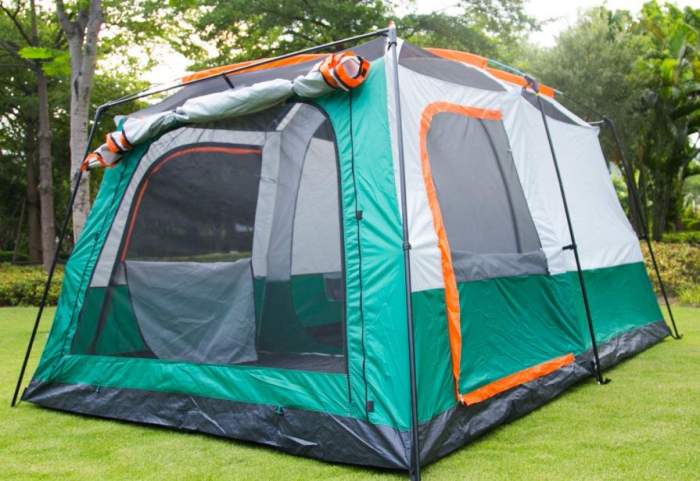 The tent has one window on the rear side, it is a double layer with mesh and a zippered panel, see the picture below. There are also windows on its side doors, plus the mentioned front door mesh shown above.
The rooms
This is a 2-room tent and the divider is sewn-in, you can see below how it looks. You have two large inner doors here. Observe also the rear window and the windows on the side doors.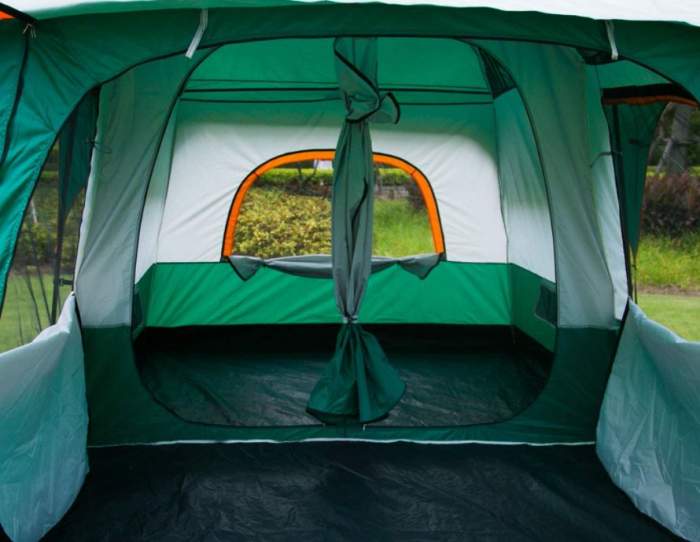 Ventilation
The picture below shows the ceiling which is all mesh. This together with the mesh on the windows and doors will give plenty of air circulation as long as the sky is clear.
But when it is raining, you have to close all those windows. In such situations, floor vents are essential and they have not built them here, pity.
Materials
The poles: The poles are a combination of 10 steel used for its legs poles and the awning, and 3 fiberglass poles used on the roof. Note the horizontal roof poles on the front and on the back, this is a great addition that adds to the stability of the structure. You have 3-way and 2-way connectors to create the frame, some are shown in the picture below.

This is all color-coded and the poles are also shock-corded, see the picture below. So although there are many elements in the package, setting this tent up is not so complicated. It is best to have help from somebody.

The fabric: The main fabric is a very durable 210D polyester and you have lots of mesh as you have seen. The waterproof rating is 1500 mm. The floor is made of a thicker 180 g/m² polyester with a 2500 mm waterproof rating.
Other details:
There are 12 stakes and 8 ropes included.
A few small pockets are on the wall.
A carry bag is included.
---
Who is this KTT tent for
Regarding the capacity, officially the tent is for 8-10 people. For this you have a floor area of 106 ft² (9.9 m²). So even in the case of 8 occupants, this would give around 13.2 ft² (1.2 m²). The dimensions are such that you can indeed place 8 sleeping pads on the floor. More than that is very unrealistic.
So they use the backpacking principle but this is a camping tent and the declared capacity makes no much sense. This is a tent for up to 5 people, ideal for parents with 2-3 kids maximum.
Both rooms are the same size, and their dimensions are around 8.5 x 6.25 ft (259 x 190 cm) so you can place queen size beds in each of them.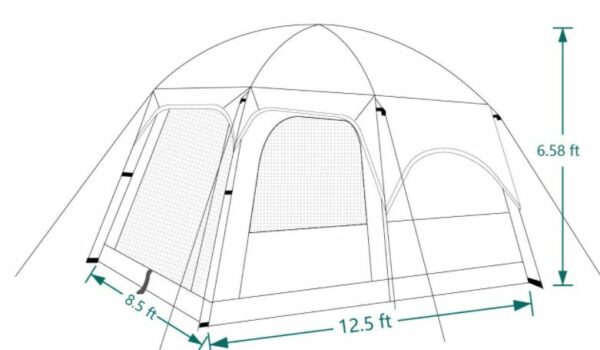 Regarding climates & seasons, the tent is tall and pleasant, with many windows around. It is best suited for warm-weather camping. But note how boxy and tall it is, so it is best to avoid using it at windy places.
Regarding the weight, the tent can be described as a bit heavy for its overall size, but it is so tall and pleasant, with quite a strong frame and many poles. The weight is 31.05 lb (13.63 kg). The packed size is 26.8 x 10.6 x 10.2 inches (68 x 27 x 26 cm), see the carry bag, so you will need a car for transportation of such a tent.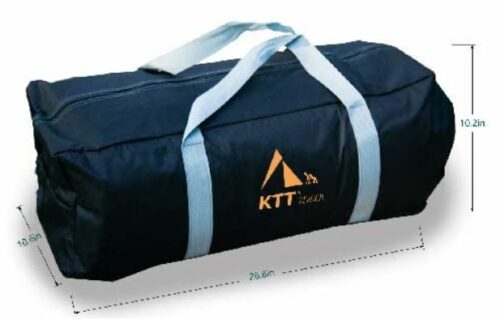 Regarding the price, I would say it is more than fair. 
Specifications
Official capacity: 8-10 people.
Weight: 31.05 lb (13.63 kg).
Dimensions: 12.5 x 8.5 ft (381 x 259 cm)/
Area: 106 ft² (9.9 m²).
Peak height: 6.58 ft (200 cm).
Packed size:

 

26.8 x 10.6 x 10.2 in (68 x 27 x 26 cm).
Frame: steel & fiberglass.
---
Final thoughts & rating
So this KTT Large Tent 8-10 Person Family Cabin Tent for Camping looks cool and it is indeed pleasant with so many doors and windows. The awning with included poles extends its area outside so this is a nice addition that allows for sitting in the shade and cooking. The tent is for calm weather and for a warmer climate, do not put it to harsh tests.
Please see how I rate this tent against my usual rating criteria:
You might want to compare this tent with this World Famous Sports 8-Person 2-Room Cabin Camping Tent built in the same style. For more options in this capacity range please check under the category Tents for 7/8 people. More tents built in the same style you will find under Cabin Tents here in the site.
Thank you for reading. Please use the comment box below in the case of questions or comments. Have a nice day.