The L.L.Bean Acadia 8 Person Tent is a tall and pleasant 2-room cabin type family camping shelter with a unique door design and multiple windows.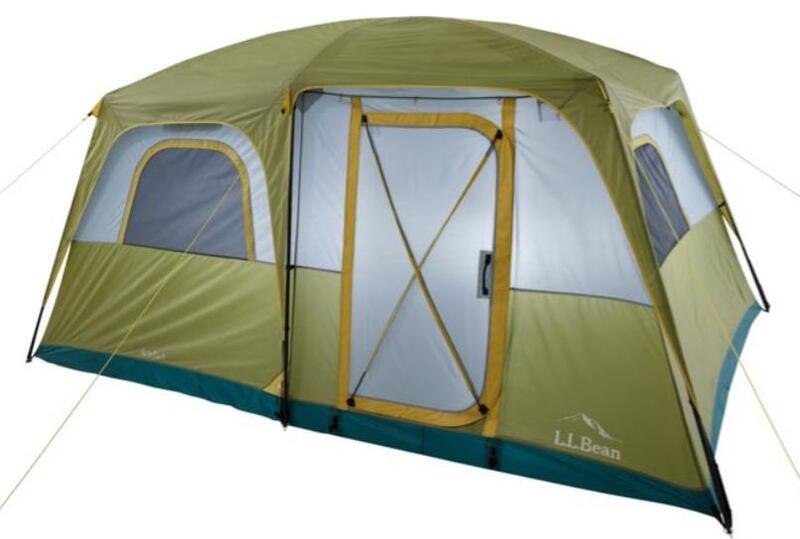 ---
Key features & benefits
Cabin type tent.
2 Rooms.
Magnetic & hinged door.
Gear loft.
Cable port.
---
Overview
This L.L.Bean Acadia 8 Person Tent is a typical cabin type tent with steep walls as you realize from the picture below which shows the tent without its fly. There is a room divider inside that doubles as a movie screen, so the tent is with two rooms.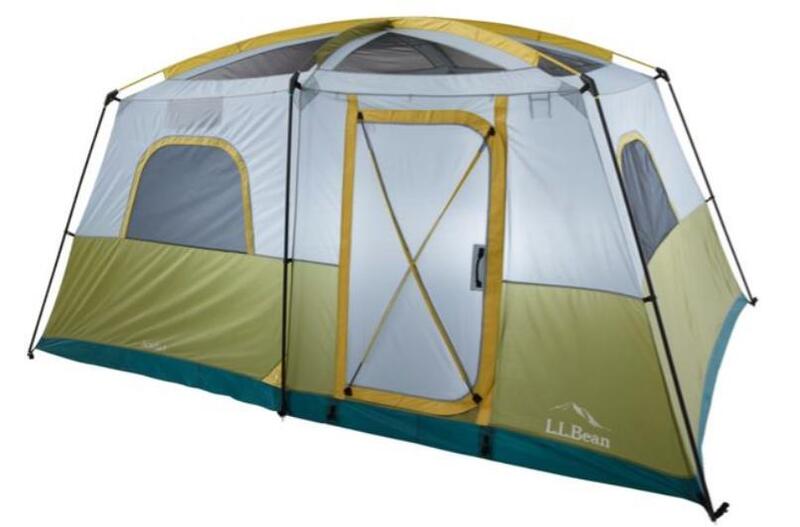 Note that the tent is tall, the peak height is 6'10" (208 cm), so this is a stand-up height for most of users.
Unique door design
The best part of this tent is its door. It is equipped with two X-crossed poles that make the door a sort of hinged and rigid structure. So you open it and close like a door at home. There is also a nicely designed handle as you see in the picture below. Because of these features it is added to my list of tents with hinged doors.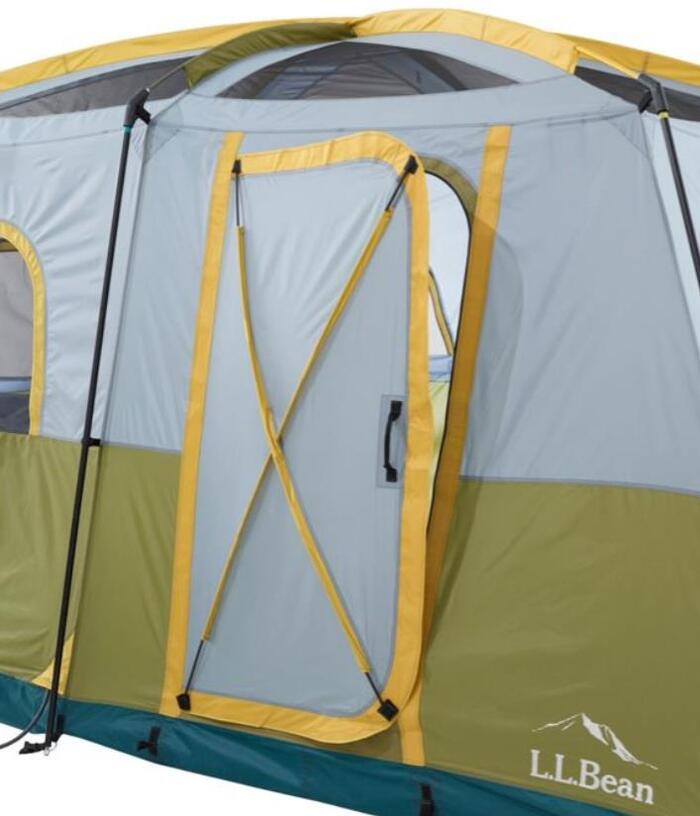 But there is more, apart from the usual door zipper, they have added magnets, so the door is with an automatic magnetic closure. You do not have to use zippers all the time.
This may be convenient also if you camp with kids, it is easier for them to open and close the door. Such tents are rare on the market. This is why I have included it in my list of tents with magnetic doors.
Materials
The poles: The frame includes a combination of steel used for the leg poles and fiberglass on the roof. They are connected with the usual elbow connectors that are pre-attached to the tents' roof.
The fabric: The body is made of a 75D polyester with 1500 mm PU waterproof coating. The ceiling is all a No-See-Um mesh and the same material is on windows where you also have zippered panels as the second layer. They do not provide information about the floor material.
Other details
The tent comes with a cable port to run a power cord inside for lights and accessories.
There is a gear lofts for storing gear inside.
A lantern hanging point is in place, see the picture.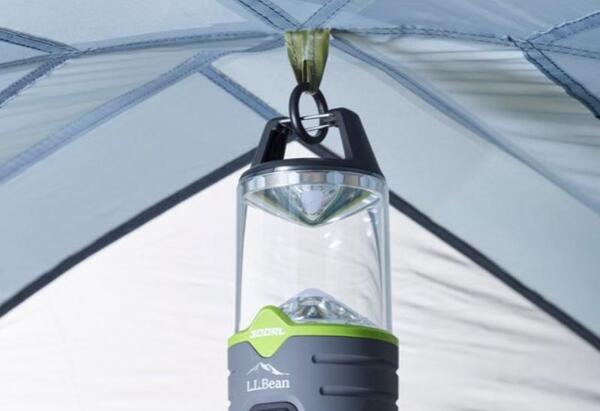 There are also a few small wall pouches to keep your gear off ground, one is shown in the picture.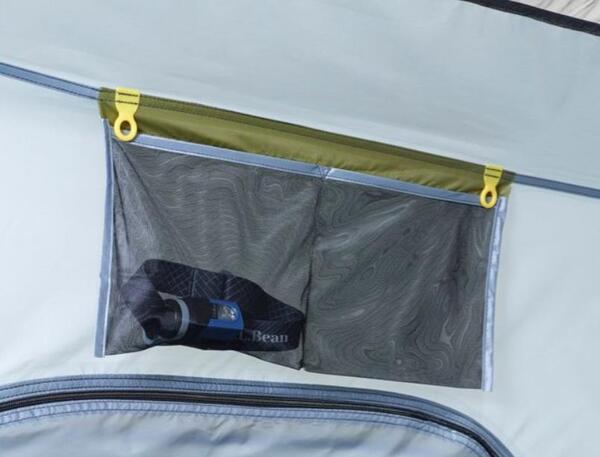 Ventilation
The ceiling is all mesh and you have it also on multiple large windows that are on all four sides of the tent. So this will create lots of air cross flow for ventilation. The fly is minimal so vapor can easily escape on the sides, and this will help in reducing condensation.
But there are no floor vents. The tent would be much better with a few of them that are necessary when you have to keep the windows closed in the case of rain.
---
Who is it for
Regarding the area, the tent is officially for 8 people. The picture below shows what the manufacturer suggests for using the area in this case.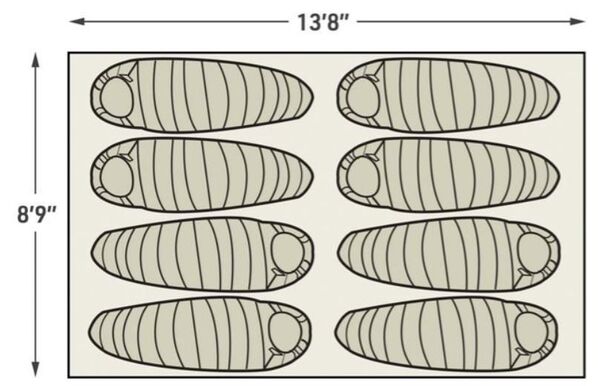 So you can place 8 pad on the floor, but for real camping this is not so great. The total area is 119.5 ft² (11.1 m²), so you would have 15 ft² (1.39 m²) per person.
Regarding seasons & climate, the tent is tall and pleasant but also very boxy, so this is a structure for calm weather, and for an environment with not much rain. I see it best suited for up to two seasons in the warmer part of the year.
Regarding the weight, this is is a very heavy tent, it weighs no less than 37 lb 8 oz (17 kg). So make sure that you use it close to your car. But it comes with a great carry bag shown below, as you see it has a convenient handle.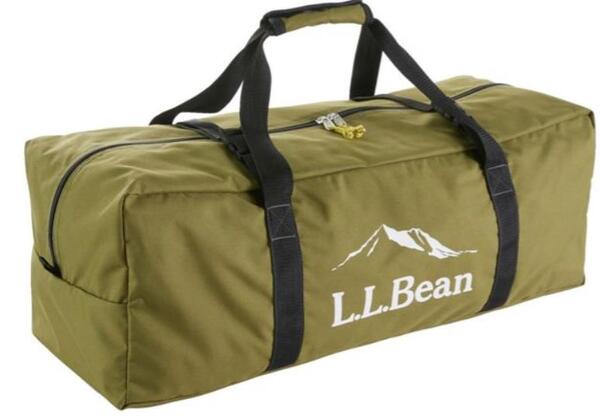 Regarding the price, I would say it is a bit steep, but this is an interesting tent from a brand that has been around for more than a century already.
---
Specifications
Weight: 37 lb 8 oz (17 kg).
Official capacity: 8 people.
Dimensions: 13'8″ x 8'9″ (416 x 267 cm).
Inner area: 119.5 ft² (11.1 m²).
Inner area per person: 15 ft² (1.39 m²).
Peak height: 6'10" (208 cm).
---
Final thoughts, rating, pros & cons
In summary, this L.L.Bean Acadia 8 Person Tent look really good, but this is a typical cabin type tent. However, its door sets it apart from its competitors. It is indeed convenient to have such a design and not to deal with zippers all the time. Note that they have several smaller versions as well built in the same style, for 4 and 6 people.
Below you can see how this tent stands against my standard rating criteria that I apply consistently to all of them here in the site so that you can easily compare:
BEST PLACEs TO BUY:
For more tents of this shape please check in the category Cabin Type Tents.
Let me know if you have questions, there is a comment box below. Bookmark this site and come again, this will keep you informed, as you realize I add texts here on a regular basis. Thank you for reading.