Magnetic tents and screen houses with a magnetic door closure is a new trend in the tents building industry. No doubts such a novel concept will be more and more present in the design of tents, and here you can see what is currently available on the global market.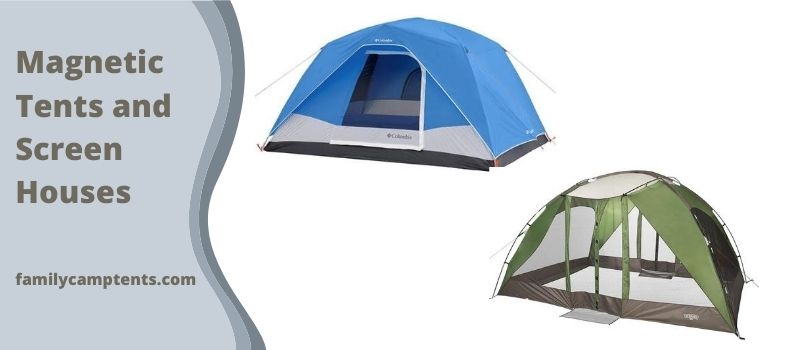 It all started with screen houses, and in this particular case there are no zippers, you only have magnetic closure on the doors. One example you can see in the picture below from Wenzel Durango Magnetic Screenhouse.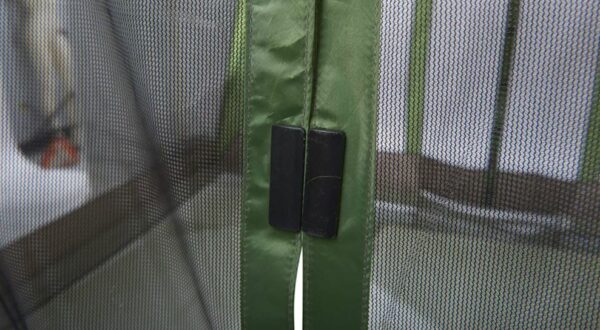 With such a design you have an easy, hands-free entry and exit to the tent. After screen houses, it was just a matter of time when such a design would appear in standard family camping tents. So this is what happened in the season 2020 when Columbia launched their new series with magnetic doors.
These Columbia tents have both zippers and magnets in the door flaps. This is optimal and I am pretty sure this is the only way to use such a technology in tents. With magnets, you have an automatic closure and this can be used during the day. This is convenient also if you have dogs, they will be able to get in and out of the tent without a problem.
Such a closure is good enough to stop flying insects and this is why it is convenient for screen houses that have this basic purpose. But in tents, during the night, you will want to close the doors completely to prevent snakes, ticks, and other creatures to get in. This is why I think a zipper must be in place.
---
Best tents and screen houses with magnetic doors
So here is my list with items ordered alphabetically:
---
1. Columbia Modified 6 Person Dome Tent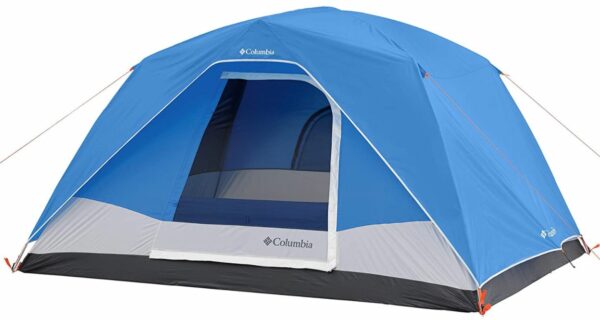 This tent is a simple dome but with pre-bent poles so you have more volume and headroom inside. The tent has one door, and it is here in the list because of the magnets that are sewn-in inside of the white flap that you see around the door. But there is the usual zipper of course for full closure during the night.
The tent is freestanding, the poles are fiberglass, and it weighs 18.4 lb (8.3 kg). Officially it is for 6 people and for this you have an area of 99 ft² (9.2 m²). You will want to know that it is very affordable.
---
2. Columbia Modified 8 Person Dome Tent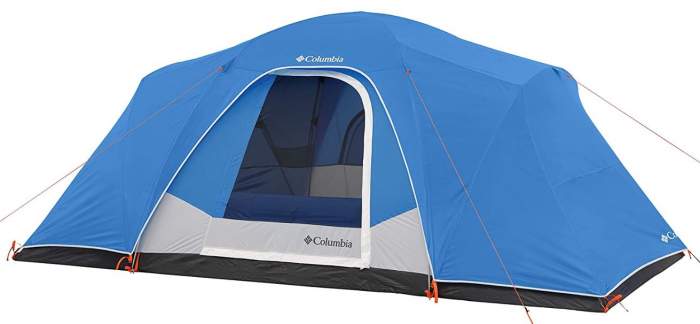 So this is a tent from the same series as the one shown above, but here you have extensions supported by poles on both sides while the central area is under the usual dome with X-crossed poles.
The door design is the same here, so you have the classic zipper under the white flap visible in the picture above, plus sewn-in magnets for automatic closure.
The tent has many storage pouches, an E-cable port, and the poles are fiberglass. The weight is 20.8 lb (9.43 kg) and the total area is 112 ft² (10.4 m²).
---
3. Sierra Designs Outdoor Magnetic Screenhouse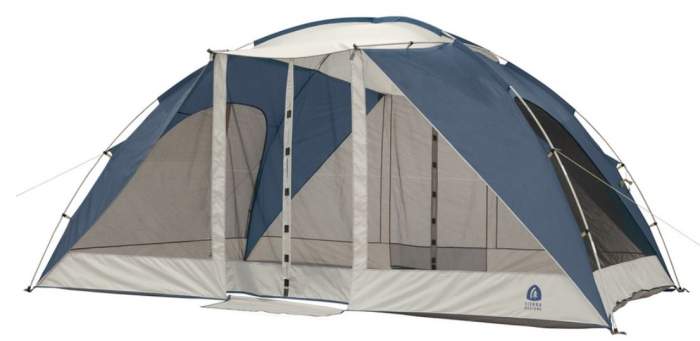 The Sierra Designs Outdoor Magnetic Screenhouse is a freestanding dome-shaped structure. It is here because of its two zipper-less doors with a magnetic closure.
This screen house is collapsible so it needs a simple assembly, and two people can easily set it up in under 15 minutes. It is with a peak height in the center of 84 inches (213 cm).
---
4. Tailgaterz Magnetic Screen House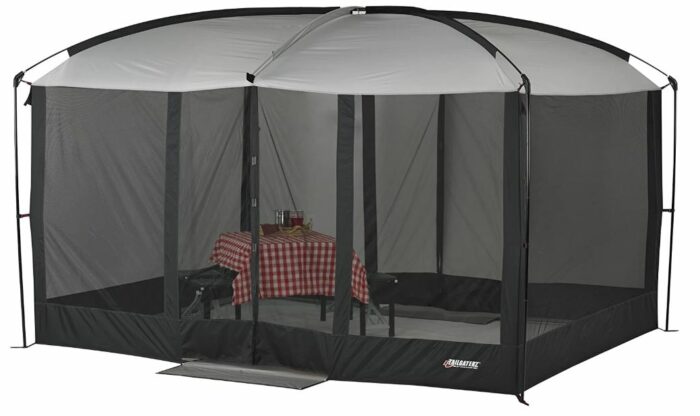 Here you have a cabin-style screen house with vertical walls and lots of shoulder space. The structure is tall and freestanding and it is designed to provide a sunshade and to protect occupants from flying insects. There are two doors with magnetic closure and there are no zippers here.
The poles are a combination of steel and fiberglass. A carry bag is included. The structure offers an area of 99 ft² (9.2 m²) and its weight is 9.47 lb (9 kg).
---
5. Wenzel Durango Magnetic Screenhouse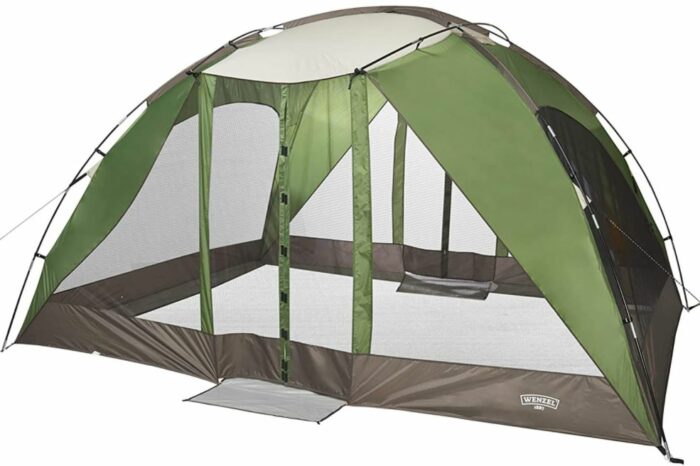 This Durango Magnetic Screenhouse is dome style and with a unique construction, freestanding, and easy to use. You can put it over a permanent picnic table or over your own camping table. You have a hands-free magnetic door closure and this is why it is here in the list.
The poles are shock-corded fiberglass, and the screen house weighs 19.34 lb (8.8 kg). The dimensions are 12 x 10 ft (366 x 305 cm) and the area is 120 ft² (11.16 m²). The peak height is great, you have 82 inches (208 cm).
---
As mentioned above, this magnetic door closure is a new trend in the family camping tents industry and there are no many tents globally available on the market. So this list will be updated regularly whenever I find something worth adding. This is why you might want to bookmark this site and visit occasionally.
Thank you for reading. Please use the comment box below in the case of questions or comments. Have a nice day.