---
For those who frequently change camping place this NTK Flash 8 Instant Cabin Camping Tent is the right choice. This is a pleasant and tall structure with 5 large windows and an awning, that you can pitch in a couple of minutes.
---
Key features & benefits
Cabin style tent.
Instant setup.
Very tall.
Awning with included poles.
5 Windows.
1 Door.
---
What is in the name
If you are not familiar with the terminology in the name of this NTK Flash 8 Instant Cabin Camping Tent, the word 'instant' means that the frame is pre-attached to the tent. So when you want to set it up, you unfold it and then extend its telescopic legs poles. After that you add the fly. One person can easily do this in a couple of minutes.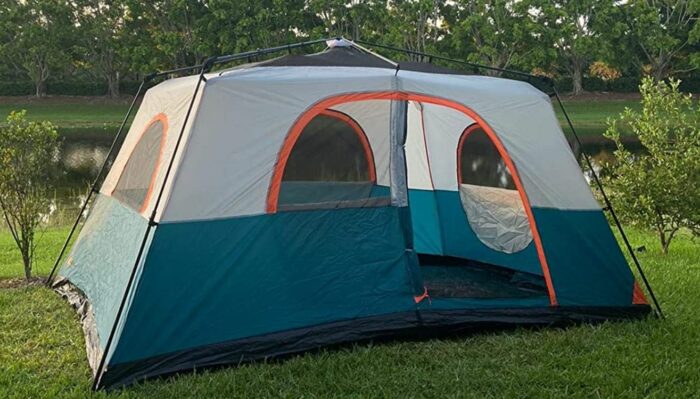 The word 'cabin' implies what you see in the pictures, a pleasant tall tent with steep and straight walls. You have large windows on all its sides, and one door that is also with a window on it. All the windows are double-layer structures with mesh for ventilation and zippered panels from inside for privacy and for protection from elements.
The fly is minimal and it covers only its ceiling where you have a mesh. This is why you have unobstructed views through those 5 windows. Note that the fly comes with an integrated panel for awning, there are two poles included for this purpose. Such an awning extends the useful space outside, you can sit in the shade and you can also use the space for cooking.
Because of this, strictly speaking, the tent is not freestanding, the fly must be staked properly. But before you add the fly, you can still move the tent around and rotate.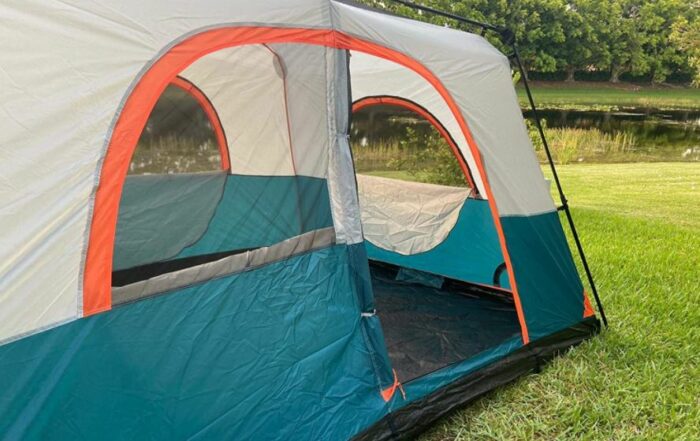 Ventilation
As long as the sky is clear you will never have issues with air circulation and condensation. With so many mesh windows and its panoramic ceiling shown below this tent is perfect for warm-weather camping.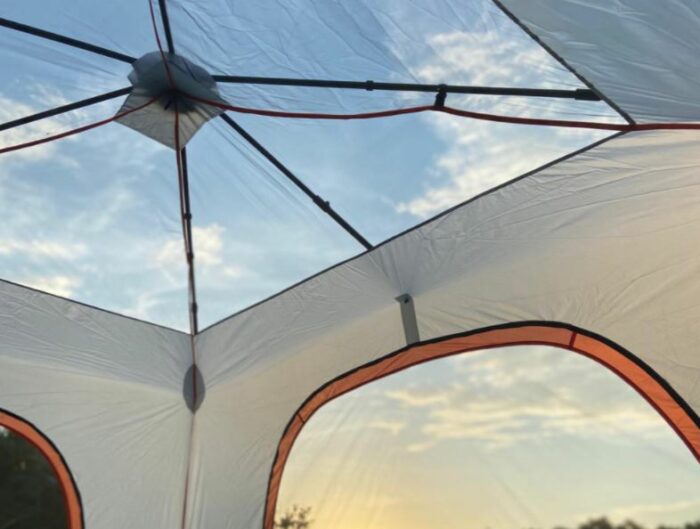 But when it is raining, the windows must be protected with panels, and you will only have the ceiling mesh. In such circumstances, you would want to have some floor vents, and they are missing here, pity.
---
Materials
The poles
The frame is simple, just 4 legs poles that continue with 4 roof poles converging to the top hub element, plus two roof poles on the front and the back that pull the ceiling up. This is all steel and you have telescopic construction, the poles extend and lock in place at the pre-defined length. There are also two extra poles for the awning.
The fabric
The fly and the walls are what they write "100% waterproof 190T polyester ripstop". Now, there is not such a thing as a 100 percent waterproof tent. The reality is you have a 2500 mm waterproof rating due to a laminated polyurethane coating, and this is more than you will ever need.
It is important to stress that this structure is heat-seamed and they claim it offers UV protection. They also claim that the fabric satisfies the CPAI-84 fire-retardant criteria.
The floor is a heavy-duty anti-fungus polyethylene fabric with a bathtub design, so this is a highly waterproof fabric. The mesh areas are ultra-thin NO-SEE-UM polyester that should keep even the smallest insects and mosquitoes out of the tent. After all, this is a Brazilian brand, and the tent is built for the Brazilian Amazon.
Other features
Roomy utility pockets for storage.
The carry bag is a reinforced oxford polyester and it offers extra room to store the tent easily.
There is a pet door as well, shown in the picture below.
An E-cable port is available.
---
Who is this NTK Flash 8 Tent for
Regarding the area, the tent is officially for 8 people. They determine this by the number of sleeping pads that can be placed on the floor. You have 117 ft² (10.8 m²) and this means 14.6 ft² (1.35 m²) per person. The dimensions are such that this is indeed possible and this can work for a group of friends at an open-air summer festival. But for a real family camping, you should think about 4-5 people maximum.
Regarding seasons & climate, this is a pleasant tent but this is for warm weather only. With so much mesh on the ceiling, you would not feel great in a cold environment.
Note that the tent is tall, the peak height is 6.7 ft (204 cm). It is boxy and far from aerodynamic. With such a fly and its nice awning, it would not last long in a windy place.
Regarding the weight & packed size, these are not its best features but they are normal for instant tents. So the weight is 28.65 lb (13 kg) and the packed size is 45.5 x 11.1 x 10.5 inches (116 x 28 x 27 cm). Clearly, the only way to transport this tent is by car.

Please see a bit more in this short video:
---
Specifications
Official capacity: 8 people.
Weight: 28.65 lb (13 kg).
Dimensions: 13 x 9 ft (396 x 274 cm).
Area: 117 ft² (10.8 m²).
Area per person: 14.6 ft² (1.35 m²).
Packed size: 45.5 x 11.1 x 10.5 in (116 x 28 x 27 cm).
Peak height: 6.7 ft (204 cm).
---
Final thoughts & rating
In the summary of this NTK Flash 8 Instant Cabin Camping Tent review, I wish to stress that NTK is known for its reliable tents, there are many of them presented here in the site. They are better known for the dome and extended dome tents, and they have just a few of such cabin-style tents. The tent is built for quiet warm weather camping and this is the right environment for it, you have seen its useful awning and those large windows. For such use, I can fully recommend it.
Please  see how I rate this tent, the same criteria are used consistently for all the tents here in the site so you can easily compare:
If you need more options built in this style, please check under the category Cabin Tents (see this World Famous Sports 8-Person 2-Room Cabin Camping Tent as an example), and also among Instant Tents where you can find this Gazelle T8 Pop-Up Hub Tent with almost the same floor area but built in a very different style.
But if you would rather have a freestanding tunnel-type tent, check this REI Kingdom 8 Person Tent with 2 rooms and a larger vestibule.
You might want to bookmark this site and visit it from time to time. This will keep you informed because we add texts here on a regular basis. Thank you for reading and have a nice day.