The OLPRO Orion 6 Berth Tent is a 3-room tall structure with awning configuration on any of its 2 doors, with solid windows, and a huge waterproof rating.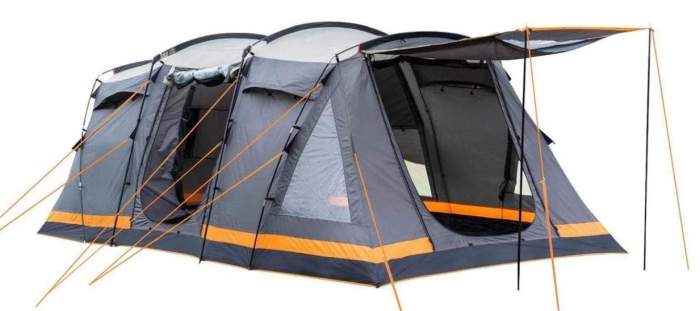 ---
Key features & benefits
Tunnel type tent.
2 Doors.
Awning configurations.
3 Rooms.
5 + 1 Solid windows.
Steel & fiberglass poles.
Huge waterproof rating.
E-cable port.
---
What this is about
This OLPRO Orion 6 Berth Tent is a tunnel-type shelter, but its leg poles are completely straight and this gives it a bit of a cabin-shape. Such steep and straight walls combined with its impressive height of 78.74 inches (200 cm) imply plenty of volume inside.
The tent is a 3-room structure, so you have two inner tents and a large living area in between. The picture below shows its floor plan and some of its dimensions:
Below you have view inside, so the central area is the living room, and on the sides you have the mentioned inner tents. Note that the shell tent is with its own sewn-in and sealed floor. But the two inner tents also have their own extra floors, so the sleeping area is with double floors, one on top of another and both layers are fully sealed.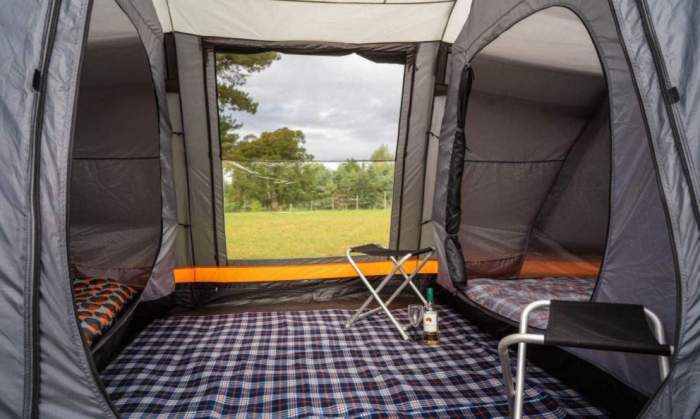 You can remove any of the inner tents and this will create a gigantic living room and one inner tent. Below you can see how this looks: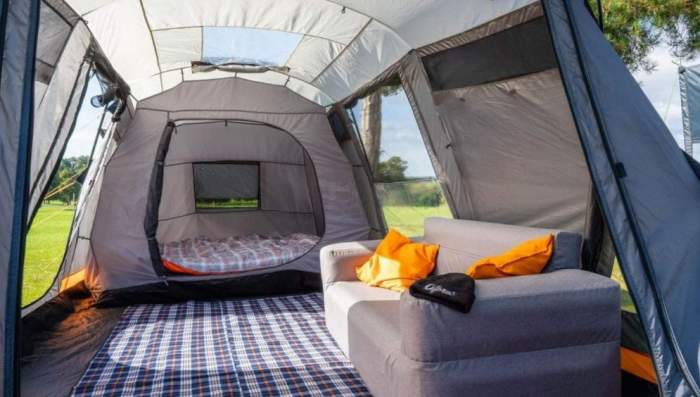 So you realize from the pictures that there are two huge external doors here, and both of them are full double layer type with a mesh and panel for protection and privacy.
Both of the doors allow for an awning configuration with the help of two vertical poles that are included. So below you can see the awning on the narrow side of the tent when one of the inner tents is removed. This creates an extension of the already huge living room, so you can sit in the shade.
The second picture shows the awning on the longer side of the tent. This is appropriate when you have both inner tents in place.
The tent has 5 solid windows plus one skylight window on the roof. All of them are with inner shutters for privacy and for reduced glare.
Observe that the inner tents are inside the shell, so this is a dry setup, and this is great if you are in situation to pitch the tent when it is raining.
Ventilation
I already mentioned full size mesh on its two doors. But they have added multiple vents around. You can see three of them in the picture above. Two are on the sides of the awning, they are large and supported by Velcro stiffeners (there are two identical vents on the opposite side).
There is also one rear vent behind one of the inner tents, you can see it on the left in the picture above. So there is no much to object here, but the tent would be better with some floor vents in situations when it is raining and you have to keep he mesh doors covered by panels.
Materials
The poles: You have a combination of 4 steel legs and fiberglass used for the rest of the frame. The attachment to the tent is with pin and ring system at the base and on the canopy you have clips and sleeves.
The fabric: You have a 190T OLTech ripstop polyester and it is with an impressive 5000 mm waterproof rating. You will never need more. All seams are taped.
The sleeping areas are with a darkened materials, but I would not describe it as a dark rest tent. Check in my separate list of dark rest tents if you need such a design.
There is also an E-cable port, its position is shown in the picture with the floor plan above. Note that they have a carpet and a footprint available so you can order them separately.
Please see more in this short video:
Here you can see much more:
---
Who is it for
Regarding the area, the tent is officially for 6 people. So this is about the number of users that can fit into the two inner tents.
The total floored area is 142 ft² (13.2 m²), and this would make 23.7 ft² (2.2 m²) per person. But if necessary, the living room can easily accommodate 2 people more. You have 3.6 square meters there.
Regarding seasons & climate, the tent is built for the UK weather so its waterproof rating is impressive, and it is fully closable when you feel cold. I am pretty sure you can use it in all seasons.
Regarding the weight, the tent is very heavy with its 39.9 lb (18.1 kg). The packed size is 29.52 x 11.81 x 11.81 inches (75 x 30 x 30 cm ), so this is a car camping tent and you would not carry it anywhere.
Regarding the price, I would say it is fair for such a great tent, a great value for the money.
---
Specifications
Weight: 39.9 lb (18.1 kg).
Official capacity: 6 people.
Dimensions: 18.04 x 7.87 ft (550 x 240 cm).
Inner area: 142 ft² (13.2 m²).
Inner area per person: 23.7 ft² (2.2 m²).
Peak height: 78.74 in (200 cm).
Packed size: 29.52 x 11.81 x 11.81 in (75 x 30 x 30 cm ).
Warranty: 2-year warranty included.
---
Final thoughts, rating, pros & cons
So this OLPRO Orion 6 Berth Tent is nicely built and you have a great combination of materials and features. The impressive waterproof rating is such that you should be protected in any weather conditions.
Multiple rooms with darkened materials in the sleeping areas, its overall height and steep walls, plus solid windows with shutters, make it a very pleasant family camping tent. Fully recommended. I have added it in my list of best tunnel tents.
Below you can see how this tent stands against my standard rating criteria, I apply them consistently to all the tents here in the site so that you can easily compare:
BEST PLACEs TO BUY:
For more tents of this shape please check in the category Tunnel Tents. You might want to see also their another larger tent, the OLPRO Wichenford 8 Berth Family Camping Tunnel Tent. For something much smaller from the same brand please see their OLPRO Apollo 4 Berth Tent.
Let me know if you have questions, there is a comment box below. Bookmark this site and come again, this will keep you informed, as you realize I add texts here on a regular basis. Thank you for reading.