---
This Outbound Instant Pop up Tent for Camping 10 Person Cabin is incredibly affordable and also incredibly easy to use, suitable for summer camping and calm weather conditions.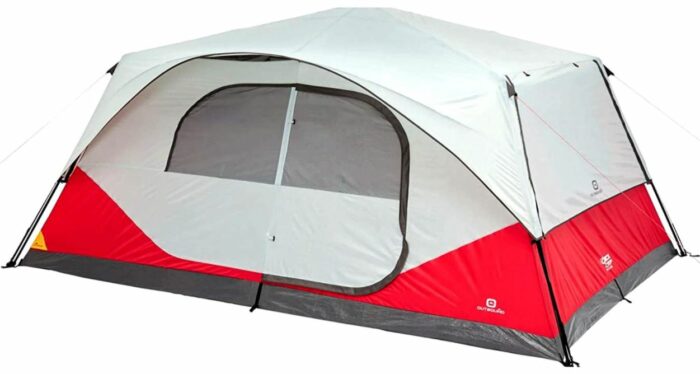 ---
Key features & benefits
Instant setup.
Cabin-style tent.
One door.
Fiberglass frame.
Great price.
---
What this Outbound Instant Pop up 10 Tent is about
This tent is the largest in the series of three tents from this Outbound brand. So this is a freestanding cabin type tent with steep and straight walls. The picture below shows it without the fly so you can understand its frame structure.
They use the words Instant Pop Up in the name, I guess it was enough to say just 'instant'. If you are not familiar with this terminology this means that the frame which you see in the picture is pre-attached to the tent and you pack it together. So when you need the tent, you unfold it and extend its poles, this is easily done in minutes and one person can do this without problems.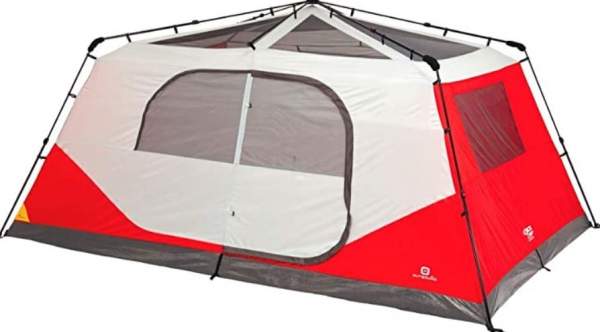 The four legs poles are continued on the roof with four roof poles that converge to the top hub element. Note that there are two separate short poles on the roof and they lift the side walls up, plus the brim pole above the door that allows for dry entry.
The fly could be described as a half-size type and you can see it in the top picture above. It attaches to the frame and this is why the tent is movable and you can rotate it even after you attach the fly.
The tent is a single-room structure with one door only, for 10 people this is not the best design but it is not so bad, the door is big. But you have stand-up height, the tent is tall 76 inches (193 cm). Note that there are side windows but they are covered with the fly so they serve more like vents.
Materials
The poles are fiberglass and this explains the price of this tent. So it is best to be careful in handling, this material is not very durable although nowadays it is commonly used even in much more expensive tents.
The fabric is a polyester taffeta 185T 68D with quite a low 600 mm water-resistance. The seams are taped, but it is always best to check at home for leaks before going camping. The floor is a bathtub polyester, this is a bit surprising for such a budget tent, they usually come with polyethylene.
---
Who is it for
Regarding the weight, on Amazon they write "this backpacking tent…", so somebody has mixed things badly here. The tent weighs around 25 lb (11.3 kg) and clearly this has nothing to do with backpacking. But indeed, in view of its size and volume, the tent is reasonably lightweight.
The tent is also quite bulky when packed, it measures around 4 x 1 x 1 ft (122 x 30 x 30 cm), so this is a tent for car camping only.
Regarding the dimensions, they describe it as roomy so this is true, but the declared capacity is 10 people and here they obviously use the backpacking principle which makes no sense. The picture below shows what they suggest for using the floor. You have 140 ft² (13 m²) and this would give 14 ft² (1.3 m²) per person. Nobody can camp that way, so it is best to downgrade the number of users by half, this is the usual story with many tents of this type on the market.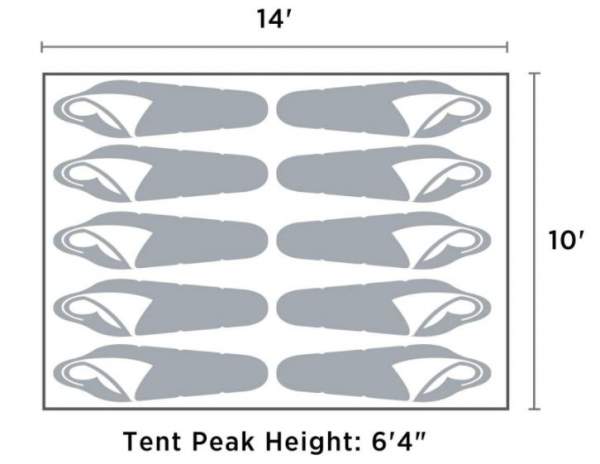 Regarding seasons & climate, they describe it as a 3-season tent, so perhaps you can use it that way but this does not mean you will feel great. With so much mesh on the ceiling it is best to avoid a cold environment. This tent is best suited for the warmer part of the year, for 1 or 1 and a half season or so.
The structure is tall and boxy, the waterproof rating is minimal. So it is best to use it in calm weather conditions and without much rain. If lots of rain is expected in your camping area, better see my text about camping in the rain.
Regarding the price, well, this is one of the best features of this tent, it is incredibly affordable.

---
Specifications
Official capacity: 10 people.
Weight: 25 lb (11.3 kg).
Dimensions: 14 x 10 ft (427 x 305 cm).
Area: 140 ft² (13 m²).
Area per person: 14 ft² (1.3 m²).
Peak height: 76 in (193 cm).
Packed size: 4 x 1 x 1 ft (122 x 30 x 30 cm).
Frame: fiberglass.
---
Final thoughts, rating, pros & cons
So you have seen it, this Outbound Instant Pop up Tent for Camping 10 Person Cabin is a very affordable tent for occasional family adventures, very simple and easy to use. But do not put it to harsh tests, this is a summer camping tent for calm weather conditions.
Please see how I rate this tent against my standard set of criteria:
If you need more options of this type, check under Instant Tents and also under Cabin Tents, you will find them many. Bookmark this site and visit again, we add texts here regularly so this will keep you informed. Thank you for reading and have a nice day.