---
If you plan to camp in areas with lots of rain, you will want to check this text about best tents for camping in the rain and how to choose one for you. So keep reading.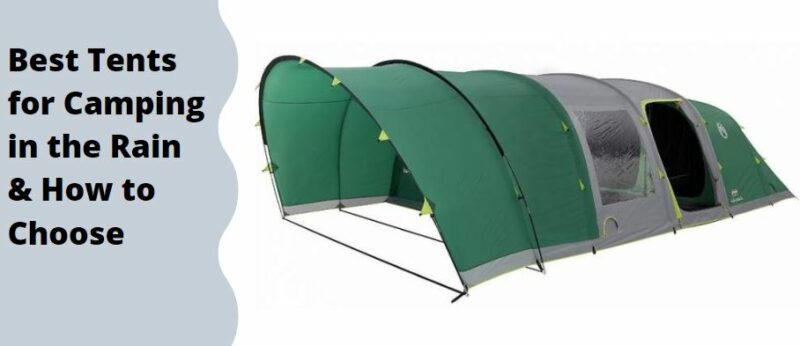 There is a number of features which I find essential and the most important are given below.
Rain protection 
Have you ever experienced a leaking tent? I have, and can tell you the feeling is not so great. In fact, I felt miserable. It was high in the mountains, a new and untested tent, a storm outside, and the tent was leaking.
So no matter where you camp, the basic and most essential need is to be protected from the water. This can be the rain or the groundwater accumulated due to the rain.
• It is essential to have a full coverage rain fly. We have a separate long list with the best tents of this type and I would warmly suggest you have a look here. With such a fly you have full protection from above and from the sides, which is a must in the case of side winds. Here is one great example of this type: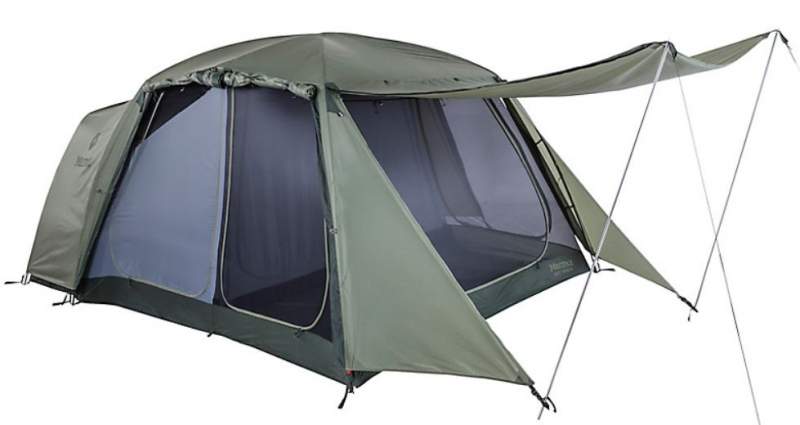 • When it comes to the issue of groundwater, some tents come with a quality polyester floor, and this is the case in the tent shown above. Make sure the tent is with a bathtub floor design.
But there are examples with a nylon floor like this Chinook Twin Peaks Guide 6-Person, observe its mighty fly as well:
• Most budget-friendly family camping tents here in the site come with very thick polyethylene floors. Such materials are normally fully waterproof and the waterproof rating is of the order of 10000 mm or so. One great example is this NTK Super Arizona GT Tent: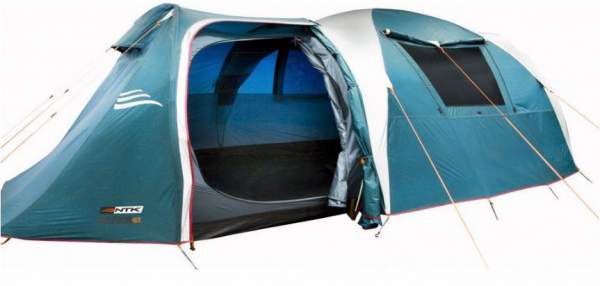 • Appropriate waterproof rating. So how much is good enough? Actually, you do not need much. Note that an ordinary umbrella has a rating in the range of 300 – 400 mm.
For a tent it is quite enough to have 1200 mm, but indeed the more the better. If you are not familiar, this number means 1200 mm height of a water column. So this describes the pressure on the fabric before it can leak. Normally, you can never have such a pressure on the fly except perhaps when the rain is combined with strong winds. It is far more important to have properly taped seams.
A bigger rating is expected for the tent's floor. This is particularly important if the ground is totally wet. How much regarding the rating? The more the better, this is a short answer. In the case of polyester tents' floors, this is typically in the range of 1200 – 3000 mm. With polyethylene, this can be in the range of 5000 – 10000 mm. But polyethylene is a heavy material and this you will find in car camping tents. Backpackers will have to go for polyester.
Regarding the climate
♦ You can be in situations to camp in warm and humid areas with lots of rain. If this is about the Amazon jungle, you will certainly not choose the same as for camping in the Alps. The NTK Super Arizona tent shown above is from a Brazilian brand, and the tent has plenty of features needed for such an environment. These include:
Window(s) with mesh and panel on the fly.
Several vents on the fly.
Mesh on the door to protect from insects, plus a panel to protect from the rain.
An awning setup. It does not rain all the time, so having such an awning is great although definitely not essential.
♦ This can be an opposite case, camping in cooler areas like in Scotland or similar places. If this is your case or anything similar to this, there are many of the tents by Vango here in the site, this is a Scottish brand and those tents are built for such cooler, rainy, and windy areas. Many tents from our list of tents for cold-weather conditions are suitable for such conditions.
Here are some features which you would want to consider:
Solid windows, at least some of them. This will allow for views around while still being fully protected from the rain. This is usually a PVC translucent material. Sometimes these windows are tainted. But practically always they have shutters from inside to reduce glare. Here is one great example, Vango Iris 500 Tent: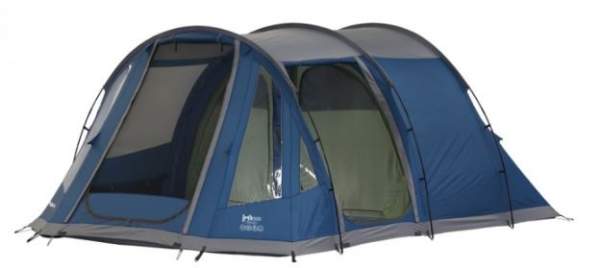 Sometimes the tents of this type have a linked-in floor which may not be the best option. The Iris 500 shown above has it sewn-in.
If the rain and cold weather are combined with strong winds, you might consider using a tent with air beams. The reason for this is that such structures cannot break. Air-beam tents will flex under the wind's pressure but they bounce back instantly when the pressure is reduced. Note that we have a separate list with air beam tents (or inflatable tents), so here is one great example in the context of these tents for rainy climates: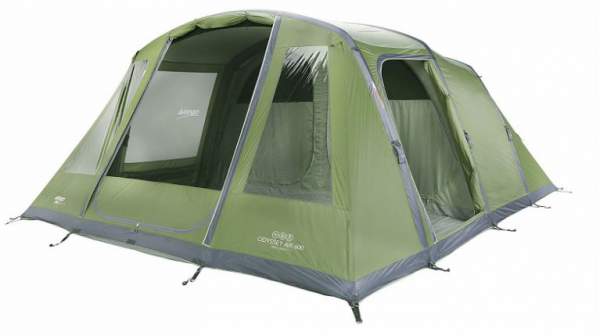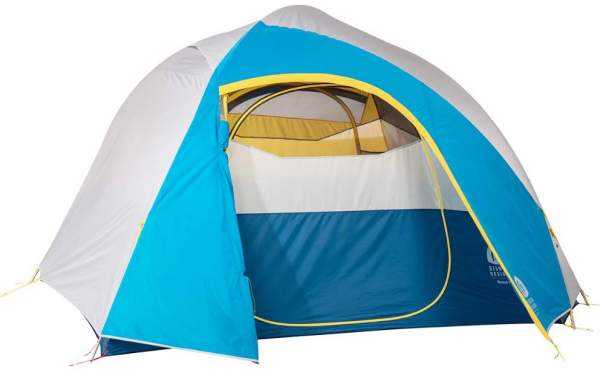 What else to consider?
So this is about camping in the rain. Even if you haven't experienced long days in the tent with the rain outside, with all the wind and noise that comes with it, you can easily imagine what you need. So here are some features that I find important:
• Lots of area. You will see this in practically all the tents here in the site that come from the EU market. So you normally always have a large living room plus a sleeping area with 1-4 sleeping units.
You will need such a living area because you will spend lots of the time in the tent. We have separate lists of tents with 3 rooms, tents with 4 rooms, and tents with 5 rooms, so have a look there.
Here is one great example that satisfies most of the criteria mentioned above with 344 ft² (32 m²) in its 4 separate rooms, the Coleman Air Valdes 6XL:
• Lots of volume. So this means you need a standing height. The tent shown above is a great example with its 84.6 inches (215 cm) height. Many more you will see in our list of very tall tents.
• Did you know that there are tents with sound insulation? This implies a cocoon inside the shell tent, and this provides both thermal and sound insulation. This Crua Loj 6 tent is the best example available on the market: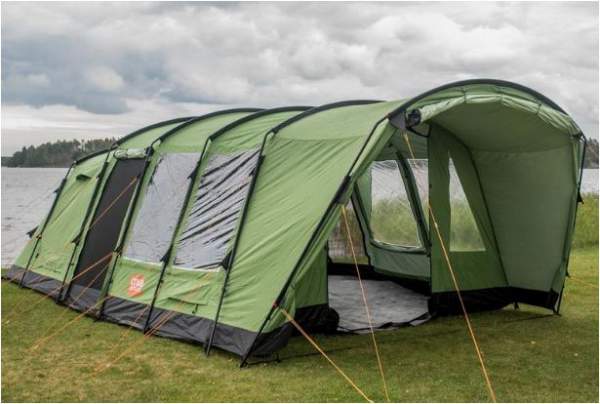 • Good ventilation. For the tents with full fly and the tunnel tents shown in the text above, having vents is essential to fight condensation and to have air circulation in long hours with rain when you have to keep the windows and the doors closed.
This implies both floor vents and the fly vents. You need them both to have vertical airflow. It is also important that they can be closed if you feel cold. All the tents shown above come with such features.
Summary
So this was a short introduction to the topic of best camping tents for the rain based on a variety of such tents presented here in the site. Please follow the links given in the text to read more.
The essential features you need in a tent for rain are:
A reliable fly with taped seams and a good waterproof rating.
A sealed bath-tub floor with a high waterproof rating.
Vents.
Features that are good to have but less essential are the following:
Solid windows.
Lots of area & multiple rooms.
Lots of volume & stand-up height.
Reliable poles & aerodynamic profile if this is about windy areas.
You might want to read also our separate text on how to choose a family camping tent. Thank you for reading. Please let me know if you think I have missed mentioning something important. There is a comment box below. If you need something for desert conditions, check my tips about best tents for desert camping. Plan to camp in a windy area? Check these tips about the best tents for windy conditions.
Note that we add texts regularly, so bookmark this site and stay informed. Subscribe to our weekly newsletter, the subscription form is below. Let us know what you think, there is a comment box below.