---
Outwell Cedarville 5A Air 5 Man Tunnel Tent is a large and tall 3-room structure with a great waterproof rating, solid windows, and inflatable beams instead of poles.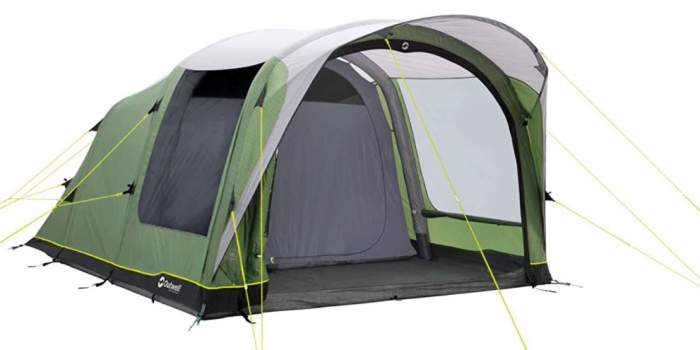 ---
Key features & benefits
Tunnel type tent.
Inflatable beams.
3 Rooms.
Huge waterproof rating.
Solid windows.
E-cable ports.
---
What this is about
Outwell brand is known for its large family camping tents. This is an EU-based brand and the tents they build have the usual design typical for this market. This means multiple rooms, lots of space and volume inside, etc. So here you have a tent with a small official capacity, but this is a large tent with no less than 3 separate rooms. The floor plan below shows what you have: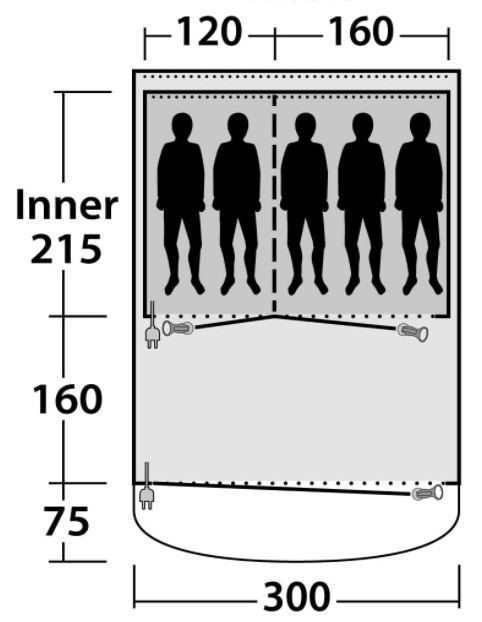 So you have an inner tent within the shell tent, and this is the sleeping area with a darkened material on the ceiling. There is a removable divider (the dashed line in the picture above) so you can use it as a single sleeping room or two rooms with different floor areas. One large living room is in front of the inner tent, this is the light-gray area on the front.
Because of these features, I have included it in my list of best 3-room tents, but you can use it even without the inner tent and have one huge room. In other words, you can have one, two, or three rooms here. The picture below shows the inner sleeping area, you have two separate inner doors but you can unzip them almost completely and store them in a dedicated pocket on the floor.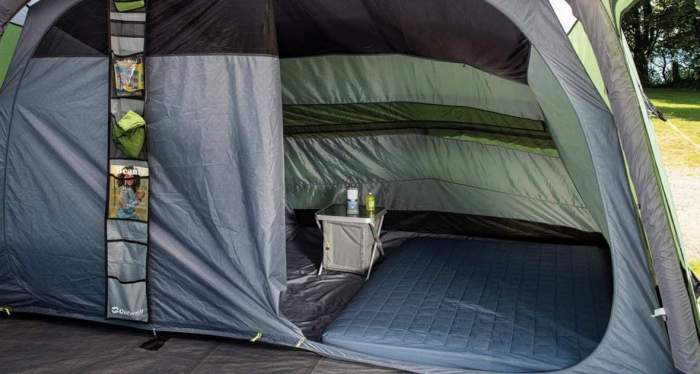 Note that the whole shell tent area is floored and the floor is sewn-in and sealed. The inner tent also has its own extra floor, so in this area you have two floors one above another. As usual for tents of this type, this is a hybrid single/double layer structure where the inner tent is a true double-layer zone while the living room is under the shell.
But even in the living room all the windows and doors are double layer and they cover the bigger part of the living room. You have a gigantic front door that can be unzipped completely, it is with mesh and with panels. On the sides you have solid and tinted windows with inner shutters for privacy, they are with toggles and not with zippers, pity. The picture below shows some dimensions, and as you see the tent is very tall, with a 210 cm external peak height.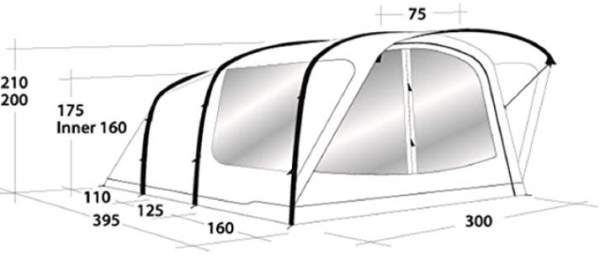 The tent is not freestanding, but this is usually so with tunnel-type tents, so you have to stake it down properly. All stakes needed for this are included.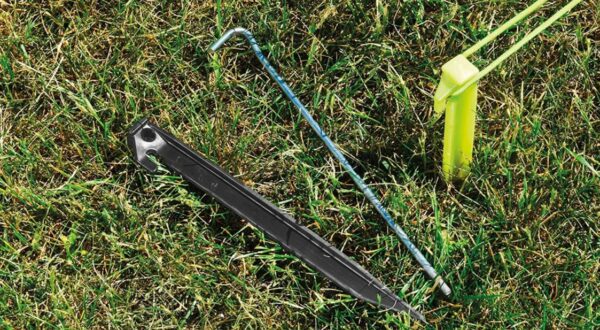 ---
Materials
The poles
This is an air-beam tent, so you have 3 inflatable beams instead of classic poles. Though there is a short fiberglass brim pole 8.5 mm in the diameter above the door, a very useful detail that creates a dry entry.
The air tubes are what they call the Rigid Air System with a maximum pressure of 9 psi/0.6 bar. All the beams inflate separately and one person can easily do the job.
The fabric
The shell is what they call the Outtex 4000 Select, they use it in their other tents, see this Outwell Chatham 4 Person Air Tent as one example. This is a 100% polyester taffeta with taped seams. They claim it is hard-wearing and fire-retardant, and it is with a PU coating that gives it a 4000 mm waterproof rating.
The inner tent is a breathable 100% polyester, and the floor is a double-coated waterproof 100% polyethylene, so you are definitely protected from the groundwater. There are several huge solid and slightly tinted windows in the living room area.
Other features include:
E-cable ports on the outer shell and also on the inner tent, you can see them in the picture with the floor plan above.
A large wall organizer is on the inner tent wall, with many small pouches for storage.
Adjustable pegging points for pitching flexibility.
Reinforcement patches on stress points.
Valves are reliable and easy-to-operate. They are placed outside the flysheet.
Pre-attached luminous guylines.
The rear ventilation system.
Compressible carrier bag.
Outwell Floating Guyline System with single luminous guylines that connect two upper guylines to the pegs.
Outwell Lite Pegging System that implies color-coding which ensures the correct peg is quickly located and used in the correct position. This means grey plastic at the tent's corners, neon plastic for the guylines, and metal pegs for general pegging, they are shown in the picture above.
Please see more in this video:
---
Who is Outwell Cedarville 5A Air 5 Man Tunnel Tent for
Regarding the area, the tent is officially for 5 people, but note that you have an area of 127.6 ft² (11.85 m²), so this gives 25.5 ft² (2.37 m²) per person. As mentioned above, the living room is completely protected and if necessary here you can have 2-3 people more. So this is all a very generous and luxurious camping space.
Regarding seasons and climate, the tent is better suited for a cooler climate and rainy environment, as mentioned this is an EU brand. But you have vents and mesh areas, the inner tent is separated from the shell so there is a large gap for air circulation. This Hanging Point System is similar to what they have in their other tents, it is based on toggles and loops so the inner tent attaches to the shell.
Note that you have double zips on the external door and this allows for a full front opening. In the case of rain, you have a full mesh as a third layer on the front door for insect-free ventilation. There is not much one could object to this.
Plenty of guylines are in the package to secure the tent properly. Note that air beams can never break, they may bend but they bounce back instantly when wind pressure drops. So this tent can withstand a lot of pressure. As far as I understand, the tent is built for wind force 9. However, do not use it in the area where you may have snow, air beams may collapse under constant vertical pressure.
Regarding the weight and packed size, the tent is heavy and bulky, you will see the numbers below. So this is a car camping tent, you would not want to carry it anywhere.
---
Specifications
Official capacity: 5 people.
Weight: 37.26 lb (17 kg).
Dimensions: 155.5 x 118 in (395 x 300 cm).
Area: 127.6 ft² (11.85 m²).
Area per person: 25.5 ft² (2.37 m²).
Peak height external/internal: 82.68 in (210 cm); 78.74 in (200 cm).
Packed size: 33.1 x 18.1 x 18.1 in (84 x 46 x 46 cm).
---
Final thoughts, rating, pros & cons
So you have seen it, this Outwell Cedarville 5A Air 5 Man Tunnel Tent can accommodate more people than what its official capacity tells you. The materials and design are such that you have full protection from elements in a 3-season use.
The tent is ventilated, and the materials are dark in the sleeping area to reduce glare so you can sleep longer, and if you camp with kids they might also take a nap during the day. Because of its air beams one person can easily set this tent up.
Below you can see how I rate this tent, the same criteria are used for all of them so you can easily compare:
For more tents in this capacity range please check under the group tents for 5/6 people. You might want to check also this KingCamp Tent 6 Person 2-in-1 Outdoor Camping Tent that has 3 rooms as well. For more tents built in this shape check in the category Tunnel tents. If you would rather have a simple dome, check this Texsport 5 Person Headquarters Camo Square Dome. Thank you for reading and have a nice day.