This Outwell Chatham 4 Person Air Tent is a huge 3-room structure with a large porch, solid tinted windows, large doors, darkened sleeping area, and much more. Keep reading.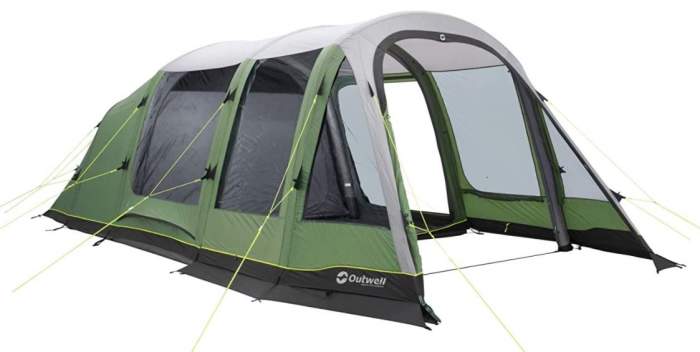 ---
Key features & benefits
Inflatable air beam tent.
3 Rooms plus porch.
Darkened sleeping area.
2 Large doors.
E-cable port.
Tinted solid windows.
Huge waterproof rating.
---
What this is about
Outwell is a European brand and it is known for its large tents. This Chatham 4A Air Tent is not an exception, when you see it from outside you would not expect that its official capacity is only 4 people. In fact, this is the smaller of two tents in this series, its larger cousin is for 6 people.
This tent is on the market also under the name Outwell Chatham 4A Air Tent. The letter A and the word Air in the name mean that this is a tent without classic solid poles, you have 4 inflatable beams instead. This is a tunnel-type construction and it follows the usual design of the tents built for the EU market. What I mean by this is clear from its floor plan below.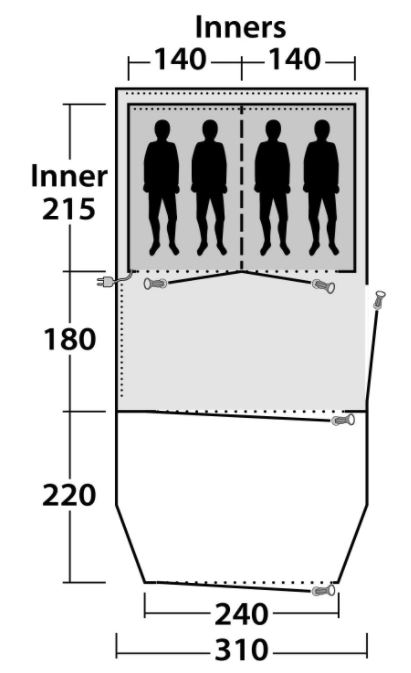 The rooms
As you realize from the picture above, the tent has 3 floored rooms. You have an inner tent within the tent with a removable divider, so this is a space with two rooms, each for two occupants, see the picture below. This inner tent has its own sealed floor. The two sleeping room doors can be zipped out almost completely and stored in the pocket on the floor. Note that the ceiling of this inner area is dark so this is a sort of a dark-rest tent.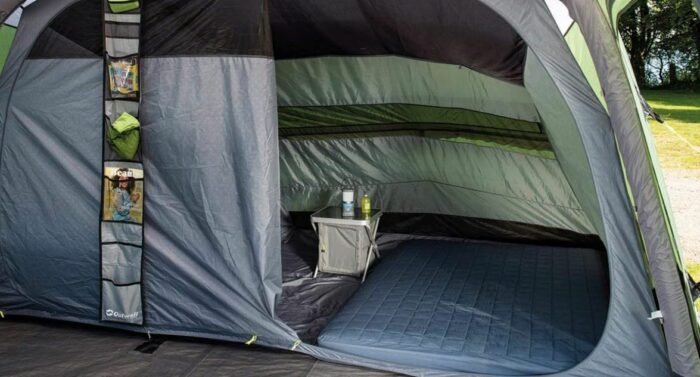 In front of the inner tent is a large living room, see the picture below, again fully floored and with a sealed floor, so you have full protection here as well. This space is separated by an inner door from the front porch. This inner door is with mesh in the upper part and with a panel, and it can be open fully or partly as in the picture below.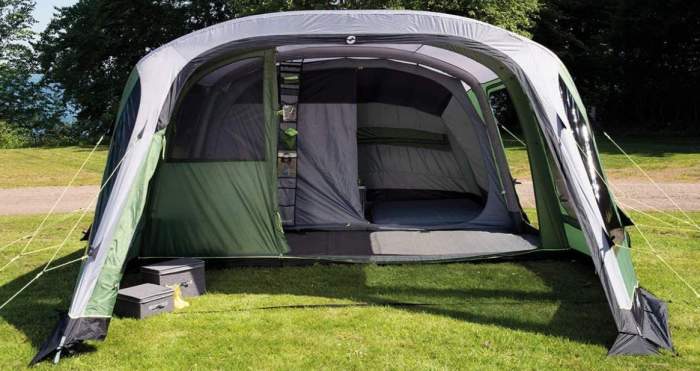 The front porch is just like a floorless room, some call this space a wet room or mudroom. In any case, this is an area fully protected from the rain and you can use any type of furniture inside without worrying about the floor. So here you can cook and sit in the shade, you have full protection from flying insects.
The picture below shows its huge front door which is a 2-layer type with mesh and with a panel. Note that you can open it partly or fully, it is so wide that you can get a car inside, the door is 94.5 inches (2.4 meters) wide. The side door is a single-layer type without a mesh.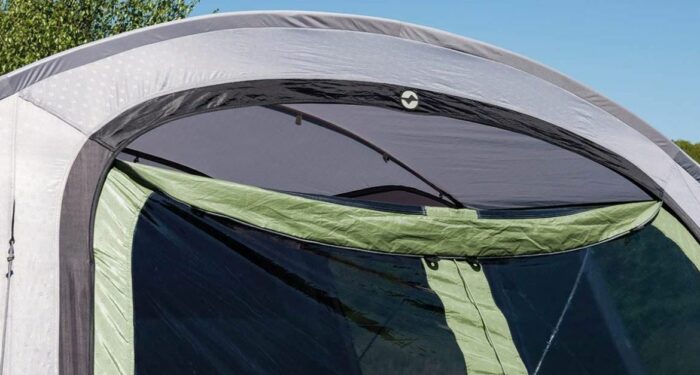 There are several windows around, some are solid and tinted from outside and with shutters from inside, and some are with mesh and panels for protection.
The porch has solid windows on all sides and this gives you views everywhere around, but they are all with inner shutters for privacy. The floorless porch and floored living room can be used as a huge living area when you unzip the door in between. This total space is 4 x 3.1 meters large.
But you cal also remove the inner tent and have the whole space as a single room of the size 6.35 x 3.1 meters. This can be useful for some family events in the garden, you will have full protection from the rain.
The tent is huge and very tall, the picture below shows some of its most important dimensions. So you realize that the peak height is 82.68 inches (210 cm), and you have a standing height in the bigger part of the tent. Namely, the air beams are profiled so that the sides are almost completely straightened and steep, so the tent looks like a cabin tent.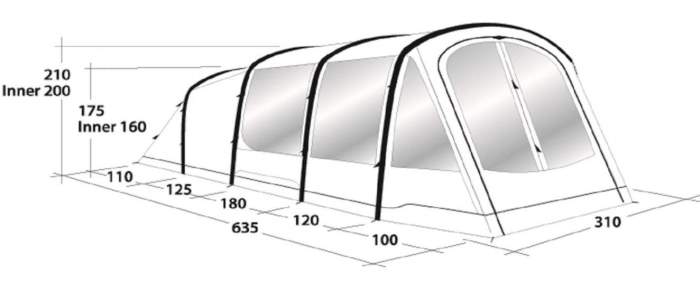 Ventilation
This tent is almost perfectly ventilated for such a type. Some features related to ventilation you have already seen, but if you have missed them, see again. The gigantic front door shown below has a full-size mesh layer and you can keep it that way, without the front panel, even when it is raining because the porch is a wet room in any case. But you can close it, of course, you have a second layer for this.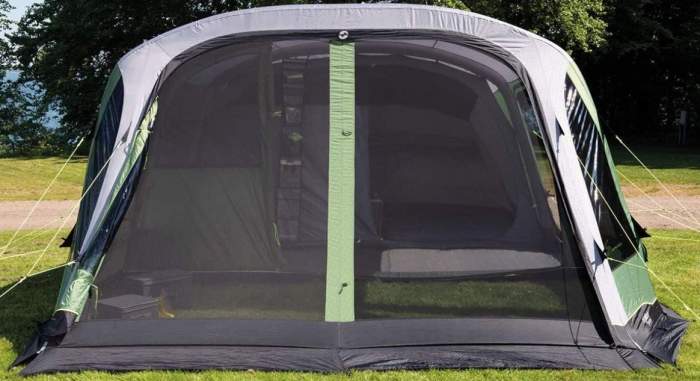 Then there is a huge mesh window on the side, so when the sky is clear you can keep it without the panel. But when it is raining, you have to close the window. No worry, they have added a large floor vent in the living room, it is under the mentioned mesh window. But this is not all, you have a long rear vent, you can see the floor plan above and the dashed line on the back is its total length.
Materials
The shell is what they call the Outtex 4000 Select, a 70D durable polyester with a 4000 mm waterproof rating. So this is huge and you will never need more. All seams are taped.
The floor is a double-coated polyethylene with a 10000 mm rating. The inner tent is built from a breathable polyester. They claim these are fire-retardant materials. The solid tinted windows are PVC material.
Other features
Rigid Air design system.
Colour coded pegs.
Carry bag included.
Outwell Guyline system for easier pitching.
Flysheet and inner tent cable entry points.
Storage pouches on the inner tent.
Please see a bit more in this short video:
In this video you can see how to pitch this tent, one person can do this easily:
---
Who is it for
Regarding the area & capacity, officially this is a 4-person tent but this is by EU standards. The tent offers an inner floored area of 131.3 ft² (12.2 m²), and this makes 32.8 ft² (3.06 m²) per person. But there is the porch with its area of around 65 ft² (6 m²). So the total protected area is an incredible 196 ft² (18 m²), and per person, this gives around 49 ft² (4.5 m²).
So this tent is a castle for 4 users, and if necessary, it can easily accommodate 2-3 people more. The porch offers a large area to keep all your gear protected.
Regarding seasons & climate, there is no doubt that this is a true 3-season tent. It is well-enclosed with its solid windows and the inner tent can also be closed if you feel cold. For a warmer climate, you have already seen about its ventilation, so this will work fine.
The waterproof rating is impressive, the floor is sealed, so you have full protection from the elements. The air beams cannot break, they bend when pressed by the wind, but they also bounce back instantly when the pressure drops. Numerous guyout lines are around to stabilize the tent.
But such inflatable tents are not for winter use where you can expect snow, it would collapse in the case of snow on the roof.
Regarding the weight, the tent is very heavy with its 47 lb (21.3 kg). With the packed size of 35 x 19 x 19 inches (88 x 49 x 49 cm) it is bulky but this is normal when you realize how huge this tent is. In any case, this is a car camping tent.

---
Specifications
Official capacity: 4 people.
Weight: 47 lb (21.3 kg).
Dimensions: 20.83 x 10.17 ft (635 x 310 cm).
Inner floored area: 131.3 ft² (12.2 m²).
Inner area per person: 32.8 ft² (3.06 m²).
Porch area: around 65 ft² (6 m²).
Total protected area: around 196 ft² (18 m²).
Total protected area per person: around 49 ft² (4.5 m²).
Peak height: 82.68 in (210 cm).
Packed size: 35 x 19 x 19 in (88 x 49 x 49 cm).
---
Final thoughts, rating, pros & cons
In the summary of this Outwell Chatham 4 Person Air Tent review, I wish to stress again its huge size and its official capacity of only 4 people. So it can easily accommodate at least 6 people. The tent is built to protect you in any weather conditions, and if you are forced to stay inside in the case of long hours of rain, you have plenty of space in its living room and under its porch, and its height is such that you will never feel claustrophobic.
The organization of space in so many rooms is excellent. I have included it in my list of best inflatable tents and also in the list of best tunnel tents.
In the table below you can see how I rate this tent against my standard set of criteria, and some pros and cons:
For more tents with such air beams see in the group of Inflatable Tents and for tents of this shape check under Tunnel tents. Note that they have yet another tent built in the same style but much larger, the Outwell Woodburg 6A Air Tent. If these are too big tents for you, check their Outwell Cedarville 5A Air 5 Man Tunnel Tent.
Thank you for reading. You might want to bookmark this site and visit it occasionally, this will keep you informed. Subscribe to my newsletter, there is a form below. Have a nice day.