Here you have a collection of the best family camping tents with a screen porch, a floorless partially protected extension suitable for cooking and sitting. Keep reading.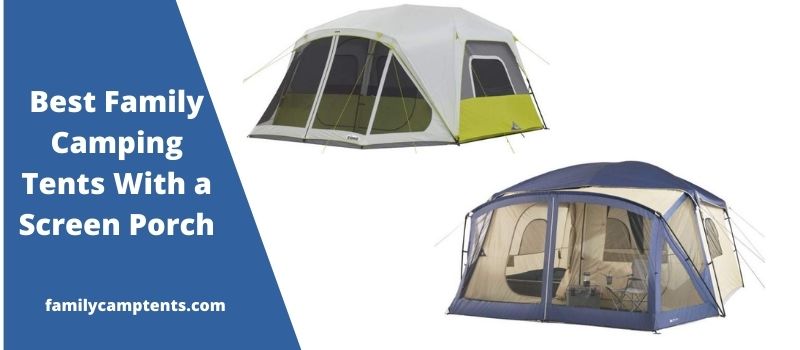 ---
What is the tent's screen porch?
The tents in the list here should not be mixed with tents with a screen room. The term screen porch is used here for the tents that have a partially protected area. This means the following:
An area that is covered and partially protected from the rain.
An area without a floor.
An area that has a mesh (screen) so that it provides protection from flying insects but not from crawling insects.
So a screen porch is a part of the tent where you can sit in the shade and where you can cook while being at least partly protected from the elements and from insects. Sometimes such a space is well protected and it looks like a real room just without the floor.
This terminology causes some confusion, some manufacturers use the words 'screen room' for such a tent, while some use the words 'screen porch'. You will see examples of both here in the list. I also sometimes use the term screen room instead of the screen porch; well, nobody is perfect.
---
My list of the best tents with a screen porch
Below is the list with the tents ordered by the inner floored area from smaller to larger. Note that I use the official names of the tents so some have the words Screen Room in the name:
All the tents in the list are presented in detail in my separate reviews so please follow the links for more information.
---
1. Ozark Trail 5-in-1 Convertible Instant Tent and Shelter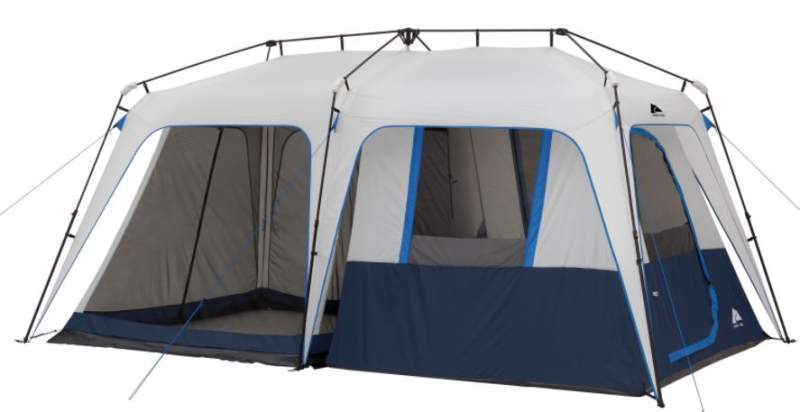 Here you have a completely unique system with 2 separate 4-person tents, one screenhouse, and an instant setup fly. So it is here in the list because of the configuration when you use it as shown in the picture. This is a 4-person tent on the right and a floorless screen room on the left.
You can use this set in 5 different ways, and this explains the phrase 5-in-1 in its official name. The weight of the whole set is 41 lb (18.6 kg) and the dimensions are 15 x 9 ft (457 x 274 cm).
The screen room size is 8 x 7 ft (244 x 213 cm), and the same size is the 4-person tent. The tent is also very tall, you have the external peak height of 84 inches (213 cm). It is also incredibly affordable.

---
2. Browning Camping Big Horn 5 Tent Plus Screen Room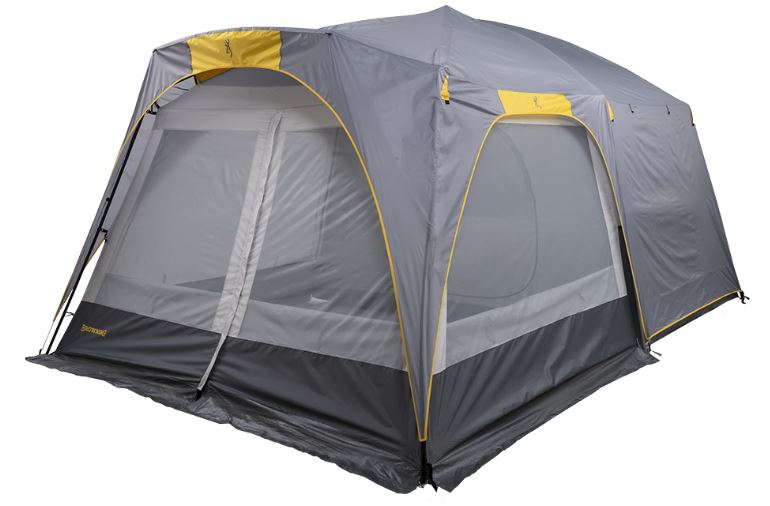 This tent is here because it offers the same as the other tents in the group. Namely, you can have a true floorless screen room as described in the introductory lines above.
But this screen room is also completely closable with its side panels, so it transforms into a fully protected floorless room. The tent is also incredibly tall with its peak height of 90 inches (229 cm).
You have two doors and one large vestibule, there are also many windows, and it offers several awning configurations with the awning poles that are included.
Here are a few numbers. The weight is 39 lb 8 oz (17.9 kg), the floored room area is 80 ft² (7.4 m²), and the same you have in the screen room. The vestibule adds 26 ft² (2.4 m²).

---
3. Core 6 Person Straight Wall Cabin Tent with a Screen Room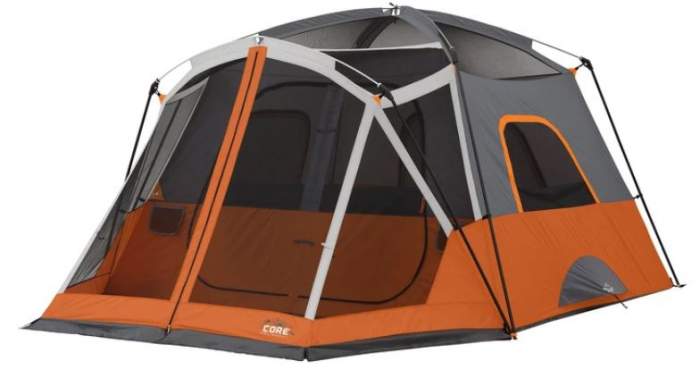 Here you have a nicely-ventilated tent very suitable for summer camping. The picture above shows it without the fly, but it has a fly that covers the ceiling. The poles are steel and fiberglass. The front screen area is without a floor and there are no panels on the walls.
There are 5 windows and 1 double door. The tent weighs 24 lb (10.9 kg), the floored area is 90 ft² (8.3 m²), and the screen porch is 50 ft² (4.6 m²). This is a nicely built and reliable tent.

---
4. Coleman WeatherMaster 6 Person Screened Tent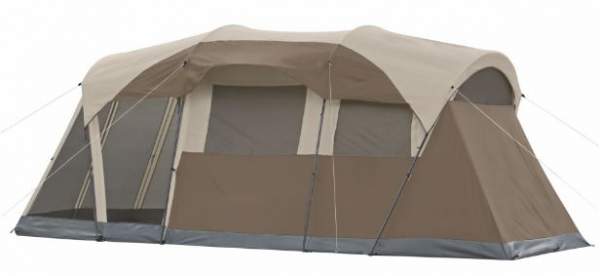 Here you have an incredibly comfortable 3-season family camping tent with a very affordable price. The style is a bit unique among the tents here, almost like a tunnel-type tent with several loops that are based on steel leg poles. The total number of poles here is 12, steel and fiberglass, and some of them are telescopic poles.
This is the only tent here with a hinged door. So you have two separate fiberglass poles that run along the perimeter and the door swings on the vertical pole.
The inner floored area is 99 ft² (9.2 m²) and the screen porch is a big space with 54 ft² (6.7 m²) of area, and you don't have a tarp on the floor. The sleeping area is with the divider so you can make 2 separate rooms for privacy. Note that they have yet another version, the Elite 6 tent with LED lights included.
The most important features
Huge screen porch with 54 ft² (6.7 m²) of area.
Very large sleeping floor area 99 ft² (9.2 m²).
Two-room tent – plus the screen room.
Many large windows on all sides.
Hinged door.

---
5. Venture Forward North Shore 8-Person Cabin Tent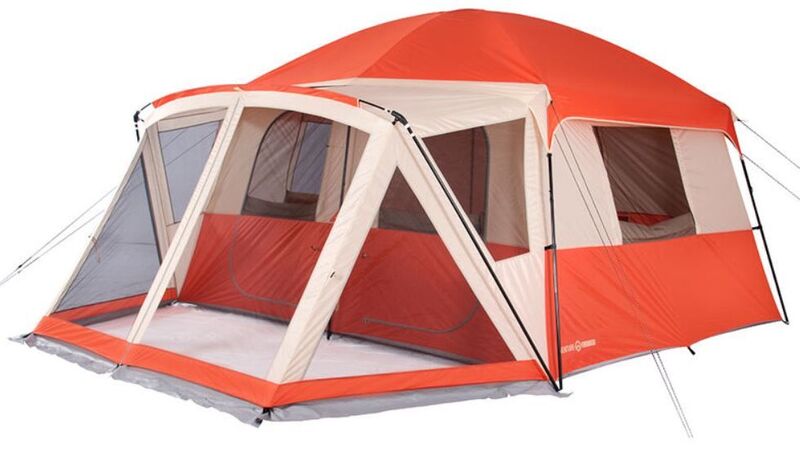 This tent is with a typical screen porch. So you have a small fly above and all the walls are just mesh. There is a removable floor as well. This means you are safe from flying insects in this space.
But it also has two inner fully protected rooms with a removable divider. Each of the rooms has its own door in the screen porch. There are also 4 separate windows, and the tent is very tall. So it is very pleasant and suitable for calm weather family camping.
Here are a few numbers. The weight is 35.85 lb (16.3 kg), and the inner area is 120 ft² (11.16 m²). In the screen porch you have 50 ft² (4.6 m²). The mentioned peak height is 88.2 inches (224 cm).

---
6. Ozark Trail 10-Person Family Camping Tent with 3 Rooms and Screen Porch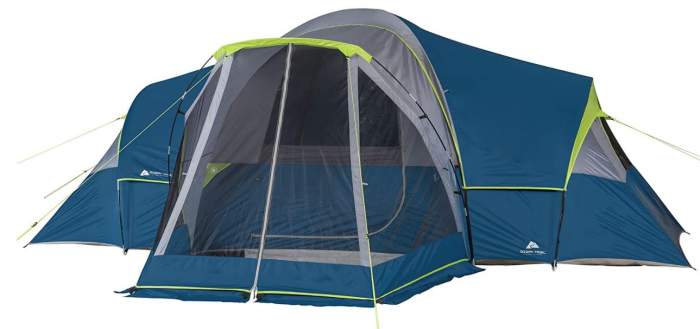 This is an incredibly affordable extended dome tent, large but compact when packed. The area is 137 ft² (12.7 m²) and the packed size is 25.5 x 9.5 x 9.5 in (65 x 24 x 24 cm).
As you realize, it has a great screen porch with 30 ft² (2.8 m²) of space where you are fully protected from flying insects. The porch is without a floor, there is only an attached small mat. You also have an E-cable port, media pocket, and several storage pockets.

---
7. ALPHA CAMP 10-12 Person Tent with Screen Room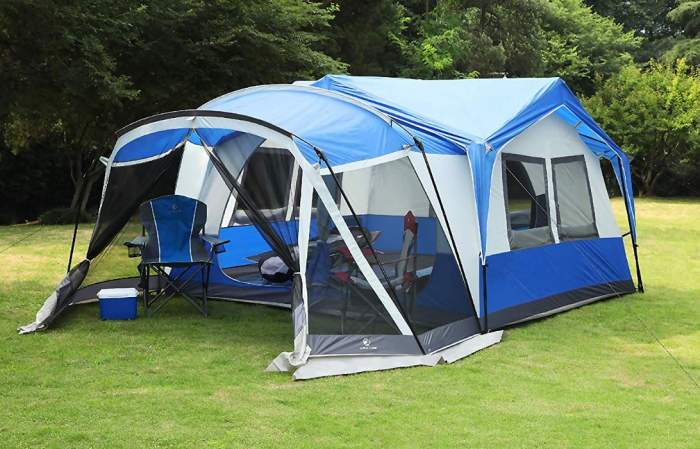 Here you have a very specific structure that combines a framed tent, plus a screen porch with two loops, so from the front it looks like a tunnel tent. But the biggest part of this structure is a cabin tent or as some call it a wall tent. The meaning of these terms is that the frame of the inner tent is fully freestanding and you set it up independently from the tent, and then attach the tent to it.
The inner area is fully floored and the floor is sewn-in, and you have a removable divider. The screen area is floorless so it offers the sitting area in the shade or the area for cooking. You have protection from flying insects but there are no panels on its walls. The inner area is fully protected of course.
Now about the space – the total area with the screen room included is 214 ft² (19.9 m²) but the inner area is 144 ft² (13.4 m²). The declared capacity is 10 – 12 people but realistically you do not have enough space for so many users so better downgrade it by half.
Because of its framed design with many thick poles, the tent is very heavy it weighs 61 lb (27.7 kg), but it comes with a carry bag with wheels. Please follow the link for more details.

---
8. Ozark Trail 12-Person Cabin Tent with Screen Porch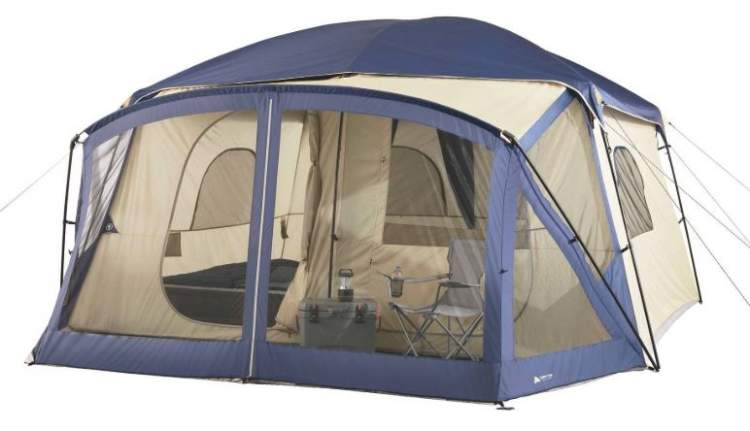 This Ozark Trail 12-Person Cabin Tent with Screen Porch is a really nicely designed summer camping tent with two floored rooms plus a screen room/porch. Note that the screen area is not floored, it provides protection from flying insects, and it is with a roof so you can sit in the shade and use the area for cooking as well. It deserves to be included in my list of 3-room tents.
The tent is a pleasant structure with 6 windows, 2 doors, and an E-cable port. The poles are a combination of steel and fiberglass, and this is a freestanding construction. It weighs 44 lb (20 kg) and the floor area is 168 ft² (15.6 m²). The peak height is 90 inches (229 cm) and this is why I have included it in my list if very tall tents.

---
9. Tahoe Gear Carson 14 Person Tent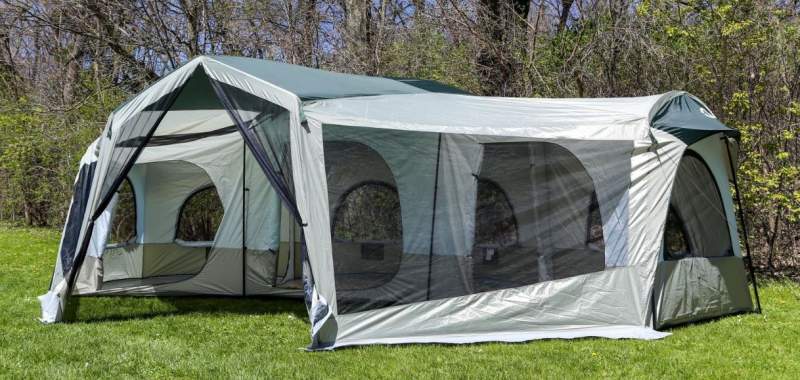 This Carson 14 tent offers 182 ft² (17 m²) of the floored area, but its screen porch is huge so the total area is 276 ft² (25.8 m²). It has three floored rooms plus a front screen area that is not floored. The big part of the screen room is protected from the rain because of the fly, although it has no panels on the sides. So I have added it to my list with 4-room tents.
You have two side square rooms and one central room which is pentagon shape and they are with real walls in between, yet connected with huge doors. All rooms also have huge doors to the screen porch.
The tent has 6 huge windows with mesh and zippered panels, so the whole structure is very pleasant and nicely organized. The central pentagonal room is very tall with 94 inches (239 cm) peak height.

---
10. Ozark Trail 9 Person Instant Cabin Tent with screen room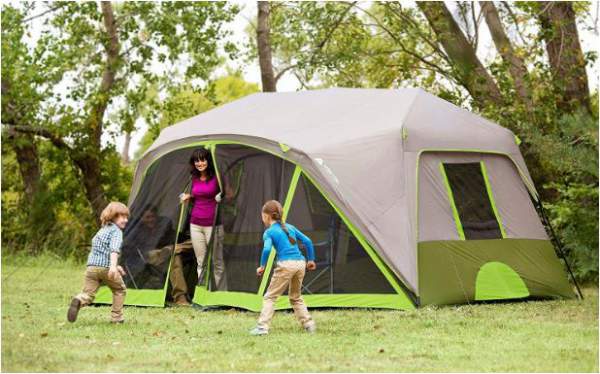 As you realize from its name, this is an instant tent, and it is also a cabin tent. So this is a great combination which implies a really easy setup and a very livable structure.
The frame is preattached to the tent body, only the screen area is with 3 extra poles which should be added when you set the tent up.
The leg poles are steel and the roof poles are fiberglass, the whole structure is heavy but it is very stable and sturdy.
The screen porch is without the floor, so this is a sitting area where you can put several chairs and a table. From there, you have two doors side by side designed to be used as separate entrances when/if you decide to create two separate rooms inside (the divider is included).
You have a total floor area of 189 ft² (17.55 m²), and the inner space is 14 x 9 ft (427 x 274 cm) so this is enough for 9 people because you have the screen porch for the storage of stuff.
The tent is for summer camping, with a mesh ceiling and you also have vents in both rooms, so ventilation is really good here.
The most important features
Very good price.
2 Rooms.
Instant & cabin tent.
2 Floor vents.
6 Windows + windows on the double door.
Electric cable port.
Large wall storage area with many mesh pockets.
2-Minutes setup.

---
11. CORE 10 Person Instant Cabin Tent With Screen Room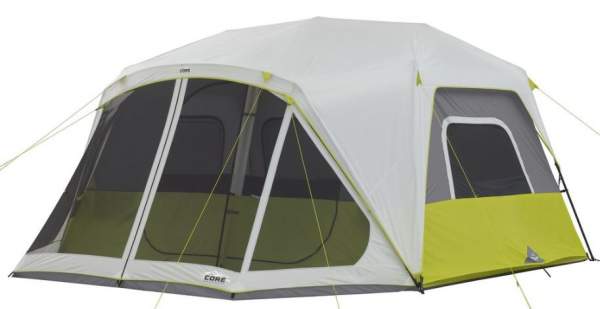 The Core 10 is here because of its screen area, so first a few words about it. The screen porch is without a floor, so this is an area for sitting and enjoying while being protected from insects. There are no panels so the rain protection is not full and you cannot use it as yet another room in the tent.
The tent is large, with around 203 ft² (18.9 m²) of floor area, and you have 2 rooms behind the screen area. They are with a removable divider and each has its own door and several large windows.
This is also an instant setup tent which you can pitch in 2 minutes, so it is suitable for people who change the camping place frequently. Please read more in my full review.

You might want to know that they also have the version with an integrated light, the CORE Lighted 10 Person Instant Cabin Tent with Screen Room.
---
12. Ozark Trail 10 Person Tent with screen porch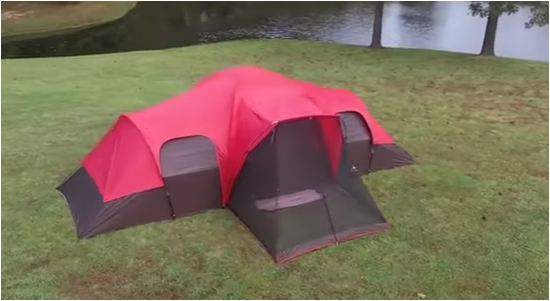 This is an extended dome-style tent with 6 fiberglass shock-corded poles, ideal for summer camping. It has plenty of space for the declared number of 10 users. Note that the tent is not freestanding, but it is very functional and with an easy setup for such a large structure.
The screened part is a porch in the true sense, and this is a half-protected space, which means that it has its own fly, but the sides are only partly protected and the mesh has no panels. This is a useful sitting area with protection against flying insects. Observe that there is no floor here.
The most important features
The total area is 315 ft² (29.3 m²).
3 Inner rooms + front screen porch.
2 Removable dividers.
2 External doors.
2 Windows + 2 windows on the doors.
Large storage pockets.
Electric cable port.
Media sleeve which doubles also as a gear loft.
Not freestanding.

---
Summary
So this was my list of best family camping tents with a screen porch, it will be updated whenever I find a tent worth adding to the list. This is why you might want to bookmark this site and visit it from time to time, this will keep you informed.
How to choose?
Obviously, you have a variety of very different designs here, and it may be difficult to decide. If your focus is mainly on the screen porch, then check its functionality, its overall protection, and its size, you have seen that some tents have a huge porch.
But the tents here in the list include many other features. Some are instant tents, so go for such a type if you plan to change the camping place frequently or you simply want something that can be pitched in a minute or so. There are tents with multiple rooms, so this is the type you might want to consider if this is about families with kids.
Note that there is a comment box below, so let me know if you have a comment or question. Thank you for reading and have a nice day.