The Ozark Trail 16-Person 3-Room Family Cabin Tent with 3 Entrances is an impressive structure, tall and pleasant with many large windows, storage spaces, E-cable ports, and much more.

---
Key features & benefits
Huge area.
Cabin type tent.
3 Rooms.
3 Doors.
7 Separate windows.
3 E-cable ports.
Media screen.
Media pocket.
Gear loft.
Storage pouches.
Sewn-in room dividers.
Great price.
---
Overview
This Ozark Trail 16-Person 3-Room Family Cabin Tent is at Walmart under the name given in the title, but on Amazon they call it the Ozark Trail Hazel Creek 16 Person Family Cabin Tent.
In any case, this is an incredibly impressive structure and the best way to realize this is probably when you see it from the aerial perspective as shown below. So you have a central dome part and three extensions supported by extra poles.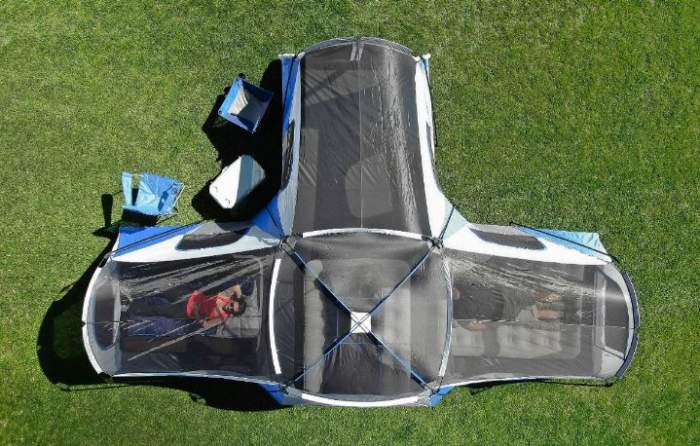 The tent is tall, you have a 80 inches (203 cm) peak height, but it is high in every section as you realize from the picture below. The legs poles are straight so the walls are steep as typical for cabin-type tents.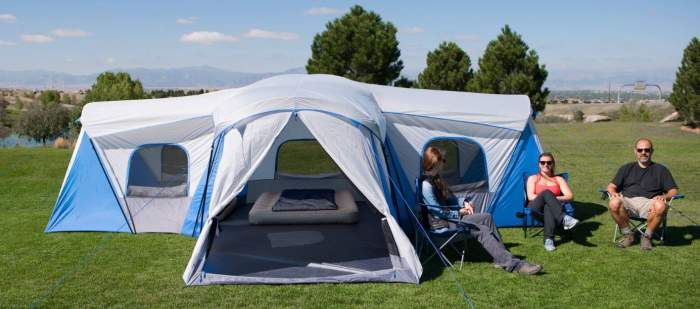 As its official name (mentioned in the title) tells you, this is a 3-room construction. You have the main central room that extends from the front door all the way to the central dome part. The picture below shows this central room: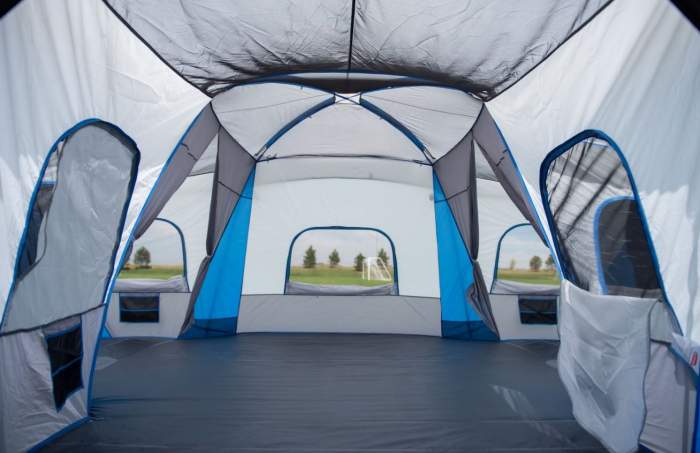 On the sides you have two rooms with sewn-in dividers, one of them is shown below. So these are not just curtains, they give indeed as much of privacy as it is possible in a tent.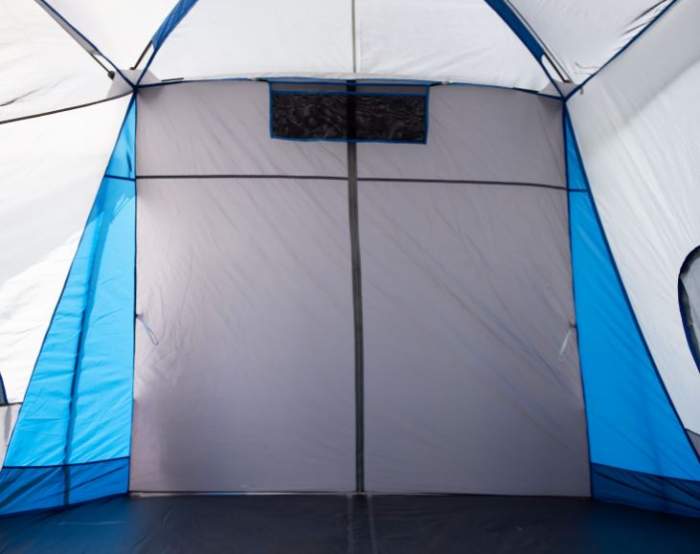 The fly is partial-coverage type so it covers only the ceiling, the picture below shows how it looks. Observe the closed main door, so this is a fully double-layer construction with a full size zippered mesh door plus a zippered panel. Both have an inverted-T shaped zipper.

There are 7 separate windows and all of them are double-layer type with mesh and inner zippered panels. The two side doors also have windows in the upper sections, with mesh and panels of course.
Plenty of other features
This tent offers a lot, see what you have:
There is a removable media pocket, and a removable media screen 55 inches and 16:9 proportions, see how they look:
But there are also several types of storage pouches, this includes six 3-section pockets, four wall pockets, see some of them here:
This is not all, see the lantern attachment point and other details:
Materials
The poles: The poles are a combination of steel used for legs poles and fiberglass used on the roof. There are 19 poles in total. You also have 8 guy ropes and 33 steel stakes. The poles attach at the tent's base with the usual pin and ring system. The tent is large but 2 people can set it up in 20-30 minutes.
The fabric: The main body fabric is a poly taffeta 185T with a 1200 mm waterproof rating, the same material and rating you have used for the fly. The seams are taped. Mesh areas are a No-See-Um type net.
The floor is a poly Oxford 210D and this is a bit surprising for such large family camping tents where you usually have polyethylene. The rating is the same 1200 mm. The carry bag (see the picture) is a poly Oxford 210D. It expands to make repacking and storage easy.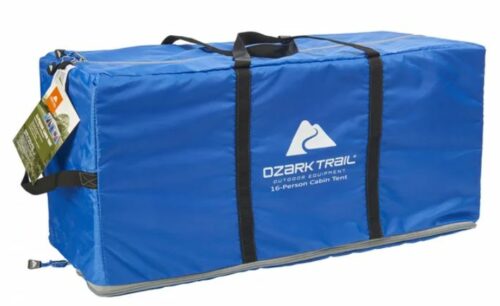 Ventilation
You have seen its ceiling, this is around 20 square meters of mesh for ventilation. Now add to this all those mesh openings (windows and doors). The fly covers only the ceiling so vapor can escape and condensation should be minimal.
Nevertheless, when it is raining, you have to keep all this closed. In such situations you would want to have floor vents. They are missing here, pity.
---
Who is this Ozark Trail Hazel Creek 16 Person Family Cabin Tent for
Regarding the area, they write that the tent fits 4 queen air beds or 16 people in sleeping bags. So you have 230 ft² (21.4 m²) and this would mean 14.4 ft² (1.3 m²) per person.
I do not know if you really can squeeze 16 sleeping pads on the floor. Perhaps this can work for a large group of friends on a summer festival but not for a family camping. This capacity is unrealistic, as usual with such tents.
The tent is perfect also for two couples or for two small families with one kid each. You have side rooms with their own doors, and the central room in this case can be used as the common living room. In any case, I have included it in my list of extra large family camping tents.
Regarding seasons & climate, they describe it as a 3-season tent, but I would not say this is really so. I see it best suited for summer camping or perhaps for up to 2 seasons in warm and quiet weather without much rain and wind. This is a huge and boxy construction and it would not last long in a windy space.
Regarding the weight, this tent looks heavy, it weighs 43.7 lb (19.8 kg). But see its size to realize that it is indeed lightweight for such dimensions.
The packed size is 28 x 12 x 12 inches (71 x 30 x 30 cm), so if you think this is a lot, think again. This is an excellent packed size for such a huge tent. But in any case, this is a car camping tent and you would not want to carry it anywhere.

---
Specifications
Weight: 43.7 lb (19.8 kg).
Official capacity: 16 people.
Dimensions: 22 x 16 ft (671 x 488 cm).
Inner area: 230 ft² (21.4 m²).
Inner area per person: 14.4 ft² (1.3 m²).
Peak height: 80 in (203 cm).
Packed size: 28 x 12 x 12 in (71 x 30 x 30 cm).
1-Year Limited Warranty.
---
Final thoughts, rating, pros & cons
So this Ozark Trail 16-Person 3-Room Family Cabin Tent with 3 Entrances is packed with many useful features. Its organization of area is excellent, it is tall and pleasant, with lots of space.
But in spite of its absolute size which is enormous, it is best to ignore its official capacity. The tent's packed size is excellent, and it is lightweight for its size.
Below you can see how this tent stands against my standard rating criteria that I apply consistently to all the tents here in the site so that you can easily compare:
Ozark Trail 16-Person 3-Room Family Cabin Tent with 3 Entrances
BEST PLACEs TO BUY:
For more tents of this shape please check in the category Cabin Tents, you will find them many in all sizes.
Let me know if you have questions, there is a comment box below. Bookmark this site and come again, this will keep you informed, as you realize I add texts here on a regular basis. Thank you for reading.