The Ozark Trail 18″ x 10′ Instant Cabin Tent with Integrated Led Light comes with 3 rooms and with some truly useful features, it is easy to use, pleasant, and affordable.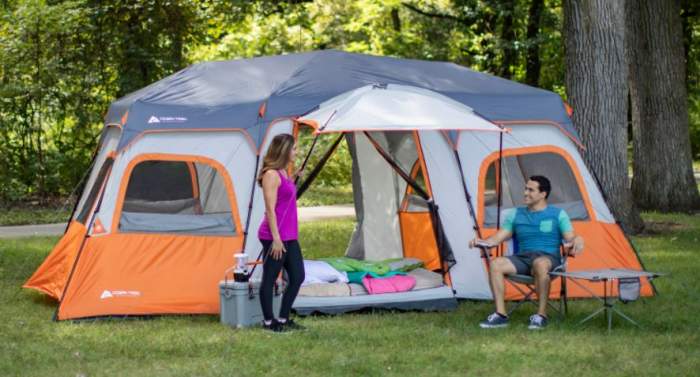 ---
Key features & benefits
2 Minutes setup time.
Awning with its roof poles.
3 Rooms.
2 Doors.
6 Separate windows.
Integrated lights.
Tall tent.
Carry bag with wheels.
E-cable port.
Floor vents.
Very reasonable price.
---
What this is about
So here you have a true instant-setup tent with a 2-minute setup time, and this is quite realistic. The pictures below shows the most important steps when you want to pitch this tent. So unfold it and then start extending its telescopic leg poles. One person can do the job easily but it is easier if you have a partner.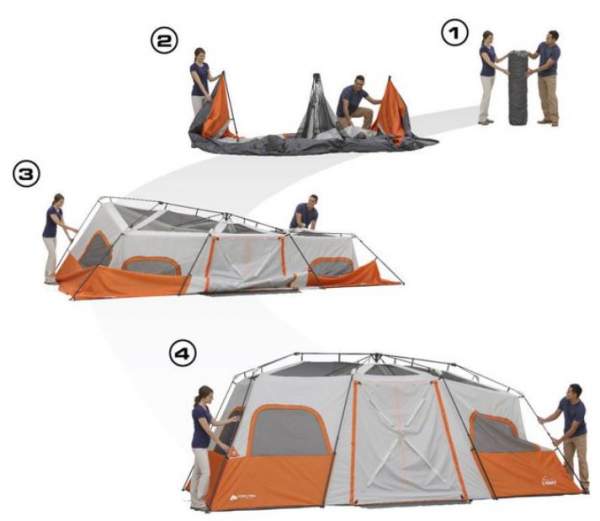 This is a cabin-style tent and its 8 straight legs make it fully freestanding. But you have the usual set of 20 steel stakes and guylines to secure it to the ground. Because of this instant design, I have included it in my list of best instant camping tents.
The frame is pre-attached to the tent in the usual way that you can see in many cabin-type instant tents. But there is a unique detail on the front side shown below. This is the tent shown without the fly. Observe the two X-crossed poles in the sleeves of the door.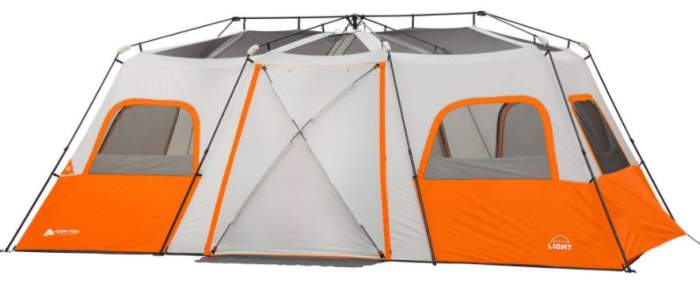 So you raise this door up and this creates a pleasant awning that you support by two extra poles that are included. This extends the space so you can sit in the shade in front of the tent, and the roof of the awning is unusually firm and stable.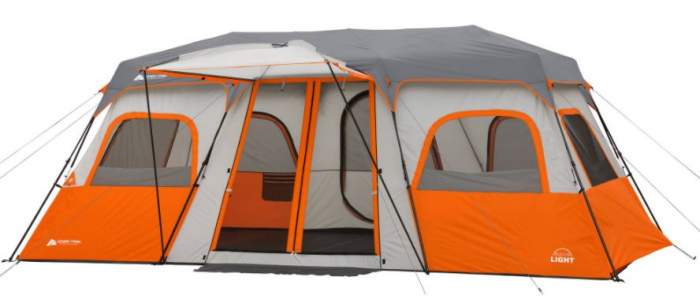 This main door is a double-layer type so you have the mentioned awning flap and a full size zippered mesh door behind, you can see it in the picture above. This is a 3-room construction and you can understand it better from the top view shown below. Note the second D-shaped door on the rear side, it has a double layer upper section with mesh.
The view inside below shows the two dividers with central zippers. You can attach them to the sides to have a single large space. These are just simple curtains so do not expect much privacy.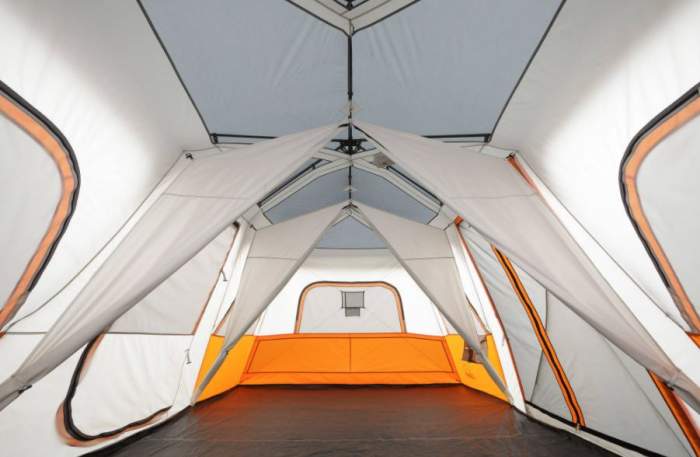 Observe the 2-layer windows with mesh and zippered panels everywhere around, you have them 6 in total, plus the mesh openings on both doors. One of the closed dividers is shown below so you get some idea how this looks when you form separate rooms:
Note also that this is a tall tent, you have 80 inches (203 cm) peak height. This together with all those windows and vertical walls make it very pleasant.
Lighted tent
The tent comes with ambient LED-lighted poles that are powered by four AA batteries (batteries not included). You have three levels for light, low, medium and high power. Below you can see how this looks when the light is on. Because of this feature, the tent is in my list of best lighted family camping tents.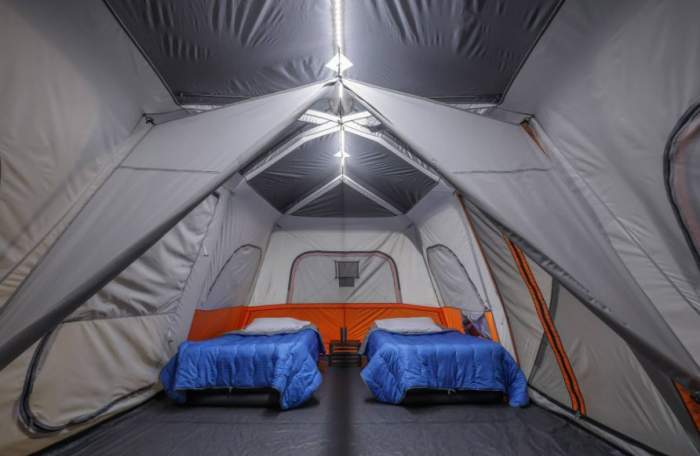 Ventilation
There is nothing one could object here. The tent has so many large mesh openings, plus the whole ceiling that is mesh under the minimal fly. So vapor can easily escape and condensation should be minimal.
But they did not stop there, you also have two floor vents, see one below, so vertical air circulation is increased. This is particularly important in the intervals with rain when the windows and the doors must be closed.
Other features
The tent comes with an E-cable port shown in the picture below. This is not related to its integrated lights, you can use it to pass a power cable inside.
There are also several storage pockets and organizers, see the pictures:
You also get two media pockets, see how this looks in the tent: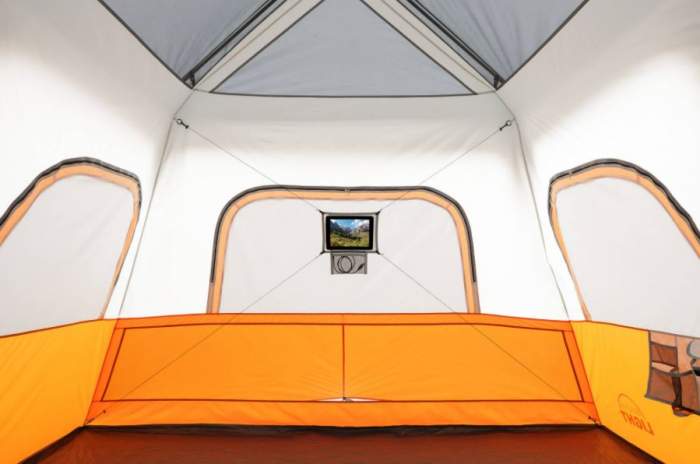 Materials
The mentioned pre-attached frame is a strong steel structure. It includes two 3-way and one 6-way hub elements on the roof, see how they look: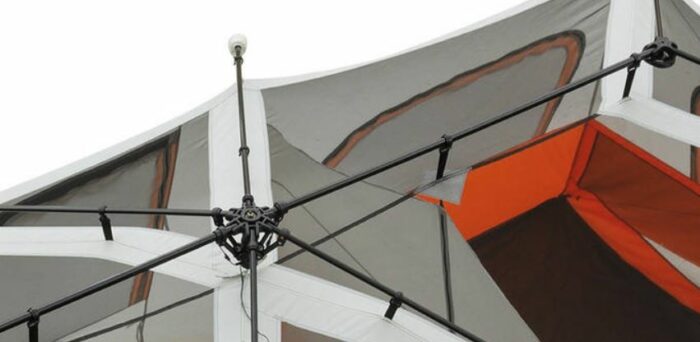 The two poles that are integrated in the door are made of fiberglass. I could not find information about the fabric and its waterproof rating. But the seams are factory taped. Most likely this is polyester that is commonly used in such tents. The floor appears to be polyethylene. It is a shame that the manufacturer did not provide any info.
---
Who is it for
Weight-wise, the tent is quite heavy, it weighs 47.87 lb (21.7 kg). But this is not necessarily a bad thing. You have a very strong frame here, and this is instant construction with lots of poles and overlapping segments that add to weight. The carry bag is expandable and with wheels, see how it looks.

Capacity-wise, it is officially for 12 people, and for this you have an area of 180 ft² (16.7 m²). This would give 15 ft² (1.39 m²) per person, and this is not much. So as usual it is best to downgrade the number of users by half.

Seasons-wise & climate-wise, I see this tent best suited for calm weather and summer camping, or for maximum 2 seasons. It is boxy and tall and I would avoid windy places.
Price-wise, this is an affordable tent and the price is really good for what it offers.
---
Specifications
Official capacity: 12 people.
Weight: 47.87 lb (21.7 kg).
Dimensions: 18 x 10 ft (549 x 305 cm).
Area: 180 ft² (16.7 m²).
Area per person: 15 ft² (1.39 m²).
Peak height: 80 in (203 cm).
Packed size (L x D) around 3.5 x 1 ft (107 x 30 cm).
Warranty: 6-month limited warranty.
---
Final thoughts, rating, pros & cons
So this Ozark Trail 18 x 10 Instant Cabin Tent with Integrated Led Light is really nicely built and it comes with quite a number of very useful features. It is great for families with kids, you have seen its media center. The instant construction makes it very easy to use, but bear in mind its weight.
Please see how I rate this tent against my usual rating criteria:
For more tents with similar frame please check under the group of Instant Tents here in the site. Let me know if you have questions or comments, there is a comment box below.
Subscribe to my weekly newsletter and stay informed, I add texts here regularly so this will keep you informed. Thank you for reading and have a nice day.