The PORTAL 8 Person Family Camping Tent with Screen Porch is a tunnel shaped and pleasant summer camping tent, very compact for transportation, and incredibly affordable.

---
Key features & benefits
Tunnel type tent.
2 Doors.
Screened porch.
E-cable port.
Plenty of wall pouches for storage.
Great price.
---
What this is about
Here you have a very typical tunnel-type tent, elongated and tall, supported with four loops. The peak height is 76 inches (193 cm), so for many users this will be a stand-up height in the central area along the tent's axis.
There are two separate areas in this tent. The inner is a long room with a bathtub floor, and in front of it you have a true floorless screen porch with a mesh.
This porch is an area that measures 8 x 6 feet (2.4 x 1.8 m). So you have around 48 ft² (4.4 m²) of area, large enough for two camping chairs and a side table.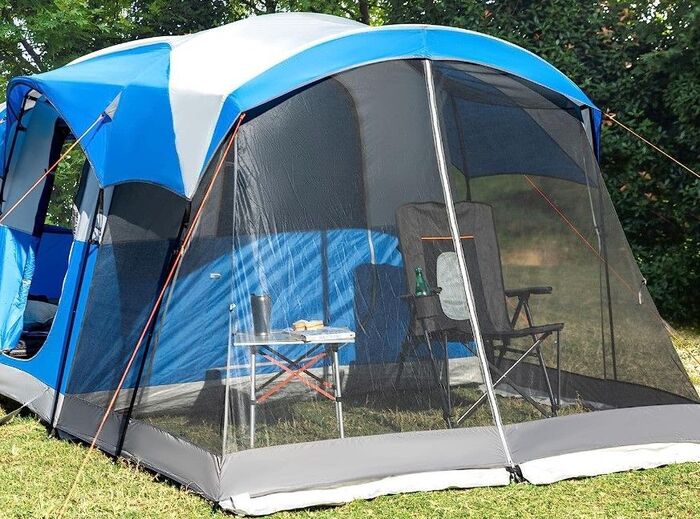 The porch is partly protected by the tent's fly, and this is the space where you can sit in the shade and enjoy views while being protected from flying insects. Because it is floorless, it is suitable for furniture and chairs.
Doors & windows
The tent has two external doors. One D-shaped is on the side, and it is partly protected with a small awning, so this is a dry entry.
The other door is on the screen porch where you have an inverted-T shaped zippered entry. When you are under the porch, you have one inner door that goes to the inner room.
Note that they write about hinged door, but this is clearly a mistake. This inner door is the usual D-shaped zippered door, and it is completely protected under the porch.
Both doors have a window on the upper part, with a mesh and a zippered panel. You also have one additional two-layer window on the rear narrow side. The long side opposite to the side door is without any opening.
Other details
There are plenty of mesh pouches on the walls, see some shown in the picture.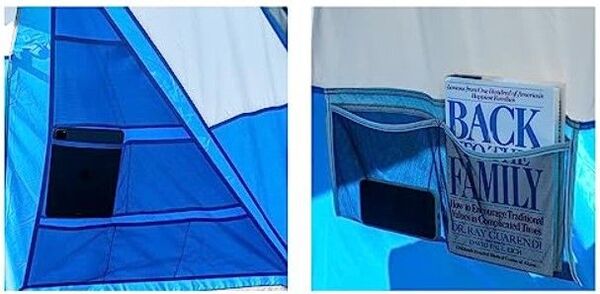 The tent has an integrated E-cable port.
You also have a mud mat in front of the door.
A lantern loop is on the ceiling.
Materials
All the elements in the package are shown in the picture: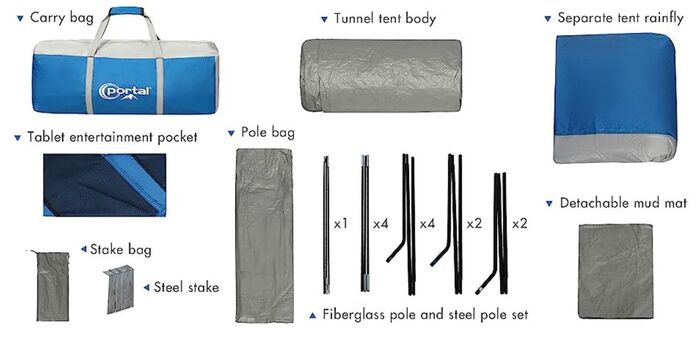 The poles: You have a combination of 8 steel leg poles 13 mm diameter, and four fiberglass 8.5 mm diameter poles used for the roof. There is also an eave fiberglass 6 mm diameter pole.
The legs attach with pin and ring system at the base of the tent. On the ceiling you have sleeves where you pass the fiberglass poles.
So this is a good combination of solid materials used for the tent's support. There is not much one could object here, this is well-done and typical for such tunnel-shaped camping tents.
The fabric: There is no information available about waterproof rating of the fabric. All they say is that this is a water-resistant 66D taffeta fabric with fully taped sealed seams. A bit disappointed here. The floor is a polyethylene material.
Ventilation
The ceiling of this tent is all mesh, so vapor can pass through it. The fly covers only the ceiling, and it is without vents because you do not need them. The brim pole above the door raises the fly so that vapor can escape easily. The same is on the front where vapor can escape through the porch under the fly.
But there are no floor vents here. You can keep open the inner door that leads to the screened porch, so this should be fine even when you have to keep the panels on windows closed.
---
Who is it for
Regarding the area, the tent is officially for 8 people. The picture below shows what they think how the floor can be used. So you have 112 ft² (10.4 m²) of the floored area, and this means 14 ft² (1.3 m²) per person. The dimensions are such that you can put 8 pads on the floor.

In principle it is best to downgrade the tent to maximum 6 people. But if you want more comfort, you can place two double-wide beds inside.
Regarding seasons & climate, I already mentioned poor information about waterproofness of this tent. On the other hand, the fly is a minimal coverage type, but the walls are of the same material.
The tent is tall, and with such a fly it is best to avoid windy places. I see it best suited for calm weather summer camping, or for two seasons maximum.
Regarding the weight, the tent is on the heavy side with its 25.8 lb (11.7 kg). But this is a car camping tent so this is not so important.
The packed size is more important, and the tent can be described as very compact. You can transport it even on a bicycle.
Regarding the price, the tent is incredibly affordable and a great value for the money.

---
Specifications
Weight: 25.8 lb (11.7 kg).
Official capacity: 8 people.
Dimensions: 20 x 8 ft (610 x 244 cm).
Inner area: 112 ft² (10.4 m²).
Inner area per person: 14 ft² (1.3 m²).
Porch area: 48 ft² (4.4 m²).
Peak height: 76 in (193 cm).
Packed size: 27.7 x 8.77 x 8.77 in (70 x 22 x 22 cm).
Warranty: 1 year.
---
Final thoughts, rating, pros & cons
In summary, this PORTAL 8 Person Family Camping Tent with Screen Porch is well built and functional. The screened large porch and its overall height make it very pleasant as well. This is why I have included it in my list of best tents with a screened porch. But it is best to ignore its official capacity, it is small for 8 people, the usual story.
Below you can see how this tent stands against my standard rating criteria that I apply consistently to all of them here in the site so that you can easily compare:
BEST PLACEs TO BUY:
For more tents of this shape please check in the category Tunnel Tents.
Let me know if you have questions, there is a comment box below. Bookmark this site and come again, this will keep you informed, as you realize I add texts here on a regular basis. Thank you for reading.