---
This Portal Outdoors Unisex's Gamma 5 Spacious Large Tunnel Tent is a 2-room structure with 2 doors and 4 windows, and a huge waterproof rating for full protection against elements.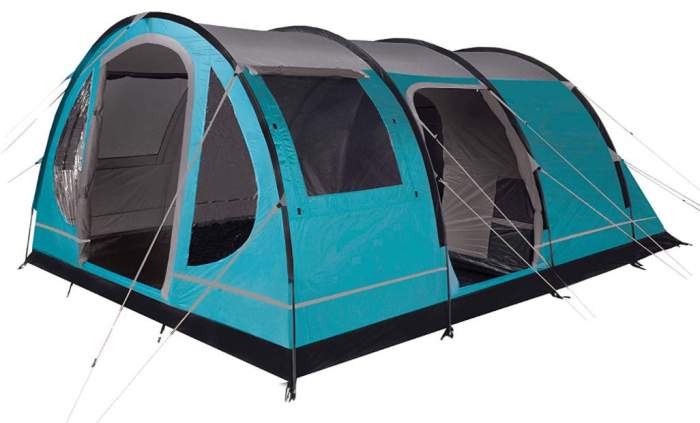 ---
Key features & benefits
Tunnel tent.
Huge area.
2 Rooms.
Huge waterproof rating.
2 Doors.
4 Windows.
Fiberglass poles.
---
What this Portal Outdoors Gamma 5 Tent is about
Here you have a very typical tunnel-shape tent supported with 4 loops. As usual, the awkward word Unisex's in the name remains a mystery for me. This is used on Amazon's stores, and on the manufacturer's site the tent is under the name Portal Outdoors Gamma 5 Tent.
The tent is not freestanding as usual with tunnel tents of this type, so you have to find a place where you can use stakes and fix the tent to the ground. The picture below shows its main dimensions and the floor plan.
The dark area on the right is the inner tent within the shell, the picture below shows how it looks. This inner tent is the sleeping area, it attaches to the shell and it is removable. So the tent is a 2-room structure, and it is a hybrid single/double-wall structure where the large living room is under the single-wall shell.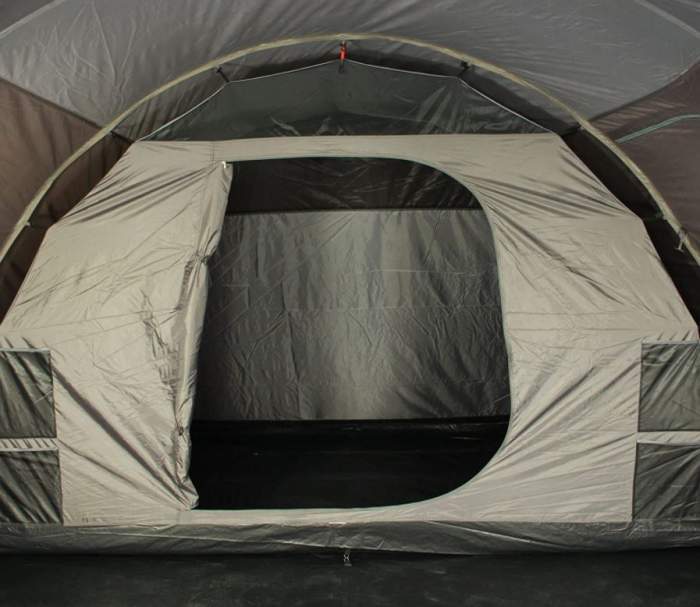 You realize also that this is a very tall construction with a stand-up height in the bigger part of the tent. There are two doors here, both visible in the pictures, and note that there is no mesh on them, pity.
But you have mesh on the two side windows that also have panels for privacy and protection. There are also two solid windows on the front and they are equipped with inner shatters for privacy, see the picture.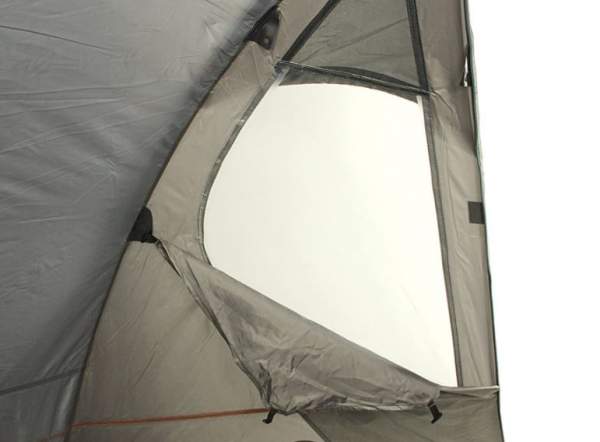 Ventilation
As long as the sky is clear you can keep those side windows with mesh only. They have added a rear roof vent, the picture below, so you will have enough crossflow. The inner tent is separated from the shell for air circulation. But if it is raining, you have to keep the windows and the doors closed, and one vent may not be enough, this in particular in the case of a warm and humid environment.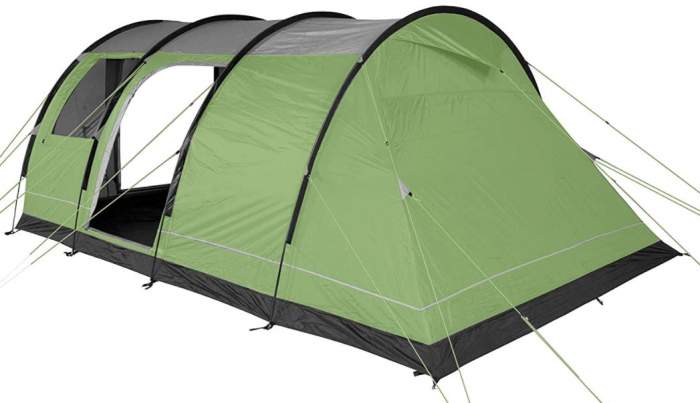 ---
Materials
I already mentioned that poles are fiberglass, and you should know that although this material is nowadays commonly used, it is not very durable stuff and it needs careful handling. If they get damaged, you might find something suitable for a replacement here.
The shell fabric is a 100% polyester with a PU coating that gives it officially an impressive 4000 mm waterproof rating, and all seams are taped. The inner tent is a breathable polyester. Note that they build this tent in three different colors and I have shown them on purpose in the pictures around.
The inner tent has its own sewn-in and sealed floor, and you have also the shell tent's bathtub floor that is fully sewn-in and sealed. So there are two floors one upon another in the sleeping area. They do not provide information about its waterproof rating but this is a highly waterproof polyethylene.

---
Who is it for
Regarding the area, the official capacity is 5 people, and for this you have 145.2 ft² (13.5 m²) of the fully protected space. The sleeping room can accommodate 5 people, and you can use it also with beds so two large double-size beds will fit in easily.
Note that the living room is even larger than the sleeping room, so here you can have several people more. I am pretty sure up to 10 people in total can sleep in this tent. Now you realize why they use the words Spacious Large in the name.
Regarding seasons & climate, as mentioned above, the tent is moderately ventilated and I see it better suited for a cooler environment than for a warm and humid climate. On the other hand, its waterproof rating is impressive so you will be protected from the rain.
Regarding the weight, the tent is heavy with its 32 lb (14.5 kg). Note also that its packed size is 14.57 x 10.63 x 10.63 inches (73 x 27 x 27 cm), see the carry bag below. So this is a tent for places with car access.
---
Specification
Official capacity: 5 people.
Weight: 32 lb (14.5 kg).
Dimensions: 14.76 x 9.84 ft (450 x 300 cm).
Area: 145.2 ft² (13.5 m²).
Area per person: 29 ft² (2.7 m²).
Peak height: 78.74 in (200 cm).
Packed size: 14.57 x 10.63 x 10.63 in (73 x 27 x 27 cm).
---
Final thoughts
In the summary of this Portal Outdoors Gamma 5 Tent review, I would say that the size is its best feature. If necessary this tent can accommodate 9-10 people in spite of its officially declared capacity. Its waterproof rating is impressive, but I dislike the fact that it has no mesh on the doors.
My overall rating of this tent is very high because I use the same criteria for all the tents and I apply the consistently for easy comparison:
Portal Outdoors Unisex's Gamma 5 Spacious Large Tunnel Tent
For more tents of this shape it is best to check in the category Tunnel Tents, you will find them many. You might want to bookmark this site and visit occasionally, this will keep you informed because I add texts here on a regular basis. Thank you for reading and have a nice day.