This Skandika Gotland Six Man Family Tent is a huge and tall 3-room structure with 262 ft² (24.3 m²) of a fully protected space and with an impressive waterproof rating.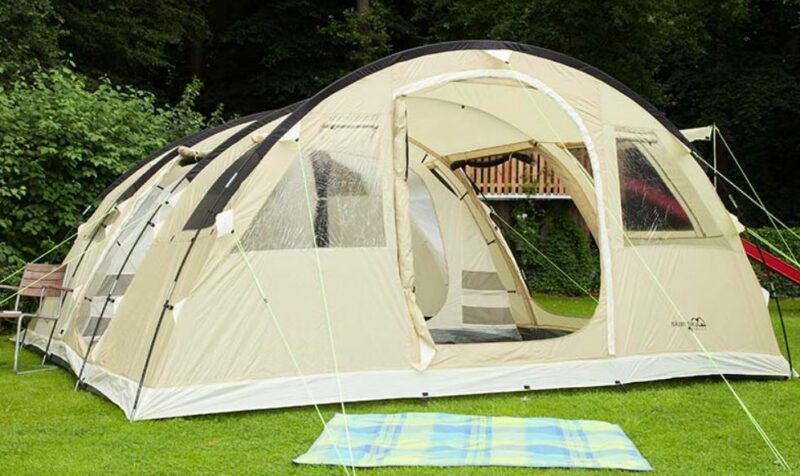 ---
Key features & benefits
Extremely large tent.
Tunnel-type.
3 Rooms.
Huge waterproof rating.
Fiberglass poles.
Awning.
---
What this is about
This Skandika Gotland 6 tent has been on the EU market for many years already. This is a huge tunnel-shaped structure with 3 rooms. The space is organized into an inner tent with two sleeping units of the same size, plus a large living room, see the floor plan below.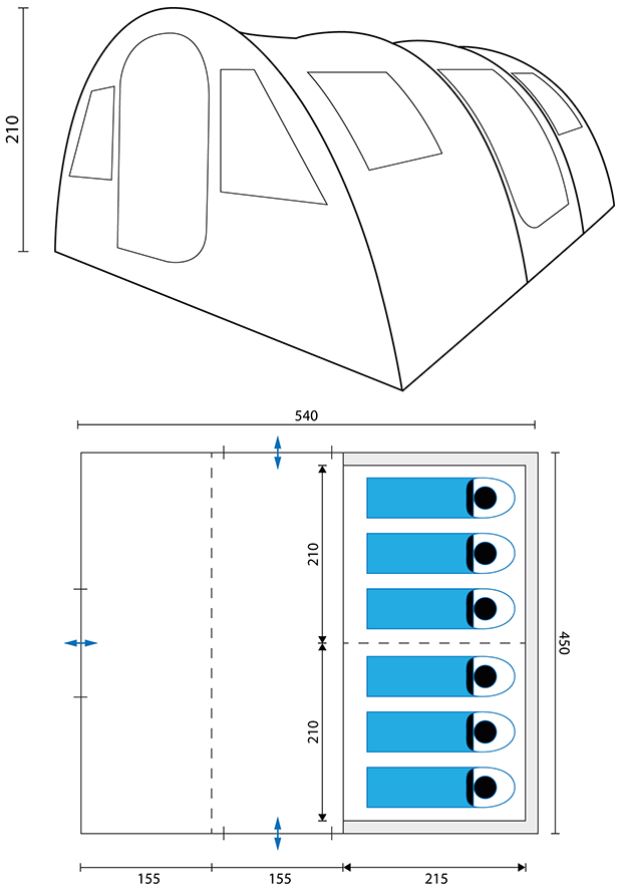 The tent is a hybrid single-double layer type with the sleeping area being the double-layer part and the living room under the shell. The whole space is fully sealed, so the shell tent has its sewn-in and sealed floor and the inner tent has yet another separate sealed floor, so you have two floor layers there.
The mention inner tent is with a removable divider so you can use it as one large sleeping room. You can also remove the inner tent completely and have one gigantic room under the shell, this can be a nice option for some family events in the garden, see the dimensions above.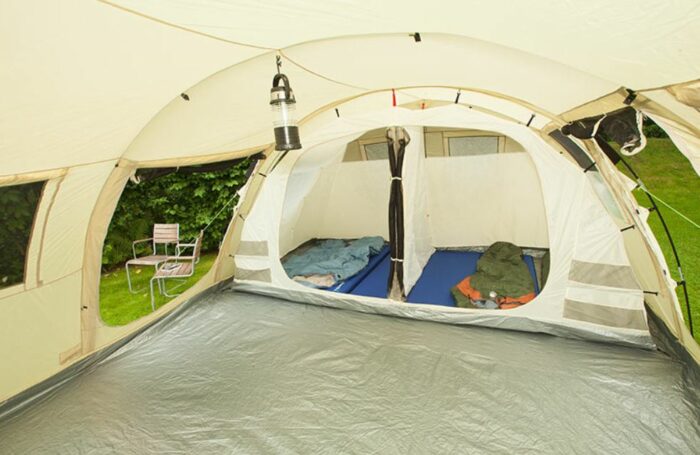 The tent is very tall, you have a stand-up height in the bigger part of it, with 82.68 inches (210 cm) height along its main axes. There are three large doors, and all of them are a double-layer type with mesh against insects and panels for rain protection and privacy. Note that it comes with a pair of extra poles for an awning shown in the picture: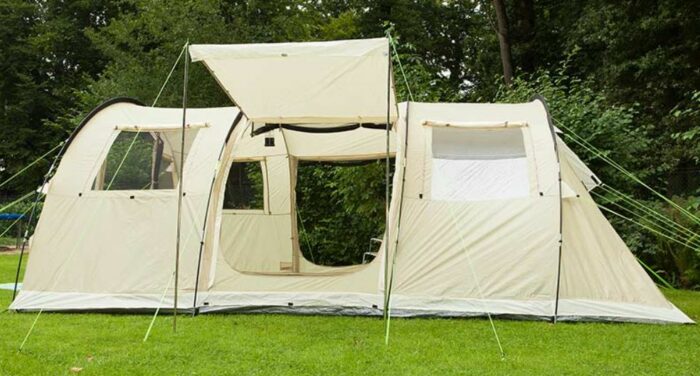 Windows are also everywhere around and they are with mesh with panels, some from outside and some from inside, see the pictures:
Ventilation
You have already seen about its full-size mesh on all 3 doors, and you have it also on windows. They have added two vents on the back, you can see them in the picture below.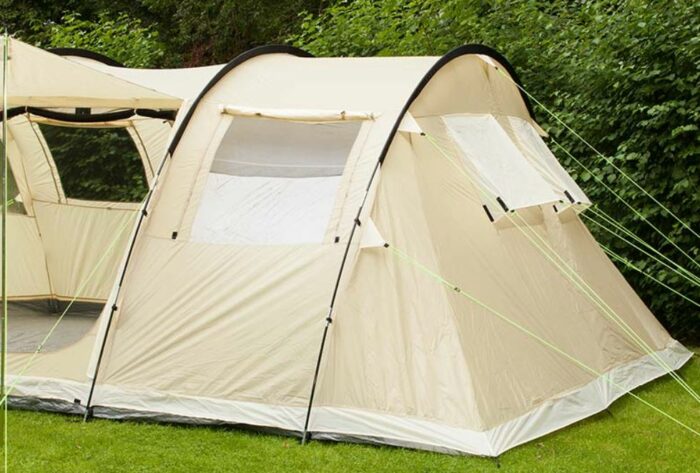 I miss floor vents here, they are necessary when you have to keep all the doors and windows closed. Pity they did not include them here.
Materials
The poles: The tent is supported by 4 long loops and this is shock-corded fiberglass 12.7 mm in diameter. This material is commonly used in many tents but it is not particularly durable and needs careful handling. The two awning poles are steel 16 mm in diameter.
Note that the loops poles are added from outside, you have long sleeves on the roof and clips on the sides. This allows for a dry setup, even if you have to pitch the tent when it is raining, the inner will remain protected.
The fabric: The shell is a 100% polyester, 185T, PU coated, and with an impressive 5000 mm waterproof rating. All seams are sealed. The inner tent is built from the same but non-coated material. The mesh on the entrances will protect you from mosquitoes. The mentioned sewn-in groundsheet is 100% polyethylene (PE), 125 g/m², and its waterproof rating is 10000 mm.
Other features
Hook for lantern with cable fastening.
Organizer-pockets, you can see them on the inner tent next to the inner doors.
A repair kit is included.
The tent is built from recycled materials.
Designed in Germany.
Please see more in this short video:
---
Who is it for
Regarding the capacity, the tent is officially for 6 people but for this you have a fully protected area of 262 ft² (24.3 m²). This means 43.6 ft² (4 m²) per person, and you will not find many tents on the market that can match this. This tent can easily accommodate 12 people, this is more than obvious from the floor plan below.
Regarding seasons & climate, this tent is originally built for the EU market so it is suitable for a cooler climate with lots of rain. This is why such tents are so big, manufacturers expect you would have to spend some time inside when it is raining. The waterproof rating is huge but again, this is typical for the tents built for the EU users. The tent is tall and large in general, and I would rather avoid very windy places with it. But you have plenty of guylines and tensioners around with stakes as well to secure it properly.
Regarding the weight, the tent weighs 47.8 lb (21.7 kg) so this is a lot but you have seen its size. The packed size is far from bad when you realize how big this tent is, it packed down to 31.5 x 16.5 x 9.1 inches (80 x 42 x 23 cm).
Regarding the price, it looks steep, but this is around $26 per square meter, from this perspective it looks like a bargain. See again its floor area.

---
Specifications
Official capacity: 6 people.
Weight: 47.8 lb (21.7 kg)
Dimensions: 17.72 x 14.76 ft (540 x 450 cm).
Area: 262 ft² (24.3 m²).
Area per person: 43.6 ft² (4 m²).
Peak height: 82.68 in (210 cm).
Packed size: 31.5 x 16.5 x 9.1 in (80 x 42 x 23 cm).
Poles: fiberglass & steel.
---
Final thoughts, rating, pros & cons
To summarize this Skandika Gotland Six Man Family Tent review, here you have an impressive tent with multiple rooms, it has been on the market for so many years already so you know what you are buying. It is included in my list of best tunnel tents and extra large tents. So if you need lots of space in your camping tent, look no further, this is it. If it is too big for you, note that they have a 5-person version as well.
I have a set of rating criteria and apply them consistently to all the tents here in the site. This makes it easy for you to compare, so have a look:
If you want a tent with the same tunnel shape but far more compact, check this Robens Green Castle 6 Person Tent. You might want to check also this KingCamp Tent 6 Person 2-in-1 Outdoor Camping Tent that has 3 rooms as well.
If you still need more rooms, check their another Skandika UV Protection Montana Unisex Outdoor Tunnel Tent that has 5 in total.
Thank you for reading. Let me know if you have questions or comments, there is a comment box below. Have a nice day.