Slumberjack Overland 8 Person Tent is a 2-room 3-season tunnel type non-freestanding tent with a single-layer design, a pleasant structure with many large windows.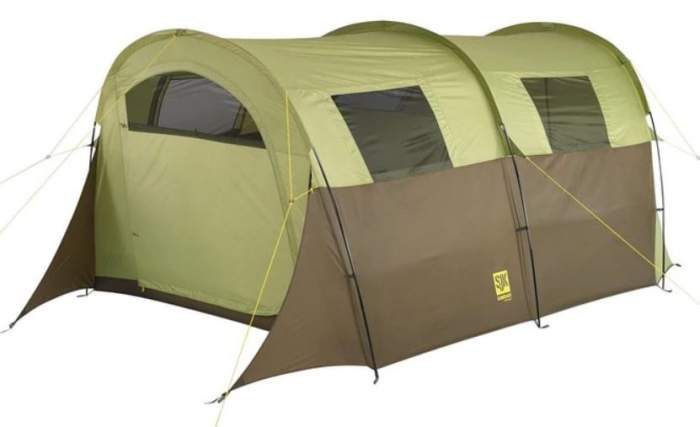 ---
Key features
Tunnel type tent.
Two rooms.
One entry door.
Single-layer design.
Reasonable price.
Non-freestanding.
---
Where to buy
Check on Amazon, they currently have 15 stores on 5 continents, with the best shipping conditions and very competitive prices.
You will find it also at Walmart.
---
What this is about
This Overland 8 is the smaller of the two large tunnel-shaped tents of this brand which is better known for their dome tents. As usual with such tunnel tents, you have plenty of headroom, the tent is 75 inches (191 cm) tall along its main axes.
The structure is not freestanding, but the setup is not complicated. You have long sleeves for poles and a couple of clips closer to the ground. Check this Ozark Trail 8-Person Tent if you would rather have a freestanding tunnel tent.
There is a divider with the door, so the tent is a true 2-room structure with the front section that may be used as a living area and the back room for sleeping.
Observe also that the complete structure is a single-layer design so the shell doubles as the fly as well. There are many tents of this type on the market, so do not be worried about this. I have seen people asking about that.
But such a design has both good and bad sides. The good is that the setup is easier when you have one layer only. If you have ever pitched a tent when it is raining, you will know. The inner area is protected in the process of raising the tent, which is not so when you have the inner tent which requires a fly above. But single-layer tents are less good with respect to ventilation, so it is important to keep vents open whenever possible.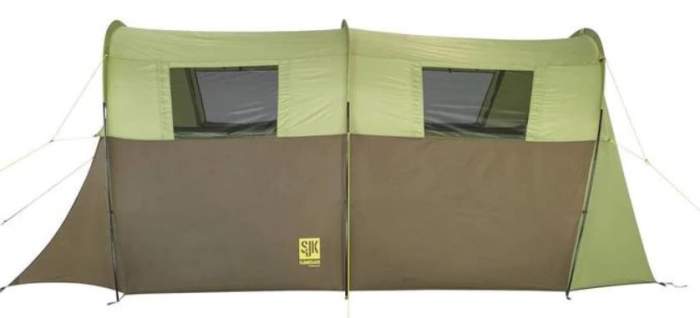 The doors & windows
There are no less than 5 windows here, 4 separate visible in the picture above, plus one on the front door. Those are double-layer constructions, with mesh and panels for protection and privacy. They are with zippers so you can open them as much as you want, there is nothing one could object to this design.
The tent is with a single entry door shown below, pity they did not add yet another on the opposite side. There is one inner door as well, practically the same design as the external door. Those are very tall stand-up structures so getting in and out is really easy.
The fabric
The shell material is 66D polyester so this is quite typical for such tents. The waterproof rating is 1200 mm, not so much but you normally do not need more. The same 68D polyester is on the floor and this is not so impressive, but the waterproof rating here is a bit higher 1500 mm. All seams are fully taped.
Note that they have a footprint specifically made for this tent and you can order it separately.
Ventilation
The tent is with a high-low venting system on the back (see the picture above) so this should work properly in combination with the mesh on windows. But when it is raining, all the panels on the windows must be closed, and this is when you might experience lots of condensation on the inner surface.
So I miss floor vents on the front section, or a full mesh on the entry door combined with an awning. The door is with the window only on the top and you have mesh here, but this must be closed if it is raining.
Other features
There are two X-large interior mesh pockets for small items.
The poles are a hybrid steel & aluminum combination.
There are 9 reflective guylines with tension adjusters.
Included in the package are 20 steel stakes.
Large duffel style carry bag is included, see the picture.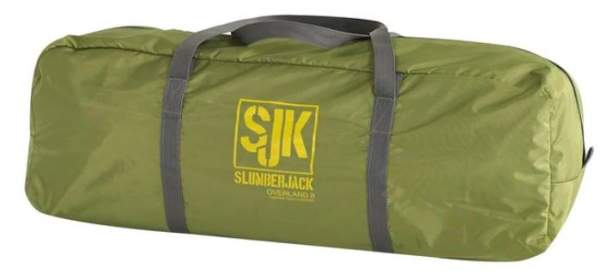 ---
Who is it for
Space-wise, the declared capacity is 8 people, but the tent offers only 108.5 ft² (10 m²). This means 13.6 ft² (1.25 m²) per person which is clearly far too small. See what they suggest for using this tent by 8 people: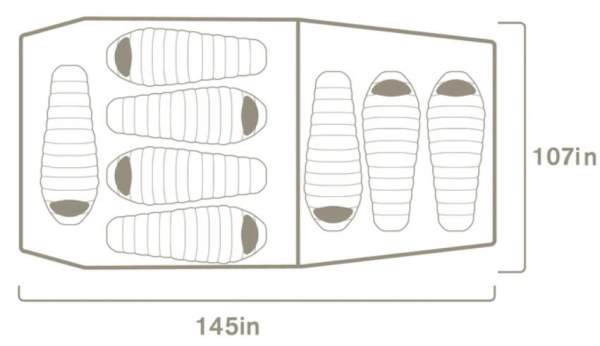 Since you do not have any storage area, realistically this is a tent for 4 people, good enough for parents with two kids. The front room can be used for the gear and as a living area and the back room as the sleeping zone.
Weight-wise, with its 19 lb (8.6 kg) of weight, this is not a tent for the trail. So use it at places with a motorized access. The packed size is such that you can transport it on a motorbike as well.
Seasons-wise and climate-wise, this is a 3-season tent but best suited for an environment where you can keep the mesh areas open. If you have to keep them close for many hours because of the rain, condensation may be a real issue.
There are many guylines and stakes to secure the tent properly, and being a single-layer it is supposed to behave well in the wind. But this is a large and tall structure so better avoid very windy conditions.

Here is a short video by the brand where both of their large tents are presented, have a look:
---
Specifications
Type: tunnel tent.
Declared capacity: 8 people.
Packed weight: 19 lb (8.6 kg).
Minimum weight: 17 lb 5 oz (7.8 kg).
Dimensions: 145 x 107 in (368 x 272 cm).
Floor area: 108.5 ft² (10 m²).
Area per person: 13.6 ft² (1.25 m²).
Peak height: 75 in (191 cm).
Packed size: 26.5 x 9 in (67 x 23 cm).
---
Final thoughts, rating, pros & cons
In the summary of this Slumberjack Overland 8 Person Tent review, I would stress its best features first, and those are livability and lots of headroom. But it is best to simply ignore the declared capacity, it makes no sense here at all. All in all, this tent is a great value for the money.
Please see how I rate it for several parameters which I normally use for all tents here in the site, so you can easily make a comparison:
Slumberjack Adult Overland 8 Tent
$269.99
I have already shown a few alternatives, but if you need more just search in various categories here in the site, you have all possible shapes and types presented in detail. Perhaps you would rather have a dome style tent? In this case, check the Ozark Trail 8-Person Dome Tent.
Please note that this is not a sponsored text and I am not paid by anybody. There is a comment box below to use in the case of questions or comments. Have a nice day.

---