---
This Ozark Trail 8-Person Dome Tunnel Tent With Full Fly is a freestanding 2-room structure with 2 doors and with a price tag that is hard to match. So keep reading.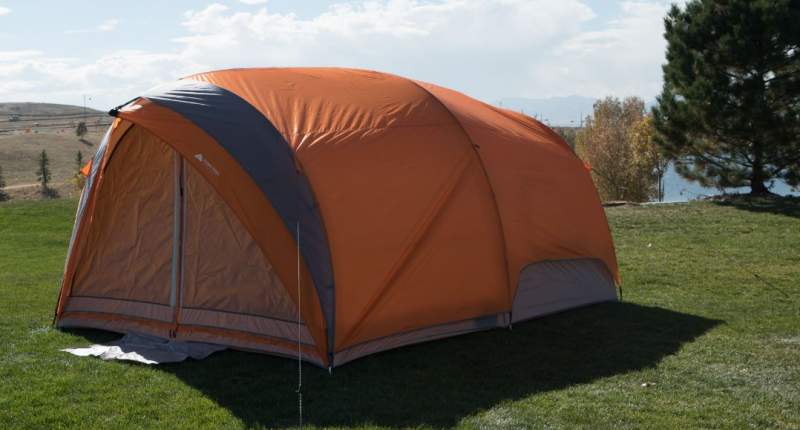 ---
Key features & benefits
Tunnel tent.
Freestanding.
2 Rooms.
2 Doors.
E-cable port.
Screen room configuration.
Incredible price.
---
Where to buy
---
Is it really a dome tent?
In fact, it isn't. I am using the name as it is suggested by the manufacturer. But I wonder what they were thinking when they coined such a name. The picture below shows you that this is just a tunnel tent, but there is one addition – it is freestanding. I  have included it in my list of best tunnel camping tents.
Such a freestanding feature is not so frequent with tunnel tents but there are several of them with such a design here in the site. You can see it also in their Ozark Trail 16′ x 9′ tent which is indeed partly a dome tent. The same design is also in this Exped Ursa VI Tent which is also a pure tunnel tent.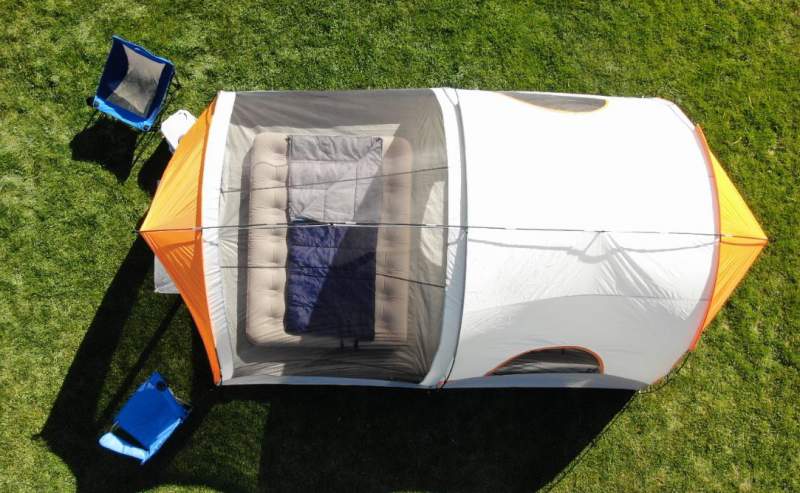 As you see, there are three poles that create loops typical for tunnel tents. But there is also a ridge pole which crosses the loops and it attaches to the tent at the two ends. This is the trick that makes the tent self-supporting and freestanding. But if you are a tall person, you should be careful when you are entering the tent, this pole can end up in your eye.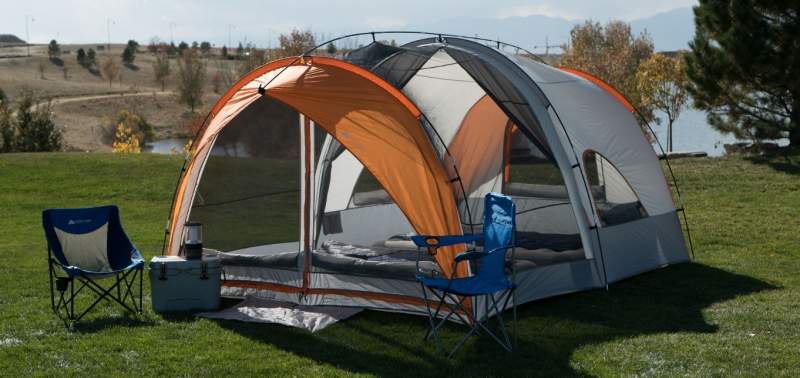 This is also a 2-room structure with a divider in the middle of the tent. Note that it is sewn-in and you have a central zipper. The picture below shows it with the closed and open divider: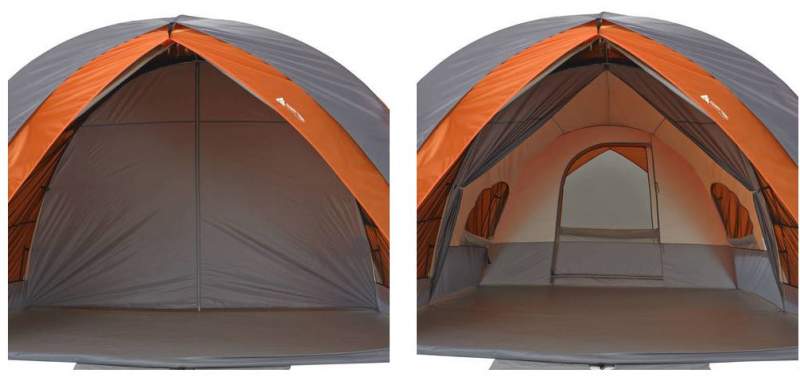 There are two doors, one on each of the two ends. The main door is an inverted-T zippered structure while the back door is visible in the picture above.
They write about 5 windows. But the reality is you have only three, and those are the windows on the doors. The two side windows are under the fly (see the pictures above) and their main purpose is to provide some extra airflow.
They describe it as a full-fly tent, but this is not really so. The front and the back are without vestibules and the fly protects the doors only partly. The picture below clearly shows the front, the same is on the back. But the fly indeed covers the biggest part of the tent and you have a great protection here.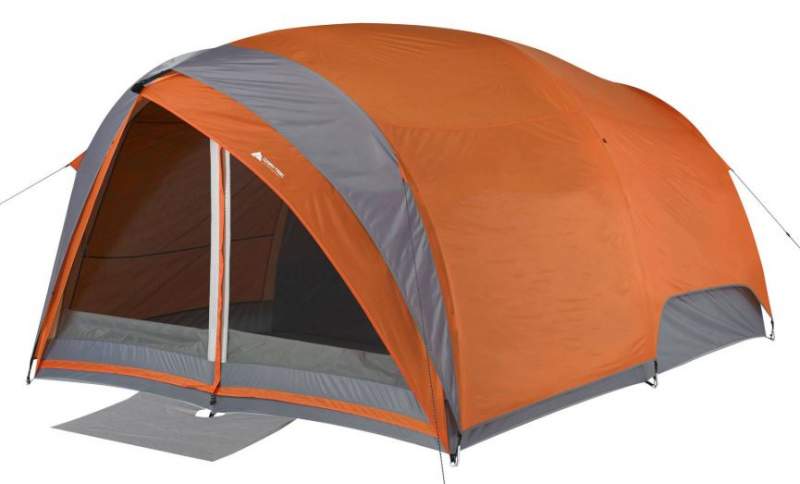 Screen room configuration
This is a bonus which you have here, you can roll up the fly from the front room and have it as a screen room, see the picture below. Note that the tent is with a fully sewn-in floor in both rooms.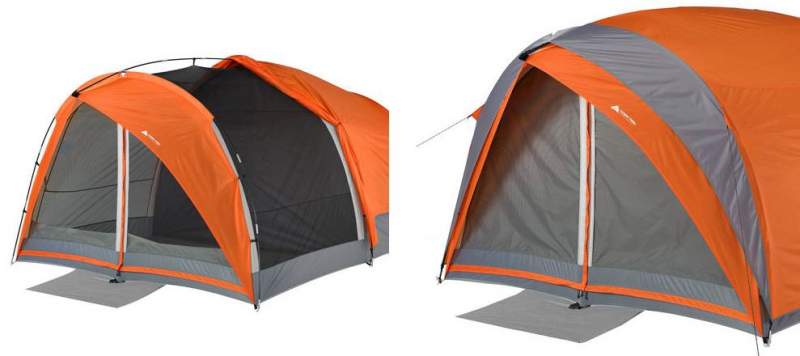 Note that the peak height here is 76 inches (193 cm), and the doors are lower. As for the setup, one person can do this but it is far easier with a partner. Plan some 5-20 minutes for the job.
---
Who is it for
Regarding the size: The declared capacity is 8 people and the tent offers an area of 117 ft² (10.8 m²). This would mean 14.6 ft² (1.35 m²) per person, so this is not much. The picture below shows what they suggest to do with 8 people inside: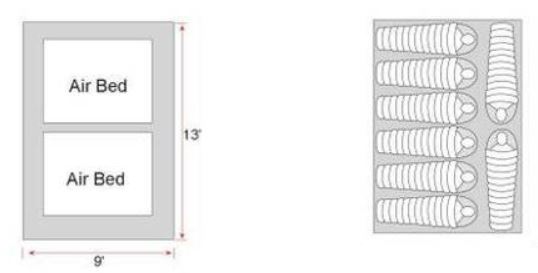 The alternative with two double beds is totally realistic, so this can be used by two couples; there are doors on both sides.
Regarding seasons & climate: This is a true 3-season tent and here is why. If you have a look above, you will realize that the back room is without mesh on the ceiling. It has two side windows with mesh and zippered panels, and the rear door is with the same structure. The inner divider is a taffeta, the front door is also a two-layer type.
From all this, you realize that the tent can be completely enclosed when it is used in a cooler environment, but this holds for its back room only. In a warmer climate, you can always keep those side windows with mesh only, and the windows on the doors are partly protected so you can keep them with mesh in the upper sections to create enough airflow.
But note that there are only a few guylines here so I would not use this tent in a very windy environment.

Regarding the weight & packed size: The tent weighs 23.9 lb (10.8 kg) and its packed size is 26.5 x 10.5 x 10.5 inches (67 x 27 x 27 cm), see the carry bag below. So this is a tent for places with a motorized access.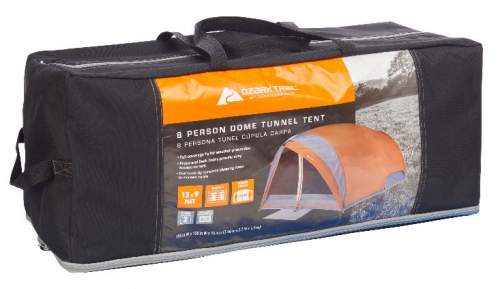 ---
Materials
The poles & stakes
You have 4 poles and this is fiberglass, not particularly durable material but it is commonly used in many budget tents. They attach to the inner tent through sleeves and clips. At the base of the tent you have the pin-an-ring system, see the picture farther below. There are 13 simple steel hooks to stake the tent, see all the elements: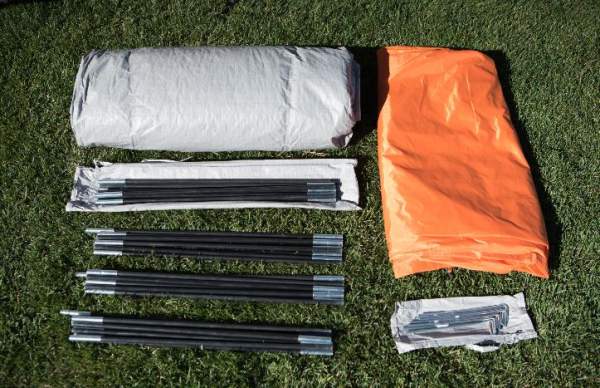 The fabric
They do not provide information about the fly fabric, most likely this is a polyester but there is no indication about its waterproof rating. But the seams are taped. The floor is a thick polyethylene, so this is surely fully waterproof plastic.
Other features
E-Port for convenient electrical cord access, see the picture below.
Two loops on the ceiling to hang lanterns.
Several hanging organizers and pockets for storage of small items.
An attached mud mat.
4 Guy ropes for stability.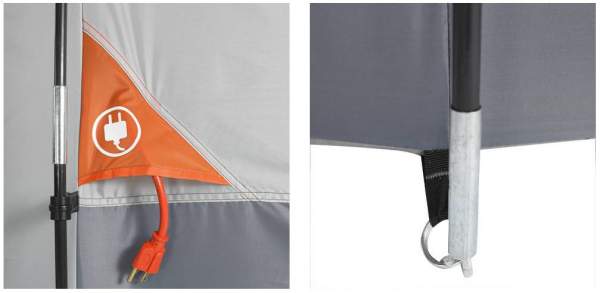 ---
Specifications
Declared capacity: 8 people.
Weight: 23.9 lb (10.8 kg).
Dimensions: 13 x 9 ft (396 x 274 cm).
Area: 117 ft² (10.8 m²).
Area per person: 14.6 ft² (1.35 m²).
Height: 76 in (193 cm).
Carry bag measures: 26.5 x 10.5 x 10.5 in (67 x 27 x 27 cm).
1-Year limited warranty.
---
Ozark Trail 8-Person Tent vs Tomount Keep 8 vs Slumberjack Overland 8 tents
Here is this tent side by side with two other tunnel tents so you can better understand its features. Note that the Tomount 8 tent is also freestanding, but this is not so with the Slumberjack Overland 8 tent. Please follow the links for more details.
Ozark Trail 8
Dome Tunnel
---
Final thoughts, my rating, pros & cons
So this Ozark Trail 8-Person Dome Tunnel Tent is indeed nicely built and with surprisingly great features for such a price. The back room can be fully enclosed and you can indeed use it in a cooler environment. If you do not want to spend much and still want to have a very large tent for occasional outdoor adventures, this is the one to consider. Just disregard the declared capacity, as usual.
Please see how I rate this tent against my standard set of criteria which I use consistently for all the tents here in the site, so you can easily compare:
You might want also to check this Coleman Cimmaron 8-Person Modified Dome Tent with its unique design of a different type.
Note that this is not a sponsored text, and I am not paid by the brand. I love to hear from you so please use the comment box below. Have a nice day.