---
Slumberjack Roughhouse 6 Person Tent is with steel and fiberglass poles and a full coverage fly, a freestanding low-profile storm-resistant and sturdy construction for warm weather camping.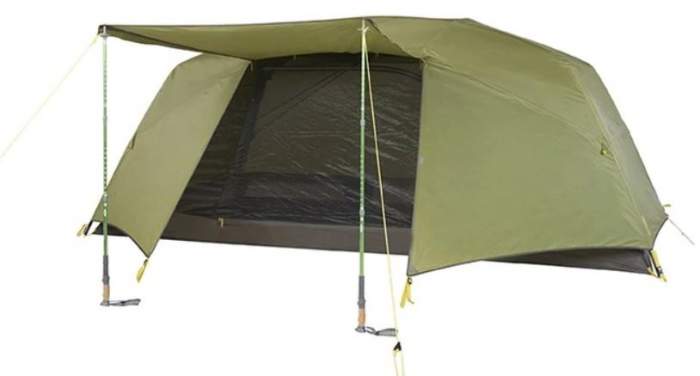 ---
Key features
Steel & fiberglass poles.
Easy setup.
Reasonable price.
Full coverage fly.
Awning setup.
---
Where to buy
Check on Amazon, they usually have very good prices and the best shipping conditions. In fact, if you compare the prices on Amazon and on the site of the manufacturer, you will realize that it is much cheaper on Amazon.
You can find it also at Walmart.
---
What this is about
The Roughhouse is a new series by Slumberjack, currently they offer tents for 4 people and for 6 people. I see it as a hybrid between a dome and cabin tent with straightened walls, an elongated structure, and with a full-coverage fly. I have added it to my list of full fly tents. It is a bit similar to their Daybreak 6 tent but the structure here is longer and walls are straightened and steep.
The tent is self-supporting and freestanding as soon as you put the ends of the poles in the corners' grommets and attach the inner tent to the poles. Even after you add the fly it is still freestanding because of efficient buckles system in the corners, but there is a vestibule on the front and this must be staked down if you want to use it for storage.
---
Who is it for
Capacity-wise, the declared capacity is 6 people, and the tent offers 94.2 ft² (8.7 m²) of the inner floor area and 29.4 ft² (2.7 m²) under the vestibule. So the inner area per person is 15.7 ft² (1.45 m²). For camping, this is far from enough but indeed 6 people can easily put 6 pads on the floor side by side, see the dimensions below.
Realistically this is for 3 people maximum or for parents with a kid. With such straightened walls, you can put three cots inside and have plenty of space around and also under the cots to store the gear.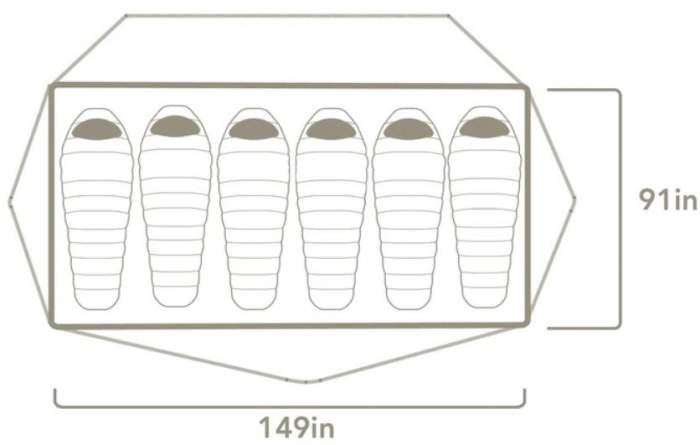 Weight-wise, with a weight of 22.06 lb (10 kg) this is a tent for places with a motorized access. But the weight is not a bad thing here, you have steel side poles so the structure is strong, and the fly is massive for a complete protection.
Seasons-wise & climate-wise, the inner tent is all mesh, so this is a tent for warm weather camping. The fly goes all the way to the ground and it will protect you no matter what the weather situation is. Note also that the tent is rather low but very stable and aerodynamic, the peak height is only 61 inches (155 cm), so it will perform very good in the case of side winds.
The waterproof rating is 1200 mm, so for the fly this is quite enough for most situations but it would be good to have more on the floor. You can add a footprint, they have it built specifically for this tent.
---
The materials & construction
The poles
There are 2 main long poles and two short brow poles, and this is a steel-fiberglass combination. The long poles have steel leg sections that are straight and this is why the tent looks almost like a cabin tent, see the picture below. They continue with fiberglass sections on the roof. The short poles are fiberglass, and their role is to pull the walls up and to add volume.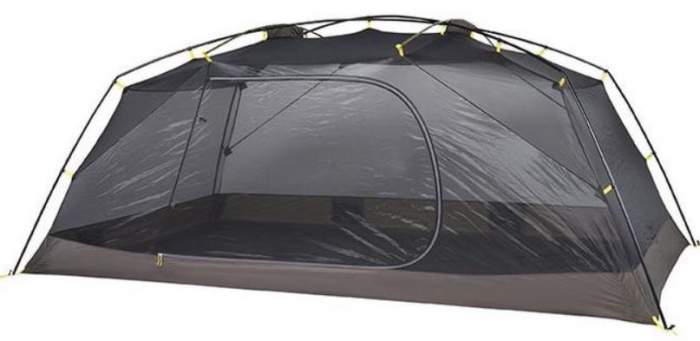 The fabric
The inner tent is a 40D polyester No-See-Um mesh and the floor is 66D polyester with 1200 mm waterproof rating. The full fly is of the same material so you have 66D polyester and 1200 mm coating. There are no vents on the fly, pity.
You have a large inner D-shaped door visible in the picture above, and the external vestibule door with two long parallel zippers. So the vestibule can be rolled up for an easy access when the weather is fine, see the picture, it shows that the tent is quite low but also very wide. But you can also make an awning configuration with the help of a pair of trekking poles and this adds a lot to the comfort of this tent.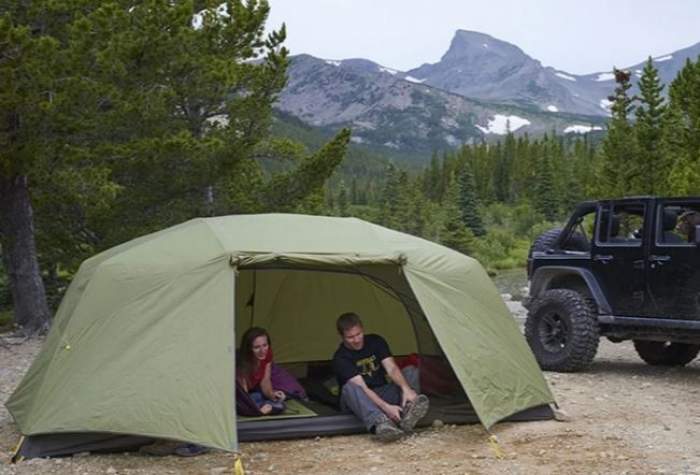 Only one door may not look enough but it is very large as you realize from the picture, and it is on the wider side of the tent so all the occupants have an easy access when they sleep oriented along the shorter axes of the tent. But if it is used by three people as I suggested above, such a door is more than enough.
Other features
There are six interior mesh pockets for small items.
All seams are fully taped.
13 Steel stakes & reflective guylines with tension adjusters are in the package.
The carry bag is a duffel style.
A footprint can be ordered separately.
Please see more in this video:
---
Good and less good features
Here is my short summary:

Very easy setup.
Full protection.
Reasonable price.
Huge vestibule.
Aerodynamic and stable.

Small inner area for the declared capacity.
Fiberglass roof poles.
No vents on the fly.
The price & rating
The Amazon price for this tent as of the moment of writing the text is around $236, as compared to $260 on the Slumberjack' site. Please see how I rate this tent for several parameters:
My rating of the Slumberjack Roughhouse 6 Person Tent:
Area per person -

8/10

Area/Weight ratio -

7.9/10

Packed size/Area ratio -

7.6/10

Reliability & protection -

9/10

Ease of use -

9.2/10

Comfort & features -

8.5/10

Price -

9/10
---
Specifications
Type: freestanding dome tent.
Capacity: 6 people.
Packed weight: 22 lb 1 oz (22.06 lb; 10 kg).
Minimum weight: 19 lb 3 oz (8.7 kg).
Dimensions: 149 x 91 in (378 x 231 cm).
Floor area: 94.2 ft² (8.7 m²).
Floor area per person: 15.7 ft² (1.45 m²).
Vestibule area: 29.4 ft² (2.7 m²).
Total covered area: 123.6 ft² (11.4 m²).
Peak height: 61 in (155 cm).
Doors: 1.
Vestibules: 1.
Poles: 4.
---
Slumberjack Roughhouse 6 Person Tent vs Competitors
Here I show how this Roughhouse tent stands when compared with some other 6 person tents with full flies, this might help in making an informed choice. It is heavier because of its steel poles, but it is lower and its vestibule is far smaller than what you get in the other two tents. But there are differences in the prices so please follow the links for more.
Vestibules area, sq ft (sq m)
---
Final thoughts
In the summary of this Slumberjack Roughhouse 6 Person Tent review, I would say that the best features of this tent are its low profile and stability. It can accommodate the declared number of users but better reduce the number by half. The construction is simple and the tent is very easy to use. If you are a hunter, you will like the color of this tent, it really fits well into the surrounding. Pity they did not use aluminum poles for the roof, this would make it lighter and more reliable.
If you need more options from the same size range, please check in the category Tents for 5 & 6 people, many of them are described in detail in the site. Check their Daybreak tent 6 which is a dome and much taller, and also this NTK Omaha GT 6 Person Tent with a full fly and awning configuration. Need something of the tunnel-type? Then check this Vango Skye 500 5 Person Tent with an impressive waterproof rating.
Note that this is not a sponsored text, I am not related to the manufacturer in any sense. Thank you for reading, please use the comment box below in the case of comments and questions. Have a nice day.

---