---
NTK Omaha GT 6 Person Tent is a dome structure with almost straight walls and with lots of elbow space, with 2 large doors and 2 vestibules, and a great price tag.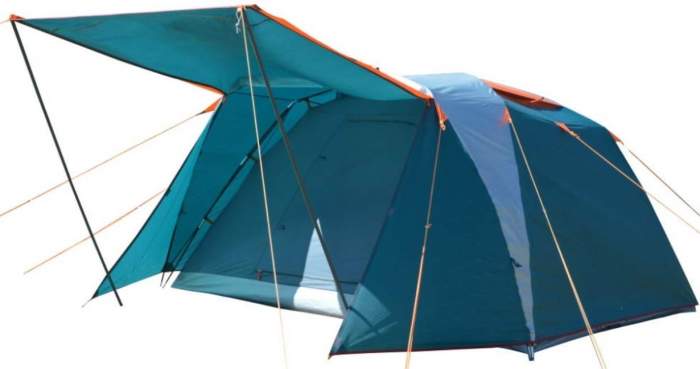 ---
Key features
2 huge doors.
Steep walls.
Full coverage fly.
Awning configuration.
Fiberglass & steel poles.
Very good price.
---
Where to buy
Check on Amazon, they currently have 15 stores all over the world with the best shipping conditions.
---
What type of tent is this
This Omaha GT 6 tent is a new product from this brand, and here again they use the same colors as in most of their tents, you can compare it with this NTK Savannah GT 8 and NTK Super Arizona GT tents. They have built it properly, so you have a full coverage fly for a complete protection and this is why I have included it in my list of tents with full fly.
This is a dome-style tent, but it is a bit more than that because the legs poles are almost straight and the shape is changed on the roof which is rather flat, see the picture. So it has some features of a cabin tent and it offers lots of headspace inside.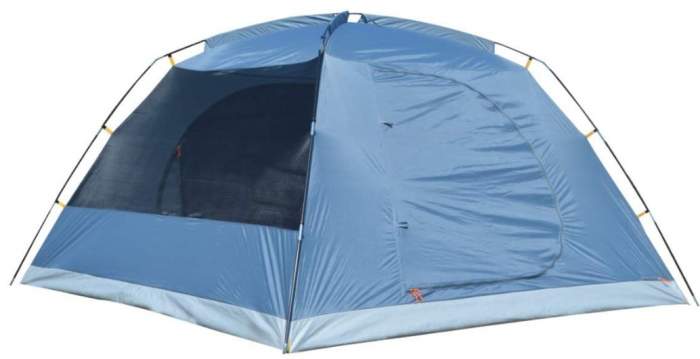 This is a double-layer tent and the fly goes all the way to the ground. With the fly on, the tent looks quite different and this in particular when you create the awning with its vestibule flap.
It is freestanding up to a point, namely the vestibules must be staked down to have them functional, but this is the usual case with such full-fly tents.
---
Who is it for
Space-wise, the declared capacity is 6 people. The inner area is 100 ft² (9.3 m²) and the two vestibules together add around 48 ft² (4.4 m²), so the total protected area is 148 ft² (13.7 m²). Per person, this means 24.7 ft² (2.3 m²). I would say this is quite a lot and it can accommodate the declared number of users. But for a true camping, I would downgrade the number of users to three maximum.
Weight-wise, this is a heavy structure that weighs 24.9 lb (11.3 kg). So this is for camping at places with a motorized access. The packed size is really good, 23 x 7 x 7 inches (58 x 18 x 18 cm) so you can transport it even on a motorbike.
Seasons-wise and climate-wise, the full fly and the huge waterproof rating are a guarantee that this tent will keep you dry if you use it in an area with lots of rain. The structure is aerodynamic and it is designed to withstand winds with ease. There is enough mesh on the inner tent for an air crossflow, so it should work well if you use it in a very warm environment. But I would not use it in a very cold area.

---
The materials & construction
The poles
There are two sets of poles:
Tent fiberglass poles, thick and heavy, and you have three of them, one is used for the front vestibule.
Two powder-coated steel poles for the awning setup.
The poles contribute a lot to the overall weight of the tent, but they also make the tent so affordable, both are rather inexpensive materials. The tent poles attachment is through clips on the lower areas and through sleeves on the top. These sleeves make the structure freestanding as soon as you attach the poles to the corners where you have a pin-and-ring system for a fast and easy setup.
The awning poles are also accompanied by the corresponding guylines so you have all you need for the awning setup.
The fabric
The fly is a 190T polyester laminated with polyurethane, so you have a very good 2500 mm waterproof rating. The seams are heat-sealed, and the whole structure offers UV protection. The fly is equipped with two vents on the top, and this is a CPAI-84 fire retardant material. The inner tent is a combination of mesh and taffeta.
The floor is a seamless, anti-fungal polyethylene and with a silver-coated inner layer to prevents leaks. So this should be highly waterproof in any conditions. You have a bathtub-style construction.
They do not provide D-value for this tent but I assume it is the same as in their NTK Super Arizona where you can see 68D fabric used.
The doors
The tent has two impressive doors on the opposite sides, with 2-way zippers. They are paired with two vestibules that have identical panels and two parallel zippers, but completely different in the area. The rear vestibule is quite small with some 11 square feet only, but the front vestibule is huge and it is additionally supported with the mentioned extra pole.
Other features
A zippered E-port is included.
There is a utility pocket for storage.
On the ceiling, you have an O ring for a lantern.

The NTK brand has been around since 1975, they currently have a long series of tents on the market, and also other stuff for camping like sleeping bags, hammocks, etc.
---
Specifications
Type: dome tent.
Capacity: 6 people.
Weight: 24.9 lb (11.3 kg).
Dimensions: 10 x 10 ft (3.05 x 3.05 m).
Inner area: 100 ft² (9.3 m²).
Inner area per person: 16.7 ft² (1.55 m²).
Vestibules: 2.
Vestibules area: 37 + 11 ft² (4.4 m²).
Total protected area: 148 ft² (13.7 m²).
Total area per person: 24.7 ft² (2.3 m²).
Peak height: 5.9 ft (1.8 m).
Packed size: 23 x 7 x 7 in (58 x 18 x 18 cm).
---
NTK Omaha GT 6 tent vs Competitors
NTK is an established brand and this is a well-built tent, so I wanted to show how it compares with some tents from other brands with a similar reputation and features. Here are two of them, both with full fly. Clearly, this Omaha 6 tent's packed size is without a match. If you follow the links, you will realize that the same holds for its price.
Vestibules area, sq ft (sq m)
---
Final thoughts
So as you realize, this NTK Omaha GT 6 Person Tent is a nicely built and reliable camping tent, a bit heavy indeed but with a great packed size, easy to use, and with a great price. This is a new item on the market but I am sure it will become very popular just like several other tents from this brand that are described here in the site.
Please see how I rate it for the same parameters used for all tents here in the site:
You might want to check also their NTK Hunter GT 8 to 9 and Hunter GT 5 to 6 person tents from a new series. If you need something different, please check in the category Tents for 5 & 6 people, there are many of them in all sizes and shapes. You might want to check also this Chinook Twin Peaks Guide 6-Person Plus Fiberglass Pole Tent that has a screen room in the design. Need a tent with integrated lights? If so, please check this the Ozark Trail 6 Person Instant Cabin Tent with Light.
Note that this is not a sponsored text and I am not paid by the manufacturer. Thank you for reading. Please use the comment box below if you have any comment or question. Have a nice day.