The Slumberjack Spruce Creek 6 Person Dome Tent is very tall and pleasant with its three large windows, a huge vestibule that has two doors, with many storage elements, and a great price tag.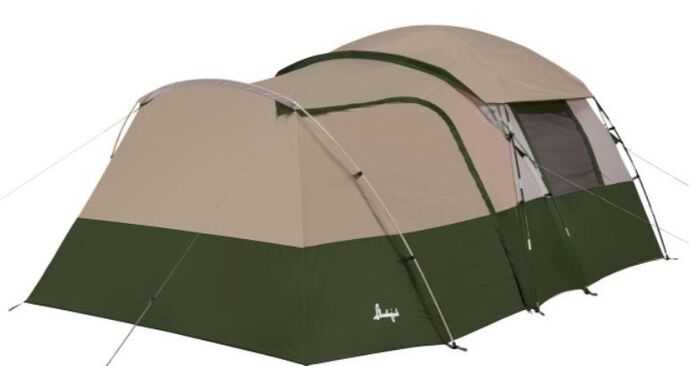 ---
Key features & benefits
Extended dome tent.
Huge garage-style vestibule/porch.
2 Rooms.
2 Doors.
3 Windows.
Tall tent.
Storage features.
Cable port.
Great price.
---
Overview
They describe it as a dome tent, but it has roof elbow elements typical for a cabin shelter, so the tent is with steep walls. The main floored area is under a pair of X-crossed roof poles, but there is also a huge porch or vestibule shown in the picture below.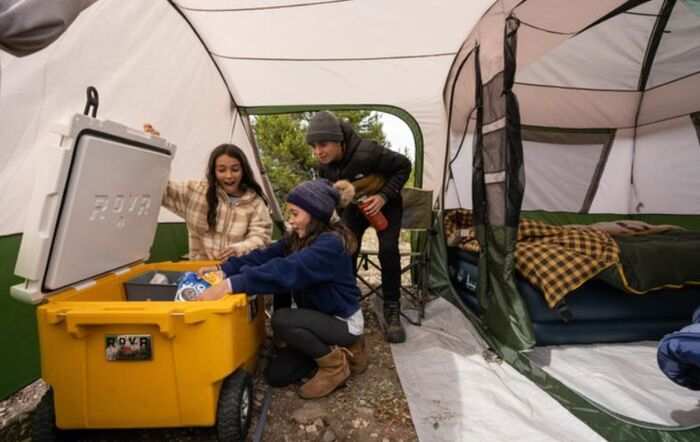 This front area is almost like a separate floorless room. Here you have two large doors on the opposite sides, and two inner doors to the inner floored area, they are visible in the picture below.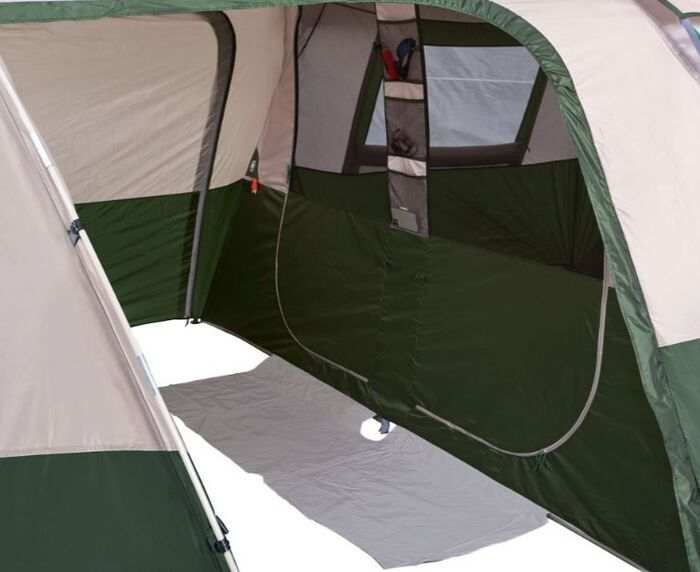 The vestibule/porch is completely covered and it is a physical part of the tent's body. The minimal fly is designed only to cover the rear room.
The rear room is with a removable divider (the picture below) so the tent can be described as a 2-room shelter, plus the mentioned porch. When you use the divider, each of the inner rooms has its own door.
There are three windows in the back room, they are with mesh and with inner zippered panels. Note also that it is very tall with its 78 inches (198 cm) peak height.
Storage elements & other details
You have already seen the storage set under the porch.
But there is also a storage pouch set inside, shown below.
A gear loft is included, also shown in the picture below.
There is a cable port.
A lantern loop is available.
There is a mat in front of the inner doors, see the picture above.
Quality stakes are included.
Materials
The poles: You have fiberglass poles, 4 in total and you attach them to the base of the tent through fast-feet connectors, you will see this in the video. On the roof the tent has long sleeves.
The fabric: You have a polyester taffeta with a 1200 mm waterproof rating. This is the same as in The North Face Wawona 8 Tent, it may look a small value but you do not need more.
The floor is a polyethylene, they do not provide details, but this should be a fully waterproof plastic. An expandable carry duffle bag is included.
Ventilation
The tent has lots of mesh on the roof, and the mesh is also on its three windows and its two inner doors. The inner doors are under the vestibule and this means always fully protected, and the mesh is more than half in the upper area.
There are no floor vents, I think the tent would be better with them. More about the tent's features you can see in this video:
In the video below you can see how to set the tent up and a few more details, please have a look:
---
Who is it for
Regarding the area, the tent is officially for 6 people. The floored space is 84 ft² (7.8 m²), so this would mean 14 ft² (1.3 m²) per person.
This is not much, but there is the huge vestibule that adds 62 ft² (5.8 m²). So my overall rating for the area is quite high.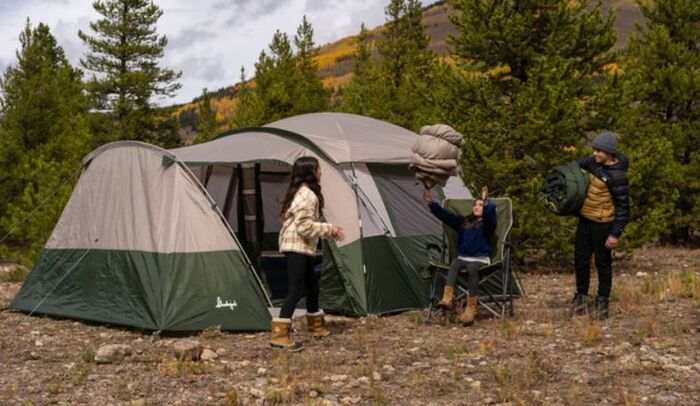 Regarding seasons & climate, they describe it as a 3-season tent and I think this is realistic. Though with such a minimal fly, I would not use the tent in very windy places.
Regarding the weight, this tent is on the heavy side with its 25.53 lb (11.6 kg). But note also that the total protected space is around 13.6 square meters, which is quite impressive. On the other hand, this is a car camping tent so the weight is not so important.
The packed size is far better and it can be described as compact for such a huge covered space, see the numbers below.
Regarding the price, it is simply incredible for such a nicely built tent. You will see the links below to check from your side.
---
Specifications
Weight: 25.53 lb (11.6 kg).
Official capacity: 6 people.
Dimensions: 174 x 126 ft (442 x 320 cm).
Inner area: 84 ft² (7.8 m²).
Inner area per person: 14 ft² (1.3 m²).
Porch area: 62 ft² (5.8 m²).
Peak height: 78 in (198 cm).
Packed size: 26.5 x 9 x 9 in (67 x 23 x 23 cm).
Warranty: life-time warranty.
---
Final thoughts, rating, pros & cons
In summary, this Slumberjack Spruce Creek 6 Person Dome Tent is quite unique on the market. There are many extended-dome tents similar to this tent, but you will hardly find one with three windows like in the tent here. This feature is more frequent in cabin tents.
In addition, the poles are also not very typical for a dome structure. So I see it as a great hybrid between a dome and a cabin type tent. All in all, a very interesting design and a great price.
Below you can see how this tent stands against my standard rating criteria that I apply consistently to all of them here in the site so that you can easily compare:
BEST PLACEs TO BUY:
For more tents of this shape please check in the category Dome Tents.
Let me know if you have questions, there is a comment box below. Bookmark this site and come again, this will keep you informed, as you realize I add texts here on a regular basis. Thank you for reading.