The Snow Peak Vault Dome Tent Ivory is a tent from the new collection, with quality aluminum poles, 2 large vestibules, 3 doors and much more.

---
Key features & benefits
Tunnel type tent.
Full-coverage fly.
3 Doors.
2 Huge vestibules.
Aluminum poles.
---
What this is about
So here you have the Ivory variant of the famous Snow Peak Vault Tent that has been around for a number of years. This is a part of their Entry Line in Ivory collection (shown below) that is exclusive for the US market, you will see this in the video below.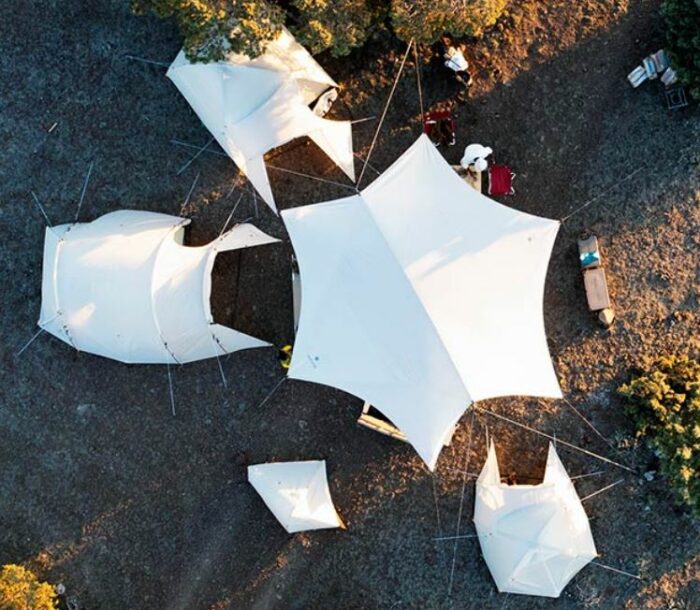 If you already have the coyote-brown Vault Tent, no need to rush to buy this Ivory Tent, the changes are reduced to the color only.
In fact, on the Snow Peak they call it simply Vault, and many big online sellers call it the Snow Peak Vault Tent. The name used in the title, the Snow Peak Vault Dome Tent is only used at REI, and I am not sure why they add the word Dome in the name.
Namely, this is clearly a non-freestanding tunnel-type tent and it has nothing in common with any dome tent on the market. If you have some idea about this, let me know. Below you can see its floor plan and the most important dimensions.
The gray area is the inner tent and you realize that it is fully protected under the full coverage fly that creates two large and asymmetric vestibules. One of the vestibules is so big that it could be called a porch.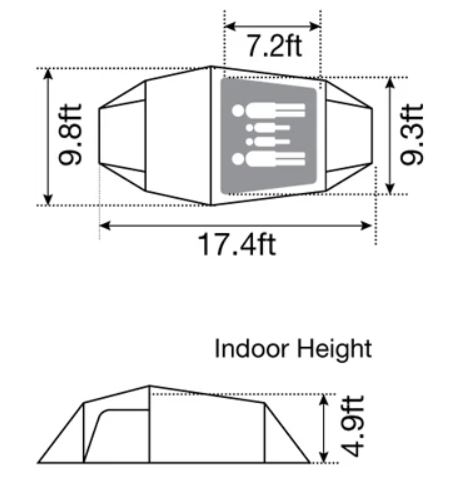 The tent is quite low profile, the inner peak height is only 4.9 ft (150 cm). There are two doors on the inner tent, and they are double-layer type with full size zippered mesh plus full size zippered panel. Note that there are three doors on the vestibules, two of them are visible below.

The materials
The poles & stakes: There are 3 color-coded poles here and this is a 6061 duralumin. They attach to the tent's base with a pin and ring system. There are also 24 duralumin pegs and 12 guylines with stoppers.
The fabric: The fly is a 75D polyester with a PU coating and it offers a 1800 mm waterproof rating. The inner tent is a 68D polyester, and the floor is a much more durable 210D polyester Oxford with a PU coating and the same waterproof rating.
Note that you can use the shell (fly) alone as an open-air shelter by simply removing the inner tent.
Ventilation
The inner tent is a breathable taffeta and it hangs attached to the shell. So there is a huge gap everywhere around between the two layers. This should be great to fight condensation.
The huge inner doors are with mesh and you can keep them so all the time because they are fully protected deep under the vestibules.
Please see a bit more about this Ivory collection in the video below:
Warranty
Perhaps you do not know but the Snow Peak is a Japanese brand and their products are made in Japan. On their site they write that their products undergo rigorous testing to ensure maximum functionality and durability.
They also write that they create gear that will last a lifetime and can be passed on to the next generation of outdoor enthusiasts. So you have a lifetime warranty with their products.
---
Who is this Snow Peak Vault Dome Tent for
Regarding the area, they do not provide numbers. It seems that the inner floored area is 66.2 ft² (6.2 m²). This would give 16.55 ft² (1.55 m²) per person.
As for the vestibules one can only guess, so my rough estimate is that they offer around 48 + 20 ft² (4.4 + 1.8 m²). So the total covered space is around 134.2 ft² (12.4 m²). Even if my estimate is not very accurate, this is a lot of space for 4 people and for all the gear. The back vestibule can be used for storage only.
Regarding seasons & climate, the tent is described as a 3-season shelter and there is no doubt this is indeed so. In fact I would describe it as a 3-season-plus. Namely, it looks to me more like a 4-season tent than many tents that are officially 4-season type.
The inner tent is a fully closable taffeta, and the shell protects it completely. The waterproof rating is good, and the poles are high quality. The tent is low profile so if you orient it properly with respect to wind, it can withstand a lot of force.
Regarding the weight, this is a heavy tent with its 20.32 lb (9.22 kg). But the fabric is durable and the fly is massive. The packed size is 23 x 9 x 9 inches (58 x 23 x 23 cm), and in my view this is excellent for such a large tent. So you can transport it even on a motorbike.
---
Specifications
Weight: 20.32 lb (9.22 kg).
Official capacity: 4 people.
Dimensions: 17.4 x 9.8 ft (530 x 299 cm).
Inner area: 66.2 ft² (6.2 m²).
Inner area per person: 16.55 ft² (1.55 m²).
Vestibules area: around 48 + 20 ft² (4.4 + 1.8 m²).
Peak height: 4.9 ft (150 cm).
Packed size: 23 x 9 x 9 in (58 x 23 x 23 cm).
---
Final thoughts, rating, pros & cons
So this Snow Peak Vault Dome Tent Ivory can be described as a luxurious shelter for car camping. The vestibules are excellent and here you can store all your stuff and even sit in low camping chairs. The craftsmanship is top level, this is a Japanese brand so you know what you are buying. Fully recommended. I have included this tent in my list of best 4 person family camping tents.
The table below summarizes my rating and some pros and cons. The same criteria I apply consistently to all the tents here in the site so that you can easily compare:
BEST PLACE TO BUY:
For more tents of this shape please check in the category Tunnel Tents. You might want to check also yet another tunnel tent of this brand, the Snow Peak Entry 2 Room Elfield.
Bookmark this site and come again, this will keep you informed, as you realize I add texts here on a regular basis. Thank you for reading.