The polyurethane tent coating is a commonly used method for waterproofing family camping tents and even backpack-portable tents. It has its good and bad sides, and some are discussed here. Keep reading.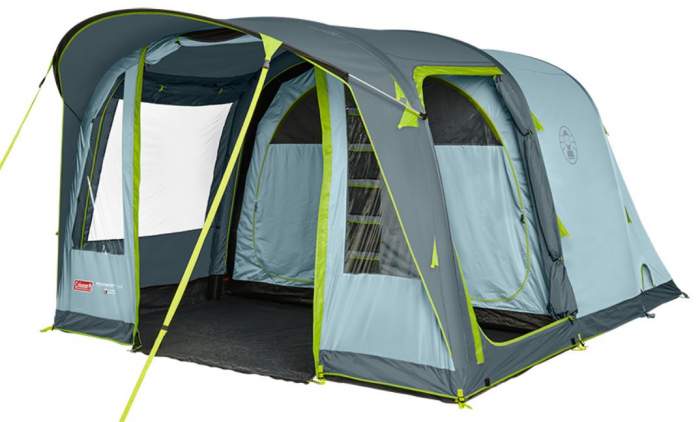 Most of the family camping tents presented here in the site and in general come with a polyurethane coating, which means polyester urethane coating, and it is usually described as a PU coating. This is what determines the waterproof rating of a tent. You will want to know that there is also a silicone and PU/silicone coating that is used in lighter tents, and polyether urethane (PE) that is rarely used.
This coating technology should not be mixed with laminates that are far less frequently used in tents industry.
Although the waterproofness is expressed in mm of water, or in psi (pound per square inch), or hydrostatic head (HH), in modern testing it is measured by applying water pressure pumps. They create pressure similar to what you would have in strong winds combined with the rain.
But how much pressure in such winds you can expect? Of course I did not measure it myself, but according to a statement I found at REI, this is about 2 psi (1406 mm). In the case of a hurricane—wind-driven force, this would be around 10 psi (7031 mm).
This tells you what you really need in a tent. You can also see some numbers in my text about Vango ProTex Fabric. Such EU-based tent manufacturers usually build tents with a higher rating than those in the US. The Coleman Tent Meadowood Air 4 Person shown in the top picture above has 4000 mm waterproof rating. You will never need more for your family camping adventures.
So what are good sides of polyurethane tent coating?
Here are some:
This method is inexpensive and this is reflected in the tent's price. This is why affordable tents on the market have such a technology applied in their construction.
With a PU coating, a tent can get as high waterproof rating as you want by simply applying multiple layers of the coating. So how much you can have? Well, think about 10000 mm or so. It is another thing if you need this, more below.
A PU coating material can be mixed with fire retardants to meet CPAI-84 standards. It is a completely different issue if you really want to have a fire-retardant tent, you can read more about this in my separate text. In any case, this is not so with silicone that cannot be mixed with fire-retardants.
What are downsides of the PU coating used in tents?
There are quite a few, so here are some.
Issues related to durability of a fabric when PU coating is applied
In short, the PU coating affect the tear strength of the fabric to which it is applied. This has something to do with the slippage effect of the fibers that make up a fabric. In the case of a narrow pressure spot, slippage allows the yarns to bunch up, so they are not rigid and they will not tear. Increasing pressure even further, it will affect more yarns so the pressure will be distributed rather than focused.
Now, when there is PU coating applied, it tends to fix individual yarns into positions, so this slippage effect is reduced. As a result, the fabric may become weaker.
Hydrolysis or hydrolytic stability
The PU coating reacts with moisture and this is even more effective at higher temperatures. The result is a material that is sticky and it does not smell good, and eventually its waterproofness is compromised. So it is essential to store such a tent completely dry and keep it at a cool place.
In short, tents with a PU coating have a limited shelf life. Be ready for this or go for some other options.
Water saturation
So the PU coating is in fact hydrophilic, sounds strange but this is so. This may become an issue only in the case of long term camping in very wet areas, and this is in particular the issue with tents' floors that are with such a coating.
As mentioned above, this can be slowed down by making multiple PU coating layers. The down side of this is that:
The fabric becomes considerably heavier.
It still needs to dry properly when you store the tent so this will be a slow process in the case of such a thick material.
Its strength can be reduced due to the reduced slippage mechanism mentioned above.
Some of these disadvantages can be avoided or reduced by combining a PU coating with silicone. In such cases the silicone is applied on the outer side of the fabric because it is incredibly hydrophobic, and the PU coating from inside. Then fire retardants are applied together with the inner PU coating so that the tent can have the usual fire safety standards.
There are several technical issues that manufacturers have to deal with related to application of such different coatings, but they will not be discussed here.
Here is a useful video by REI on how to deal with leaks on a tent, please have a look:
Is the PU coating toxic?
From what I can find around, it seems that polyurethane contains isocyanates that can be potentially harmful to your lungs. So it may not be good to be exposed to this product if you have issues with asthma. Some also claim it can irritate skin.
However, I have also seen some claim that after it is applied, it does not pose a risk to users. Frankly, it is so present everywhere that it makes no much sense thinking of its potential health issues. Even if you never go camping, you have it everywhere around you.
So this is what I wanted to say about the issue of polyurethane tent coating. Please let me know if you have questions, and if I am able to answer, you will have my reply as quickly as possible. Bookmark this site and come again, I add here texts regularly so this will keep you informed.