The TIMBER RIDGE 5 Person SUV Tent with Movie Screen is a pleasant and tall freestanding shelter that can be used with various vehicles, and best suited for calm weather summer camping.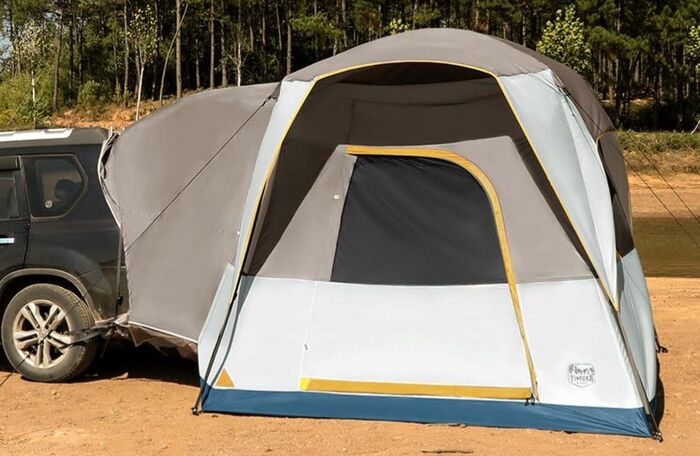 ---
Key features & benefits
Cabin type structure.
Very tall.
Freestanding.
2 Doors.
2+1 Windows.
Great price.
---
What this is about
This TIMBER RIDGE 5 Person SUV Tent is what its name says, a family camping tent designed to be used with a variety of sport utility vehicles.
It is very tall and pleasant, and more or less freestanding. But because of its height, it should be staked and secured, you have all that is needed included in the package, see one of the pictures below. They claim it can be used also on its own, and no doubt this should be possible.
The doors & windows
I would describe it as a very typical pleasant cabin type tent with steep and straight walls and with openings on all four sides. One side is with an extra panel that connects the tent with the vehicle, see it on the left in the picture below.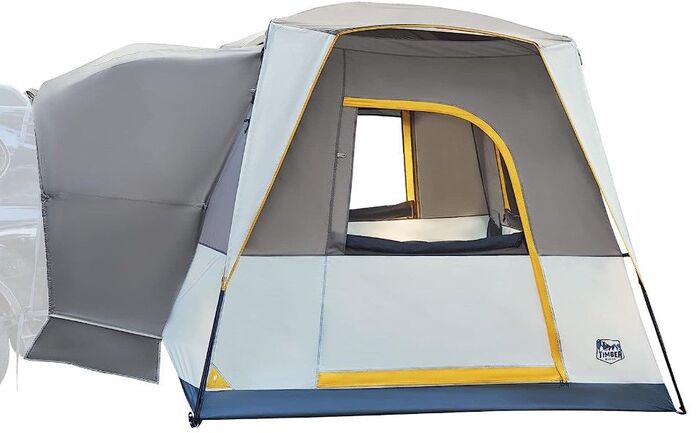 The other door is also shown in the picture, and you realize it has a window on its upper part. Note that this door is with a small awning supported with a short pole, so this is a dry entry design.
Below you can see the inner door towards the vehicle. With this you have everything from your car at hand so the car and the tent make a functional structure.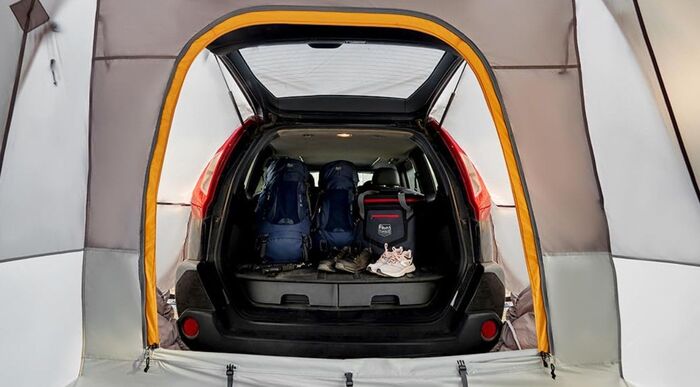 The inner view below shows the two separate windows. They are double-layer type, with mesh and panels. Observe also storage pouches on the walls.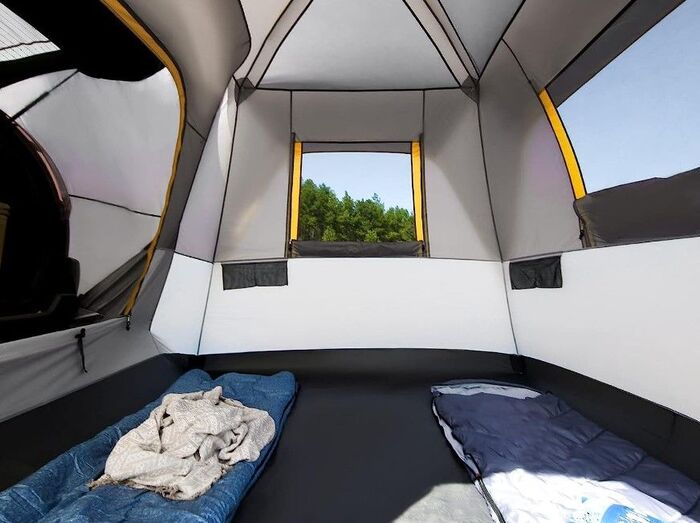 As the name of this tent suggests, it comes with a removable movie screen shown below, you can attach it when needed:
Materials
The poles: The tent comes with a combination of steel legs poles and fiberglass poles used for the roof and the mentioned small awning. The leg poles are with usual pin and ring system at the corners where the legs attach to the tent's base. Higher you have clips, and on the roof there are sleeves.
Setting this tent up is easy, you start with the roof poles and attach them into the elbow connectors, and then add leg poles one by one. All the elements in the package are shown in the picture below.

The fabric: They do not provide much information, but this is a polyester with a 2000 mm waterproof coating. It seems that the same material is used everywhere.
Note that the fly covers only the ceiling, and it attaches to the tent's base with straps and buckles.
Ventilation
The tent has large mesh sections on the ceiling, below you can see how this looks. In combination with the mesh on its windows, this will create lots of air circulation.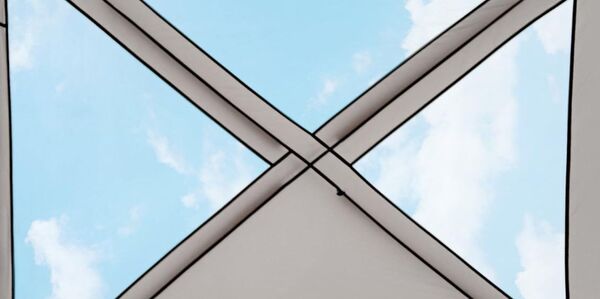 But, the tent would be much better with one or two floor vents. They are missing here, pity.
---
Who is it for
Regarding the area, the tent is officially for 5 people, and for this it offers 80 ft² (7.4 m²). This would mean 16 ft² (1.49 m²) per person, not a real castle, but you still have the car for storage, so this is not bad.
Regarding seasons & climate, the tent is mostly one-layer type, it is boxy and tall, so it is best to avoid harsh weather situations and strong winds. This is a summer camping tent for calm weather.
Regarding the weight, it is quite heavy with its 28 lb (12.7 kg). But this is totally irrelevant, you will use it next to your car.
The packed size is such that it can be described as bulky, see the numbers below.
Regarding the price, I would say it is more than fair for such a great tent, a true value for the money.

---
Specifications
Weight: 28 lb (12.7 kg).
Official capacity: 5 people.
Dimensions: 120 x 96 in (305 x 244 cm).
Inner area: 80 ft² (7.4 m²).
Inner area per person: 16 ft² (1.49 m²).
Peak height: 82 in (208 cm).
Packed size (L x D): 31 x 10 in (79 x 25 cm).
---
Final thoughts, rating, pros & cons
In summary, this TIMBER RIDGE 5 Person SUV Tent with Movie Screen is nicely designed and functional. Its high ceiling and openings on all the sides make it very pleasant. The price is more than appropriate, a true bargain indeed. Fully recommended.
Below you can see how this tent stands against my standard rating criteria that I apply consistently to all of them here in the site so that you can easily compare:
BEST PLACEs TO BUY:
For more tents of this shape please check in the category Cabin Tents. You might want to check also the Rightline Gear 6-Person SUV Tent, as you realize from the name it is designed for the same purpose.
Let me know if you have questions, there is a comment box below. Bookmark this site and come again, this will keep you informed, as you realize I add texts here on a regular basis. Thank you for reading.